In this post, we will be covering the Fresh Indian Vegetables Online Germany options from where you can buy without any issues. We all have been struggling during the time of Pandemic to go out and buy groceries.
So if are you looking for the best ways to purchase Fresh Indian Vegetables Online in Europe? then Let me help you decide. This post is the part of our series Living in Germany and we have already shared one in depth guide about Indian Online Grocery stores in Germany.
If you have a question about the cheapest way of sending money to India then you can't miss to read our post. In this guide we have compared in detail about all the available option for transferring money to India.
Now I get it, while I was coming to Germany I brought all the essentials with me. But they weren't enough to survive throughout. Usually, I use to go to Indian stores to buy vegetables in Frankfurt or at times to Turkish stores as well. However during the time of Pandemic and lockdown. I was forced to look for options to buy Indian Vegetables online and it was then when I realized that there are handful of websites which delivers what it promises and it was just matter of searching.
Now you may get some vegetables in the normal Germany shops like REWE.de as well but this post is for them who are looking for some specific Indian vegetables.
So without further adieu, Let us dig in to find the Fresh Indian Vegetables Online Germany.
Why I decided to look for Fresh Indian Vegetables Online Germany?
Well, let us just forget that its a time of Pandemic. Because all hands down during this time buying online is the safest thing which you can do.
So let us forget that it is time of Pandemic, I usually shopped everything from Frankfurt which was 36 Km away from the place where I used to live, So I usually spent around 9 Euro just for travelling to buy Indian Vegetables and Indian Groceries every month. So buying online saves the efforts as well as event the cost of commute to me. Because nevertheless the cost of the product are almost same either ways.
Indian Vegetables Stores Online in Germany – Advantages
Door delivery – I don't have a car. So, this is so convenient for me. I don't want to carry 20kgs of atta and rice(combined) in tram/s-Bahn
Comparatively cheap – The local Indian stores have to cover the costs of the offline shop. You can always compare the prices also there are some offers and sales on the product which you can see on their websites.
Multiple payment options – Most of the time, the local stores do not accept cards. The online stores have lots of payment options
Convenient – I love the comfort of sitting at home and ordering online
Delivery across Europe – Since all of the online stores use postal services (DHL, DPD, etc.,) I can get the Indian grocery
Indian Vegetable Stores Online in Germany – Disadvantages
Shipping time – They do not have same-day or next-day delivery. However, there are many who have started offering next-day delivery.
Testing products – We cannot check the products before-hand.
Returns – As per the previous point, returning products in Germany is quite a task because you have to send the product back via a post on your own.
By this time, if you're convinced about the online Indian grocery stores, then please proceed. Or else, go back to the advantages and read again *wink-wink*
Which is the best Indian Vegetable Store online?
If you're new to buying Indian groceries online, then you might need to consider the following points before you choose your online Indian store.
Free shipping cost – Most of the online stores offer FREE shipping above certain buying limit
Product catalogue – Not all the Indian stores have all the brands. If you are specific about a certain brand, it is better to check before to see your product is listed or not.
Return policy – Different stores have a different return policy. You might need to check this out before you place your order.
So, Let us dig to the list of Indian Vegetable Stores online in Germany.
Get Grocery
Now I would like to start with this Indian Grocery store because I always order products from here only most of the time. Also, my experience is all in all positive for this website. It usually delivers product in two days from date of order so the delivery time for the product is pretty good as well.
One of the oldest Indian grocery store online – They are serving since 2010
Multiple online payment options
Cash on delivery also available but you have to pay 7€ extra for this.
Reward points available
Free shipping for orders above 49€ in Germany.
Free shipping for orders above 59€ in Austria.
Free pick-up(in and around Bruchsal) for orders above 15€
Dookan
I have been looking for an application based Online Indian Grocery app but there wasn't one until I found Dookan. The application is super clean and fast and the loading time is also great. If you are looking for something like Big Basket of Germany then you have to check their application. It has good collection of Vegetables.
It is already a hit in for getting Indian Grocery online in Czech region where they even offer fresh vegetables at your doorstep.
And Guess what, we do have a exclusive discount coupon for you for your next order for Indian Grocery online.
Get 15% off using 'DOOKANERI15' for orders above 75€.
Get 10% off using 'DOOKANERI10' for orders above 55€.
Get 5% off using 'DOOKANERI05' for orders above 39€.
If you have any concern you can reach out to [email protected] or send out a message to the Dookan team here.
Note: Currently due to increased temperatures they do not ship vegetables to Germany. So, Vegetables are restricted for the time being. Having said that, if you are ok to take the risk then you can send them a list of vegetables (once your order is placed) that you want to buy and they will add it from backend and generate a payment link for you.
One of the new online Indian Grocery store which I really liked my experience to buy from.
Multiple online payment options
You can check the cashback policy here.
Free shipping for orders above 39€ in Germany, Austria & Slovakia.
Free shipping for orders above 49€ in Hungary.
Free shipping for orders above 59€ in Luxembourg & Italy.
Other places where shipping is possible are Czech, Belgium, Bulgaria, Denmark, Croatia, NL, Finland, Slovenia and Romania
Spice Village
Free shipping for orders above 34.99€ in Germany
Free shipping for orders above 49.99€ in Austria
They have fresh vegetables in their product catalogue as well so if you want you can buy them.
Multiple payment options
Loyalty points available
User interface score: 3.75/5
Masala Wala
Free shipping for orders above 40€ in Germany
They ship to other European countries also, but free shipping varies
Multiple payment options
They have fresh vegetables in their product catalogue
Easy Groceries
Free shipping for orders above 40€
Less variety of fresh vegetables are available but they are available.
Decent variety in the product catalogue
Indian Store Stuttgart
Next on our list of Indian Stores online in Germany is this company from Stuttgart. By far I was able to find this website only which offers free delivery within Germany at cost of 19€ which is a win-win situation in the case when you want to order light stuff. The Indian Store Stuttgart is the largest grocery store in Baden Württemberg region established in 1990.
Free shipping for orders above 19€
Fresh vegetables available for order
Wide variety of product catalogue
Spice Master
Now, this is another website which offers Indian Vegetable Online but only in Munich Germany. However, the website is really not user friendly at all. This is my personal feedback around this. You can check that out on your own.
Free shipping for orders above 65€
Shipping only in Germany
Pick-up option available for customers in Munich
Fewer payment options available
Indische Lebensmittel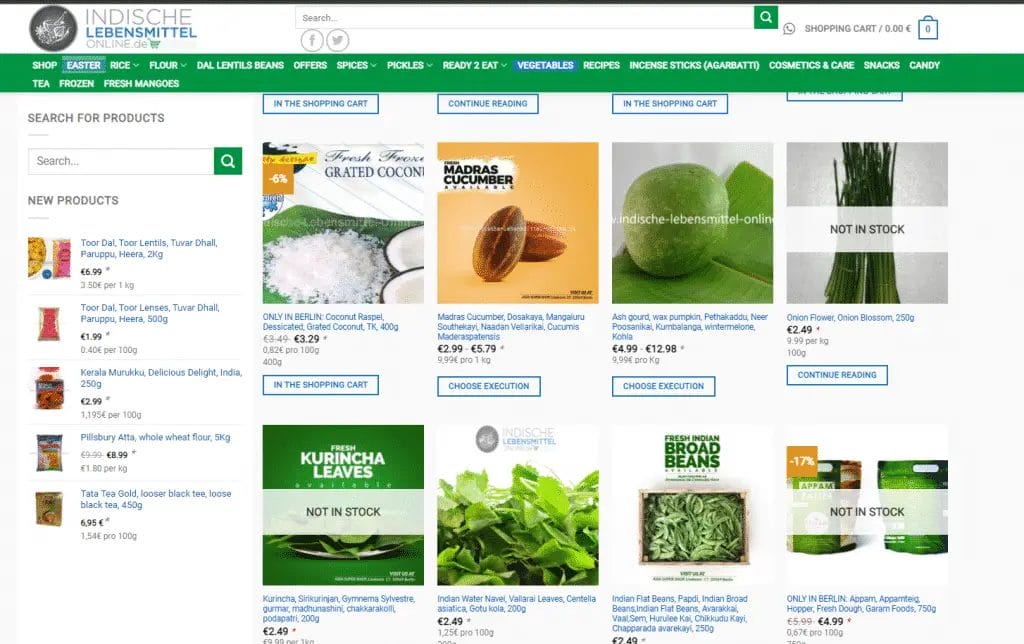 Another Indian Online Grocery shop from Berlin is Indische Lebensmittel. I wonder why they ended up picking German name for Indian shop.
They don't have free shipping options.
Shipping cost varies from country to country and you read that here on Shipping Cost
You can pay by Sofort, Bank transfer and Paypal. Read more here on Payment Options.
Zora Supermarket
Another Fresh Indian Vegetables Online Germany option which offers fruits as well. This store is based out in the capital of Germany Berlin.
---
This was our list of places from where you can buy Fresh Indian Vegetables Online in Germany. If you have any other stores from which you have bought Indian Vegetable products do let us know in comments so that we can include that in our post.
If you looking for Travel Agencies in Europe to plan your Europe trip on a budget then read in our post Travel Europe on Budget. If you know someone who is planning to move to Germany then you can share our post Moving to Germany From India.
We have also covered one go-to guide for travel in Germany, you can read Cheap Ways to Travel Around Germany | Transportation Guides.
If you are thinking of travelling alone – Here are the recommendation for Top European Countries for Solo Female Travel In Europe. We also covered some interesting topic around the cheapest place to visit in Europe.
---