Every thought about how your dream castle from the Fairytale is going to look like, In this post, we will be covering the absolute beauty which is present in Germany. We will cover Top 14 Fairytale Castle in Germany which will get your feet rolling for your Europe Trip.
We all remember those tales as a child, the ones where the Prince meets the Princess, a villain or two attacks, and eventually, everyone lives happily ever after; unless of course, you were rooting for the witch. Did you know, that those fairy tale castles actually exist and you can visit them all in Germany?
Did you know that there is actually a castle in Germany which is similar to the castle which shows in Walt Disney's Sleeping Beauty Castle?
Don't worry, we've beaten the villains, saved the princesses and slain the dragons to bring you to top 14 most beautiful castles in Germany. We think it's time you join us on this fairy tale so grab your bags and let's explore these beautiful castles together.
Don't forget to let us know which one you are going to save it for your trip in Germany.
Fairtytale Castle in Germany
Let us go on a virtual tour for the Castles in Germany
Neuschwanstein Castle
Let us start with the big guns here, no fairytale castle list is going to complete without including Neuschwanstein Castle.
Neuschwanstein is known all over the world as a symbol of idealised romantic architecture and for the tragic story of its owner. After losing sovereignty in his own kingdom, Ludwig II withdrew into his own world of myths, legend and fairytales.
Ludwig II built it as a fantastic summer retreat with the help of a stage designer.He admired Richard Wagner, and Neuschwanstein is a homage to the German composer.
Neuschwanstein was Walt Disney's inspiration for the Sleeping Beauty Castle in Disneyland and its image has come to symbolize the quintessential castle. Tours take crowds of visitors through the apartments and staterooms of the king on the third and fourth floors. The second floor was never finished and houses a shop, a cafeteria, and a multimedia room.
Visitor Information –
Transportation
By Car: Take the Autobahn A7 towards Ulm-Füssen-Kempten; when the Autobahn ends, just follow the signs to Füssen. From Füssen, drive the B17 into the direction of Schwangau, and then continue to Hohenschwangau. If you are looking for renting a car in Germany you can head to our travel resources – Car Rental page.
By Train: Take the train to Füssen, then hop on the bus Nr. RVA/OVG 78 into the direction of Schwangau. Get off at the Hohenschwangau/Alpseestraße stop and walk up the hill to the castle.
For a fee, a horse-drawn carriage is available to avoid the climb.
Tours
You can only visit the lavish interior of the castle as part of a guided tour. Tours last approximately 30 minutes.
German and English tours are available. For visitors who speak another language, there is an audio tour available in Japanese, French, Spanish, Italian, Czech, Slovenian, Russian, Polish, Chinese (Mandarin), Portuguese, Hungarian, Greek, Dutch, Korean, Thai, and Arabic.
Tours for wheelchairs are available.
Admission Tickets
Helpful Tips
No photographing or filming is allowed inside the castle.
For the best panoramic pictures, take a walk up to the recently restored Marienbrücke which crosses a spectacular waterfall (Pollät Gorge) and gives you a breathtaking view of Neuschwanstein and the plains beyond. Note that this walk may be closed in icy conditions.
Neuschwanstein is a very popular attraction most crowded in summer (around 6,000 visitors a day or more than 1.4 million people annually). The best time to visit is spring or fall mid-week.
This popularity also means that entrance tickets may sell out. To ensure entrance, reserve tickets in advance.
Large backpacks, strollers, and other bulky objects may not be taken into the palace.
Combine Neuschwanstein with a visit to the Castle Hohenschwangau, where Ludwig spent most of his life. It is lesser-known but no less spectacular.
Fairtytale Castle in Germany – Hohenschwangau Castle
In 1932, this once crumbling castle was restored and used as the 'Mad' King Ludwig II's childhood home. To many, this castle is outshone by the nearby Neuschwanstein, number 5 on this list, but if you look closely you'll see that Hohenschwangau Castle is still overflowing with fairy tales at the seams. Take part in the guided tour and you'll come face to face with hundreds of intricately painted Germanic folklore scenes on the walls and even the ceilings. Believe us, it's a sight you won't want to miss!
Pro Tip: Firstly, you'll need to book a ticket in advance and then secondly, purchase a King's Ticket "Königsticket" and enjoy access to Hohenschwangau Castle and Neuschwanstein Castleon the same day for a discounted €25.
Entrance fee: €13.00
Official website: http://www.hohenschwangau.de
Location: Open Google Maps
Mespelbrunn Castle
One of the most popular day-trips from Frankfurt, this beautiful castle lays on the waterfront and has a moat running around it. Nestled in a quiet valley, this property is still a private residence and so viewings are only offered by guided tours only.
Pro Tip: Since the guided tour are only available in German you should either know the language or come up prepared with your own information sheet.
Entrance fee: €5.00
Official website: http://www.schloss-mespelbrunn.de
Location: Open Google Maps
Wernigerode Castle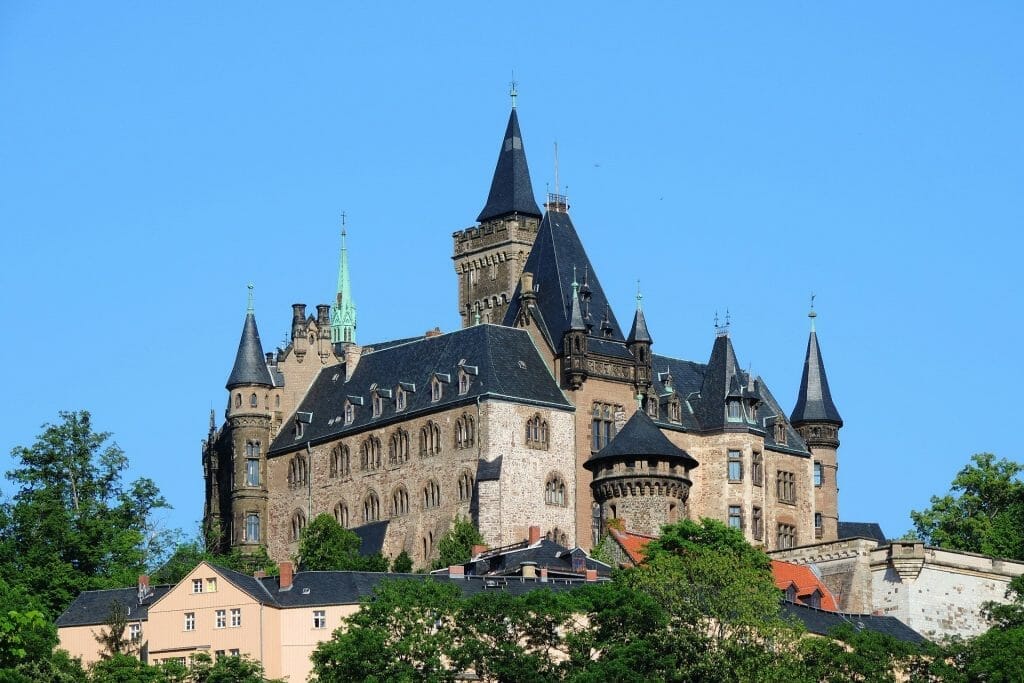 The Wernigerode Castle was originally a medieval fort offering a stronghold for the German emperors of the middle ages during their hunting excursions in the Harz. The castle was rebuilt into a Renaissance fortress, in the 16th century. In the late 17th century after the devastation of the thirty year war, Count Ernest of Stolberg-Wernigerode began reconstructing the castle remains in the baroque style as a romantic castle residence for himself. Count Otto of Stolberg-Wernigerode carried out what is considered to be probably the most important modification in the history of the castle.
The Wernigerode castle is a very good example of the typical building style of the 'Norddeutschen Historismus'. Parts of the castle have been open to the public since 1930.
Today two museum tours lead visitors through more than 40 furnished (partly original) grand living quarters of the German nobility. One should certainly plan to include a visit to the fixed displays as well as the special exhibitions on offer in the castle.
Entrance fee: €7.00
Official website: https://www.schloss-wernigerode.de
Location: Open Google Maps
Fairtytale Castle in Germany – Anholt Castle
So the tale goes that the count who built the castle as a honeymoon memento once was a love-drunk. Today it is remembered as one of Münsterland's most stunning, moated castles. But not only for the romantic tale and stunning architecture, but also for the surrounding Baroque-style gardens and parks that evoke a feeling of wonder, people flock to the castle.
Pro tip: To make the most of your trip we recommend staying in the romantic 4 stars 'Parkhotel Wasserburg Anholt' which has a restaurant and patio area with a full view of the castle park, bookable online.
Entrance fee: €12.00 Castle Tour, €5.00 parks
Official website: http://www.wasserburg-anholt.de
Location: Open Google Maps
Sababurg Castle
If you ever wondered where the inspiration for the story of 'Sleeping Beauty' in The Grimms Brothers came from this is it. Founded in 1334 the portion of the castle fell into disrepair and with entwining ivy the winding flowers started claiming it back. Hidden deep in the mountains of the Reinhardswald this castle was once covered by a thick thorn hedge that covered the background of its interior. Nowadays on the grounds there is a cozy hotel and cafe making this one of the most popular fairytale castles to visit for couples.
Pro Tip: Go with a loved one and stay for a night in the romantic hotel for your own fairytale story. We think that you would particularly enjoy booking a room with a forest view from the balcony.
Entrance fee: €6.50
Official website: http://www.sababurg.de
Location: Open Google Maps
Glücksburg Castle
Known locally as the 'castle in the lake' this stunning location will make even the hardiest of us swoon. Built over 500 years ago this castle has done more than stand the test of time; it has become an iconic image of the Glücksburg area and is home to a museum that houses important tapestries, portraits & porcelain.
Entrance fee: €8.00
Official website: http://www.schloss-gluecksburg.de/en/
Location: Open Google Maps
Lichtenstein Castle
This little-known fairytale castle is a secret gem which we found in the region of Baden-Württemberg. This restored gothic castle has its own mysteries often missed by some of its bigger fairytale friends. We also have a fun fact about this castle as it was obviously inspired by a novel, definitely making it a first, a castle inspired by a novel rather than a castle-based book? If that doesn't ignite your curiosity then we don't know what's going to happen!
Pro Tip: Considering that it is little known outside of Germany this castle is a photographers dream so be sure to get there early and enjoy it all to yourself.
Entrance fee: €8.00
Official website: https://www.schloss-lichtenstein.de/en/
Location: Open Google Maps
Fairtytale Castle in Germany – Schwerin Castle
Completely constructed on a small island, this castle, was completed in 1857, is an architectural marvel and boasts a whopping 653 rooms. It is one of those castles in the winter time that looks even more spectacular so don't be bothered by the weather! In fact, we believe that if Rapunzel had to choose a tower in which to be held prisoner, well, with the magnificent views and architecture on offer, we 're pretty sure she 'd choose here.
Entrance fee: €5.50
Official website: https://www.museum-schwerin.de/besuch-service/
Location: Open Google Maps
Wartburg Castle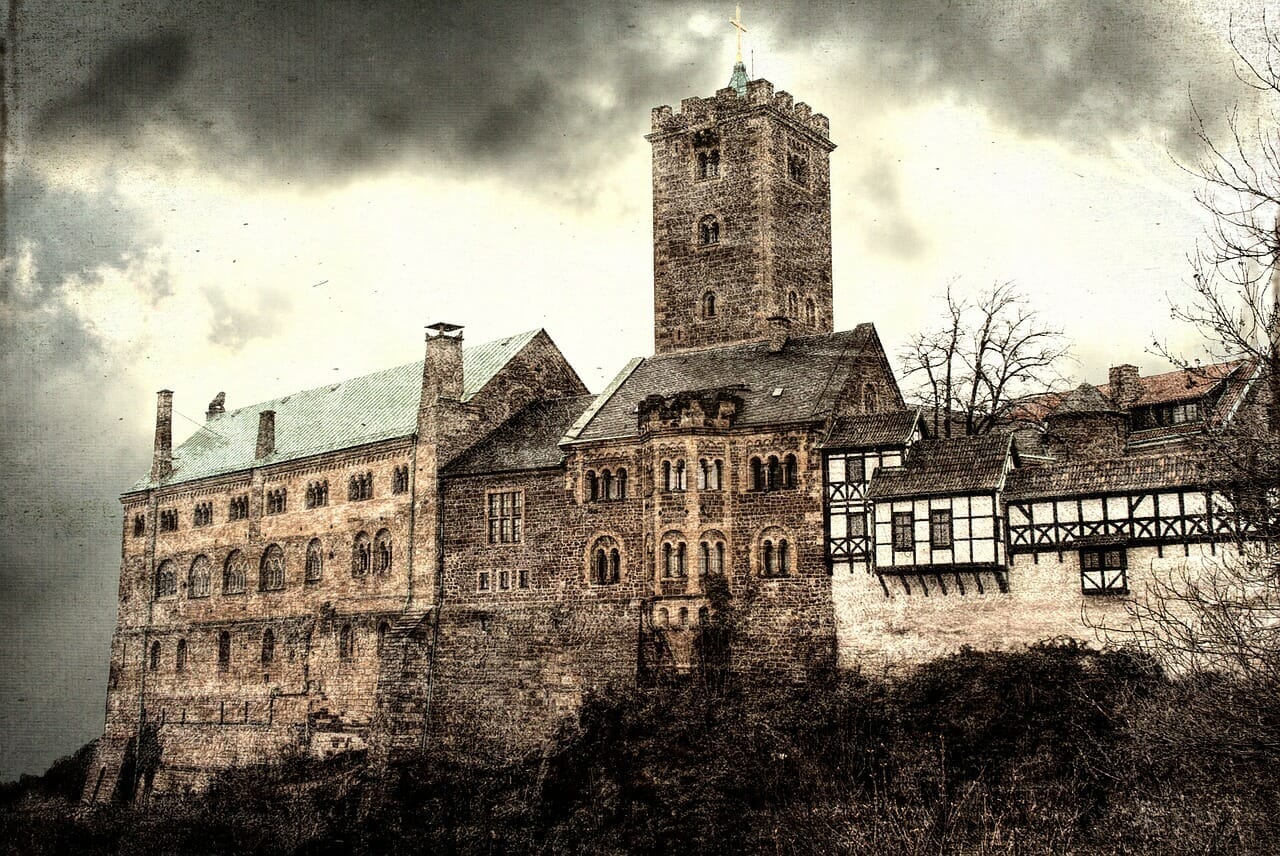 Did you know this was, and for good reason, the first castle in Germany to be declared a World Heritage Site. If 1,000 plus years of history doesn't make it worthy, then maybe the fact that there is an excellent art collection of eight-century treasures. There is an admission fee for visiting the castle 's interior but the beautiful castle grounds are free to visit.
Pro Tip: It is only possible to visit the impressive Great Hall on a guided tour.
Entrance fee: €7.00 [Nov-March], €10.00 [April-October]
Official website: http://www.wartburg.de
Location: Open Google Maps
Hohenzollern Castle
Sitting proudly on top of a hill, we think this is the ultimate villain's castle, and with a dark backdrop, it looks like history is going to agree. Each year, more than 350,000 visitors from all over the world come to visit Hohenzollern Castle and it is by no means a secret to be prepared for crowds.
Pro Tip: If you have children, book them on a tour and they'll even have the opportunity to take part in some knight and princess fancy dress.
Entrance fee: €7.00 [Castle complex only], €12.00 [Castle complex & interior rooms]
Official website: http://www.burg-hohenzollern.com
Location: Open Google Maps
Heidelberg Castle
Something special this time to our list, romantic ruins. That's right, as the sun sets over the hills, the light looks at these exquisite remains and invokes a fairytale's own feeling. The castle still dominates the hillside and produces an eerie atmosphere, think of the mansion of the Beasts before Belle arrives and you will be on the right track. In addition to the general entrance fee, the classic tour will cost an additional 5€.
Entrance fee: €7.00
Official website: http://www.schloss-heidelberg.de
Location: Open Google Maps
Cochem Castle (Reichsburg Castle)
To us, this castle is the ideal hideout to vampires, no one seems to know exactly when it was built and it is estimated at age 1000. It sits on a hilltop proud and foreboding, and has several dark alleyways to get lost in. To be honest, we expect half of Edward Cullen to leap out at any given moment.
Pro Tip: It's worth paying an extra €6.50 to take part in the child friendly ghost tour
Entrance fee: €6.00
Official website: http://www.reichsburg-cochem.de
Location: Open Google Maps
Eltz Castle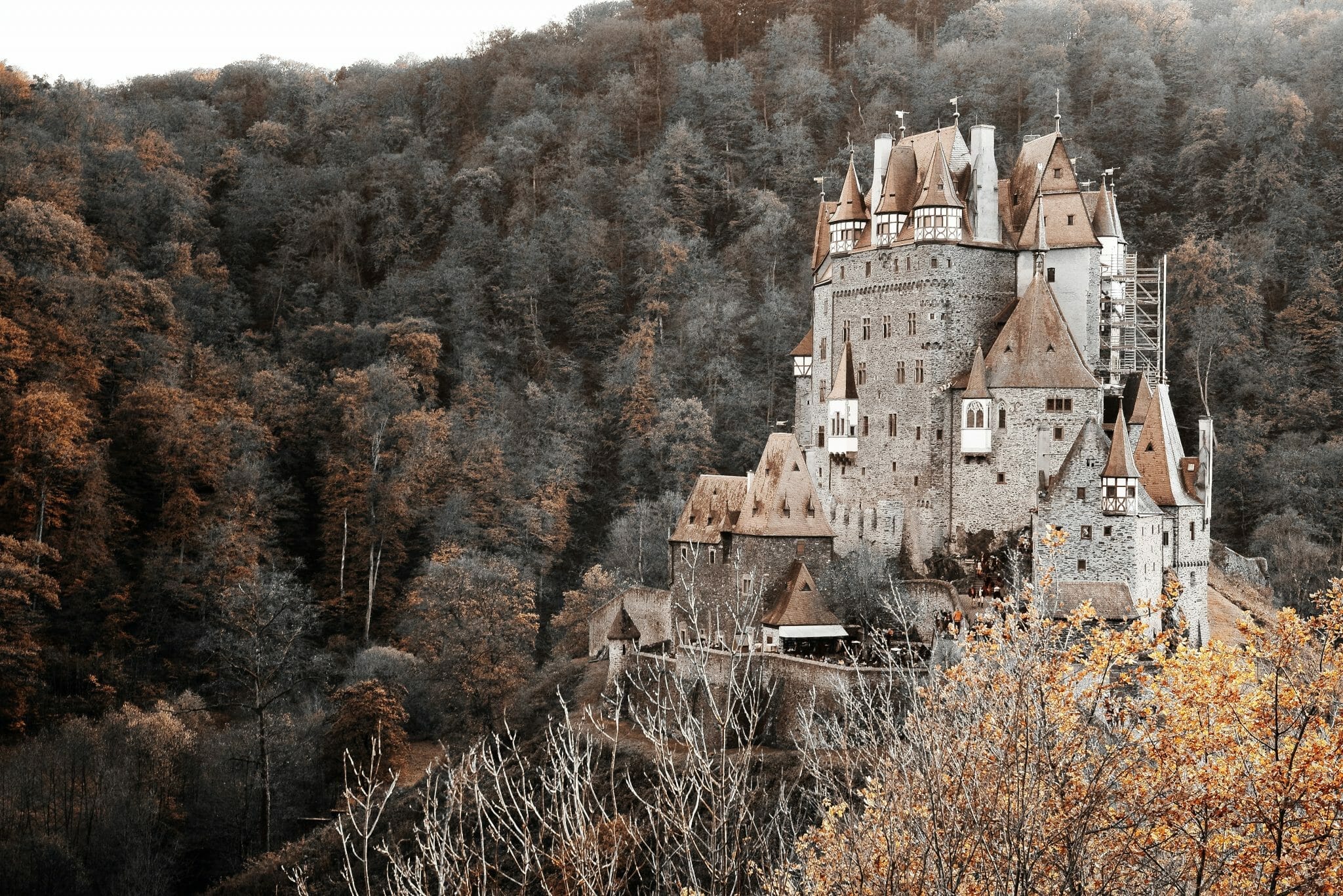 Finally, but the iconic Eltz Castle is by no means the least on our list. Hidden in the woods, since it was built, this middle-aged castle has been lovingly cared for by the same family and it shows. The design on show is remarkable, unscathed by war and there are still many of the original furnishings. There's so much to see and do here that you'll need to spend a whole day.
Entrance fee: €10.00
Official website: http://www.eltz.de
Location: Open Google Maps
We hope you enjoyed our Virtual Tour for the Fairytale Castle in Germany, If you are planning to visit any of the castle do let us know in comment box below about your experience. If you think we have missed any castle in our list of "Top Fairytale castles in Germany" then drop a comments below.
Do you know which are the cheapest places to explore in Europe on your Budget Europe Trip? We got that covered in our Post, Feel Free to take a look at that. We have got your covered for your Summer Holidays in Germany, Here are the Best Beaches in Germany for you.
Support us By Pinning our Post