If you are thinking about deciding the next place to explore near Amsterdam and you are there in the city of Amsterdam. A beautiful Dutch Village known as Zaanse Schans should be your next destination to visit. Chasing Whereabouts brings you about how you can enjoy your Day trip to Zaanse Schans.
The history of Zaanse Schans, on an interactive timeline, can be seen from 1961. The Zaan district saw the industrial revolution in the mid-19th century. What you see today on the Zaanse Schans is how a living and working community in the Zaan district and Dutch Village looked back then: farmsteads, paths, wooden houses, warehouses and windmills, ditches and fields.
Before taking a look at the top things to do in Zaanse Schans, here are a couple of posts which we think you may like to read
If you are interested why not take a look at our travel video of Zaanse Schans.
---
How to reach Zaanse Schans From Amsterdam?
The approximate distance from Amsterdam Central in 20km and you can reach by car in approximately 30 minutes. I'd personally recommend jumping on the bus tour that will take you to Zaanse Schans windmill and other sights that will impress you.
Rent a Car from Amsterdam Central to Zaanse Schans
It is just a 30-minute ride from Amsterdam Central Station to Zaanse Schans if you want to cover that using your own car. In case if you planning to travel to Zaanse Schans enjoying the beauty of the suburbs and windmills driving your car, you can choose to rent a car from Amsterdam Central Station to Zaanse Schans at the cheapest rate.
We have compiled some search options for you –
Rent a car from Amsterdam to Zaanse Schans via Economy Booking
Rent a car from Amsterdam to Zaanse Schans via Rentalcars.com
We recommend that you try Economy Booking because they have more options as compared to Rental cars and they are fairly cheaper.
Train from Amsterdam Central Station to Zaanse Schans
If you think renting a car is not an option for you then you can book a train from Amsterdam Central Railway Station to Zaanse Schans. It will take around 45 minutes to reach to the Zaandam district.
---
Where to Stay close to Windmills?
In case you want to spend more time in Zaanse Schans then here are a couple of suggestion for the places where you can stay in the Zaanse Schans from Booking.com – Cheap places to Stay in Zaanse Schans.
Or the best thing would be to stay near the central station in Amsterdam and hop the train in order to visit Zaanse Schans. We covered some affordable and budget-friendly places to stay near the central station in Amsterdam.
Where to visit Zaanse Schans in the Netherlands?
The Zaanse Schans is a residential area in which the 18th and 19th centuries are brought to life. Its the best option to stroll past the bakery museum and enjoy the smell of fresh cookies, or take a look at the warehouse where clogs (wooden shoes) are made. You should be sure not to miss the cheese factory, pewter foundry and the various windmills.
The Zaanse Schans is a unique part of the Netherlands, full of wooden houses, mills, barns and workshops. Make a cycling or boat trip, browse the shops or treat yourself at the pancake restaurant. A day out at the Zaanse Schans in North Holland is fun and educational.
Top Things to Do in Zaanse Schans for Free
#1 Stroll Through a Beautiful Dutch Village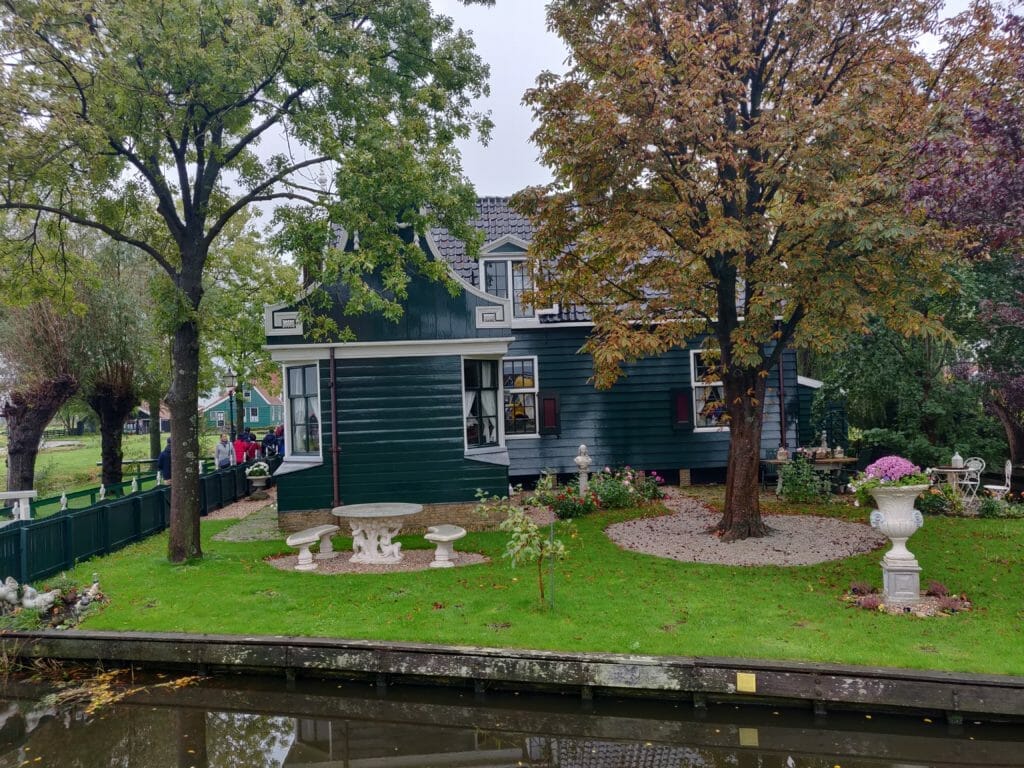 #2 Visit Cheese Farms and Experience Cheese Making
#3 Get Mad with some Big Yellow Shoes
#4 Explore a Live Wooden Shoe Workshop
#5 Try some Wooden Shoes of Your Size
#6 Walk Through all Green Wooden Houses
#7 Climb the top of Windmill and try Hot Chocolate Drink
#8 Explore Souvenirs and buy them in Amsterdam Flower Market
#9 Admire Beautiful Tulip Garden during Spring
#10 Stopping Buy Some Picturesque Locations
DON'T FORGET TO PIN THIS IMAGE ON YOUR BOARD
---