Travelling to Europe is a dream of all the travel enthusiast. However, If you are a first-time traveller then Europe can become overwhelming for you. In this post, we are going to highlights the travel apps for Europe to turn your life tension free. We will be going through in detail about the best travel apps for Europe and when and how you can use them.
Europe is completely different from other places where I have been. Provided that I just travelled and covered the Asian countries when I finally decided to move to Germany for work.
I'm assuming this is the first time you are travelling here and you have a plan to get the most of the Euro trip. I'll try to cover most the of the travel apps which I found useful while being in Europe.
Who should read this Post?
If you have any of these question mentioned below then this post is for you.
How to Find Cheap Flights in Europe?
Which website to use to get cheap tickets for trains in Europe?
Where can we get museums and attraction tickets at a relatively cheaper cost?
How to find cheap accommodation in Europe?
Where can I rent a car in Europe?
Which website to use to book bus tickets in Europe?
If you planning your trip to Europe
But before that, Have you already created your travel Plan for Europe? Here are the suggested read which you might be interested in
The Best Travel Apps for Flights in Europe
There are in total 18 Budget Airlines in Europe which we covered in another post. So if you are looking for the cheapest airlines in Europe then consider reading Budget Airlines in Europe.
I always have insurance when I travel which brings a sense of confidence in case of mishappenings like loss of luggage flight delays or flight cancellations. Don't trust me?
How about checking out our Post Warning Are you Travelling without Travel Insurance?
Let us read about the application which is going to save you fortune on Flights tickets booking.
Kiwi
If you are a traveller then I am damn sure you must have heard about Skyscanner. Here is one company which gives tough competition to Skyscanner. My recent trip of Greece was fully booked from Kiwi and I got some cheapest flight tickets for Athens which was only available on this application.
This application helps you find the place around you within your budget and the customer support is supportive as well.
Jetradar
Another application which helps you find cheap flights to travel in Europe is Jetradar.
JetRadar is one of the largest online search engines for flights all over the world. Its sister-brand, Aviasales, is a popular service that online users also appeal to while seeking the best airline prices.
This service helps thousands of people compare airfares from 726 airlines and dozens of travel agencies and systems. Thanks to the JetRadar, it is possible for users to track down special offers from carriers and book the cheapest tickets available.
Also, the service provides travellers with great deals on different directions (domestic or international flights). By providing these unique offers, the service has already earned the loyalty of many consumers.
Skyscanner
Skyscanner is a web-based app that displays several companies' travel, hotel, and car rental rates, making it easy to compare prices on the same website. Before beginning my journey across Europe, I used Skyscanner a lot. Skyscanner will allow you to pick the month you want to travel to your desired destination if your travel dates are flexible, and will display the cheapest days to travel in that month.
There is also the option of looking without a destination, or some particular date! Only pick your city of departure and let the app do its job and find the cheapest dates and places to fly.
WayAway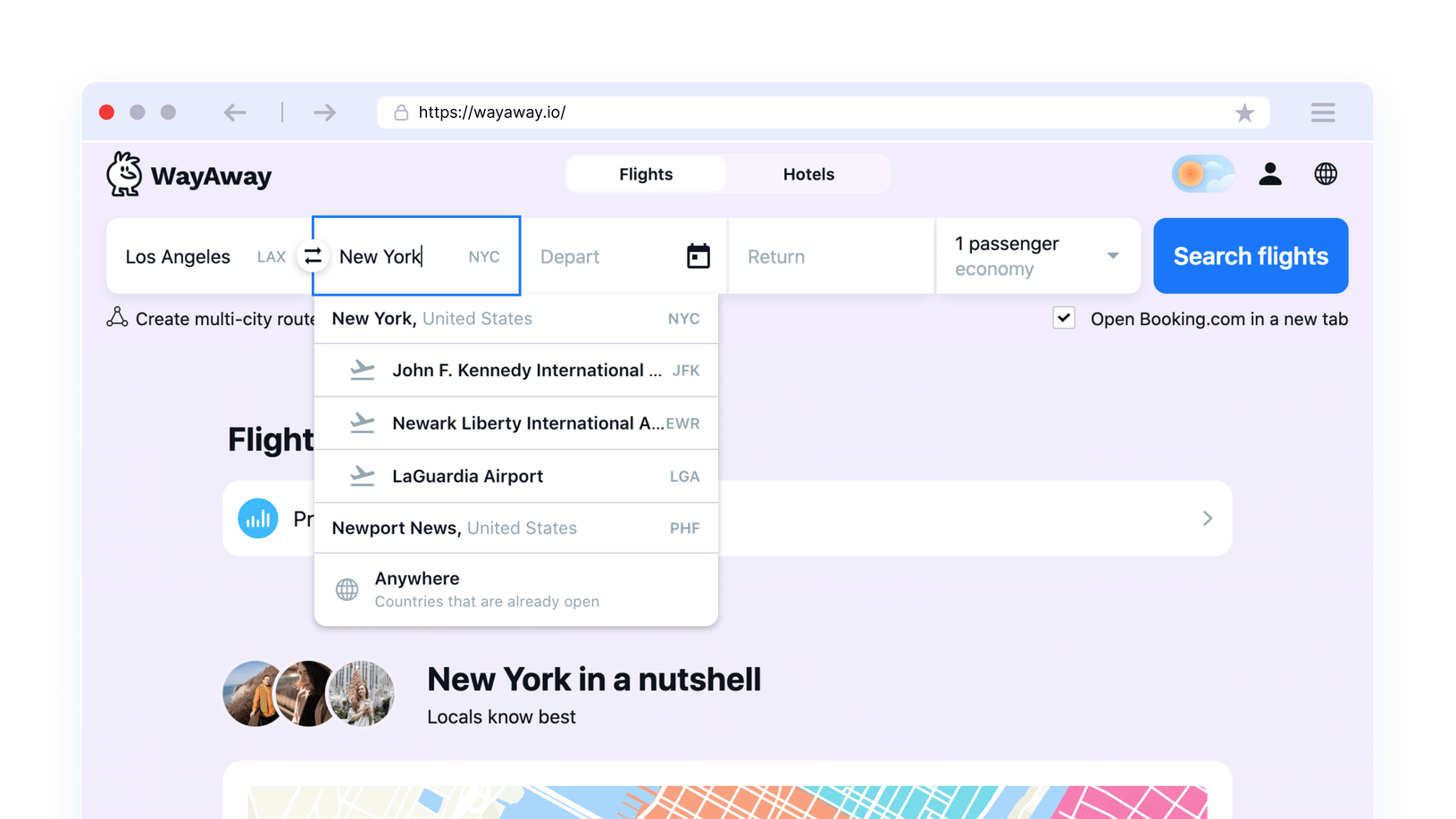 A realtively new one in the market for booking Flights but it is something worth checking out if you need some cashback for your flight ticket. And it is best to get the WayAway Plus subscription if you want to save even more money.
WayAway is a flight aggregator that provides travelers with the best rates on airline tickets. Users can also purchase the WayAway Plus membership plan, which gives cashback on flights, accommodation, car rentals, tours, and more.
As a partner, you will receive reward for sales of flight tickets through the WayAway metasearch and sales of the WayAway Plus membership plan, which is also available for users at the WayAway's app and website.
Guess what? We have a Promo Code "ChasingWhereabouts" to help you save 10% on the cost of the plus or maybe you can book directly from here
The Best Travel Apps for Accommodation in Europe
You must be already aware of the website like Booking.com, Agoda, Airbnb if you are a travel buff. So I am not planning to re-iterate that. However, if you still want to read about them you can head out to read the cheapest options to book accommodation in Europe.
Hostelworld is an application which you need if you want to keep your Europe trip in Budget and travel like a boss. You can search compare and book hostels here and guess what it has free cancellation feature just as Booking.com.
We booked our hostel from Hostelworld during our trip to Budapest and it cost us around 10$ / night and that too in a prime location on the pest side. So this is an absolute win-win situation for you.
Booking
Even though there are a lot of competitive players in market Booking is one of my goto destinations to booking cheap accommodation. I can not really recall how many booking I have made with this application. Normally I compare the property on Booking and Hostelworld and buy it from the place which offers me at a lower cost.
Booking is #1 online booking platform for accommodations around the world, zero booking fees and content in 40 languages
Booking.com is #1 travel site in terms of Customer Satisfaction by J. D. Power. The site is available 24/7 in 40 languages and has a unique direct long-term relationship with more than 900,000 accommodations.
Features
Guaranteed payment for all reservations
Over 87,000,000 verified guest reviews from actual guests to drive customer loyalty and increase conversion rates
The Best Travel Apps for Train Tickets in Europe
Omio ( Formely Go Euro )
A perfect user-friendly GUI. Omio is a third party application which offers a solution to book multiple things such as flights, train tickets, buses.
Till date, I have just used it to book the train tickets because I find it really irritating if you ask me to book the train tickets from the official DB application of Europe.
If I had to pick one from all the travel apps for Europe mentioned here, it would probably be this one!
The platform charges a small commission for bookings versus if you booked directly from a country's regional train site, but it is SO worth it just for the convenience.
I recently explored one option on Klook that they have partnered with Rail Europe and now they offer Europe train tickets without any fees.
It is worth your time to check that. Take me to Klook Website.
The tried-and-true Eurail Pass has a technical dimension now. To prepare your rail travel itinerary, the Eurail/Interrail Rail Planner helps you to check for train schedules around Europe.
To see only the trains that operate with your pass, you can also filter. And since the Eurail Pass is the ticket equivalent, booking on the app is only for the extra reservations that you may need on top of the pass that you already have.
Speedy Eurostar trains whisk you back and forth through the Channel Tunnel from the UK to mainland Europe, and the Eurostar app makes it simple and convenient to book and store train tickets.
The app tracks transactions so that frequent travelers can receive loyalty rewards, and even features some TV programs with free on-board WiFi to watch during the trip through Amazon video.
Now, I have talked about this in detail in our post How to travel Cheap in Germany so you can head out to that post to read in detail about this. But this is a must-have application if you are planning to explore places in Germany.
The national train service of Germany, Deutsche Bahn, is revered for its quality, so it is not surprising that the app is also efficient.
Like the website, the DB Navigator app provides not only real-time German train schedules but train schedules across Europe as well. Via the app, you can book train tickets (only for German trains), sign in for your journey, and even see where you need to stand on the train platform to be near the car where you have reserved a seat.
This app is about more than just trains, despite what the name may make you think. In Europe, including the UK, Germany, France, Italy and Spain,
Trainline is a booking app for trains and buses that helps travelers obtain the often substantial discounts that come with advance bookings. The app also allows you to check for route choices that will go through (or avoid) those cities directly to better tailor your journey.
The Best Travel Apps for Bus Tickets in Europe
Flix Bus
A game-changer company of Europe which has connected all the part of Europe via Bus. You just have to keep a look at the deals page of this bus ticket booking application and you will be left amazed with the cost of a bus ticket you get from here.
My upcoming trips are all booked via Flix bus, I am travelling to Rome and it just cost me around 50 Euro up and down from Frankfurt, Germany.
Flixbus is not only widely spread out, but it is also way more affordable than any other way of travelling across Europe.
One such great deal I used was for 5 rides for EUR 99. You can also find tickets for as cheap as $6 if you book well enough in advance.
9292
An application which is going to be your best friend if you are targeting to travel to Amsterdam(Holland). Wo do have some awesome plans related to what to do in Amsterdam, Budget places to stay in Amsterdam so you can give that a read.
So let's talk about 9292
If you're travelling via Holland, 9292 is perfect. It means the exact time the bus, metro or train is going to pass by. And if transit is delayed, the new timetable updates you automatically. You can also put in your locations of origin and destination and it will tell you where to wait, trip length and where to get off at what point or platform.
9292 also has a handicap accessibility blocker!
The best travel apps for Cabs in Europe
In this particular section of best travel apps for Europe we will be covering the Cab application which you can download before entering in Europe based on the planned destination in Europe. Because spoiler alert. UBER doesn't support at all the location in Europe.
I realized this when I was in Greece last week and noticed that there is no Uber around but the Beat was there 1 minute away even in the Sounion region of Greece.
The concept for the ridesharing app Cabify is very similar to Lyft and Uber, but Cabify is only available in two European countries—Portugal and Spain. You can share information of your trip to let friends know when you'll arrive, and even customize your ride by defining musical and climate control preferences.
If you are in Germany then this cab application is going to save you around 1 Euro each ride if you want to compare it against Uber.
Formerly known as mytaxi, the emphatically called FREE NOW (yes, it's in all caps) should give you an idea of what the app does. Calling itself the biggest taxi app in Europe,
FREE NOW provides taxi reservations in nine European countries. Except that this one is for taxis, it is similar to a ridesharing app, giving travelers the convenience to pay for rides through the app instead of cash.
With London's popular black taxis, Gett makes it easy for travellers to book rides. In Bristol, Coventry, and Manchester in England, and in Edinburgh and Glasgow in Scotland, the app is also open.
Using Gett means you don't have to wait or hail a taxi on the street in taxi lines, and you can arrange a ride ahead of time.
Beat
If you are planning your trip to Athens in Greece then you should know about this cab application because you will find its frequency more as compared to Uber and each ride would be around 1 Euro less as compared to Uber. So all hands down its a must of travel apps if you are travelling to Greece.
Uber
I have been comparing Uber with all the other cab application up above but how can I miss this giant.
Uber is a ride-share company that allows users to search for available nearby drivers through a mobile map. In Europe, Ubers are known to be cheaper than traditional taxis, and you can use the same account and login information you use back home.
Bla Bla Car
Well not exactly a cab service but yes Basically, BlaBlaCar is what hitchhiking looks like in the 21st century-you're not standing on a roadside waiting for a lift, screening prospective carpooling partners through an app and planning a trip in advance.
You can join them, share costs, and have some company if someone else is still going that way. The network serves more than 15 European nations and now also covers five countries with a bus service called BlaBlaBus.
Car Rental
Rental Cars
There are places in Europe where it is advisable to rent a car and go for the trip at your own pace. Be it discovering the Mediterranean islands of Malta which is one of the cheapest countries to visit in Europe.
Here is when Rental Cars come into the picture, there is no point of keeping multiple application to find the cheapest options to rent a car. This is a one-stop solution which has all the big brands under them be it Hertz, Avis, Europcar, National, Dollar, Thrifty, Aroma and so on.
This platform offers an interactive map to check the prices of rentals cars as per the pick-up location and easy filter option to choose your preferred car type, seats and deposits. Also, look for early bird offer for cheaper price options.
One sample example is that renting a car in Santorini costed me just around 17 Euro a day.
Myrentacar.com
Myrentacar.com cooperates only with local national car rental companies, which allows us to provide the best products on the market, despite small geographical coverage.
So if you have already planned for renting a car at a particular place then this helps you plan that out without any issue. I rented a car while travelling to Santorini in Greece and it just costed me around 17 Euro a day for Toyota Yaris which is an economy car.
The Best Travel Apps for Bike & Scooter Rentals in Europe
How about finding out about some best travel apps for Europe in the Bike Rentals categories, this is going to help you be prepared if you are planning to take bike ride during your trip to Amsterdam, because who doesn't do that.
In this part of the post of best travel apps for Europe we will be covering about the bike rental options available in Europe.
Bike Share Buddy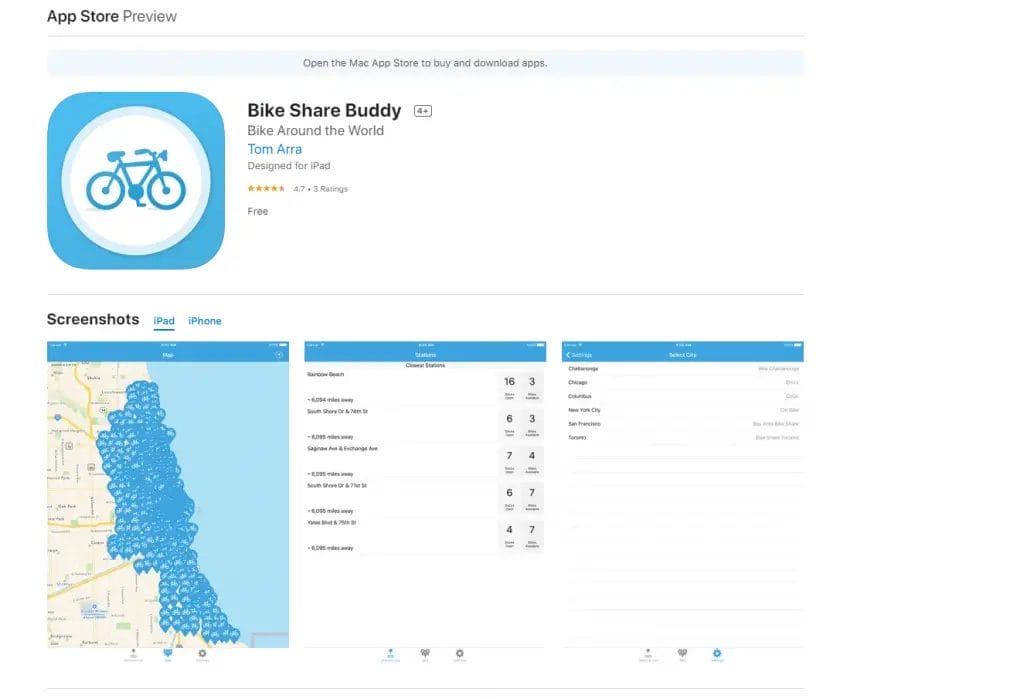 It's both fun and effective to discover a new place on two wheels, and the prevalence of bike sharing certainly helps make it easier. Travelers don't always understand the ins and outs of the unique bike sharing program of a given area, but Bike Share Buddy fixes that issue.
The helpful app shows you in more than 45 countries (many of which are in Europe) the locations of bike sharing stations, also showing how many bikes are available at each one.
Although the utility of the Scooterino app is minimal (it's only for Rome), it's so suitable that it's worth mentioning to get through the infamous traffic of the busy city just as an Italian.
Scooterino is scooter sharing, giving you the ability to zip on the back of a scooter around the Italian capital without having to drive or know your way around. Like other ridesharing services, find out the rough cost of a trip before you book and pay your driver via the app.
Bike Booking
Online booking service for motorcycles, scooters, quads, and bicycles all over the world
BikesBooking.com is an online booking service for motorcycles, scooters, quads, and bicycles all over the world. BikesBooking compares the prices of 950 rental companies from over 40 countries.
The Best Travel Apps for Things to Do and See in Europe
A rather clustered domain where almost every other site is selling something by keeping their margin of profit.
If you are travelling in Europe then you should know that some of the attraction spots in Europe have no options to buy a ticket in person, you will have to book the tickets online.
Guess What!! Tickets get out of stock as well.
Like, it is always advisable to book the Eiffel Tower ticket in order to avoid 1-2 hours of waiting time in Queue. Anne Frank in Amsterdam don't have an option to book tickets from counter and the tickets are only available online.
Keeping budget in mind I always use these three applications in order to compare and book the cheapest tickets for the attractions. GetYourGuide, Klook and Tiqets.
Get Your Guide
GetYourGuide is a repository for booking awesome day tours for almost all the places in the world. It is super easy to buy tickets and avoid the crazy queues in Europe during the peak seasons.
You want a place that helps you skip the queue and get to where you want faster and easier moreover cheap as well.
You can also get all my tips in my best-selling Europe Trip Planner ebook.
Klook.com
If you are tired of searching the cheapest attraction tickets in Europe then Klook will help you out to get the tickets at the price almost 2-3 dollar less to market cost.
Out of all the ticketing application mentioned in my list of best travel apps for Europe.
Tiqets.com
If you are tired of searching the cheapest attraction tickets in Europe then Tiqets will help you out to get the tickets at the price almost 2-3 dollar less to market cost. +
Viator
No matter where you want to go in the world, or what you want to do, it's likely that Viator has a tour (or seven) that suits you. Viator's app brings the catalog to your phone, even discovering what's near you based on your location, to make it easier to find and book tours on the go.
In some situations, you can book same-day tours, find tours that help you avoid long entrance lines, and tickets booked via the app are saved on your phone.
For more than a decade, SANDEMAN has been providing free tours to a growing list of cities, now covering 17 European cities. The premise is that each traveler tips the guide based on how useful, fun, or informative they thought the experience was Each simple city tour is free.
In each location, there are also several other paid tour options. So, if you like the free tour, the app allows you to book another one right away.
This is absolutely one of the Best travel Apps for Europe since you end up getting something for free.
Trip Planner
Rome2Rio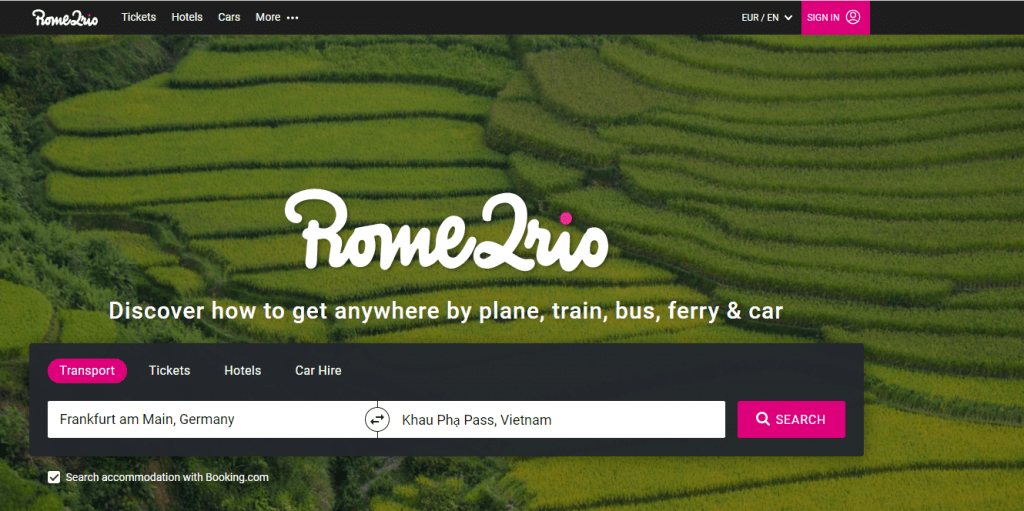 Not only will Rome2rio provide you with your choices for public transit between any two destinations on earth, you will also get driving details.
You can then dig down to get more information on your favourite from the main results page, where you see the estimated travel times, routes, and costs of each transport option, and there is a link to book tickets, too.
Any travel lover who is continuously collecting suggestions from friends, TV shows, magazines, etc for future (potential) trips knows how frustrating it is to actually take a trip and not recall where you put all those little notes.
Enter TripDoc, a guide that you create by adding pinpoints to city maps for any city in the world. To help jog your mind, save notes about each tip (such as a particular suggested dish at a restaurant or who gave you the tip).
Then the map will show you where the suggested spots are relative to where you are while you are visiting a city saved in your TripDoc library. No more substandard meals because you're starving only to find out later that a restaurant was just around the corner that your friend told you about.
If you're not lucky enough to have friends all over the world, a decent alternative is Spotted by Locals. With personal tips for the city in which they live and love, locals populate the database, offering visitors the opportunity to venture beyond the normal list of sights and restaurants.
In addition to helping travelers enjoy journeys, the aim is to alleviate the pressure of overtourism in some areas while encouraging others who do not get their fair share of love for travelers. The maps and tips of the app are all offline accessible, and new tips are constantly being added.
TripScout curates and places them all in one position with articles and videos from over 1,200 publishers, local experts, authors, and influencers. Each suggestion is mapped to a point of interest-a store, a restaurant, a landmark, etc.-so just click and add it to your itinerary when you find one you like.
Everyplace
Bering a travel blogger is tough, Now at times I tend to forget the name of the places which I visited in the particular country of cities or maybe something funny which happened there.
It is when this application comes into place, you can create and note on the places you have visited. You can also extract this information from Google Maps if you want from the History section of Google Maps.
For avid travellers, the Everyplace app is a must-have app. You can create your own travel map using Everyplace to mark your countries, towns, and places visited. The app allows you to create travel collections and routes and add dates, photos, and notes for each destination that you have pinned up. You can also post your map of places on social media that you have visited (and pinned) directly!
Tripline
Tripline is a great app for planning and sharing trip itineraries. It's especially cool because you can create your story as you travel and mark the map for where you've been, where you are and where you're headed. It's also possible to add photos and notes to each destination, and see other travelers' trip itineraries!
The Best Travel Apps for Maps in Europe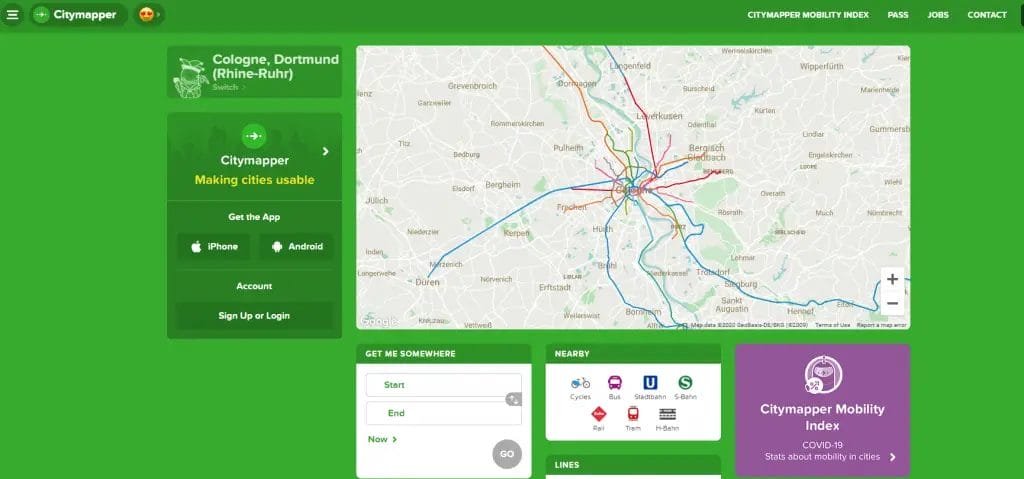 Accessible in nearly 20 cities in Europe, the strong and famous Citymapper app integrates public transit maps for buses, subways, and trams with real-time schedules, transit status alerts, and even information sharing for cars and bikes. From a subway station, you can also figure out which exit to take. To make city navigation a piece of cake for residents and travellers alike, it's all in one convenient spot.
Google Maps
I can not imagine exploring a place without Google maps. Though my idea of exploring is not just visiting attractions I like exploring the streets and enjoy the places where it takes us. But people like me get lost if they are just exploring in this manner.
I always download the offline maps of the place where I am about to visit. It helps me to be independent of the availability of the internet and I am able to explore places in the city which are not on any Itineraries.
The perfect use off the offline maps feature was during our visit to Switzerland as the European sims internet doesn't work in Switzerland. Unless you are willing to pay a hefty amount of money.
Maps.me
Now you may not be the fan of Google Maps because that needs internet for usage normally unless you have downloaded the portion of the place where you are visiting in the Offline Maps part.
This application really came in handy for me when I was travelling to Switzerland because the German mobile internet doesn't work there. (You have to pay extra).
Maps.me provides offline maps of the whole world. Unlike Google Maps, once Maps.me has been downloaded you will no longer need the internet for routes for cars, public transport, biking and walking, including trails. Maps.me also displays hotels, attractions and nearby places to eat… all offline!
Maps.me is considered one of the best apps to use when traveling to Europe.
Apps to make a little extra money on the trip
Trvl

TRVL is a travel booking platform that pays you a commission for each reservation you make, whether for yourself or other people. You also gain access to offers and discounts on millions of hotels throughout the world.
TRVL is designed to put travel pros centre stage. As a member of the TRVL community, you can create a page with your favorite places to stay and articles about each destination. Then, when other people book through your profile, you get a commission! So you get some extra cash and help other travelers make decisions by sharing your travel knowledge and expertise.
TRVL is considered one of the best apps for planning a trip to Europe.
The Best Travel Apps for Translation in Europe
Google Translator
Well, it brings me to the point about the language in Europe, While English is common in most of the tourist spots in the country. There are places where you may need Google Translators.
Unless you are carrying your own booklet of to-dos of the places you are visiting. All the documents in Europe are mostly in their regional language like I can't recall when I last saw a document printed in English. All the documents here are in German for me.
The lense feature of Google maps helps you convert the text and direction hoardings or the attraction pamphlets in your regional language. Language problem solved.
You can also download the languages which you want to convert well before travelling to Europe. So you google translator will work also when you don't have any internet.
Triplingo
The TripLingo app meets most travelers' specific translation needs, by clicking on the keyboard, speaking into the microphone, or using the camera of the tablet, but it also has educational instruments. To help travelers feel more relaxed in unfamiliar locations, the app contains a phrasebook as well as audio language lessons, as well as basic etiquette, protection, and culture tips. There's also a currency converter and tip calculator built-in.
The Best Travel Apps for Places to Eat in Europe
In 2014, what began as "La Fourchette" (French for The Fork") became The Fork for TripAdvisor. The Fork now allows diners to search for and book tables at thousands of restaurants across nine European countries, instead of only concentrating on restaurants in a few European countries. If you book through The Fork, filter your quest based on dietary restrictions or average price per person, see your choices by neighborhood, and take advantage of special offers at some restaurants.
With the Happy Cow app, locating vegetarian and vegan restaurants around the world is made easier. The listings cover more than 180 nations, and when you're out and about, you can access the details offline after browsing the choices and saving ideas for your trips. Refine the searches to locations on the menu that are vegetarian, fully vegan, or simply have vegetarian choices.
The Best travel Apps for Food Delivery in Europe
Now, I wish I read a consolidated post like this before coming to Germany in 2019. The day I landed here it was Sunday and normally Germany is completely closed on Sunday. That gave me a tough spot to find food to eat.
Which is why I really wanted to cover the major section of apps which is the Food Delivery application in Europe. This always helps to get food when you are tired and don't want to step outside to find something to eat.
And I can miss these application from my list of Best Travel Apps for Europe
Just Eat
Similar to UberEats in the USA, Just Eat is an online food delivery service. In Europe, you can use Just Eat in over ten countries. Buying is straightforward and delivery is quick. Often because of available deals and discounts, even if the restaurant you have in mind is close, it's easier to purchase food through the app. Great for days of rain!
Just Eat is considered Europe's best app for food.
Lieferando.de

One spot food delivery application which you need if you are planning to travel to Germany. From Pizza's to Burger this application has listed all the major restaurants in the city and provide food delivery at your doorstep in less than an hour.
Wolt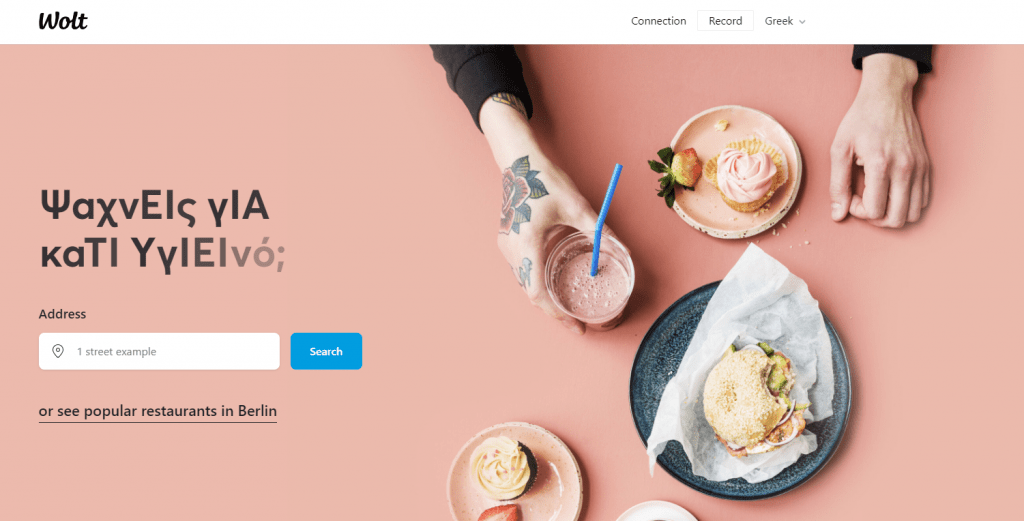 Now different places in Europe have their own food delivery giant. If you are planning to travel to Greece than this is one food delivery application which you should install before entering Greece.
They are the most active and widely used food delivery options in Greece. I used it in Athens and it was working just fine.
Others
Conversion is made easy by the minimalist GlobeConvert, no matter what you are trying to convert. Switch currency, temperature, weight, distance, and much more easily into the measurement unit that you know best. In order to make the process even more easy, save the conversions you use most, such as US dollars to euros or fahrenheit to celsius. The app will also fill in one of the currency fields automatically based on your geotagged location. GlobeStudio, GlobeConvert's creators, also have other helpful traveler apps, including one that details tip guidelines for the country in which you are.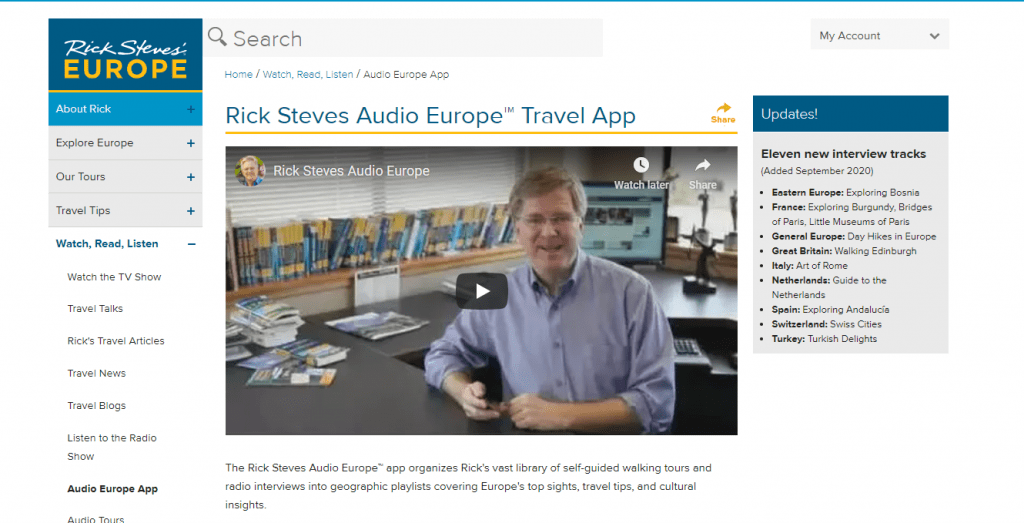 Bring everyone's favourite Euro-geek on your European trip with the Rick Steves Audio Europe app. Choose the destinations you'll be visiting and the information you'll want to have on hand—including plenty of travel tips and an excellent selection of free audio guided tours—and download them to your device when you have WiFi. Then, it's all available offline so you don't have to worry about data charges while travelling.
The best travel apps to Exchange Money
TransferWise is a leading revolution in money transfers and international payments. Transparent pricing Always gets the real exchange rate. No more hidden fees, ever. A local model Get low-cost, ultra-fast currency exchange.
All hands down this is by far the best application for sending money to your home country and I have been using them like crazy since the day I installed it. I would recommend you guys to try this out because they offer really good conversion rate compared to the competitor in the market.
I'm sure that these travel apps for Europe will benefit you as much as they have helped me and other travellers. If you have a suggestion for another awesome app or website like the ones listed here, leave the name in the comments so that when traveling, everyone can save more time and money and get so much more out of their next trip to Europe.
Please Pin the image for later