So you have already spent your day looking around the attractions in Vienna, Are you hungry now? Let us dig in to know about the best food in Vienna which you should try during your visit.
Vienna is popular among the travellers both for food and wine and is home to multiple local treats. With a local culinary scene which often rivals those of Budapest or Paris all while trying to appear quaint and traditional, the city is a great place to try some of the most unique dishes, sweets, and drinks in the country.
From schnitzel to mouthwatering cakes, sausages, and hearty stews, these are the Top Traditional Austrian foods to try in Vienna.
If you are wondering whether you need to buy the Vienna Pass during your visit then consider reading our post Vienna Pass Review
Best Food in Vienna ( Traditional Austrian Food to try )
1. Wiener Schnitzel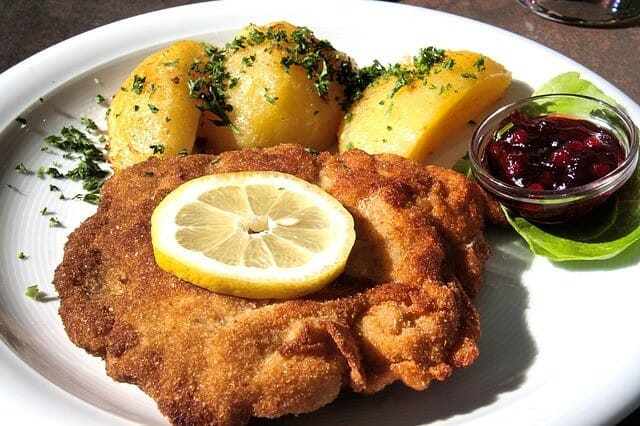 Wiener Schnitzel is one of the Austrian National Dishes and therefore, this needs to be on top in the list of foods to try in Vienna.
Amazingly, this mouthwatering Schitzel is made from a thin cutlet of veal that's breaded and then pan-fried in butter or oil. Cchnitzel is cheerfully served in restaurants and eateries around the capital. Simple yet delicious, it's a huge crowd-pleaser. In Vienna, the Wiener Schnitzel varies in size and is often large enough for two people to share. It is usually served with lemon and potatoes. Although traditionally made with veal, pork schnitzel is very common, and often cheaper than the veal version. In some restaurants in Vienna, you can also find chicken schnitzel but veal or pork is my favourite.
2. The Sachertorte
Sachertorte is a classic chocolate cake which is topped with a thin layer of apricot jam and a smooth chocolate topping. The Sachertorte is a proud symbol of the Austrian capital. Thus, is another traditional Austrian Food item which you should not miss to try in Austria.
3. Apfelstrudel (Apple Strudel)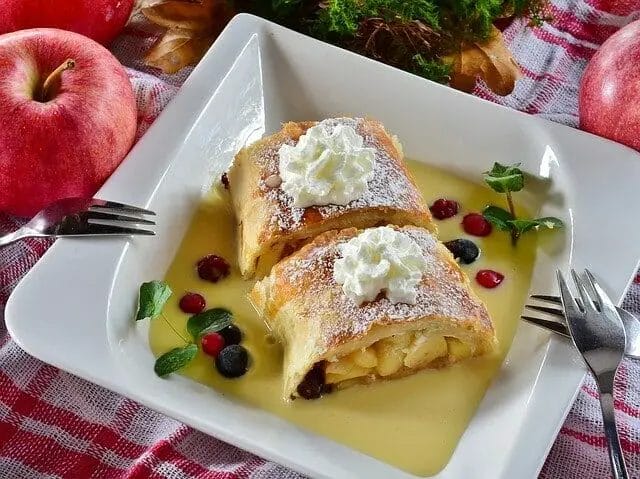 Well, Europe is certainly a place for people who like sweet. So it is fair to say that Austrians have a sweet tooth. Apple strudel is one of the famous deserts in Austria and all around that part of Europe.
Do you know? Apple strudel is made with a pastry stuffed with apples, raisins, and flavoured with cinnamon and a sprinkle of sugar. Apple strudel or apfelstrudel is eaten for a great dessert (Traditional Austrian Food – dessert of Vienna), or as a sweet snack with your coffee.
If you would like to taste strudel for free and learn about How to make the Austrian apple strudel then you can watch the Vienna Strudel show and Schoenbrunn Palace.
4. Tafelspitz ( Beef boiled in Vegetables)
Tafelspitz is another tasty meal which Austria has to offer. It is tender, lean cut beef that has been slowly boiled until the point that the meat leaves the bones. Tafelspitz is served with a number of different options such as "Apfelkren" (apples mixed with horseradish), spinach cream, potatoes.
Accompanied by a good Austrian white or spicy red wine, Tafelspitz is a great alternative for those wishing to taste one of the country's national dishes but is looking for a healthier option.
5. You can also try delicious- Goulash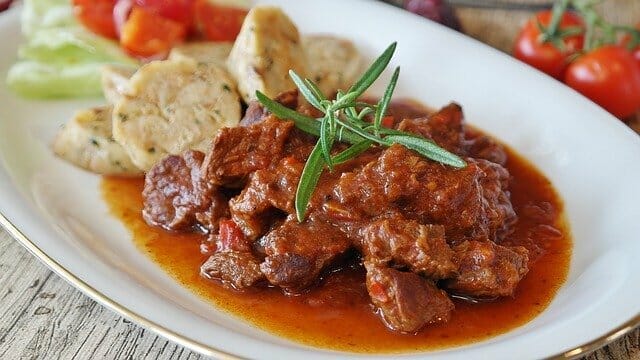 You may have heard or read this name in our article Top 10 Food To try in Budapest
Hungary. Goulash is a Hungarian stew which got popular in Vienna too. My bet is on Queen Elizabeth, maybe she loved this Hungarian dish so much from Budapest that she brought it to Vienna.
Over the time, the popularity of this dish has allowed Vienna to include it into their list of traditional dishes. The Goulash is a hearty dish, made with beef chunks, potatoes and seasoned with delicious paprika salt.
6. Zwiebelrostbraten
Another beef dish to try in Vienna is Zwiebelrostbraten. It is delicious roasted beef that melts in your mouth. Mostly served with gravy made from red wine and caramelized onion. It is usually served with mashed potatoes and the meat is topped with roasted onions. Zwiebelrostbraten can be found on the menu of almost all typical Austrian restaurants in Vienna.
7. Schweinsbraten
One of the traditional Austrian Food Items in Austria which has its roots in the culture since centuries. The meat is cured or pickled in order to give it a spiced flavour to make it unique.
Schweinsbraten can be served as a hot meal with dumplings known as "Sauerkraut" & "Knödel" or cold with bread, mustard and horse radish, making it the ideal Austrian dish for every social event. Schweinsbraten can be found in basically all typical Austrian "Beisl" and restaurants and is also one of grandma's favorites.
8. Käsekrainer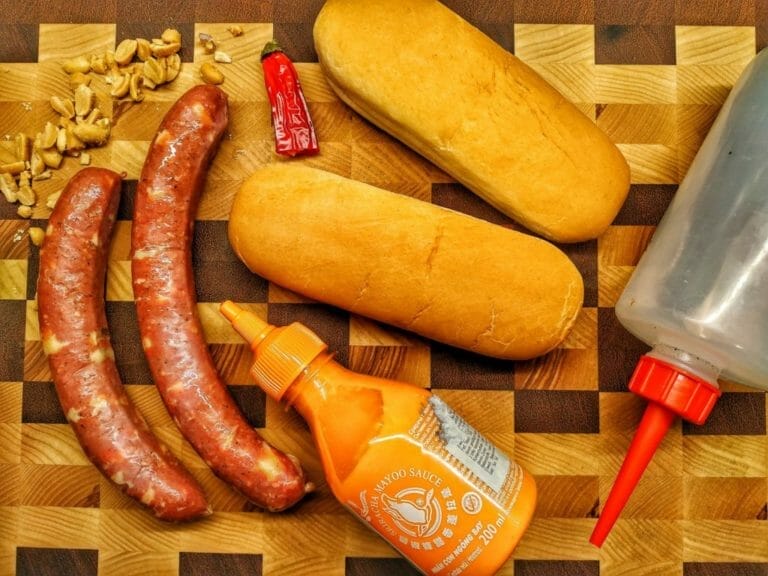 Are you planning to leave Vienna without trying these sausages? This is a popular dish you can find on sausage street stands basically every corner in the city center. You can get "Bratwurst", hot dogs and the famous Käsekrainer – sausages with cheese filling. Traditionally, they are eaten with mustard, horse radish and ketchup – a must-try dish when in Vienna!
9. Kaiserschmarrn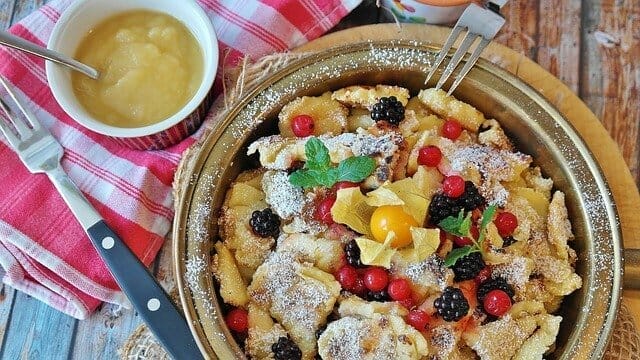 Another option, from the sweet tooth of Austrian people, is this dessert. Kaiserschmarrn is a type of shredded pancake that was made for Emperor Franz Joseph I. As, the Emporer was very fond Kaiserschmarrn, this makes this food delicacy still so popular option in Vienna.
It is usually served with a light dusting of sugar and typically a very special plum jam (with big plum junks in it), this dessert can be had at any time of the day and goes along perfectly with coffee. Make sure to try this must-eat food of Vienna!
10. Try aromatic – Melange (Viennese Coffee)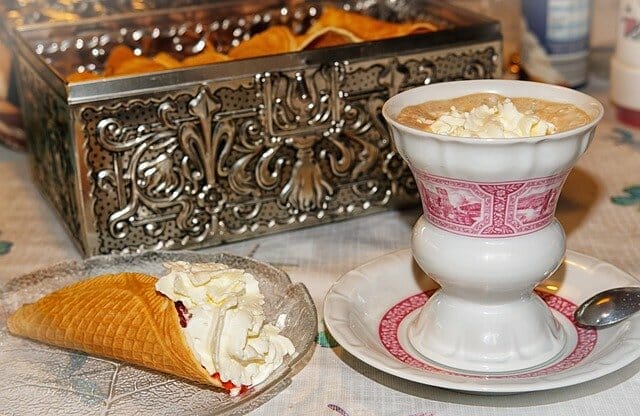 Feel free to combine Kaiserschmarrn with Melange to make it an ideal choice for your evening coffee. Who doesn't love Coffee?, And it goes without saying that you need coffee in order to keep your engine running to cover all the places you visit throughout the Austrian Captial.
Vienna is a European coffee capital. Cafes sprung up all around the city in the 18th through 20th centuries and have become fixtures of cultural and culinary life in the Austrian capital.
The famed Viennese melange, similar to a cappuccino but usually without cocoa powder, is topped with half hot milk and half foamed milk. Cappuccinos in Austria are generally topped with whipped cream, rather than milk. If you're looking for an Americano, ask for a Verlängerter (literally, "longer"); plain coffee with cream is a Brauner, and an espresso or double espresso is referred to as a Schwartzer.
11. Wiener Wurstel
Another Sasuage to try in Vienna is Wiener Wurstel. These sausages are made from both beef and pork, encased in sheep's intestine. Served with mustard and accompanied with Austrian Potatoe salad, radishes, spring asparagus, and other fresh vegetables.
12. Spargel (Spring Asparagus)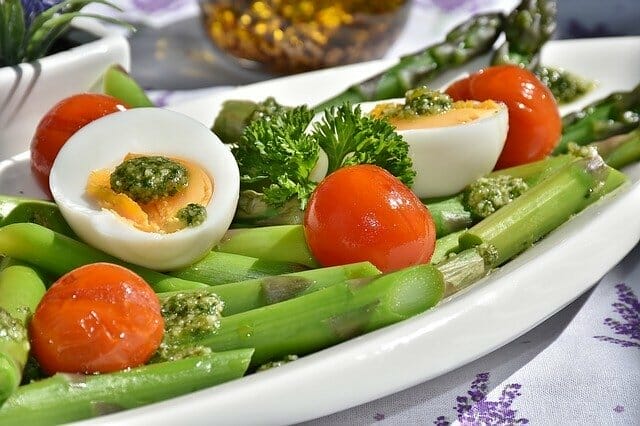 This is one of the local delights, which you can try when you are visiting Vienna. Austria and especially Vienna offer some of the world's most delicious green and white asparagus.
You will see this seasonal dish in most of the menus in Vienna starting late April or early May. Vienna is among the Top 10 destinations to visit during Spring Break in Europe. At times, Spargel includes butter and lemon doused in breadcrumbs. On the other hand, it's taken as deliciously fresh soups or wrapped in prosciutto and slathered with hollandaise sauce.
13. Erdäpfelsalat (Austrian-style Potato Salad)
Well, this is a supporting dish with a lot of options mentioned above, however, let us just talk about here. Erdapfelsalat is an Austrian style potato salad served without Mayonnaise. Yes, it's very different from the American counterpart. Instead, this dish includes white wine vinegar, a bit of mustard, red onions, chives, and a dash of salt and pepper.
As I said, This salad pairs beautifully with almost anything: schnitzel, sausages, fresh asparagus, or other seasonal vegetables. It is best to enjoy cold Erdapfelsalat, although in winters many restaurants serve it warm.
14. Powidltascherl (Plum Jam Turnovers)
Now, moving on to the next food culinary in the list. Plum Jam Turnovers, it is difficult to find this dish outside Austria, Germany and the eastern part of Europe. Although, this dish hails from the neighbourhood Czech Republic. Amazingly, it has found its place in the Austrian kitchen.
The delicate pastries utilises distinctive potato dough, filled with a combination of plum jam, rum or plum schnapps. Finally, topped with a mixture of breadcrumbs, butter, and walnuts. Moreover, a bit of cinnamon and vanilla adds aroma and a hint of spice. Some top restaurants in Vienna serve Powidltascherl with chocolate sauce or sugar.
15. Frittatensuppe
Lastly, one option for the people who wish to try Traditional Austrian Food – Soup should try Frittatensuppe.
Fritattensuppe is a savoury pancake soup that you must not miss in Vienna. Traditionally, it originated to reuse leftover pancakes from the previous day instead of dumping them in waste. Top restaurants in Vienna that serve Traditional Austrian food, slice up thin strips of pancakes and serve them in hot clear beef broth garnished with chives.
Doesn't it sound mouthwatering to you? I know it does if you are a food lover. Leave your comments and reviews in this post 🙂
Which are the best Coffee Houses in Vienna? Top Restaurants in Wein Vienna
Well there are multiple coffee houses in Vienna you can always go to these CAFÉ CENTRAL, CAFÉ HAWELKA , CAFÉ SPERL , CAFÉ MUSEUM , CAFÉ PRÜCKEL , CAFÉ SCHWARZENBERG , CAFÉ RITTER , CAFÉ JELINEK , CAFÉ LANDTMANN , CAFÉ KORB , CAFÉ WESTEND , CAFÉ RESIDENZ.
What you should eat and drink in Vienna?
Chasing Whereabouts has compiled the complete 
list of dishes 
which you can try in Vienna. These delicacies are traditional and delicious.
What is Wiener Schnitzel?
Wiener Schnitzel is one of the Austrian National and Traditional Dishes and therefore this needs to be on top of the list for the foods to try in Vienna.
Is Vienna Cheap for food and drink?
For the restaurants which are situated close to city center they are expensive. So in case you are planning to eat something then you can always pick restaurants which are not in city center.
What are the best Austrian Dishes to try in Vienna?
Don't Forget to Pin Our Post