Budapest, the capital of Hungary, is a city steeped in history and culture, known for its thermal baths, stunning architecture, and vibrant nightlife. But beyond the typical tourist attractions lies a treasure trove of unusual experiences that can take your Budapest adventure to the next level. From exploring secret underground tunnels to tasting bizarre local delicacies, here are some of the most unusual things to do in Budapest, Hungary.

Above all, these unusual places to visit in Budapest makes Budapest unique.
All the Unusual Things to do in Budapest
Explore the Labyrinth of Buda Castle
Located beneath the historic Buda Castle, the Labyrinth is a complex network of underground tunnels and caves that once served as a prison and shelter during World War II. Today, visitors can wander through the maze-like corridors, admire the eerie stalactites and stalagmites, and even catch a glimpse of Dracula's coffin.
For Sale Pubs
This Budapest bar allows drinkers to leave their mark on the walls, floor, and even ceiling. Isn't it so cool and unique experience?
Just across the lane from an otherwise posh shopping centre is Hungary's For Sale Pub. As space is not actually available for purchase, patrons can leave their personal advertisements anywhere they would like in the bar.
Despite the confusing name, the welcoming drink establishment attracts visitors from all over the world. This bar has shaggy interior and locals with its hearty Hungarian fare. Covering every inch of just about every surface are small pieces of paper stapled and pinned by years worth of customers looking to mark their presence in the pub. Now, this unique experience makes this place among the list of unusual places to visit in Budapest.
Likewise, drawings, notes, business cards, paintings, and pictures are just a few of the mementoes that have been attached to the bar interior. As a result, making space look like its grown particularly flammable fur. To add to the oft-noted fire risks in the bar, the floors are covered in straw and patrons are encouraged to shell the free peanuts they are given straight to the floor. The only thing not for sale at this pub is pretension.
Pin Ball Museum
Europe's largest interactive museum is Pin Ball museum, making it to the top unusual places to visit in Budapest.

For many people exploring the city is equal to exploring the famous museum present in the city. Well, here is one museum which is not as popular as the Fine Arts, Museum in Budapest. However, it's one of interesting place to visit for any of the arcade gamers.
This Pinball Museum has 130 vintage pinball machines (a few even from the 19th century). Their collection holds more than 100 pinball machines and 30 vintage arcade games. Isn't it a very unique experience?
And here is a fun fact about it that you can also try them as they are functional. This place is going to give you an experience of time travel to 1980s. That being the Golden Era for these machines. I found this one of the best spots among the 8 unusual places to visit in Budapest.
Visit the House of Terror
Terror Haza Museum is dedicated to the terror regime of Budapest, Hungary. This name brings me Goosebumps. Wanna know why?

As we all know Hungary was infamous for brutality during the Nazi as well as Soviet regime. Hence, it's no surprise that Budapest is home to a museum dedicated to the memory of those tortured and killed in one particular building.
In 2000, the ˝The Public Foundation for the Research of Central and East European History and Society˝ purchased what is now called the "Terror House". With the aim of building a museum that would recreate the conditions victims of political brutality faced for decades in Hungary. This terror museum becomes an essential part of the unusual places to visit in Budapest, Hungary.
As the building was used for offices for decades, architects János Sándor and Kálmán Újszászy chose to restore the building back to its original gloominess. Finally, to complete the multi-sensory feel of the space, composer Ákos Kovács created a morose background score.
Out of the four floors of the Terror House, each offer permanent as well as temporary exhibitions of photographs, historical mementoes. Moreover, videos shedding some light on what these dark periods held in store for those unlucky enough to enter through its doors. I believe now you will agree that this was a good decision to keep this monument in the list of 8 unusual places to visit in Budapest.
Soak in a Beer Spa
Budapest is known for its thermal baths, but did you know you can also bathe in beer? The Beer Spa offers a unique experience where you can relax in a hot tub filled with warm beer, while sipping on unlimited beer from the tap. The beer is said to have many health benefits, including improving skin and hair, and helping with joint pain.
Red Ruin
Budapest's only communism theme bar isn't afraid to poke fun at its history.

More than most other Eastern European cities that were once part of the Soviet Bloc, Budapest seems to have a sense of humour about its political past. The décor of Red Ruin, the city's only communism theme bar, delightfully subverts communist propaganda with colourful pop art and puns.
The first thing you see when you walk into Red Ruin is a mural of Karl Marx, Vladimir Lenin, Joseph Stalin and Mao Zedong in birthday hats, having an enthusiastic "communist party."
Popular with locals and tourists, the bar features kitschy attractions like florescent red lighting, a cardboard poster of Marx and Lenin that you can put your face through, and pop art stencils of Stalin with the caption "Joseph Stylin." The bar's labyrinthine, redbrick basement (the entrance to which is easy to miss) features even more wall art and communism jokes.
The venue bills itself as one of Budapest's famous "ruin pubs," trendy drinking spots set up in derelict buildings or unused outdoor spaces. Red Ruin offers a wide selection of local and international beer and accepts both cash and card.
Do you wish to experience some thrilling ride in Budapest? The two-way chairlift system transports passengers between Zugliget to the lookout tower on János Hill. This lookout tower is the best spot for having an amazing view of Budapest.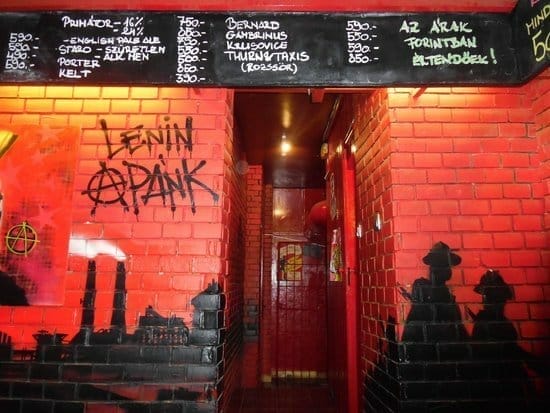 Take the Budapest Chairlift
Do you wish to experience some thrilling ride in Budapest? The two-way chairlift system transports passengers between Zugliget to the lookout tower on János Hill. This lookout tower is the best spot for having an amazing view of Budapest.
A fun and unique way to travel between Zugliget and the lookout tower on János Hill, the highest peak in the city. The chairlift was built in 1970. Along the way, you can take in a beautiful panorama from your chairlift until you arrive at the peak, 528 meters (1732 ft) above sea-level. The hill is crowned by the Elizabeth Lookout Tower. The journey is about 15 minutes in both directions.
It's an ideal way to see part of Budapest without navigating the hustle and bustle of the city. You must definitely visit and have this experience of this specific unusual places to visit in Budapest.
Romai Part
Riverside beach and a long stretch to relax and have some fish and beer. Cheers!

A one-stop place for those who want to relax and spend time by the side of Danube. Eating fried fishes and drinking a glass of beer sold from all the outlets across the riverfront.
The Római is also popular with cyclists, rowers, runners and dog walkers.
It takes about an hour from the centre to get to Római-part but it's very easily accessible. Take the HÉV (suburban railway) from Batthiányi square to the stop called Római-part and then start walking towards the Danube on Rozgonyi Piroska Street.
For drinks and a small snack, make sure you check out the Fellini Bistro. (When you reach the Danube take a left and walk for about 10 minutes.) Take one of the deck chairs and enjoy a refreshing fröccs while looking at the beautiful and relaxing view. On your way back, get a cocktail at Két Rombusz and explore the funky decoration. Try to get a seat on the upstairs of one of the buses.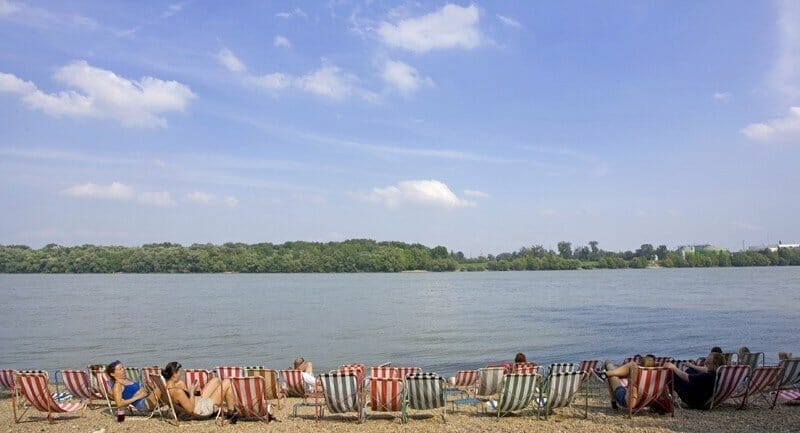 Colombo Statue
Why there is a Columbo Statue in Hungary? Another unique experience? Yes ! You are right. This is another one from the list of unusual places to visit in Budapest.
It doesn't make sense to have a Columbo Statue in the heart of Hungary. The bronze lieutenant was part of an overall rejuvenation project in the area. The statue cost around 63,000 Dollars in making. According to the people who installed this statue, the late American actor Peter Falk may have been related to the 19th-century Hungarian political figure, Miksa Falk, after whom the street is named, although they also admit that this connection has yet to be proven. The American Falk is known to have had Hungarian roots on one side of his family, although it has never been linked to Miksa Falk's family.
Just one more thing, at the foot of the metal lieutenant's feet, is a bronze basset hound modelled after a local dog named Franzi, who even showed up for the unveiling. This is of course supposed to be Columbo's droopy-faced pet, "Dog." Unfortunately, the dog does not seem to provide any further clues as to the decision-making process behind the statue's bizarre existence. Maybe if Columbo were still alive, he could have solved the case.
There is also a little bronze squirrel with a gun right behind Colombo. Why is it there and what it means is a bit of a mystery.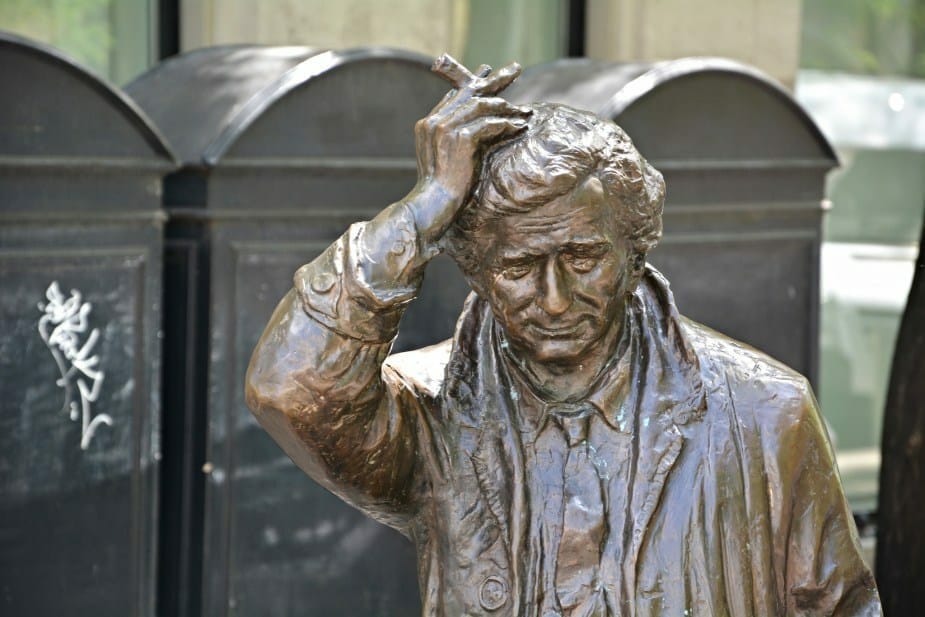 Szabo Ervin Library
Largest Library network in Budapest amidst the busy city. This is a hidden gem that gives you a unique experience in Budapest.
The incredible Szabo Ervin Library is definitely in the list of 8 unusual places to visit in Budapest. This is a hidden treasure, left out of guidebooks, tucked into a busy section of the city. But for those in the know, the Szabo Ervin Library is a stunning step back to a time when libraries were like mansions – perhaps that's because it's in one.
The City Council purchased the building and converted the beautiful palace rooms into reading rooms for their new library in 1931. The Hungarian neo-baroque architecture makes for a handsome backdrop to the walls of leather tomes. The old Dining Room, converted to a long reading room, centred by a long table, once for feasts, now for quiet contemplation, is an especially ambient place. The former Smoking Room, with its spiral staircase leading to a gallery, also stands out. These two rooms are warmly lit and encased in dark wood.
While it can be a confusing process to find the Central Library in the maze-like modern section of the library, once you do, all that is left is to pick out a beautiful old book, sink back into a deep leather chair, surrounded by the soft light of chandeliers, and relax like a 19th-century Hungarian aristocrat.
Walk Across the Chain Bridge at Sunset
The Chain Bridge is one of Budapest's most iconic landmarks, connecting the districts of Buda and Pest across the Danube River. While it's a popular spot for photos and sightseeing, walking across the bridge at sunset offers a breathtaking view of the city, with the skyline illuminated by the golden glow of the setting sun.
Hunt for Street Art in the Jewish Quarter
The Jewish Quarter of Budapest is a vibrant neighborhood known for its nightlife and cultural diversity. But it's also home to some of the city's most colorful and creative street art, from whimsical murals to thought-provoking installations. Take a walking tour or explore on your own to discover the hidden gems of the Jewish Quarter
Some of the latest street art is also shared by Budapest Flow on their post.
Now, I hope that since you have read the story behind these unusual places to visit in Budapest, you would be eager to visit these places and not miss a thing from these eight locations. These places are incredible and will give you a complete range of feelings including spookiness, festivity, joy and antiquity.
---
Don't forget to Pin our Post
---