Planning your trip to Budapest? Looking for the best photo spots to capture stunning photos of this beautiful city? This list of the best photo spots in Budapest will help you save time and capture amazing memories of your trip.
We've also included a link to a Google Map with all of the photo spots marked, so you can easily find them. If you have any additional photo spots to suggest, please leave a comment below!
What to expect in doing Photography in Budapest?
List of Most Instagrammable Places in Budapest
Buda Castle/ Buda Hill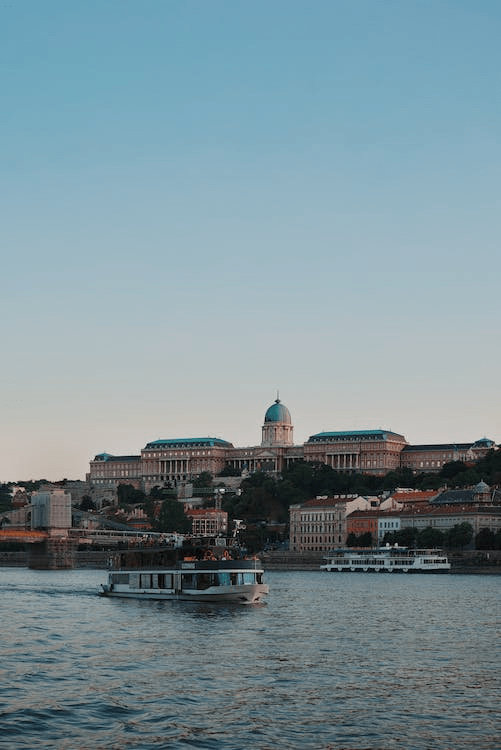 Buda Castle was built in the 13th century, to protect Budapest from the attacks of Tartars and Mongols. Despite getting destroyed in the IInd World War, Buda Castle currently has more than 200 rooms, and 62m high central dome. Thus, this place now serves as one of the main attractions by tourists as it hosts galleries of Hungary, fine museum and Széchenyi National library.
How to reach Buda Hill / Buda Castle by public transport?
---
As Buda Castle is on Castle hill, certainly you can either walk on the steep hill or take the funicular to reach your destination. My recommendation is to buy a Budapest card if you have less time in Budapest and you plan to cover all the major attractions.
Above all, Buda castle offers multiple photography places in Budapest which will make you fall in love with the surrounding.
Budapest City Card could be an excellent addition for exploring Budapest during your trip. You can check that out here.
Day Photography at Buda Hill
Night Photography of Buda Castle
Buda Castle – Fisherman's Bastion
Majorly famous for its architecture, Fisherman's Bastion has seven towers, symbolising the seven Hungarian tribes who in the year 895 AD founded Hungary. Most noteworthy, 7 am to 9 am is the best time to click pictures that do not require editing people from the background. The crowd is very low; you will only find a few professional photographers in the morning who have also come to take pretty pictures here.
How to reach Fisherman's Bastion in Budapest?
It's a short walk to the Fisherman's Bastion. After passing through the roundabout, turn right onto Hunyadi János street once you reach the Buda side of the Széchenyi Chain Bridge. There is a set of stairs at the end of the street that will take you up to the Fisherman's Bastion.
The "Donáti utca" bus stop is conveniently located close to the stairwell if you'd rather take the bus.
Best time to visit Fisherman's Bastion
The Fisherman's Bastion, as one of the city's most popular tourist attractions, experiences insane crowds on busy days. Which is why I think it's best if you get there as early as possible!
Seeing as how the sun rises directly in front of the Fisherman's Bastion, it is well worth getting up early to witness this spectacular event. Not only will you have the place to yourself, but the gentle morning light is ideal for taking pictures.
Cost:
The majority of Fisherman's Bastion is free to explore, but a modest entrance fee of 1000 HUF is required to access the towers in the upper levels (3.3 USD). Another perk of rising before the sun is that you can avoid paying the entrance fee until 9 a.m.!
From October 16 through March 15 and again on August 20th, the upper towers are open to the public at no cost (Hungarian national holiday).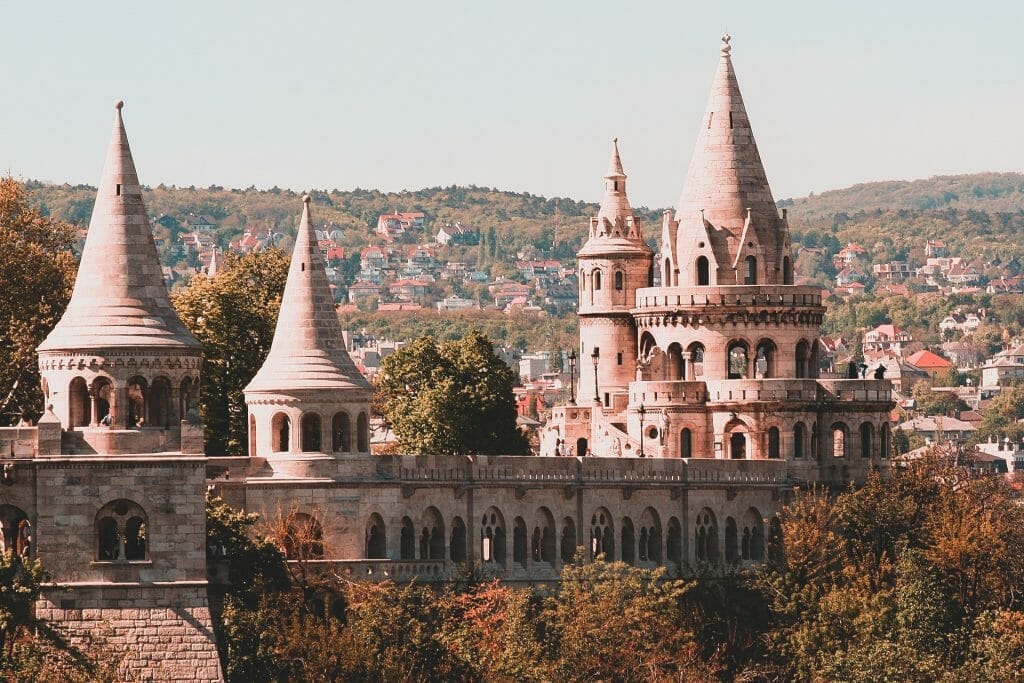 ---
Buda Castle – Matthias Church
Located at the Trinity Square on Buda Hill, this church is also known as, Church of our Lady. It was renamed after King Matthias who married twice inside the church. As a result, this monument was has served as coronation church by the kings of Hungary for centuries, been a mosque for 150 years after been invaded by Ottoman Turks. Currently, it's a catholic church where thousands of weddings take place and tourists visit for its beautiful architecture and gothic style design.
How to reach Mathias Church on Buda Hill
in Budapest?
Location on Google Maps: Matthias Church
Daylight Photography Mathias Church
Mathias Church in Night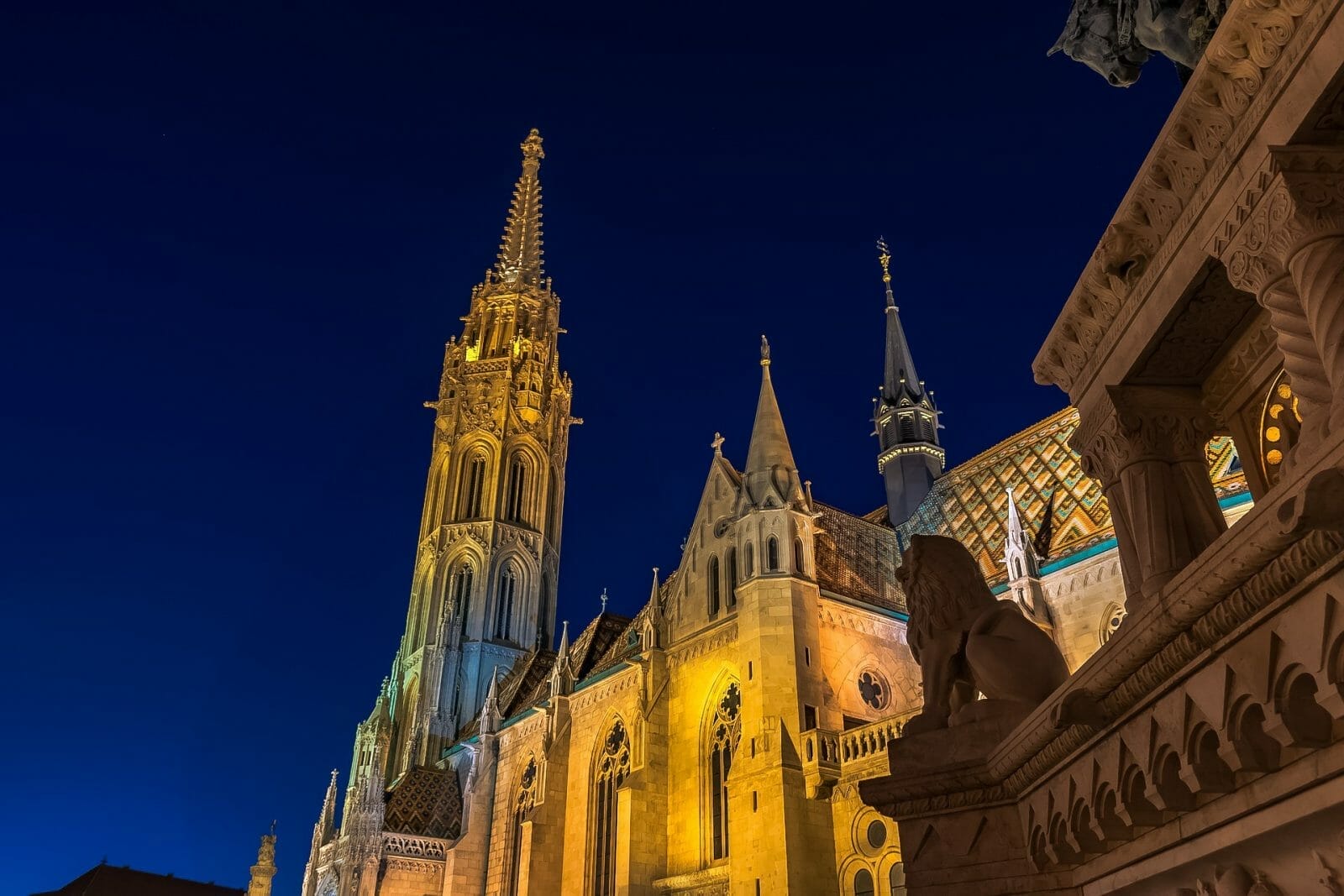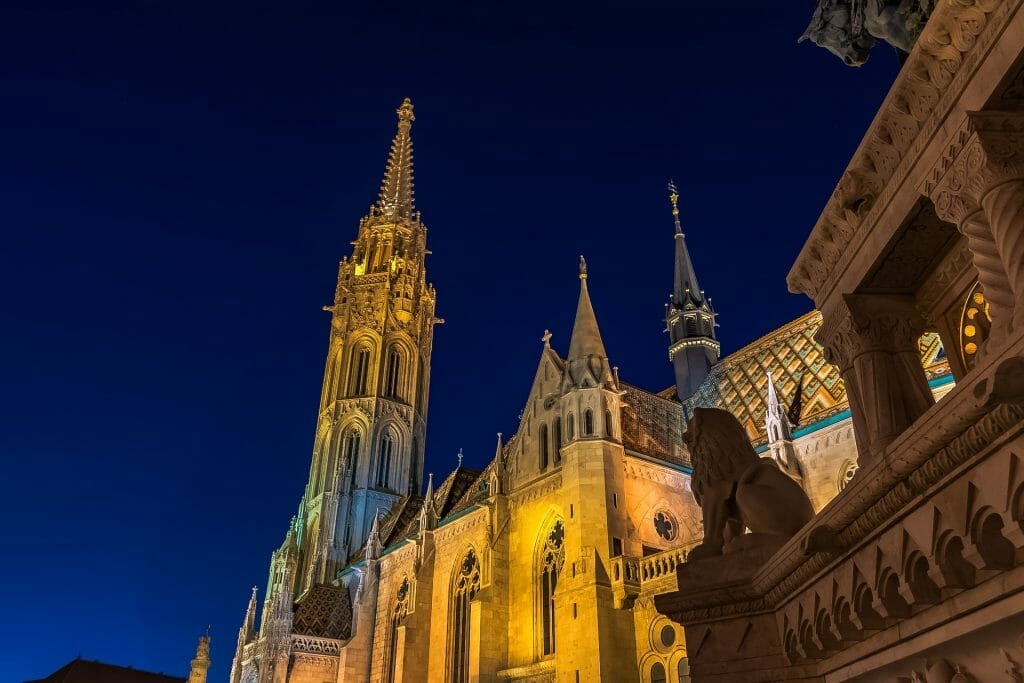 Szchenzenyi Chain Bridge
The most important work that this bridge does is connect people from Buda and Pest region. Széchenyi Chain Bridge is one of the oldest iconic stone suspension bridges which was built in the 19th century. The best view which you can have of chain bridge is at night from a boat cruise with a drink in hand.
The proposal to make this bridge was made by Count Istvan Széchenyi (whose name you will see at most of the places and monuments). Not to forget about The Great Hungarian Istvan Széchenyi who was a successful writer, leader and reformer. Széchenyi always dreamt of developing the future capital of Hungary and had planned to build this bridge by inviting famous architects like Adam Clark.
Széchenyi always dreamt optimistically, to compete with growing western civilization and develop his country. However, Széchenyi had a sad ending when he committed suicide. The topic is still debatable if Széchenyi committed suicide or was assassination.
Since its construction in 1800s, the bridge has sustained turbulence during World War II, which makes it another delight for photographers.
How to reach the Chain Bridge in Budapest?
Daylight Photography-Széchenyi Chain Bridge
Night Photography-Szechenyi Chain Bridge
Gillert Hill- Citadella
On top of Gellert Hill, you will find this famous symbol of Budapest, which symbolises the freedom of the people. This is also a lookout point that gives a panoramic view of the city including Danube river, Buda Castle, Parliament building and Buda hills. It's said that the proud lady has been watching over Budapest since 1947, which made her another World Heritage site listed by UNESCO.
By the time you explore the Buda region, you must have been hungry for sure, do not miss trying these mouth-watering dishes to recharge your energy in Budapest Top Hungarian Dishes you should try in Budapest
How to reach Gellert Hill in Budapest and watch Citadella?
Daylight Photography – Citadella
The Parliament of Hungary
The best place to capture the Parliament of Hungary is Danube River Cruise be it a day or night. On the riverbank of Pest next to Danube river, the parliament building gives a spectacular view from cruise/boat ride in the night.
The building is so huge, that it consists of 20km of staircases, 691 rooms, impressive dome and 88 statues of Hungarian rules. The pointed architecture gives a redefined look to this building during the daytime and at night when it shines in golden colour.
How to reach the Parliament Building in Budapest?
How to Book a Cheap Danube River Cruise?
Enjoy the Danube River Cruise with or without dinner because you must not miss how Budapest looks at night from the water when its lit. There are many agencies that partner with boats and arrange boat parties, which also offers two free alcohol/non-alcoholic drinks. After the boat tour, these agencies will also take you for pub-crawl. Hoping from one pub to another and you may also get a free welcome drink if lucky.

Evening Sightseeing Cruise on the Danube River in Budapest


If you wish to have a scenic view of both Buda and Pest, hop on to Evening Sightseeing Cruise and go live on FREE WIFI. You have an option to choose from a glass of wine, soft drink, beer, water and champagne.
Enjoy the best of the moments with your loved ones on Danube River Cruise with warm buffet, wine, live music and dance.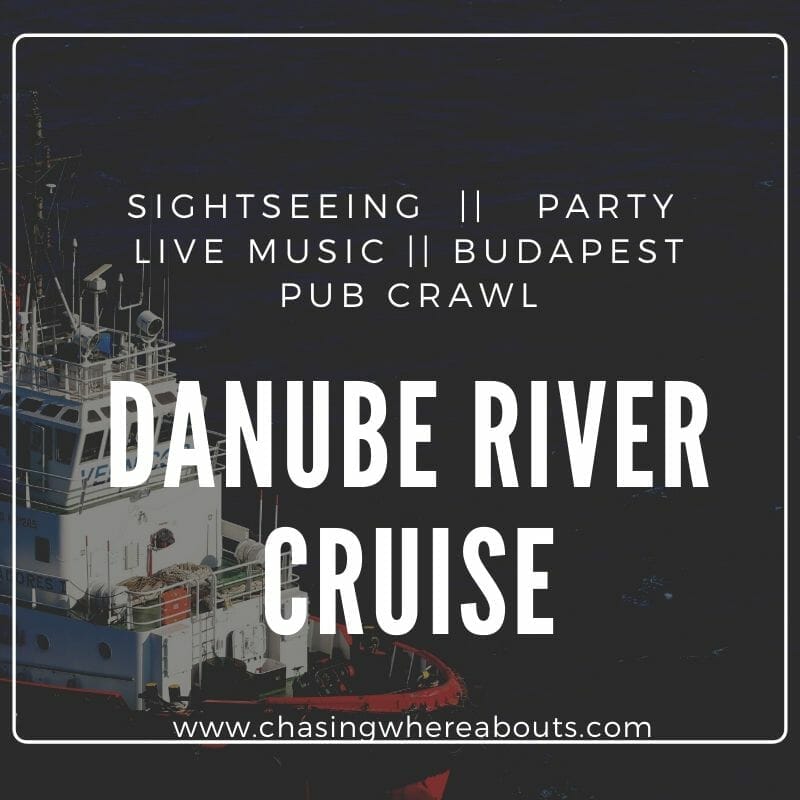 Daylight Photography Parliament Building Budapest
Parliament Building Budapest in Night
St Stephen's Basilica
This is still the tallest building in Budapest. Named after the first Christian king of Hungary, St. Stephen, you can still find the mummified hand (The Holy right) of him inside the Cathedral. St. Stephen was crowned in 1000 AD, but in the year 1083, when his dead corpse was opened from the burial for canonizing, it was found that his fist was as fresh as at the time of burial. Thus, the fist was lopped off and mummified.
You don't have to pay for the ticket in order to view the hand, but its suggested to donate 200 Hungarian Forint which will illuminate the box for 60 seconds and you can clearly see the hand of St. Stephen.
How to Reach St. Stephens Basilica in Budapest?
Location on Google Maps: St. Stephen's Basilica
Daylight Photography of St. Stephens Basilica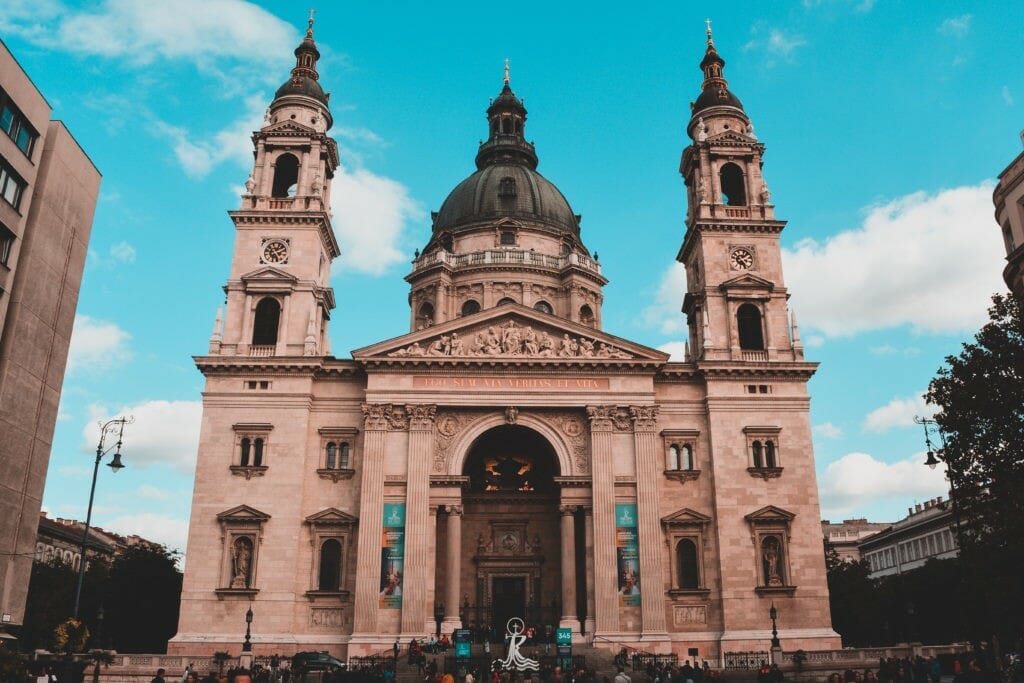 St. Stephens Basilica in Night
Heroes' Square
The famous square in Budapest is surrounded by the museum of Fine Arts and the Palace of Art. This was made in order to commemorate the 1000 years since the settlement of Hungary in 895. Archangel Gabriel can be seen holding a crown, while one side of the square has seven leaders of the tribe who settled Budapest, while the other side has important person and leaders in the Hungarian history.
How to Reach Heroes' Square?
Daylight Photo of Heroes' Square
Hereos' Square Budapest in Night
Széchenyi Bath / Gellert Bath
Its recommended that in order to have a relaxing time, try visiting Gellert Thermal Bath or any other special of your choice, because Széchenyi is extremely crowded, even on weekdays.
Gellert Bath belongs to Hotel Gellért and is the best thermal bath in Budapest Hungary.
How to reach Széchenyi Bath?
How to reach Gellert Bath?
How to book Gellert Thermal Bath Tickets?
Planning to visit Gellert Bath in Budapest? You can book your ticket on a discount from here Book Gellert Thermal Bath.
Thermal Bath photos in Daylight
Thermal Bath photos in Night
Along with spending some adventurous and relaxing time in Budapest you should not miss to visit Eight Unusual Places to visit in Budapest Hungary if you really want to know Budapest completely in your next travel plan. It's a must delight for travel freaks who love to take a dip in the historical references and interesting stories related to these monuments.
Great Market Hall
For more than 100 years, people in Budapest hav been buying groceries from this market hall. Its lovely to visit this place, buy fruits, vegetables and click pictures.
How to reach the Great Market Hall?
Daylight photo of Great Market Hall
Vajdahunyad Castle
Although Vajdahunyad Castle isn't as well-known as some of Budapest's other attractions, it's no less impressive. The castle can be found in City Park, adjacent to the lake where boats can be rented (which functions as an ice-skating rink during winter). The Hungarian Agricultural Museum has moved into the castle since its days as a ruin.
Vajdahunyad Castle, as seen on Google Maps
How to get there:
To get there, hop on the M1 train and get off at either the "Hsök tere" or "Széchenyi fürd" stop. It won't take you more than a few minutes to walk to the castle from either subway stop.
If you want to visit when it's at its best:
Visitors won't encounter any bustle at the castle during the day, as it isn't a particularly well-known attraction. While visitors are welcome at any time to enjoy the castle's courtyard, the museum is only open from Tuesday to Sunday, 10 a.m. to 5 p.m.
Cost:
The courtyard itself is free to enter, but the museum itself costs 1,600 HUF (around $4.5 USD) per person.
Liberty Bridge
Although the Széchenyi Chain Bridge is the most popular bridge in Budapest it's worth visiting other bridges too! The Liberty Bridge is also really beautiful and unique with its vibrant green color.
You can make some pretty great photos on the bridge itself but if you're looking for the best viewpoint over the bridge you need to go up to the entrance of the Gellért Hill Cave. It's especially great if you're visiting Budapest in spring as you can catch the almond tree in full bloom in front of the cave.
Location on Google Maps: Liberty Bridge, Gellért Hill Cave
How to get there:
The metro line M4 stops at both sides of the bridge, you can either get off at the "Fővám tér" metro station on the Pest side or the "Szent Gellért tér" metro station on the Buda side. If you want to get to the Gellért Hill Cave, you need to walk a few minutes uphills on the Buda side, in the direction of the Citadel.
Best time to go:
The Liberty Bridge is usually full of people and cars so it's best to go early in the morning if you want to shoot without the crowds. However, the viewpoint at the Gellért Hill Cave is not so popular so you can go basically anytime!
Cost:
Visiting the Liberty Bridge is totally free.
What are the Drone Laws in Budapest?
What are the Drone Rules in Budapest? Are you planning to fly drones in Budapest, Hungary?
The government wants to prevent accidents involving drones. Drone operators are therefore required to follow a number of rules. Thus, this post related to Photography and Drone Laws in Budapest will help you for your next trip.
Chasing Whereabout has created a set of all-important Frequently Asked Questions (FAQs) related to flying Drones in Budapest and Drone Rules in Budapest.
Read More Budapest Guide
FAQ – Best Photo Spots in Budapest
Can I fly Drones in Budapest Hungary?
Flying drones is legal in Budapest, Hungary if you abide by the drone laws of the Hungarian Government. Drones below 250 grams are classed as toys, while drones of up to 2kg will require online certification under the proposed law. Operators of drones weighing between 2kg and 25kg will have to obtain a license.
Where can I fly drone in Budapest?
There are few mobile apps and websites that allows users access to up-to-date information on whether it is permissible to fly their drones in any given area. You can check the flying areas and restricted areas in the given map
https://terkep.legter.hu/#6.41/47.125/19.177
What all things can you do in Budapest with your Drones?
Observe basic safety obligations
Remain away from people and goods
What should you not do with your drones in Budapest?
Fly at night
Fly over private properties without the consent of the owner
Operate above crowds, industrial sites, urban areas and other restricted areas or impede manned aircraft
Fly above 100 meters
Endanger the life of other people
Is it legal to fly Drones in Budapest Hungary?
Do you need insurance of Drone to fly Drones in Budapest?
Yes, Insurance is required for all operations related to Drones in Budapest.
What is the Address of Aviation Authority Budapest?
Aviation Authority
ADDRESS
H-2220 VECSÉS, Lincoln út 1. (Quadrum Office Building)
POSTAL ADDRESS
H-1675 Budapest, Pf. 41.
TELEPHONE: + 36 1 273 5526
FAX: +36 29 354 224
EMAIL:
[email protected]
OPENING HOURS
Monday – Thursday:
9:00-15:00 |
Friday:
9:00-12:00
Do you need permit before flying Drones in Budapest?
Yes, for drones weighing more than 250 gms, you should apply for Permit before flying drones in Budapest. It is recommended to apply and get permit at-least 30 days before your intended day of drone flight.
Where to apply for Permit in order to fly drones in Budapest?
Aviation Authority based in Budapest should be contacted to avail permit for flying drones.
You can also download
the form here.
Chasing Whereabouts has researched the listed drone regulations for Hungary to the best of our knowledge. We cannot guarantee the correctness of the information. If you want to be on the safe side, please contact the competent aviation authority, in Hungary.
Alternatively, you can also ask the embassy in your country for further information about the regulations. Please leave us a comment when you receive news and/or gain experience with your drone in Hungary!
---
Don't forget to Save and Pin our Post
---