Love Rome? Want to visit it for cheap? This is the Rome Pass Review you've been so eagerly waiting for and it's here, only on our blog. We do all the work so you don't have to. Are you ready to start planning your next trip to Italy? Then check out our ultimate guide on how to use the Rome Pass — including how to get the most bang for your buck!
Recently I visited Rome and that is when I came to know about Rome Pass. In this post 'Rome Pass Review' I will be sharing my honest view about the Rome Pass and eventually, we will decide whether it is worth spending money or not.
Unlike the other places, there are a considerable amount of options for Rome since it is one of the most popular locations to cover in Italy. So I will be breaking down this post and will talk about all the passes.
If you are still in the planning phase and you don't know what all things to cover in Rome then you can check out Top Things to do in Rome | Ultimate Guide
What is the Rome Pass (Rome Tourist Card)?
Let us start with the most favourite one from the lot Rome Tourist Card and you'll get everything you need to explore Rome's top highlights. You can even choose the order you see things in, making it perfect for planning your own custom adventure.
Make like a gladiator at the Colosseum, imagine the political discussions that once went on at Palatine Hill and the Roman Forum, step into the pristine St. Peter's Basilica, learn more about the Pantheon, and pop in to see where the Pope hangs out at the Vatican. Just wait until you see the Sistine Chapel!
You'll also get a downloadable audio guide that you can use at over 130 locations around Rome. Leave no stone unturned as you explore.
What all things are included in Rome Pass?
Visit the Colosseum, Roman Forum & Palatine Hill:
Experience Ancient Rome on a self-guided walking tour of the Palatine Hill, Roman Forum and Colosseum. Bring the past to life as you take in the sights at Rome's most famous attractions. Uncover the secrets of the Roman Empire, witness the tomb of Julius Caesar, and imagine yourself as a Roman wandering Via Sacra, the main street of ancient Rome, which winds from the top of the Capitoline Hill down through some of the Forum's most important religious sites.
St. Peter's Basilica:
The ultimate symbol of the Vatican, this masterpiece of Renaissance architecture is one of the most beautiful buildings in Rome. It also has a history stretching back 2,000 years! Did you know that each and every single one of the "paintings" in the Basilica is actually a mosaic, pieced together in intricate detail? Learn more fun facts as you go along with your expert guide.
Vatican & Sistine Chapel:
The Sistine Chapel is part of the Vatican Museums, but luckily your Rome Tourist Card gets you access to it all. Explore the Vatican and its many treasures, and feast your eyes on the frescoes that completely cover the walls and the ceiling. Botticelli, Perugino, Signorelli and Michelangelo all had a hand in the finished masterpiece.
Self-Guided Tour of the Pantheon:
With its roots dating back to Ancient Rome, this legendary site is free to access – but it's also full of hidden history and secrets that aren't so easy to uncover. Your self-guided audio tour will let you hear fascinating facts and stories about this iconic Roman landmark, which was converted into a Catholic church in 609 AD.
Audio Guide Extras:
Don't know your Claudius from your Tiberius? You'll get an audio guide for each destination included with each ticket, so prepare to be transported as you walk into the world of ancient Rome! On top of that, you'll enjoy an in-depth guide to Rome itself, featuring commentary on over 130 hotspots.
What is the cost of Rome Pass?
Let us just talk about the price of Rome Pass it cost you around 85 Euro in the starting. But I will dig deeper and talk about whether the 85 Euro cost is worth your money or now.
Check the availibility of the Rome Pass below
Is The Rome Pass Worth It?
As I already told that the Rome Pass cost you around 85 Euro. I am going to break down here about the attraction which is going to be covered.
| Attractions | Cost in Euro | Standalone Ticket Link |
| --- | --- | --- |
| Colosseum, Roman Forum & Palatine Hill | 24.00 | Book Stand Alone Ticket |
| St. Peter's Basilica | 27.00 | Book Here |
| Vatican & Sistine Chapel | 26.40 | Book Here |
| Self-Guided Tour of the Pantheon | 8.50 | Book here |
| City Tour of Rome: Audio Guide App | 9.50 | Book Here |
| 10% Discount on next ticket | | |
| Total | 95.40 | |
Anyhow with just this combination we are saving around 10 Euro per person when we are taking the Rome Pass compared to the standalone tickets so it is anyhow a good deal for you!
How does the Rome Pass Works?
What about Vatican Pass?
If you are already reading about the Rome Pass Review you might have the question about the Vatican Pass or whether it is worth it or not?
Below is the breakage for the Vatican Pass and the actual cost of the pass is 57 Euro
| Attractions | Cost in Euro | Standalone Ticket Link |
| --- | --- | --- |
| St. Peter's Basilica | 27.00 | Book Here |
| Vatican & Sistine Chapel | 26.40 | Book Here |
| City Tour of Rome: Audio Guide App | 9.50 | Book Here |
| 10% Discount on next ticket | | |
| Total | 62.90 | |
Now if you compare the cost you are saving around 6 Euro when you buy the Vatican City Pass and you buy the standlone tickets which are the part of the Vatican city pass so ofcourse the Vatican City Pass is better and cost effective.
Check the availability of Vatican City Pass –
Now if you don't want to explore the Pantheon as part of exploring Rome then there is one other options which you can do.
Buy the Vatican Pass for 57 Euro and use the 10% discount for buying the Standlone Skip the line Ticket for Colosseum, Roman Forum & Palatine Hill: Priority Entrance which is for 24 Euro and after 10% discount will cost you 21.6 Euro and the total cost would be around 78.6 Euro which is another 6.4 Euro saving from the Rome Pass.
Roma Pass: 48 or 72-Hour City Card
One different yet another usefull Rome Pass for people travelling to Rome is the Roma Pass which is ideal for people who don't want to explore everything in Rome which is included in the Rome Tourist Card or Vatican City Pass and just want to explore one of the Major Attraction along with the Free Ride for the Rome Pubic Transport.
For those kind of audience Roma Pass is a perfect option all in all.
What all things are Inlcuded in Roma Pass?
Enjoy free skip-the-line admission to 1 (Roma Pass 48 hours) or 2 (Roma Pass 72 hours) attractions included in the pass
Benefit from reduced ticket prices for all other museums and/or archaeological sites visited thereafter
Ride for free on the city's public transportation network
Receive discounts on participating exhibitions and events and with other collaborating services and activities
Get a free guidebook and a free map of Rome to help you make your way around the city
If you want to know more about the Roma Pass you can check it here
Sample Breakage of the Cost of the Pass to Standalone Tickets.
| Attractions | Cost in Euro | Standalone Ticket Link |
| --- | --- | --- |
| Eg. Colosseum and Roman Forum | 21.50 | Book Here |
| City Tour of Rome: Audio Guide App | 9.50 | Book Here |
| Free use of the city's public transport network (urban buses and trains; underground lines A, B, B1, and C; railway lines Roma-Lido, Roma Flaminio Piazza del Popolo-Viterbo, Roma-Giardinetti), within the territory of the Municipality of Rome | 12.50 | Read More |
| Free access to the toilets of the P.Stop network | | |
| Total | 43.50 | |
So the amount of things which you get in the pass is only 35 Euro for 48 hours one is well cheaper to what you get in the standalone ticket which may cost you upto 43.50 so all in all you are already saving around 8.5 Euro per person if you tend to choose the Roma Pass.
Where to buy Roma Pass?
Is Roma Pass Worth it?
The answer is yes because you are saving around 8.5 € Per person when you are buying the Roma Pass compared to Standalone Tickets.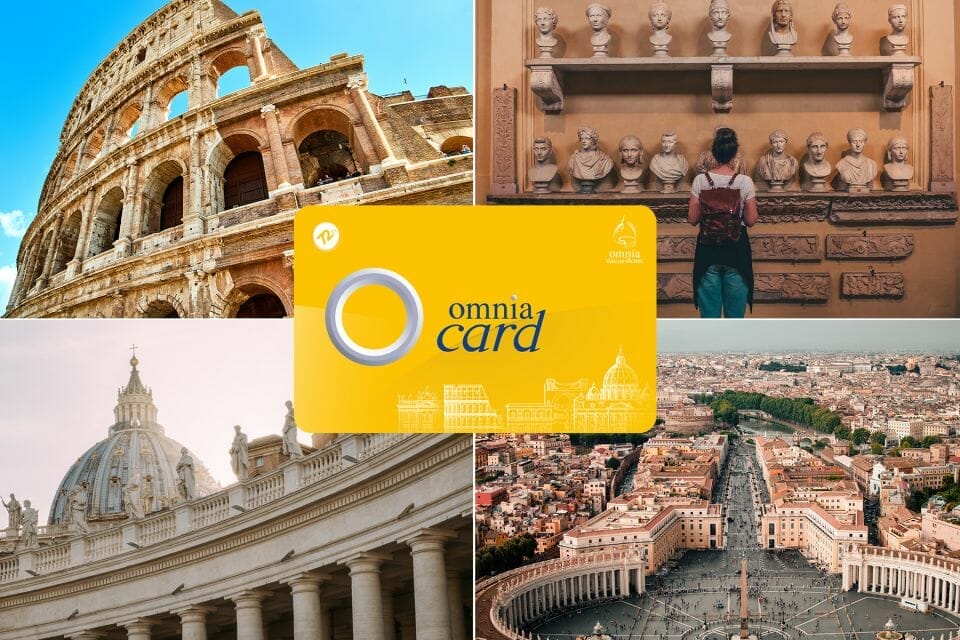 If you want to cover all things in Vatican City along with the pleasure of getting the Roma Pass for 72 hours i.e access to 2 attraction for free along with free public transport and hop on hop off bus tour then Omnia Card combines all of this in one package and could be and option for you.
You can check more about this option here
What all things are included in Omnia Card?
Skip the line with free admission to the Colosseum, the Vatican Museums, and Michelangelo's miraculous ceiling at the Sistine Chapel
Discover Rome's eternal sights on a hop-on hop-off bus tour
Enjoy special offers from both the OMNIA Vatican and Roma Passes
Take advantage of free unlimited public transport
Enjoy discounted entry to Rome's top museums
Orient yourself with a free guidebook and map of Rome and Vatican City
It is also a good option for you if you are not sure and you plan to cancel the booking in future because it offers you free cancellation up until 24 hours before the booking date.
Does The Rome Pass Save Time?
Short answer is yes but it going to same like booking the seperate tickets online before you actually step foot into Rome. I really am not fond of travelling in Europe and exploring places which I want to explore and standing in the queue for hours just to take the tickets and then again another hour in the queue to finally see the attraction.
In the Paris Pass Review I talked about the same thing because when I visited Eiffel Tower I was so happy that I booked the ticket online well before hand which saved me around 1.5 hours from the queue for just the tickets. In Venice City Pass Review – Is it worth it? I talked about similar thing as well and so in the Vienna Pass Review – Is it worth your money?
Tip! I tend to also book the skip the line ticket because it helps you to directly access the attraction without standing in the normal queue just for couple of bucks.
Since all the tickets which you get under the Rome Pass are the fast track or skip the line ticket then it will for sure help you to save the time.
Does The Rome Pass Save Money?
Well yes for sure as we checked above you are going to save around 16 euro per person if you are planning to explore Rome to the fullest.
If you are already exploring Rome how about going on a day trip to Venice, we have covered that in detail in our post Rome to Venice Day Trip
That was all about Rome Pass Review and do let me know if you found this post helpful.
If you are on your trip to Italy then below are some of the post which you can check out
Get your Notion Travel Planner Template!
Embark on your next adventure with the Wanderlust Planner – Notion Travel Planner Template – Notion Travel Planner Template for 2023 (chasingwhereabouts.com), the ultimate Notion Travel Planner Template. Organize your wanderlust-fueled dreams and turn them into unforgettable journeys. Whether you're a seasoned globetrotter or a newbie explorer, this template has you covered.
Pin Us to Support Us