Wondering about the Top Things to do in Rome when you are visiting Rome Italy then in this post I will share all the things which you need to know and cover in Rome during your visit.
Rome is the capital of Italy and one of the most beautiful cities in the world. The city is located in the central-western portion of the Italian Peninsula, on the Tiber within Lazio (Latium).
Rome has been a major human settlement for almost three millennia. It was once the capital of the powerful Roman Empire, which dominated Europe and much of North Africa and the Middle East for over four centuries. The city is filled with many beautiful sights to see.
If you are just going to Explore Rome for your entire trip then I would suggest you to get the Rome Tourist Card which will help you save money. But yes only if you want to explore everything from the trip. If you want to read our review about Rome Tourist card and Rome Passes then check out this post Rome Pass Review | Rome Tourist Card Review
Disclaimer – Chasing Whereabouts is a participant in the Amazon Services LLC Associates Program and the Amazon EU Associates Programme, an affiliate advertising program designed to provide a means for sites to earn fees by advertising and linking to Amazon and affiliated sites.
Rome, a sprawling city in Italy's Lazio region, is the capital of the country. It's home to the Vatican as well as landmark art and ancient ruins. Central Rome is outlined by Aurelian Walls built in 3rd century. Inside the walls, the iconic Colosseum is an imposing stadium built in AD 80 (also known as Flavian Amphitheater).
Rome, a sprawling city in Italy's Lazio region, is the capital of the country. It's home to the Vatican as well as landmark art and ancient ruins. Central Rome is outlined by Aurelian Walls built in 3rd century. Inside the walls, the iconic Colosseum is an imposing stadium built in AD 80 (also known as Flavian Amphitheater).
Rome has a number of excellent museums, including Galleria Borghese, which exhibits Baroque paintings, and Museo e Gallerie Nazionale di Capodimonte, displaying Renaissance paintings. The Capitoline Museum is on Piazza del Campidoglio; its sculpture gallery includes works by Bernini and Michelangelo. The National Roman Museum, divided between several sites around Rome, has artifacts from all periods of Roman history.
Top Things to do in Rome Italy
Colosseum
Your Colosseum Rome trip is going to be one of the most memorable experiences of your life. It's no wonder that it's a subject for epic novels, movies, and songs about love and revenge. If you're planning a visit to Rome, the Colosseum is one of those must-see attractions that you'll want to include on your itinerary.
In addition to its historical significance, the Colosseum is a major tourist attraction. It attracts more than 5 million visitors a year, which means that you're likely to encounter tourists when visiting.
Before you make your final booking, here are some tips for enjoying this trip without stress:
Get there early. The best way to avoid crowds is to arrive at the Colosseum as soon as it opens. That gives you an extra hour or two to take in the sights without having to fight through crowds with your back against the wall.
And to be honest dont miss exploring this and Pre Book your tickets to avoid the line and to save time when you are exploring the Colosseum. So no doubt Colosseum is one of the Top Things to do in Rome Italy.
Below are the places which I would recommend you to check that out for the ticket:
---
Ads Starting
Post Continues
---
Palatine Hill
Palatine Hill (Italian: Palatino [palaˈtiːno]) is the centermost of the Seven Hills of Rome and is one of the most ancient parts of the city. It stands 40 metres above the Roman Forum, looking down upon it on one side, and upon the Circus Maximus on the other. From the time of Augustus Imperial palaces were built here.
Travel tips for Palatine Hill for Things to do in Rome:
The Palatine Hill can be visited as part of a tour or independently.
The hill is also open from 9 am to one hour before sunset, so try to plan your visit accordingly.
Palatine Hill can be reached by metro, bus, taxi or on foot; however, there are some steps to climb after entering.
Trevi fountain
Trevi Fountain is one of the most famous architectural work in the world, designed by Italian architect Nicola Salvi and completed by Giuseppe Pannini in 1762. The design of Trevi Fountain is based on ancient Roman aqueducts with a combination of Baroque architecture. Its location is on the junction of three ancient streets in Rome, Italy.
Trevi Fountain draws millions of tourists from all over the world each year and is also a symbol of Roman tourism and one of the Top things to do in Rome. If you want to go to Trevi Fountain, it is convenient for you to take Line A to Spagna Station and walk about 450 meters (about 5 minutes).
---
Ads Starting
Post Continues
---
Pantheon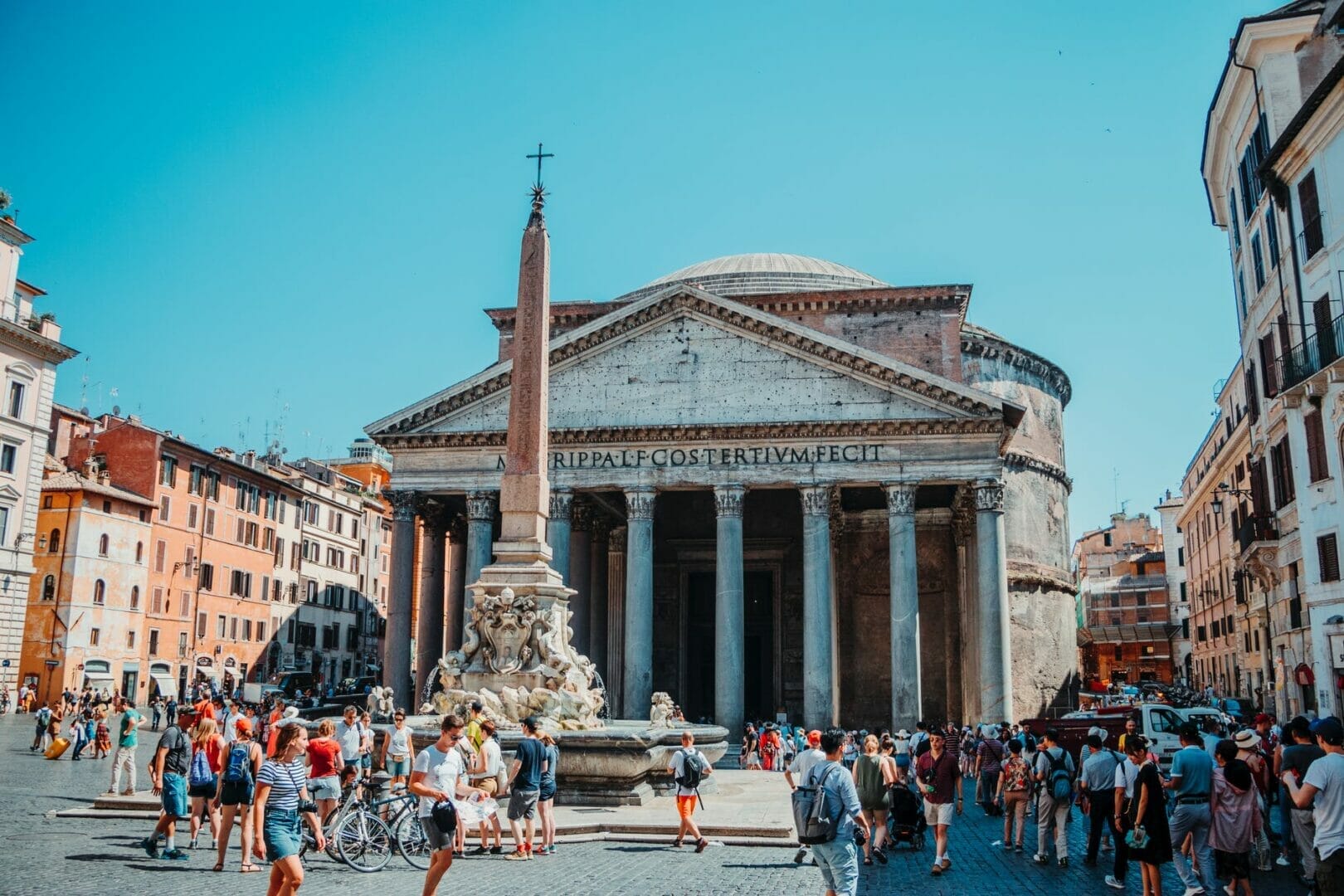 The pantheon is the perfect place for travellers who want to see ancient Roman history and culture. The Pantheon is the best-preserved building from ancient Rome and arguably the best-preserved building of its age in the world. The building stands as a lasting symbol of ancient Rome's glory, and it has been in near continuous use throughout its history. It is one of the most copied buildings in the world with numerous pantheons throughout Europe, Latin America and the United States.
The Pantheon was rebuilt by Hadrian sometime between AD 118 and 128, and some historians think that it was built over an earlier structure commissioned by Marcus Agrippa during the reign of Augustus (27 BC – 14 AD).
The Pantheon was used for various purposes throughout its long history, including a fortress for a medieval Roman family, a Roman Catholic Church since 609 A.D., a burial place for several Renaissance artists from 1527 until 1870, and a museum since the unification of Italy in 1870.
The Pantheon is open daily from 8:30 am to 7:30 pm except Sundays when it closes at 6 pm. Admission is free. However, you will have to stand in line to get inside unless you have a guide or are visiting on your own early in the morning so no doubt I had to include this in my list of things to do in Rome Italy.
There is also an Audio Guide for Pantheon which you can take for 5 Euro on your phone.
Roman Forum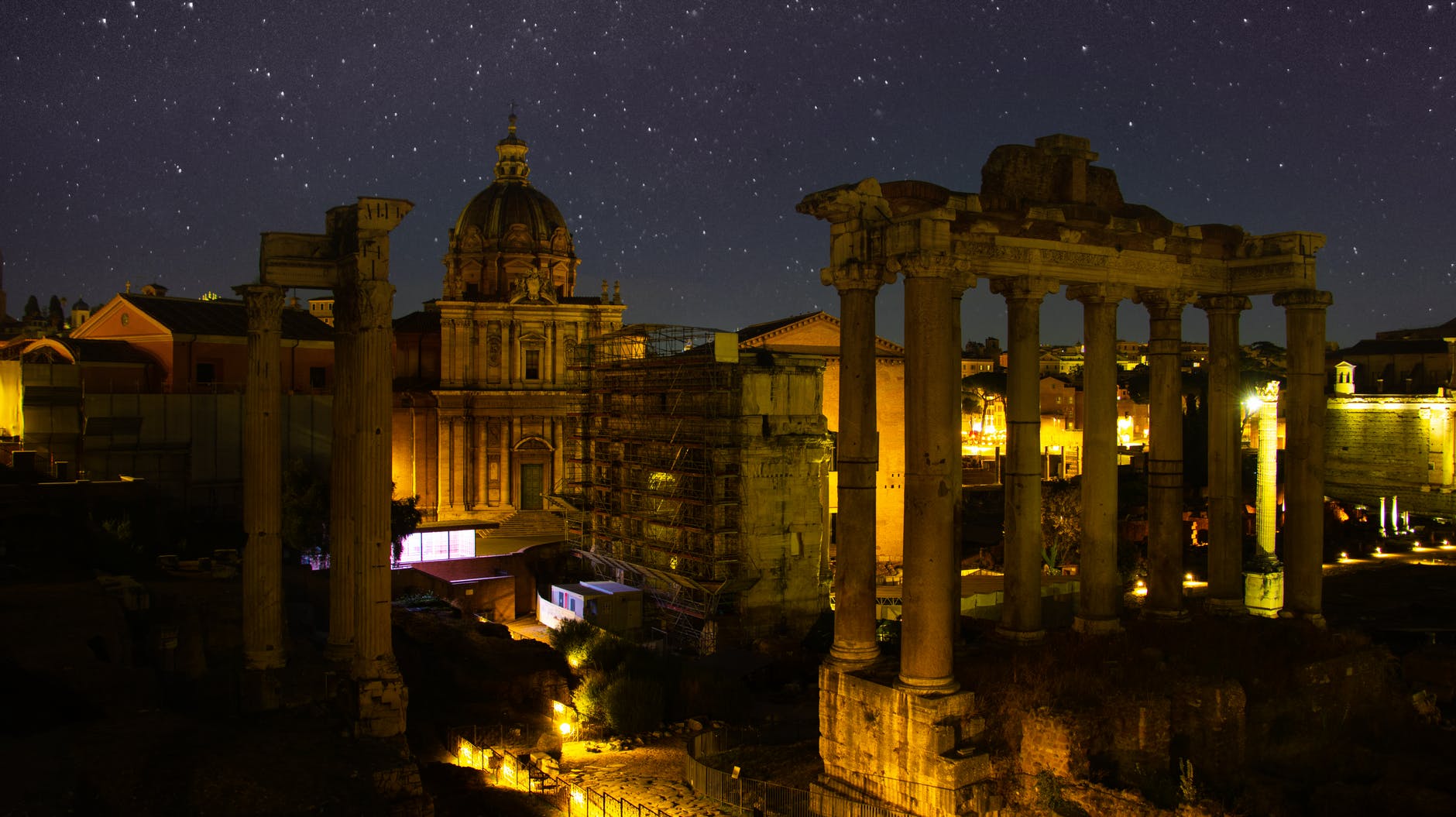 The Roman Forum (Forum Romanum) is one of the most impressive ancient sites in Europe. Best known as the place where Julius Caesar was assassinated, it became a thriving marketplace and the social centre of Rome, only to be ravaged by fire and earthquakes over time.
Today, you still have the chance to visit this incredible site and see the ruins, which include temples, arches and columns. As you walk around, it's easy to imagine what life was like here thousands of years ago.
The Roman Forum is included on the Colosseum ticket (€12) – which covers three different attractions. You can buy tickets from the ticket office at the Colosseum or online in advance. It is one of top things to do Rome Italy so I would say book the tickets in advance because it is at times sold out as well.
---
Ads Starting
Post Continues
---
Spanish steps
The Spanish Steps are a set of steps in Rome, Italy, climbing a steep slope between the Piazza di Spagna at the base and Piazza Trinità dei Monti, dominated by the Trinità dei Monti church at the top. The monumental stairway of 138 steps (the slightly elevated drainage system is often mistaken for the first step) was built with French diplomat Étienne Gueffier's bequeathed funds of 20,000 scudi, in 1723–1725, linking the Bourbon Spanish Embassy to the Holy See, (hence its name), above.
The stairway was designed by architects Francesco de Sanctis and Alessandro Specchi.
Capuchin crypt
The Capuchin Crypt (Italian: La crypta dei cappuccini) is a small space comprising several tiny chapels located beneath the church of Santa Maria della Concezione dei Cappuccini on the Via Veneto near Piazza Barberini in Rome, Italy. It contains the skeletal remains of 3,700 bodies believed to be Capuchin friars buried by their order. The Catholic order insists that the display is not meant to be macabre, but a silent reminder of the swift passage of life on Earth and our own mortality.
The subterranean crypt was built in the 1630s under the church of Santa Maria della Concezione dei Cappuccini, which was constructed on top of an ancient cemetery for Capuchin friars. The layout and design was created by Francesco Busiri Vici (1598–1685), an architect who also worked on many other projects for the religious order in Rome.
Appian way
One of the most popular attractions in Rome, the Appian Way is a great place to take a walk with your family or friends. The road was constructed in 312 BC and is also known as the Regina Viarum or Queen of Roads.
Considered one of the most beautiful paths in Italy, the Appian Way was an important trade route, connecting Rome to Brindisi in the early days. Today, this ancient site makes for a wonderful day out.
Walk along this historical road and admire its original cobblestones from the 4th century BC and ancient tombs. This 3-mile long road leads to the Catacombs of St. Callixtus and San Sebastian, which is another attraction you can visit on your way back.
---
Ads Starting
Post Continues
---
St. Peter's basilica
St. Peter's Basilica is one of the holiest Catholic shrines in the world, as it is the final resting place of Saint Peter, one of the twelve apostles of Jesus Christ. The church has been constructed over a span of more than 120 years and is one of the largest churches in the world with a capacity to hold around 60,000 people. The height of the dome is around 136 meters that makes it even taller than the Pantheon.
St. Peter's Basilica has many chapels including Cappella Paolina and Cappella Sistina which has been designed by Michelangelo along with other renowned artists like Bernini, Bramante, and Maderno. The interior design of the basilica is quite ornate and beautiful owing to which it attracts millions of tourists every year from all over the world.
Want to take a guided tour of the Basilica then I would recommend you to book the tickets well in advance and it is one of the most beautiful things to do in Rome Italy.
Capitoline Museums
The Capitoline Museums (Italian: Musei Capitolini) are a group of art and archeological museums in Piazza del Campidoglio, on top of the Capitoline Hill in Rome, Italy
The museums are contained in three palazzi surrounding a central trapezoidal piazza in a plan conceived by Michelangelo Buonarroti in 1536 and executed over a period of more than 400 years. The history of the museums can be traced to 1471, when Pope Sixtus IV donated a collection of important ancient bronzes to the people of Rome and located them on Capitoline Hill.
Since then, the museums' collection has grown to include many ancient Roman statues, inscriptions, and other artifacts; a collection of medieval and Renaissance art; and collections of jewels, coins, and other items. The museums are owned and operated by the municipality of Rome.
---
Ads Starting
Post Continues
---
Catacombs of Priscilla
The Catacombs of Priscilla are a subterranean cemetery about 12 kilometers from Rome on the Via Salaria Nova. It was one of several catacombs in the city, which were used as burial grounds by Christians who wished to avoid interment in pagan cemeteries.
According to tradition, it was here where St. Peter celebrated Mass and where he preached the first homily in Rome. The catacomb also contains the oldest known Marian painting (in a catacomb), showing Mary with her hands raised in prayer.
Travel Tips for Things to do in Rome:
The Catacombs of Priscilla are open every day, Monday-Friday from 8:30am-12pm and 2:30pm-6pm, Saturday 9am-12pm
It is closed on Sundays, 1 January, 25 March, 1 November and 25 December.
Admission is free for all visitors who live or work in the EU under 18 years old or over 65 years old.
You can book the tickets here
Galleria Borghese and the Villa Borghese Gardens
The Galleria Borghese is one of Rome's top museums, and the art it contains is some of the best in the city.
The Villa Borghese Gardens is absolutely fun things to do in Rome and it is a good that you plan to include this in your travel.
If you are visiting the Galleria Borghese, you can also visit the lovely Villa Borghese Gardens. The gardens belong to the same family that owns the museum, but there is no admission charge to enter them (or to stroll along any of Rome's streets, for that matter).
They are an excellent place for a stroll or a picnic. They also contain other attractions such as a zoo and a planetarium. If you want to visit these attractions, make sure you have exact change for the admission fee at each one.
You can book the tickets online if you are planning to visit this place
Piazza Navona
Piazza Navona is one of the most beautiful and visited squares in Rome. It has a complex history that started with the Stadium of Domitian in 86 AD.
Today, Piazza Navona is a lively hub of activity and one of the top tourist attractions. It's famous for its architecture, museums, churches, and restaurants and it makes sense to include this in top things to do in Rome Italy.
The square also hosts an annual Christmas market that attracts over 1 million visitors per year.
Even if you don't have time to visit all the sights, Piazza Navona is a great place to relax with an ice cream or a cappuccino in one of the cafes.
This guide will provide you with everything you need to know about visiting Piazza Navona in Rome
---
Ads Starting
Post Continues
---
Altare della Patria (Altar of the Fatherland)
Altare della Patria or Altar of the Fatherland is a monument dedicated to Victor Emmanuel II, the first king of unified Italy, located in Rome, Italy. It occupies a site between the Piazza Venezia and the Capitoline Hill. It was completed in 1925.
The building is built of white marble and is 135 meters wide and 70 meters high. It has two levels: on one side a stairway leads to an elevated terrace from which you can see a panorama of Rome. The other side houses the Tomb of the Unknown Soldier with an eternal flame, built under the statue of goddess Roma (the same as on top of Colosseum).
Inside there are some important frescoes by famous artists as well as sculptures by eminent Italian artists. This building is also known as Vittoriano, Il Vittoriano or Altare della Patria. You can visit this place while your trip to Rome, Italy.
Sistine Chapel
The Sistine Chapel is the best-known chapel in the Apostolic Palace, the official residence of the Pope in Vatican City. It is famous for its architecture and its decoration that was frescoed throughout by Renaissance artists including Michelangelo, Sandro Botticelli, Pietro Perugino, Pinturicchio, Domenico Ghirlandaio, and others. Under the patronage of Pope Julius II, Michelangelo painted 12,000 sq ft of the chapel's interior between 1508 and 1512. Today it is still the best-known work of Renaissance art in the world.
The Sistine Chapel takes its name from Pope Sixtus IV della Rovere (1471–84), who restored it between 1477 and 1480. Since that time, the chapel has served as a place of both religious and functionary papal activity.
Today it is the site of the Papal conclave, the process by which a new pope is selected. The fame of Michelangelo's paintings has drawn multitudes of visitors to the chapel since they were revealed five hundred years ago.
Castle Saint Angelo
One of the few places in Rome where you can enjoy a 360-degree view of the city is Castle Saint Angelo.
Located on the right bank of the Tiber River, Castle Saint Angelo was originally constructed as a mausoleum for Emperor Hadrian and his family. However, it was later turned into a Papal fortress by Pope Nicholas III in 1277. This castle has played an important role in the history of Rome, including withstanding several sieges during wars between Rome and the surrounding city states.
Today, Castle Saint Angelo is one of the most popular tourist attractions in Rome and features plenty of highlights that showcase its incredible history. Here are some tips when visiting this fascinating castle:
Try to visit at nighttime. The castle itself is amazing to see during the day, but it's even more impressive when illuminated at night. You can also admire some magnificent views of Rome from several vantage points along the castle walls.
Explore the old tunnels connecting Castle Saint Angelo and Vatican City. These secret passageways were once used to transport Popes to safety during sieges and now offer an intriguing glimpse into a fascinating part of Rome's history.
---
Ads Starting
Post Continues
---
Vatican City
Vatican City is the smallest country in the world and is located entirely within the city of Rome. It is an independent city-state, enclaved within Rome, Italy. So you really have to save some time when you are in Rome to explore the beautiful Vatican City.
The Vatican Museums are the museums of the Vatican City and are located within the city's boundaries. They display works from the immense collection amassed by popes throughout the centuries including some of the most renowned classical sculptures and most important masterpieces of Renaissance art in the world. The museums contain roughly 70,000 works, of which 20,000 are on display, and currently employ 640 people who work in 40 different administrative, scholarly, and restoration departments.
When you are in Rome exploring Vatican city is one of the top things to do in Rome.
Opening Time:Monday to Saturday – 9 am to 6 pm.
Closed on Sunday except for last Sunday of every month (Free entry).
Vatican Museum
The Vatican Museums (Musei Vaticani) are among the greatest museums in the world, since they display works from the immense collection built up by the Roman Catholic Church throughout the centuries, including some of the most renowned classical sculptures and most important masterpieces of Renaissance art in the world.
They were founded in the early 16th century with a donation by Pope Julius II of a group of important ancient sculptures (including Laocoon and his Sons and Apollo Belvedere) to form part of his private collection. They were opened to visitors by request in the 18th century and became public under Clement XIV in 1771.
Visitors to the Vatican Museums will be overwhelmed by the vastness of what is on display. There are 54 galleries and 7 miles (11 km) of corridors, housing one of humanity's greatest collections of art. The museums cover 12,000 years, from Egyptian mummies to contemporary art, but most people come for two things: Michelangelo's Sistine Chapel and Raphael Rooms.
Rome is a great city for tourists and there are several things to do in Rome and I tried to include all the top things to do in Rome which you will abosolutely love in your trip.
Let me know if you think I have missed anything from this trip and you really loved it.
Get your Notion Travel Planner Template!
Embark on your next adventure with the Wanderlust Planner – Notion Travel Planner Template – Notion Travel Planner Template for 2023 (chasingwhereabouts.com), the ultimate Notion Travel Planner Template. Organize your wanderlust-fueled dreams and turn them into unforgettable journeys. Whether you're a seasoned globetrotter or a newbie explorer, this template has you covered.
Pin this to Support Us