In this post, we will be sharing 8 Tips for a stress-free Boat Tour in Paris, Read along to find the discounted Paris Boat Tour ticket. This post is also for one who doesn't know about the boat tour in Paris and wants to know more about it.
Paris is a city that has so much to offer. It's the most visited city in the world and has been for years. It was voted "Best City" by Tripadvisor in 2018. There are so many reasons why people love it so much!
One of the best things about Paris is that it's really easy to get around. There are various transportation methods available and they are all convenient. Another great thing about Paris is that there are a ton of museums and attractions to see! which we have already shared in our post.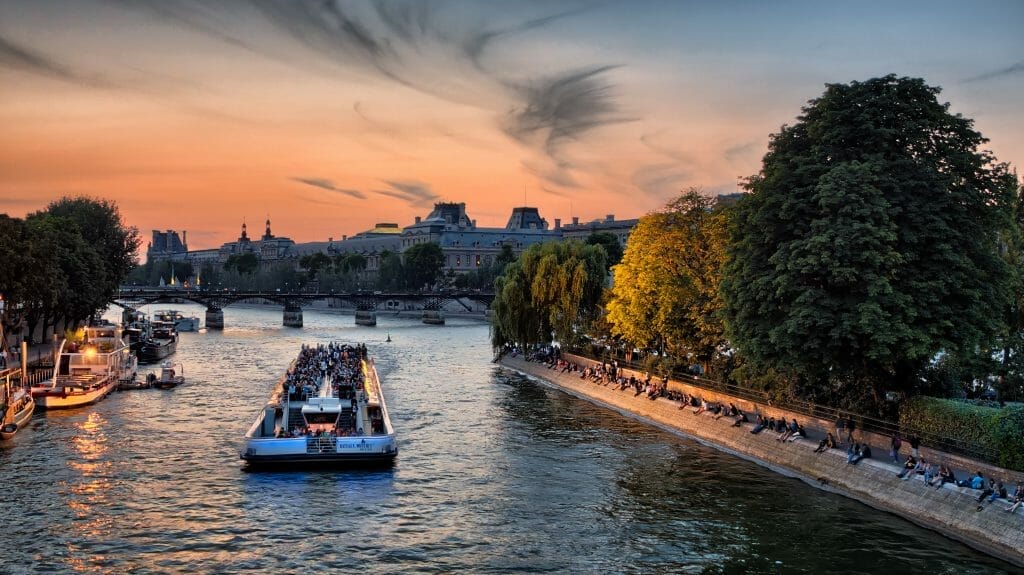 Is the Boat Tour in Paris something to try?
A Paris boat tour is a popular tourist attraction in Paris. Boats are traditionally grouped into two categories: historical and modern.
What are the benefits of embarking on a boat cruise in Paris?
The benefits of embarking on a boat cruise in Paris include being able to see the sights without the crowds, getting close to iconic monuments, and being able to have an authentic experience.
A boat cruise in Paris is a popular way to experience the city. There are many benefits to embarking on this type of trip, including being able to see the sights without the crowds and getting close to iconic monuments. Tourists can also be sure they'll have an authentic experience by staying on the water.
How to find the best boat tour company in Paris?
If you are traveling to Paris, then you should go for a boat tour to see the city in a whole new light. The best tours will have a guide who can provide information and answer any of your questions.
A boat tour might not be the quickest way to view some of the sights, but it is definitely one of the most enjoyable ways. Boat tours are also an excellent way to get close-up views of landmarks like The Eiffel Tower and Notre Dame Cathedral.
You can book tickets online or by phone. If you would like to add this experience as part of your Paris vacation package, then it is best to book ahead so that you don't miss out on this opportunity!
Tickets for Batobus – Riverboat Shuttle Service
Explore Paris and get on and off wherever you want for 24 or 48 hours, with 9 stops around the different places in Paris, with this service you can see Eiffel Tower, Musée d'Orsay, St-Germain-des-Prés, Notre-Dame, Jardin des Tuileries, Champs-Élysées, and more. Also travel for 1 or 2 days, with boats departing every 25-40 minutes
Below are the mentioned station where you can Hop on and Hop off your Boat Tour in Paris
Eiffel Tower | Port de la Bourdonnais
Invalides | Pont Alexandre III
Musée d'Orsay | Leaving Musée d'Orsay, cross the street and go down the steps to the river bank
Saint-Germain-des-Prés | Quai Malaquais, Rue Bonaparte
Notre-Dame Cathedral | Quai de Montebello. From Pont au Double, about 100m upstream
Jardin des Plantes/Cité de la mode et du design | Quai Saint-Bernard
Hôtel de Ville | From Quai de l'Hôtel de Ville, about 100 meters upstream
Louvre | Quai François Mitterand/Pont du Carrousel
Place de la Concorde | Close to Champs-Élysées
Seine River Cruise by Bateaux Mouches
This is the boat tour which we did when we visited to Paris, It is cheap and affordable boat trip which gives you the perfect feeling of Paris. Paris Boat Tours Bateaux Mouches is something which you should try during your next visit.
The Trip starts from Paris Eiffel Tower and ends at Eiffel Tower.
Below are the landmarks you will if you takes this tour

You can directly use our Ticket Generator to check if tickets are available for this tour
Dinner Cruise on Seine (Night Boat Tour in Paris)
Imagine you are on a dinner cruise of the Seine river. You are sitting in the front row and have a full view of the river and the Parisian skyline. As you enjoy the exquisite French cuisine provided by your waiter, you feel as if your troubles have melted away with the refreshing breeze of Paris.
This is life at its best!
You may be looking at this from a tourist's perspective, but when I think about Paris, I think about food: rich dishes that seem to melt in my mouth. That's why I believe that visiting this city is not complete without a visit to one of its many world-class restaurants.
There are many options for Paris Boat Tour with Dinner which will get you started mentioned in the tickets below! Feel free to check them out.
Feel free to use our below tool to directly find the tickets
How to prepare for your river cruise?
River cruising is becoming more popular as a way to explore the world and experience new cultures. It's a great form of travel that provides that unique combination of being on the water and exploring an area on land.
To get you ready for your river cruise, we've put together some tips on what to do before you go so that you can have the best time possible.
Planning ahead is undoubtedly the key to any memorable and enjoyable experience. Here are a few items you should consider before your river cruise:
It is always a good idea to do your research before embarking on any new adventure. Planning ahead will help you get the most out of your experience, and we want you to have the best!
What to expect on your first trip on a river boat?
A river boat is a boat that navigates on a river. One can expect to see a mix of activities on the boat such as fishing, sunbathing, and swimming. Some boats also have slides and other water activities.
Some people find trips on river boats relaxing while others find it an adventure to go up or down the river. River boat rides have become popular in certain areas to take tourists through the scenery by waterways that might not be accessible by car.
Where are the best places to go from the Seine river and why you need to try them!
France is one of the most popular destinations in the world. There are many different attractions to visit, such as the Eiffel Tower, Arc de Triomphe, etc.
There are many places to visit from the Seine River: Notre Dame Cathedral which is a symbol of France and Paris; Les Invalides which is a museum dedicated to military history; The Musée d'Orsay which exhibits 19th century artworks; The Louvre Museum which houses over 35,000 pieces of art work from all different periods of time and cultures.
8 Tips for a Stress-Free Boat Tour in Paris
Plan Your Tour in Advance – Chasing Whereabouts Recommend Bateaux Mouches – Book Here
Choose What Kind of Boat You Want to Take – Private or Group?
Dress Appropriately – Wear Comfortable Clothing and Weather-Adapted Shoes
Ask Questions! – All Boats Are Different so Ask Questions to Get What You're Looking For!
Book Far Ahead So You Can Get The Best Price Possible! – But Don't Forget About Those "Last Minute Deals" Either 😉 And…Bring Cash! Accommodation, Eating, and Buy Tickets are All
Let someone at the tour company know if you have any special needs (i.e. elderly, no mobility)
Bein Snacks and water with you.
Get your Notion Travel Planner Template!
Embark on your next adventure with the Wanderlust Planner – Notion Travel Planner Template – Notion Travel Planner Template for 2023 (chasingwhereabouts.com), the ultimate Notion Travel Planner Template. Organize your wanderlust-fueled dreams and turn them into unforgettable journeys. Whether you're a seasoned globetrotter or a newbie explorer, this template has you covered.