When it comes to planning a family vacation, Europe is often one of the most popular destinations. In this post we will be sharing our tips for Family Trip to Europe on a Budget.
Planning a family vacation to Europe can be an exciting and rewarding experience. To make sure your vacation is both enjoyable and affordable, it's important to budget for travel costs.
Researching flights, booking accommodations in advance, and taking advantage of discounts and deals are all great ways to save money on your trip. And that is what we have talked about in our Comprehensive guide for Cheap Travel in Europe. There are many beautiful Eastern European cities to explore, things to do in Mallorca, and fun facts about Norway that you won't want to miss out on! Get money-saving tips for a family trip in Europe so you can enjoy all the sights without breaking the bank. Learn about the best places to visit and
After all, there are so many incredible countries to explore, each with their own unique culture and history. Plus, let's not forget about the food – European cuisine is definitely worth trying!
If you're thinking about taking your family on a trip to Europe, but are worried about the cost, don't worry – it is possible to do it on a budget. Here are some tips on how to plan a family vacation to Europe on a budget:
Tips for Family Vacation to Europe on a Budget
Choose Your Destination Wisely
The first step in planning a budget-friendly family trip to Europe is to do some research about where you want to go. If you have time constraints, like if everyone has the same school vacation dates throughout the year, it's important to plan ahead so you don't miss out on any popular destinations. Additionally, researching and comparing flight prices helps you determine exactly how much money you'll need in order to get there.
There are so many amazing places to visit in Europe, but some countries are definitely more expensive than others.
If you're on a tight budget, it's worth considering places like Eastern Europe, which tend to be cheaper than Western European countries.
Travel During the Off-Season
When travelling abroad with your family, one of the best ways to save money is by booking as many elements of the trip as far in advance as possible. This includes everything from flights and hotels, transportation between cities while abroad, meals at restaurants abroad (for an extra budget-saving tip use coupon books!), museum admissions and more! Booking early gives you more chances of getting discounted rates or attractive deals that include several items for single rates etc.
If you want to save money on your trip, it's worth traveling during the off-season. Not only will flights and accommodation be cheaper, but there will also be fewer crowds, so you'll have a more relaxed vacation.
Look for Discounts and Deals
Booking excursions together when out travelling together can greatly reduce overall expenditure! Research online before departing for any kind of group deals going on or discounts given by tour operators etc. Split items instead of buying pre-packaged offers; this helps reduce costs further by simply splitting separate packages across each traveller! Lastly ensure insurance remains adequately covered throughout such travels!
There are often discounts and deals available if you know where to look. For example, many museums offer free or discounted admission on certain days of the week.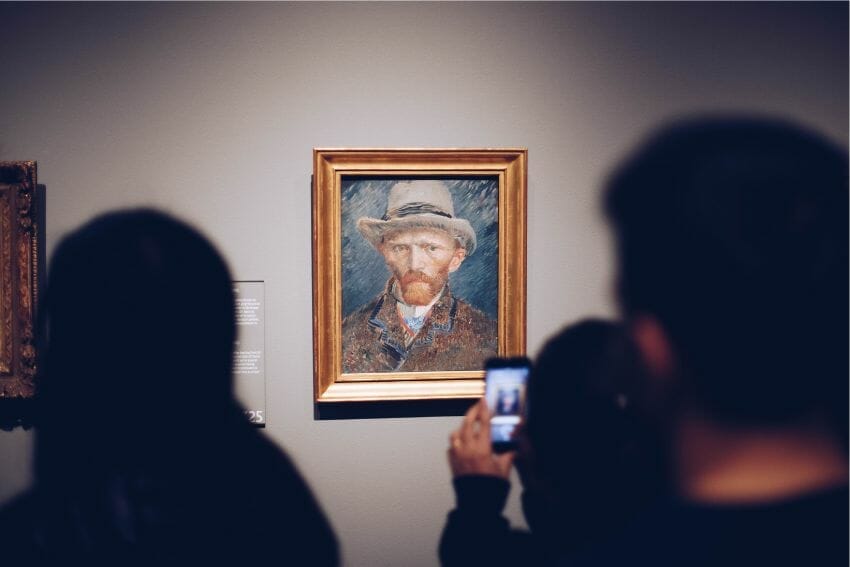 And, if you're planning on doing any sightseeing, it's worth buying a tourist pass, which will give you access to multiple attractions for one price.
Stay in Budget-Friendly Accommodation
Accommodation can be one of the biggest expenses when traveling, so it's worth looking for budget-friendly options. Hostels are a great option if you're on a tight budget, as they tend to be very affordable.
Finding affordable accommodations will not only allow your family the comfort of having their own space during the trip but also allow for some additional savings during your Euro trip. Sites such as Airbnb offer property owners who are looking for tourists like yourselves who are looking for low cost housing options. Other sites include Couchsurfing, which is essentially staying with someone (for free) as long as they provide lodging, meals/food and clean sheets/linens.
However, if you're traveling with young children, it might be worth opting for a self-catering apartment so that you have more space and privacy.
Make Use of Public Transportation
Europe has an excellent public transportation system, so make use of it!
Not only is it usually cheaper than taking a taxi or renting a car, but it's also a great way to see more of the city.
Eat Like a Local and save money on food
Although saving money while travelling should be kept in mind all through your travel; prioritizing spending it optimally can help save even more money! When it comes down to activities – focus on experiences that have lasting impressions rather than those that may just leave a large hole in your wallet after buying them!
Also take small breaks along the journey such as breakfast picnics instead of eating at expensive eateries or participating/attending festivals that may not necessarily draw immense crowds like theme parks or waterparks; but still add cultural values while keeping costs low!
Eating out can be expensive, so one of the best ways to save money is to cook your own meals. If you're staying in an apartment, this will be no problem.
However, even if you're staying in a hotel, you should be able to find a room with a kitchenette so that you can prepare your own meals.
Be Prepared to Walk
This might not be everyone's idea of a vacation, but one of the best ways to see a city is on foot.
Not only is it free, but you'll also get to explore parts of the city that you would never see if you were taking public transportation or driving.
Avoid Tourist Traps
There are certain tourist traps that are just not worth the money. For example, skip the overpriced restaurants near popular attractions and opt for a local spot instead.
You'll save money and get to try some authentic European cuisine.
Travel with Carry-on Luggage Only
This is one of the best ways to save money when traveling, as you'll avoid costly checked baggage fees.
Plus, it's much easier to get around if you only have to carry one bag.
Use a Travel Credit Card
If you use a travel credit card, you can often get great benefits such as free accommodation or discounted flights. Just make sure to pay off your balance in full each month so that you don't end up paying interest on your purchases.
You can read more about Revolut Travel Card which we personally use when we are travelling in Europe.
Cheapest European Cities for a Family Vacation
There are plenty of cheap European cities that are perfect for a family vacation. Here are our top picks:
Lisbon, Portugal:
Lisbon is one of the most affordable cities in Europe and it's also very family-friendly. There are plenty of things to do with kids, including visiting the zoo, going on a river cruise, and exploring the many museums.
Porto, Portugal
Porto, Portugal is a popular destination for travelers looking to explore the best of Europe without breaking the bank. The city is known for its Art Deco architecture and its port wine, which can be sampled in many of the local bars and restaurants. Visitors can explore the city on foot, taking in the sights and sounds of this vibrant city. A day trip to the Douro Valley, a picturesque vineyard region along the Douro River, is also worth considering.
Portugal as a whole is an amazing country with diverse landscapes and stunning beaches. Lisbon is a beautiful city with plenty of cultural attractions while the Algarve region in the south offers sunny beaches and world-famous surfing spots.
To experience both cities, fly into Lisbon and take a plane, car or bus to reach Porto or Algarve for an unforgettable winter destination. Whether you're looking for culture or relaxation, Portugal has something for everyone!
Seville, Spain
Seville, Spain is a great vacation destination for families who love castles and horses. Touring the Alcazar palace, one of the most beautiful palaces in Europe, is an affordable activity that will leave you with lasting memories. The city center is also full of interesting sights to explore, such as Plaza de Espana and the Torre del Oro. Dining in Seville can be cost-effective with free tapas and glasses of wine for as little as 2.50 euros.
Take a self-guided driving tour along the Pueblos Blancos, a string of clifftop whitewashed villages from Arcos de la Frontera to Ronda. This scenic route offers breathtaking views of the countryside and its many charming towns. You can also rent bikes to explore Seville's cobblestone streets or take a break from the crowded Costa del Sol beaches by indulging in classic tapas while watching flamenco dancing in Seville, the capital of flamenco.
No matter where you decide to go, planning a family trip to Europe on a budget is possible with the right research and preparation. Look for deals on flights and accommodations, take advantage of free attractions, and explore local markets for affordable meals. With a little bit of planning, you can have an amazing European vacation without breaking the bank!
Recommended Read: 20 Best Things to Do in Seville Spain
Rhodes, Greece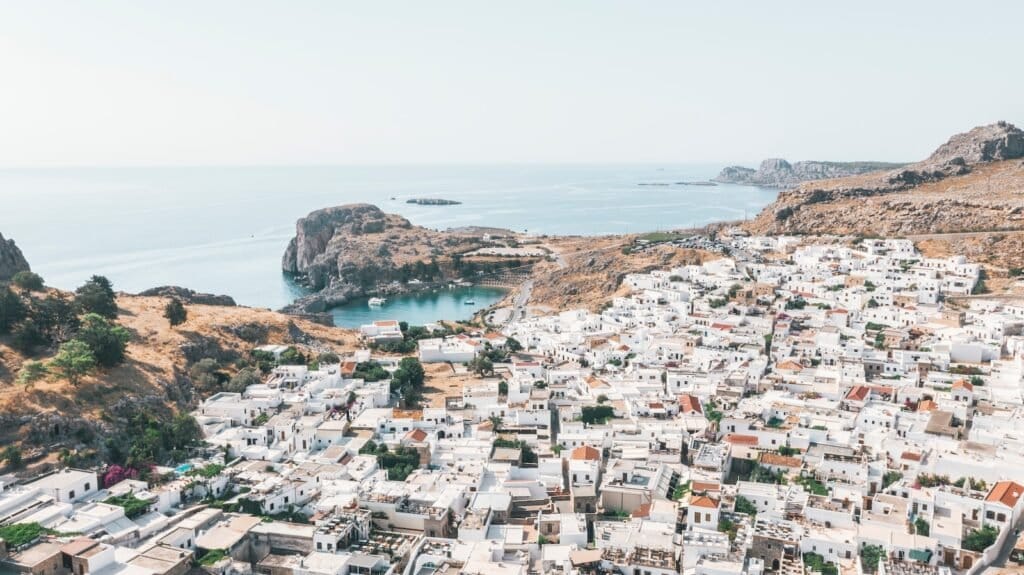 Rhodes is a great destination for budget travelers, with flights from major hubs like Athens, London and Munich. The island offers many activities such as the Valley of the Butterflies nature reserve and the Rhodes Toy Museum.
Traveling outside of the summer high season can help visitors get better hotel rates. For those looking for an even cheaper European vacation, the Ionian Islands of Greece are a great option. Fly into Kefalonia from London on Ryanair and take a ferry between the Ionian Islands from Greek Ferries. Once there, you can explore ancient ruins, relax on pristine beaches with locals, and dine affordably like a Greek god.
The Ionian Islands offer something for everyone; whether you're looking to explore ancient ruins or just relax in the sun on one of their beautiful beaches. There are plenty of affordable restaurants to choose from so you can enjoy traditional Greek cuisine without breaking your budget. You can also take advantage of some amazing sightseeing opportunities such
Dordogne, France
The Dordogne region of France is an affordable alternative to popular French destinations like Paris and the French Riviera. This beautiful area offers plenty of activities for families, including exploring castles and prehistoric caves, visiting quaint riverside villages, and participating in nature activities like hiking, kayaking, fishing and camping. Located northeast of Bordeaux, Dordogne has a variety of attractions that make it an ideal destination for budget-conscious travelers.
When it comes to food, there are plenty of ways to enjoy French cuisine on a budget. Opting for lunch menus or packing a picnic can help you save money while still enjoying delicious meals.
Investing in a Paris Museum Pass will also give you access to top tourist spots without having to wait in line for tickets. Markets are also great places to find cheese, wine, crepes and other treats from stands at reasonable prices. With so many options available, Dordogne is the perfect place for those looking for an affordable yet
Budapest, Hungary:
Budapest is another great option for families looking for an affordable European city vacation. There are many free or cheap things to do with kids, including visiting the Budapest Zoo and Botanical Garden, riding the historic cogwheel railway, and exploring the city's many parks.
Prague, Czech Republic:
Prague is a beautiful and affordable city that is perfect for families. There are plenty of kid-friendly activities, such as visiting the Prague Castle, going on a boat ride on the Vltava River, and exploring the Old Town.
Krakow, Poland:
Krakow is an excellent choice for families looking for a budget-friendly European vacation. There are many things to do with kids, including visiting Wawel Castle, taking a ride on the Krakow Gondola, and exploring the city's many parks.
Athens, Greece:
Athens is a great choice for an unforgettable European family vacation. There are many things to do with kids, including visiting the Acropolis, going on a boat ride in the Saronic Gulf, and exploring the many museums.
Istanbul, Turkey:
Istanbul is a great choice for families looking for an affordable European city vacation. There are many things to do with kids, including visiting the Blue Mosque, riding a ferry across the Bosphorus Strait, and exploring the Grand Bazaar.
Dubrovnik, Croatia:
Dubrovnik is a beautiful and affordable city that is perfect for families. There are many things to do with kids, including visiting the Dubrovnik City Walls, taking a cable car ride to Mt. Srđ, and exploring the Old Town.
Lapland, Finland:
Lapland is a great choice for families looking for an affordable European city vacation. There are many things to do with kids, including visiting Santa Claus Village, going on a reindeer safari, and exploring the many parks.
Bruges, Belgium:
Bruges is an excellent choice for families looking for a budget-friendly European vacation. There are many things to do with kids, including visiting the Markt Square, taking a boat ride on the canals, and exploring the old city.
Salzburg, Austria:
Salzburg is a beautiful and affordable city that is perfect for families. There are many things to do with kids, including visiting the Hohensalzburg Castle, riding the historic railway, and exploring the old city.
After a little bit of budgeting, everyone should be able to plan a family vacation to Europe on a budget. So what are you waiting for? Start planning your trip today!
Sicily, Italy
Sicily is a beautiful and affordable destination in Italy, perfect for families looking to explore the Mediterranean. With two main airports on opposite sides of the island, it's easy to get around and explore all that Sicily has to offer. From climbing Mount Etna to taking a cable car in Taormina, there are plenty of activities for everyone.
Kids will love the delicious cuisine and ice cream for breakfast (granita)! Rome is also nearby and home to over 900 churches, many of which contain works of art and architecture by renowned artists. Iconic landmarks such as the Trevi Fountain, Spanish Steps, and Rome's piazzas are all free to visit. Some museums offer free entry days too, so check their websites for details. Agriturismos (Italian farm stays) are also popular in Sicily, offering visitors an authentic experience of rural life in Italy. Whether you're looking for adventure or relaxation, Sicily has something for everyone!
Ljubljana, Slovenia
Ljubljana, Slovenia is a city full of architectural masterpieces. The work of Jože Plecnik, who brought Vienna's Secessionist Art Nouveau style back to his native city, can be seen throughout the city. His iconic designs include the Pegasus door handles on the entrance to the National and University Library, as well as the central market and Ljubljana's Triple Bridge.
Visitors can enjoy affordable restaurants in town and take a public bus to nearby Lake Bled for a day trip. For those looking to explore further afield, there are plenty of opportunities to visit the stunning Dalmation Coast in Croatia and Montenegro. To get the most out of your trip, it is recommended that you visit during shoulder season (April-May or September-October) when temperatures are warmer and crowds are fewer. Fly into Dubrovnik, Croatia and take a day trip to Montenegro for an unforgettable experience!
That was our in detail post around planning your Family Vacation to Europe on Budget. Do let me know where you are planning to visit in Europe next.
Need Help with Booking –
Taking Insurance for your trip is of the utmost importance, I usually get my Insurance from Safety Wings or Heymondo you might wanna check them for your future trips.
If you are travelling and you don't know what to pack then our Packing List would come out in handy for you, Last Minute Packing is especially for the last minute occasions but there are some detailed packing lists as well like The Ultimate Packing Lists one post, especially for Europe Europe Packing List
Wondering whether you need a Visa for your travel then check here if you need visa for Europe or check out the new rule for Travel To Europe
Enjoyed it? How about sharing it with your friends on social media? Just click one of the buttons on this site to share this piece of content.
Pinning an image is a great method for sharing this article on social media. This article will become saved to the Pinterest board, making it easily accessible in the future.
Hey! Thanks for reading this! Look how gorgeous you are.