Lockdown, Pandemic amidst Summer Vacation? Travelling during Pandemic? Is it safe to travel now? How about going on some Magical Road Trips From Frankfurt, Germany? Doesn't it sound safe and fun?.
If you have have to car then these are some of the awesome places which you can cover from Frankfurt. But if you want to Rent a Car in Frankfurt that can also be a nice option for you.
If you are in Berlin then you should read our post day trips from Berlin for planning your day trips. Also we have curated a new list Top 10 Weekend Trips from Frankfurt. And if you are in Frankfurt and want to explore Frankfurt to the fullest then we have a separate guide for that 25 Top Things to do in Frankfurt
Frankfurt is the financial capital of the country and is well connected with public transport. In case you don't own a car, Deutsche Bahn (DB) trains and buses will take you to these marvellous places for a Day Trip from Frankfurt. The connection and routes are amazing from Frankfurt Bahnhof.
Although I agree, there's a lot to see in Frankfurt itself, from High Rise- Skyline to Gothic Architecture Buildings. Metropolis with river Main, gorgeous gardens and diverse museums. I always find Frankfurt interesting both during the day and night. My best time of the year is its Christmas Market.
Most importantly, the list which I have made includes cross border travel along with stunning places within Germany. If you want to know accurate details about how to travel other European Countries in the EU during Pandemic. EU government has released a new website ' Reopen EU' that covers information like:

How can I transit to other countries?
Can I enter France via Flight?
Can I transit Austria via bus/car/coach?
How safe is it to travel?
May I enter this country without being subject to a mandatory quarantine?
May I enter this country without a medical certificate, such as a negative test?
Now, let's check some amazing places that you can visit and get over with Lockdown. Be sure to stay safe and follow the latest guidelines of the government while travelling. For instance, Masks on public transport, Compulsory Free COVID test for travellers coming back to Germany, if you are travelling from high infected regions in Europe. This test is free and mandatory at the borders. People refusing to take a test could face a fine of up €25,000 ($30,000).
The current pandemic situation is making me crave for a vacation. Since the idea of staying at a hotel or hostel still makes me afraid. I wish I had a caravan of my own along with Driving License. My life would have been great with countless road trips which I might have taken. Sometimes, I regret being lazy 🙁 I wish I had applied for a Driving License.

These affordable car renting options are great if you can drive. My ultimate solution to travel amid Corona Pandemic is to buy a day ticket pass, take a day trip from Frankfurt, travel in Germany and come back home by the time its night.
Koblenz
Koblenz is located at the confluence of river Rhine and Moselle. Did you know that Koblenz' history dates back to the Roman Ages? Koblenz was one of the first commanderies of the Teutonic Order.
The famous Rhine Valley Cruise together with the fairytale castles, the centuries-old vineyards and impressive history of the Upper Middle Rhine River Valley, Koblenz has been UNESCO listed. The stretch of the cruise itself has around 20 castles located on the banks of the rive.
The Koblenz attractions mentioned in our recent post Things to do in Koblenz, Germany are selected based upon the criteria of being easily connectable for free walking tour Koblenz guide. I hope you also enjoy some of my favourite places to visit and things to do in Koblenz, Germany!
Getting to Koblenz
A day trip from Frankfurt is sufficient to visit this beautiful city. Its a drive of 1.5 hours from Frankfurt via car.
Trier
Trier is located in the Mosel Valley, which makes it a great location to explore and reach from Frankfurt via road.
"Religion is the opium for masses" – Karl Marx. Renowned Philosopher, Karl Marx was born here in Tiere, Germany. His house is now a museum dedicated to the communist revolutionary's life and work. Tiere is one of the oldest cities that has a number of sites which date back to the Roman Empire. It is also known as 'Rome of the North'.

The ancient sites boast the UNESCO World Heritage flag and attract travellers for its fantastic food, award-winning wines and medieval town centre.
Getting to Tiere
Its a 2 hours drive from Frankfurt and additional 1.5 hours from Koblenz.

Geierlay Suspension Bridge
Geierlay Suspension Bridge is located in Mörsdorf in the middle of the Hunsrück. This breathtaking rope bridge is one of the longest bridges in Germany and was opened in October 2015. 360 m long suspension bridge is just 85 cm wide. I have heard that you can enter this amazing bridge on your own risk. Lol, read that on the official brochure of the bridge. But, it was really cool to be there.
Although the bridge is open 24 hours a day. The best time to visit here for some amazing photography, taking that drone shot is either before 9 am or after 7 pm. There are guards on both the ends of the bridge. There are two modes of entry, one from Mörsdorf and the other from Sosberg.
How to enter and exit from Geierlay Bridge?
Every hour the entry is open from one end and the next hour from another end. For example, if you came from Morsdorf, you can enter the bridge from 11-12 pm, then get down at another end. Wait for another hour till the bridge is open from the other end from 12-1 pm and then come back.
The first's parking lot is more crowded than later. It cannot be reached or approached by car, you can only approach the bridge on foot or bike. The shortest distance between a car park and the bridge is between the P1 car park and the bridge and is 1.7 km one way. There are 4 car parking spots here, P1, P2, P3 and P4. More information can be found in the pdf below.

Map Route and Hiking Trail Details: Download Here
Getting to Geierlay Suspension Bridge
A car drive will take you to Mörsdorf from Frankfurt in 1.5 hours, which is the shortest route to enter Suspension Bridge location.
Travel Itinerary from Frankfurt to Suspension Bridge from public transport.
Please note, this itinerary is only possible, if your train is not late and you do not get a long queue at the entrance of the bridge. I waited 2 hours to enter the bridge and 30 minutes to reach the bridge location from the last bus stop.
If you have a car, then it's very easy to cover both suspension bridge and Cochem Castle.
Heidelberg
Heidelberg is considered one of the most beautiful cities in Germany. The Neckarstadt still fascinates several million guests every year and offers something for everyone to discover and experience. This city is located on the banks of river Neckar and dates back to the 14th century. Famous places here include an old bridge, churches, monasteries, parks, zoo and university buildings.
Who wouldn't love to go on one of these road trips from Frankfurt over the weekend for an amazing view of the old castle from the cable car (funicular). The traditional Heidelberg mountain railways transport guests from the Kornmarkt valley station to the Heidelberg Castle and then from Molkenkur station to Königstuhl.

The journey starts from Kornmarkt via Heidelberg Castle to Molkenkur via funicular. For the rest of the journey, change at the Molkenkur station to one of the oldest mountain railways in Germany, which goes up to the Königstuhl.
From here, on a clear day, you can even see all the way to the Black Forest.
Getting to Heidelberg
Heidelberg city can be reached within 1 hour from Frankfurt, Germany.
The funicular would cost you around € 8.00 for the route: Kornmarkt – Castle – Molkenkur
Mainz
Well, I used to think Frankfurt am Main and Mainz are same. LMAO. Later, I got to know both are two different locations. The city of Mainz was settled by Romans when they set up their double legion camp on the Kästrich(area in the Upper Town of Mainz ). One more interesting fact of Mainz is that it once belonged to France.
Now, coming back to the present time, this city has plenty of history and heritage. There are museums, not just one or two you can visit around 10 museums. The famous Gutenberg museum has some of the very first Gutenberg bibles because, at this very place, the printing machine was invented. One can also get a taste of theatres and cabaret in Mainz.
Getting to Mainz
The city of Mainz is just 45 minutes outside of Frankfurt, making it an easily accessible spot for a day trip from Frankfurt.
Black Forest and Triberg Waterfalls
The Schwarzwald, or the Black Forest, is a mountain range region about 240 km (150 miles) south of Frankfurt. We all have grown up reading and watching fairytale stories. Forests have never been good because of the evil stories that come along. However, here apart from the creepy insects and animals, there are several places worth visiting for.

Firstly, the largest cuckoo clock in the world is in Triberg. It is so big that you can walk right into it, and you can admire its amazing engineering both from the outside as well inside. When in Germany, do not forget to buy a souvenir of that of a cuckoo clock. Secondly, tourists also come to the black forest for hiking, skiing (during winters), and other winter sports.
Thirdly, the amazing waterfall is one of the best options to go out on a day trip from Frankfurt. The Triberg Waterfalls in Baden-Württemberg is one of the highest waterfalls in Germany and a landmark in the Black Forest region. If lucky you can find many red and black squirrels, which is a lovely sight.

The best time to visit here is after heavy rain or when the snow starts melting. You can hear the water falling loud and clear. The main entrance can be reached easily from the city centre in Triberg.
Getting to Triberg and Black Forest
A 3 hours drive from Frankfurt will make you enter the green canopy of black forest and then the famous Triberg Waterfall.

Rothenburg
The picturesque village of Rothenburg is one of the well preserved. This medieval town looks best in the evening/night. You will know on your own how magical the architecture looks in light at night. The journey starts with the Romantic Road, which can be another half day trip itself. Now the question arises "What is Romantic Road in Germany"?
Romantic Road is a three days road tour of 460 km, that starts from Würzbur and ends at Füssen.
The cool breezes lightened Rothenburg will make you feel as if you have arrived on a movie set, which is all prepared for a Fairytale shooting. A walk through the city will cover most of the interesting towers, castle garden (Burggarten), city museum and vineyard in the Tauber river valley. One can take the Night Watchman tour, which is an unforgettable way to learn the city's history
Getting to Rothenburg
A 4.5 hours drive from Frankfurt will take you to Rothenburg, which is approx. 480 km from Frankfurt Hbf.

Read More – 15 Top Things to do during your stay in Rothenburg ob der Tauber Germany
Baden-Baden
Baden Baden is famous for its therapeutic thermal baths, however since I am writing this during corona time (Pandemic 2020) and social distancing is in play. When it's a good time, do not forget to visit these thermal houses built on natural thermal springs. Though these thermal baths are closed for now, you cannot miss Germany's highest waterfall- Geroldsauer waterfall.
A walk in the wooden walkways of Black Forest with hustling waterfalls (series of small water walls and then the main big waterfall). There's a lot to explore through the hiking trails in the forest, rolling hills and scenic houses in the village.

After the nice excursion, one can stroll in the old town, vineyards and shop at the pedestrian zones of Baden Baden. Hence, these attractions and things to do in Baden Baden makes it a wonderful tourist destination for a day trip from Frankfurt.
Getting to Baden Baden
A day trip from Frankfurt awaits just 1.5 hours drive away.
Würzburg
There is a splendid baroque style castle here in Wurzburg. The city is beautifully is located on the Main river, surrounded by hills in the northern Bavarian region of Franconia (Franken). There is a historic church which is one of the oldest churches in Germany, few beautiful chapels and spectacular gardens. Hence, so much to see on a day trip from Frankfurt.

Coming back to the palace, its massive and magnificent with 300 rooms and a huge collection of art. Many tourists are amazed to learn that the castle's basement still contains a fully functioning winery. Don't forget to pick up a bottle of local wine as a souvenir of your trip. The shops are located right across the street of the castle.
Few events that highlight the beauty of Würzburg include Mozart Festival- Annual Music Festival and Wine Festival, that occurs during the summer season.
Getting to Würzburg
It will take you around 2 hours drive from Frankfurt.
If you are planning to board a train Inter-City Express (ICE), it would take around 1.5 hours.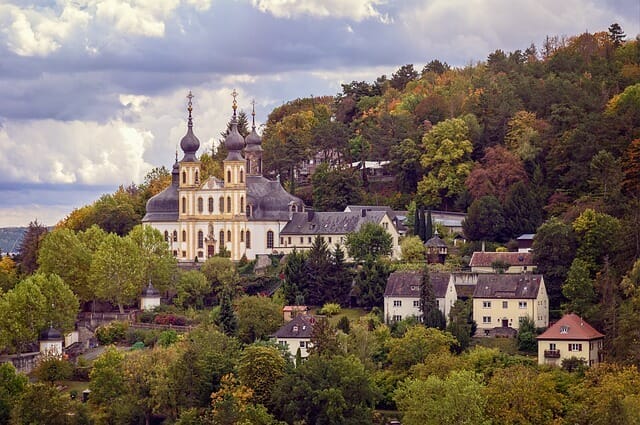 Wertheim Village
Wertheim Village is a one-stop destination for shopping that opens at 9 am and closes by 8 pm. This is definitely one of the magical road trips from Frankfurt where you can visit luxury boutiques, renowned brands (Versace, Ralph Lauren, CK, Fossil) at one place. Wertheim Village has been constructed in a way that you can shop from over 100 outlets from the outdoor shops. The world's most exciting designers and brands are waiting here for you at Wertheim Village. EAT, DRINK, SHOP, REPEAT because you can find a whole range of cosmetics, bags, accessories, clothing, watches, lingerie and shoes. Hence, if you are looking for some 5-star service experience, visit Wertheim Village.
Getting to Wertheim Village
Getting to Wertheim am Main will take approx. 1 hour. as it's on the way to Würzburg.
Please note, it's closed on Sunday and Saturday is the busiest days in the week.

Wiesbaden
Located across the river Mainz, Wiesbaden is the state capital of Hesse, green city in the heart of the Rhine-Main-region. This is again one of Europe's oldest spa towns where you can find natural hot springs. One of the richest cities, and a popular destination for wealthy, there is a famous casino. The history behind this casino of Wiesbaden is that after losing money here Fyodor Mikhailovich Dostoevsky wrote 'The Gambler', focussing on the intensifying pain and anticipation of a gambler.
Overall, this cobbled old town is picturesque, lively especially during Rheingau wine festival, which takes place every August. However, due to the measures currently in place to contain Covid-19 and to protect wine-growers and visitors, this year's Rheingau Wine Festival, which was scheduled to be held in Wiesbaden from 14 to 23 August 2020, has had to be cancelled. We very much look forward to being able to celebrate the Wine Festival with you again next year, between 13 and 22 August 2021.
Getting to Wiesbaden
Reaching Wiesbaden will take around 40 minutes from Frankfurt.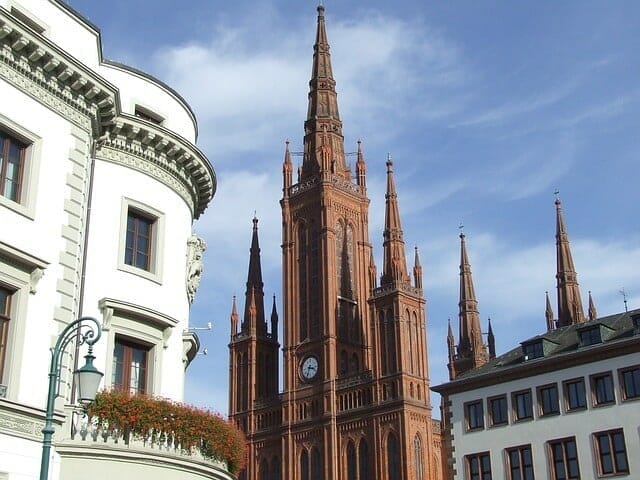 Bad Homburg
Bad Homburg vor der Höhe is a town located on the southern slope of the Taunus mountains. Bad Homburg is part of the Frankfurt Rhein-Main urban area and is famous for its spa, castle, parks and churches. Clubhouses like Golf Club, Tennis club are other famous reasons why people visit Bad Homburg.
As August moves into September, Bad Homburg spends a "long weekend" celebrating its Lantern Festival. The entire centre of town – all brightly illuminated – becomes a fairground from Friday through to Monday. Stands offering the widest range of merchandise, snacks and drinks, and interspersed with carousels, line the Louisenstrasse down to Ritter-von-Marx-Brücke and up to the fairground on Schwalbacher Strasse.
Wine and beer gardens are set up in cosy courtyards, in the Old Town as well. Rock and pop bands give live concerts on the squares in the town centre and at many other venues. A day trip from Frankfurt during this time is a great option to experience this lively event.
Getting to Bad Homburg
It will take around 25 minutes from Frankfurt to reach this old town.
Magical Castles
Every thought about how your dream castle from the Fairytale is going to look like, In this post, we will be covering the absolute beauty which is present in Germany. We have covered Fairytale Castle in Germany which will get your feet rolling for your Europe Trip.

Cochem Castle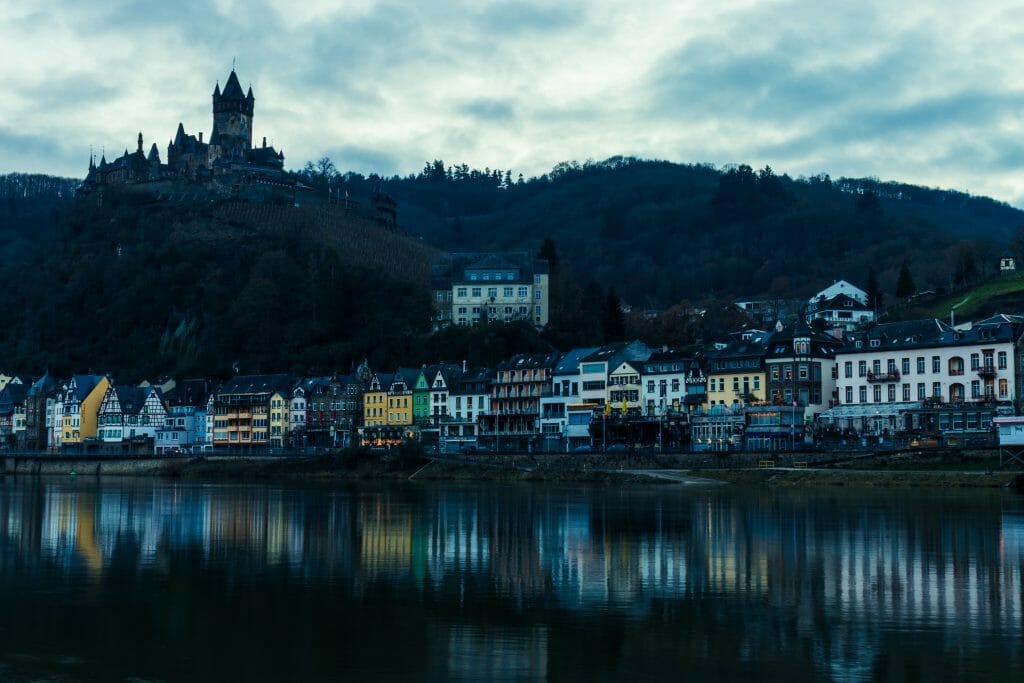 2 hours drive west of Frankfurt and you'll reach Cochem, a picturesque town that looks like it has been frozen in time.
To us, this castle is the ideal hideout to vampires, no one seems to know exactly when it was built and it is estimated at age 1000. It sits on a hilltop proud and foreboding and has several dark alleyways to get lost in. To be honest, we expect half of Edward Cullen to leap out at any given moment.
The shuttle timings from Enderplatz bus station in Cochem to Cochem Castle can be checked here.

Eltz Castle
It would be a great idea for a day trip from Frankfurt to cover both Eltz Castle along with Cochem castle, you can also cover Eltz Castle.
Rested on the Moselle River, Eltz Castle is an impressing sight, arising out of the trees with its towers and spires. Hidden in the woods, since it was built, this middle-aged castle has been lovingly cared for by the same family and it shows. The design on the show is remarkable, unscathed by war and there are still many of the original furnishings. There's so much to see and do here that you'll need to spend a whole day.

Neuschwanstein Castle
Another magical road trips from Frankfurt, from where it all started- Disney and its magical stories
4.5 hours road trip from Frankfurt and you can reach this fantastic castle which has been an inspiration behind amazing stories that we read as kids- Sleeping Beauty, Cinderella and many more films by Disney.
Strasbourg, France
I am sure, you will wonder if Strasbourg is a German place or French. Across the German border, this beautiful city is located where residents speak both German and French. It's such a beautiful blend of cultures, that you can have both German as well as French cuisines. On your day trip to Strasbourg, check out the Cathédrale Notre-Dame, a striking Gothic church that is undoubtedly the architectural highlight of Strasbourg. Another beautiful museum across the street with an amazing amount of religious art from the Renaissance and medieval periods.

When hungry, go for Tarte flambée (much like pizza) is an all-day-long snack. It is made with a thin flatbread-like crust covered with various toppings (most often cream, bacon and onions), and baked in oven.
Getting to Strasbourg
Darmstadt
This is a metropolitan city in the Hessen region which is a bit different from quaint houses and Gothic architecture. ' Stadt' means city in German language, probably that's why it was named Darmstadt. On a day trip to Darmstadt, you can experience a combination of culture, art and science. Art Nouveau is the theme of many buildings and modern architecture. In 1899 Grand Duke Ernst Ludwig founded an artists' colony in Darmstadt, in the impressive Mathildenhöhe. There are heaps of art exhibitions throughout, and several museums can be visited throughout the city.

Home to publishing houses, art galleries and design studios as well as internationally-acclaimed institutes for literature, music and art, Darmstadt also boasts a VIBRANT MUSIC AND ENTERTAINMENTS SCENE. Highlights include the Hessen State Museum (Hessisches Landesmuseum) home to the world's largest collection of works by German artist Joseph Beuys, and the Centralstation, a historic former power station that's now a venue for concerts, exhibitions, theatre and club nights.
Getting to Darmstadt
30 minutes road trip from Frankfurt this modern city of Hessen. As soon as you will enter the city, the architecture

Nuremberg
The second-largest city in Bavaria is certainly worth a stop on your itinerary around Frankfurt. Its long history begins in the Middle Ages, but nowadays it is most often spoken of for its importance in the Nazi regime. You can explore this side of its history in the Documentation Centre, but if you want to steer clear of that tragic era, there's the castle to visit, nightlife and cuisine to be sampled. And if you time your visit for the right time of year, some fantastic Christmas markets can be explored. Thus, this city is magical and driving from Frankfurt will make you feel amazing, the greeneries, the roads, air and picturesque houses on your way to Nuremberg.
Getting to Nuremberg
Nuremberg city can be reached within 2.5 hours if you are driving from Frankfurt.

Marburg
The beauty of Marburg is just one reason why this place is among the Magical Road Trips list. The pretty town of Marburg on the river Lahn offering stunning panoramas all the way from the riverside right up to the castle on top of the hill. Marburg is enclosed on the left (east) by the Lahn Mountains and on the right (west) by the Marburg Ridge.
No Doubt, Marburg is a lovely place to spend the day exploring steep, winding streets (many of which are essentially just staircases) and the Old Town, strolling through the botanical gardens and sitting outside a café on the Marktplatz watching the world go by. A visit to the Marburg Landgrave Castle is particularly recommended for short-term visitors
Getting to Marburg
1-hour drive from Frankfurt will take you to Marburg. You can thank me later for suggesting this amazing location.

Speyer
You will not find Speyer crowded, this city is peaceful. As it's located on the banks of river Rhine, its another destination for tourists to relax and visit some amazing historical monuments. The main, pedestrianised shopping street, Maximilianstrasse, is lined with shops and cafés and stretches from the city's western gate, the 13th-century Altpörtel, to the magnificent cathedral. You can visit the ruins of the Speyer synagogue which is the oldest remaining Jewish place of worship in Europe.
As the gastronomy has reopened in May 20202, one can enjoy a drink in a beer garden or meal in one of the town's many traditional restaurants. Enjoy the view during sunset and hop back to Frankfurt.
Getting to Speyer
1 hour 20 minutes drive to Speyer from Frankfurt, will make your day trip delightful.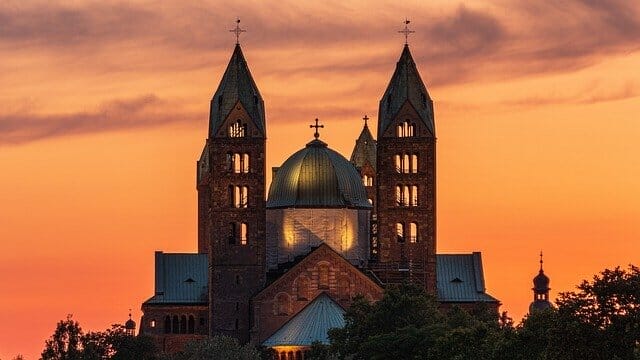 We hope that this Travel Guide for magical Road Trips from Frankfurt in Germany was helpful for you and we have covered enough beaches to give you a good option for your summer holidays in Germany. With that being said, these were some travel options for a refreshing Day Trip from Frankfurt. Let me know about a beautiful town or city which is not in the list above. It will be a great add on. All the best peeps, take care, stay safe.
If you are thinking of travelling alone – Here are the recommendation for Top European Countries for Solo Female Travel In Europe. We also covered some interesting topic around the cheapest place to visit in Europe for your Europe Travel on Budget.
If you are new to Germany then you might wanna read our collection of post here Living in Germany.
Please don't forget to save the pin below for later 🙂