Frankfurt is a major European banking and finance centre. In this post we will cover all the options for Weekend Trips from Frankfurt within Germany.
The city's skyline is shaped by its many skyscrapers. Frankfurt is also one of the world's busiest airports, and one of Germany's largest ones.
With a population of 790,000 in the city area and 2.5 million in the metropolitan area, Frankfurt is the fifth-largest city in Germany.
It's also home to six universities with over 100,000 students and many museums such as the Museumsufer or Städel Museum.
If you are in Frankfurt then you can check the Complete Frankfurt Guide for Top things to do in Frankfurt.
Weekend Trips from Frankfurt, Germany
Frankfurt, Germany is a great place to visit for a weekend getaway. There are many activities and attractions to keep you busy during your stay. If you don't own a car then you can rent a car in Frankfurt and planning your road trip from Frankfurt as well.
1. City of Cologne (Köln)
Köln is located on the River Rhine, and has a population of over one million people. It's known as the "city of churches" because it has over 30 churches and cathedrals.
Köln is located on the River Rhine in North-West of Germany. It is also know as "the city of churches" because there are about thirty churches and cathedrals in Köln. The largest church in Köln is Cologne Cathedral (Kölner Dom), which was completed in 1880.
Top Things to do in Cologne:
1. Take a stroll down the Rhine River: Cologne is situated on the banks of the Rhine River. The riverbank is a popular spot for locals and tourists alike.
2. Explore the Old Town: The old town, or Altstadt, as it is known in German, has a medieval charm that makes it one of the most popular tourist destinations in Cologne.
3. Enjoy one of many breweries: Cologne has a long tradition of brewing and there are plenty of opportunities to sample local beers at any number of breweries throughout the city.
4. Enjoy some outdoor activities: Cologne's proximity to green spaces means that there are plenty of opportunities to enjoy outdoor sports such as cycling and hiking in addition to more traditional leisure activities like swimming and sunbathing on one of its
Recommended Read: Top Things to do in Rudesheim am Rhein Germany
2. Romantic Rhine Valley, One of Europe's Most Picturesque Scenic Getaways
The Rhine River Valley is one of the most scenic regions in Europe, and a perfect destination for a romantic getaway.
The Rhine River Valley is one of the most scenic regions in Europe, and a perfect destination for a romantic getaway. The towns along this stretch of the river offer a myriad of things to do like sampling local wines and exploring medieval castles.
Top Things to do in Romantic Rhine Valley on your weekend trips from Frankfurt:
1. Get the perfect pictures of the Rhine Valley
2. Visit the castle: Castle of Nideck
3. Stroll through picturesque villages
4. Visit a brewery: Rheinhessen Brewery
5. Taste delicious wines: Weingut Klein-Weißenberg
3. Rudesheim: Wine in Germany
The Rudesheim is a wine-producing region in Germany which was established as a Roman settlement. The wines produced here have been gaining popularity in the international market, and are now exported to various countries around the world.
With the growing demand for wines from this region, more people are considering moving to Rudesheim. It might not be easy to find affordable living spaces amid all these vineyards, but there are some options available for those who want to move here despite the competition of high-end properties.
Top things to do in Rudesheim on your weekend trips from Frankfurt:
The Congress Hall (Kongresshalle): The building was constructed between 1874 and 1876, designed by Eduard Rheinlander as a multifunctional event hall for the city.
Open-air Museum (Freilichtmuseum): The museum houses some original buildings from the 17th century that have been moved here and rebuilt.
Wine Museum & Winery (Weinmuseum & Weingut): One of the most beautiful wineries in Germany, it offers guided tours through their cellars
You can also take this one hour Boat Tour from Rudesheim to Rhine Valley.
4. Rothenburg ob der Tauber
This small town in Bavaria, Germany is situated on the River Tauber. It is only a few kilometres from the Franconian Switzerland, a UNESCO World Heritage Site. Rothenburg ob der Tauber boasts of medieval walls and gates, towers and red-roofed houses with timber framing. Its most remarkable feature is its medieval fortifications that were built in order to protect it against enemies and plundering armies.
The town still has its intact network of ancient ramparts that encircle the hilltop town centre as well as many buildings from the 15th-17th century which are still used by residents today. One of them, The Gothic Town Hall (1470) was designed by Renaissance architect Michael von Breteuil and it towers over the market square from its position
Top Things to do in Rothenburg ob der Tauber on your weekend trips from Frankfurt
1) Visit Rothenburg's medieval walls which have been beautifully restored.
2) Explore the streets and visit the many museums.
3) Watch a play at the world's smallest theater, which seats only 37 people.
4) Get lost among the cobbled streets and enjoy traditional Bavarian food and drink.
5) Take a carriage tour around town with your family or friends, stopping at some of Rothenburg's most popular landmarks along the
If you are planning to go to Rothenburg Ob Der Tauber then we would recommend you to read our post Top Things to do in Rothendburg Ob Der Tauber.
Below are some of the Weekend Trips from Frankfurt options for you.
5. Quedlinburg – Medieval Fortress on the Romantic Road
Quedlinburg is a town of around 18,000 inhabitants in the district of Harz, in Saxony-Anhalt, Germany. The town is situated on the river Selke, about 120 km (75 mi) south of Magdeburg.
Quedlinburg was first documented in 922 as a settlement where the king's daughter Quedlinde who had been living there with her mother Queen Hathuiadide was buried.
It became an important centre for trade and crafts and in 1209-10 it was granted a charter by Otto IV and again in 1216 by his son Henry II.
In 1247 Henry III gave Quedlinburg city rights which were then confirmed and extended by King Frederick II or Sicily on 28 August 1251
Top Things to do in Quedlinburg on your weekend trips from Frankfurt
1. Visit the medieval town hall
2. Explore the old quarter
3. Visit the town museum
4. Stroll through the park
5. Take a boat ride on Lake Oker
6. Bamberg – Medieval Town with a Modern Twist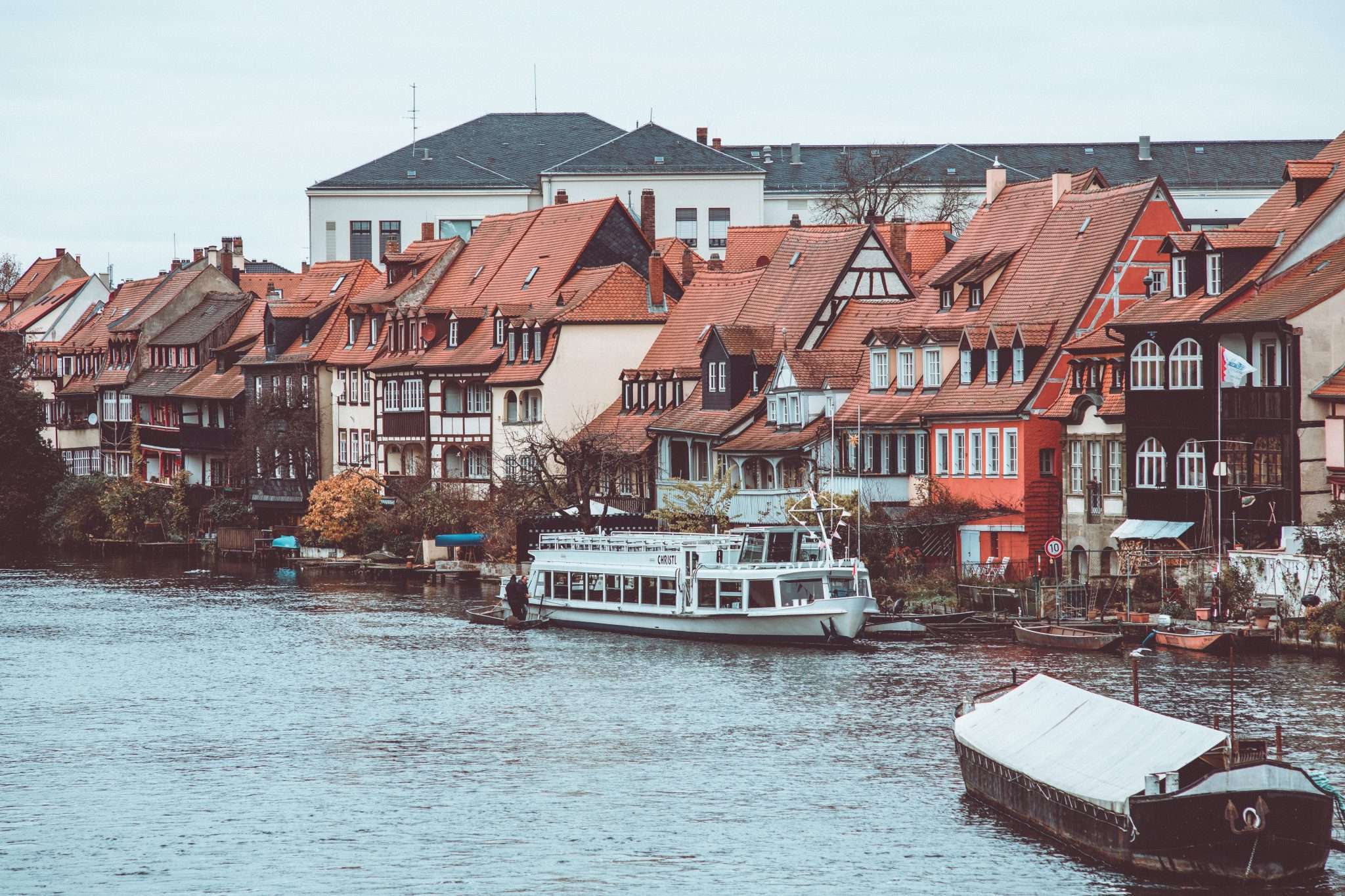 Bamberg is a medieval town with a modern twist. Bamberg is only about one hour by train from Nuremberg, yet it has the feel of a small Bavarian village. It offers many attractions, including its old medieval center, the "Altstadt."
Bamberg was first mentioned in history in 1002 and was granted city rights in 1249. The city's name became known throughout Europe when it became the home of "Reichsstad" (Imperial City) for six centuries, beginning in 1547.
Top Things to do in Bamberg
1) Visit the historic cathedral – this will allow you to see how rich German history is from an architectural point of view.
2) Have a traditional Bavarian meal at one of the many restaurants downtown – there's something for everyone here!
3) Visit the brewery museum – where beer meets history!
4) Go on a bike tour through
7. Germany's Most Beautiful City: Berlin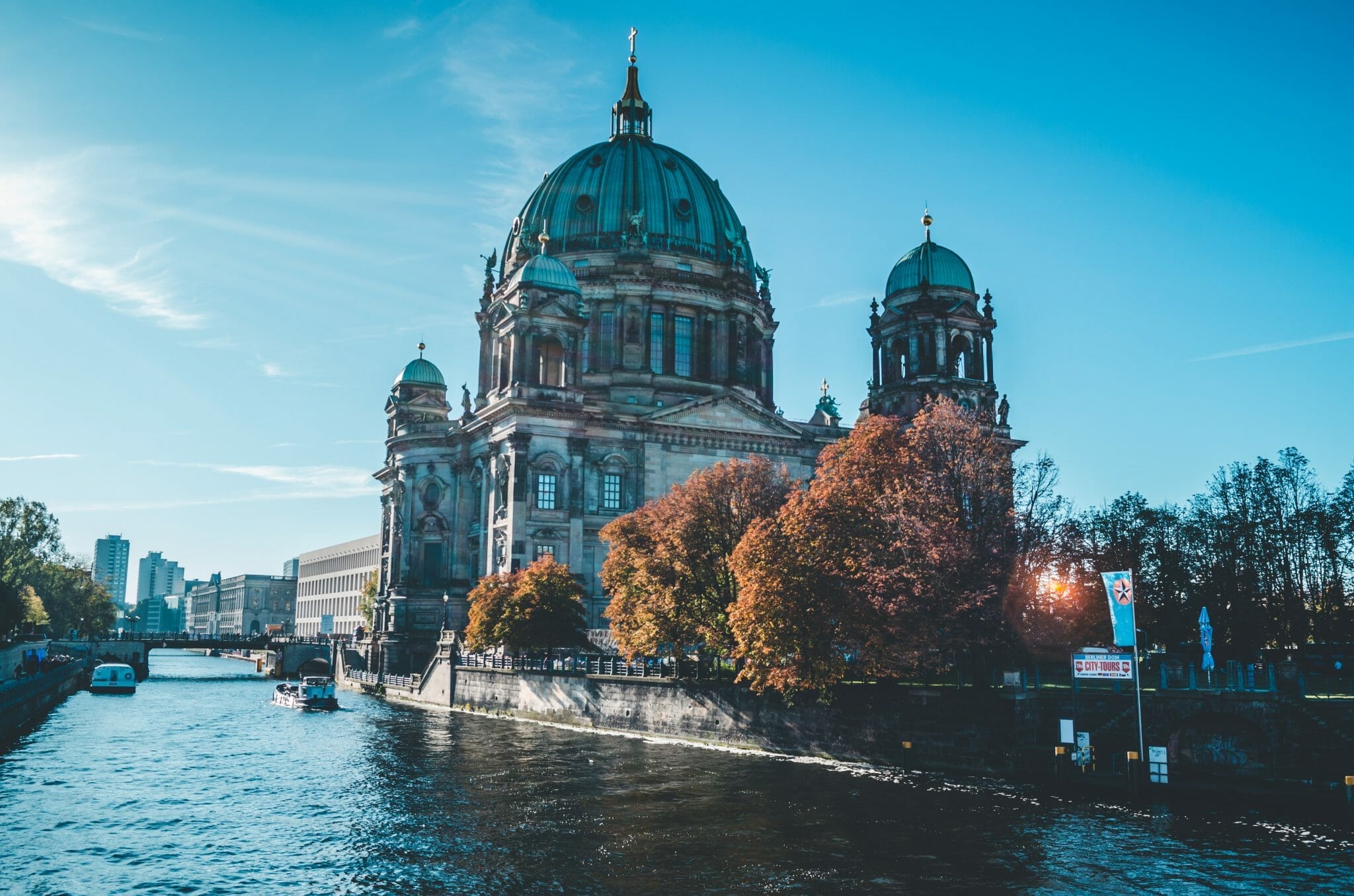 Berlin is a city that focuses on its culture and arts. Visitors to the city will be welcomed by its many museums, art galleries, theaters, and parks.
Berlin is the capital of Germany. It has more than 3 million residents and attracts up to 10 million visitors every year. The city is a global hotspot for culture, arts, fashion, design and music. Tourists come here because they want to see the best of German history and culture while also experiencing Berlin's modern vibe.
The city's cultural scene revolves around museums like the Pergamon Museum with its priceless collection of ancient artifacts from Greek mythology or the Old National Gallery with its range of German Expressionism paintings from artists like Max Beckmann or Otto Dix. There are also plenty of historic buildings like Charlotten
Top things to do in Berlin on your weekend trip from Frankfurt
1. Cruise the Berlin Wall and see remnants of the Cold War
2. Take a stroll down the East Side Gallery which is an open air gallery made up of paintings by artists from all over the world
3. Take a walk through the Central Park called Tiergarten
4. Explore history at Checkpoint Charlie which used to be an important frontier post during the Cold War era
5. Visit Victory Column which is considered to be one of Berlin's most iconic monuments
6. Checkout Different Museums , Bode Museum, Altes Museum, DDR Museum, Computer Games Museum
7. Go to Berlin TV Tower and Get something to eat.
8. Hamburg: Germany's Gateway to the World
Welcome to Hamburg, Germany. The gateway to the world.
Hamburg is a city on the river Elbe in northern Germany. It is one of the major port cities in Europe and the fifth-largest city in Germany after Berlin, Hamburg is a perfect destination for long-distance travelers who want to experience Northern European culture and explore some of Europe's most scenic architecture.
The heart of Hamburg lies about 50 miles from Berlin, 45 miles from Copenhagen and just 12 miles from Lübeck, where Denmark meets Germany.
Top Things to do in Hamburg on your weekend trip from Frankfurt
1. Explore the lively nightlife: Hamburg is the second largest city in Germany, but it has one of the highest rates of nocturnal activity in Europe.
2. Take a boat tour: The city is surrounded by water, and many visitors make the most of this by taking colorful boat tours that will take you past wonderful places like Speicherstadt – a huge warehouse district that's listed as UNESCO World Heritage Site.
3. Visit the Reeperbahn: This was once an important center for trade and commerce, but now it's home to one of Germany's most famous red light districts with all kinds of attractions including plenty of bars, restaurants and nightclubs!
4. See the Elbe Philharmonic Hall
9 Regensburg
Regensburg is situated in Bavaria, Germany and is a popular tourist destination.
Regensburg is a town in Bavaria, Germany. It's situated on the banks of the Danube River and is close to the border with Austria. Regensburg has about 101,000 inhabitants (2016). The city's old town area is on UNESCO's list of World Heritage Sites.
Top Things to do in Regensburg
1.Visit the Cathedral of St. Peter
2.Explore the medieval city center
3.Visit the New Residence
4.See the Old Bridge
5.Visit the Imperial Palace
10 Mainz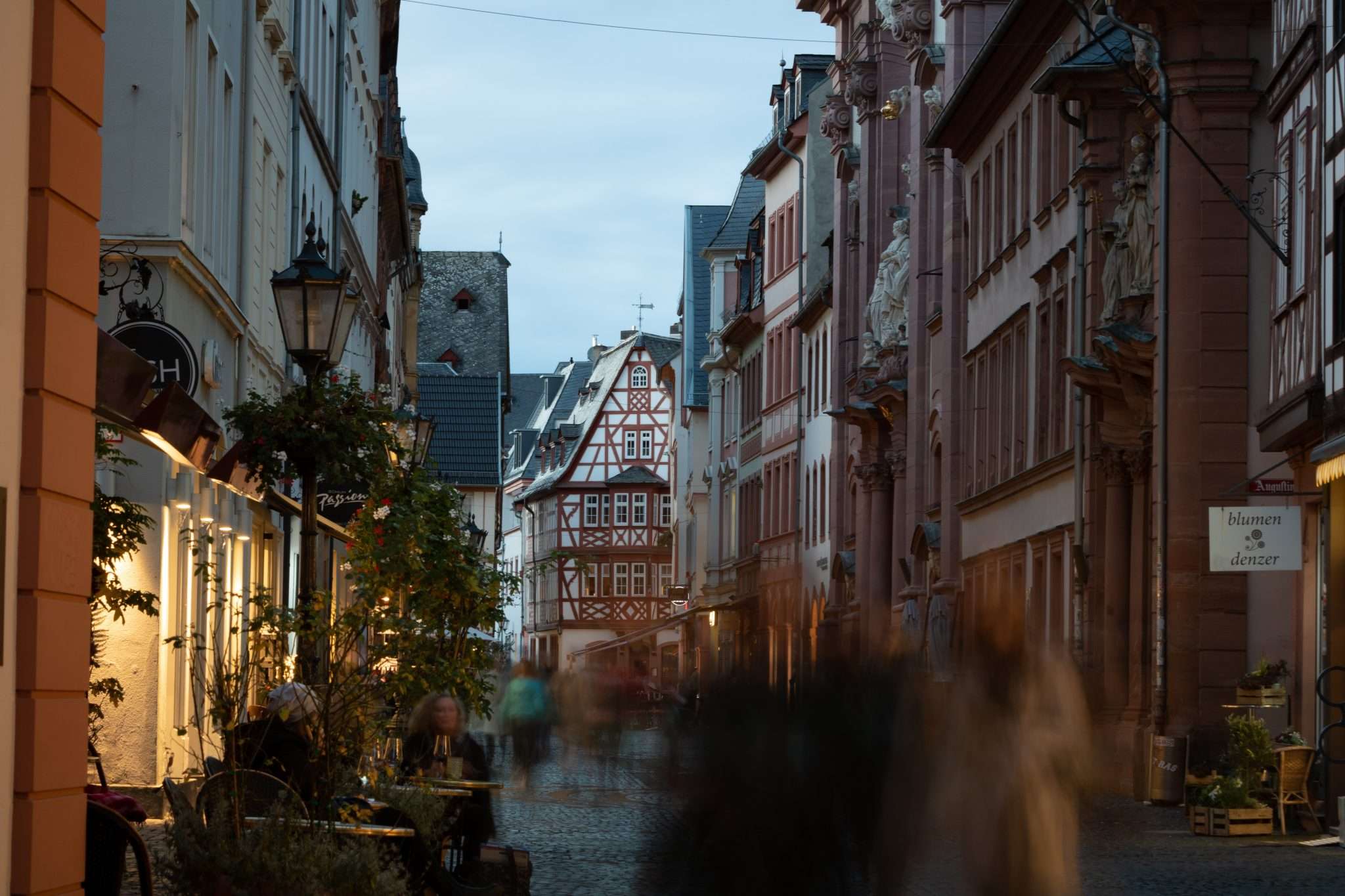 The city of Mainz is the capital of the German state of Rhineland-Palatinate in the west, and it is one of the oldest cities in Germany. It has an estimated population of over 111,000 residents, and it dates back to around 16 BC when it was founded by Romans. The city is a major transportation hub with a central location where trade routes from France, Italy, Switzerland, and Austria converge.
The best thing to do in Mainz is visit the Main Tower. It is a medieval tower that is located in the heart of the city. Besides that, you can also visit the New Town Hall which was built between 1867 and 1876.
Top Things to do in Mainz
1) Visit Main Tower
2) Visit New Town Hall
3) Visit Basilica of St. Martin
4) Enjoy traditional German food at one of the restaurants in town or explore international cuisine at one of the many cafés and shops nearby.
5) Check out some of Mainz's most famous museums like Museum Ludwig or Gutenberg Museum
These are collection of Weekend trips from Frankfurt within Germany. We have also shared the post around Road Trips from Frankfurt if you are looking for Road Trip Excursion.
If you are looking for Day Trips from Frankfurt then you can check our other post. We have also shared post about Festivals in Frankfurt which you can check.
Do let us know if there is something more which you think needs to added in our list. If you don't have a car then you can book a Car on Rent in Frankfurt for you future trips.
Get your Notion Travel Planner Template!
Embark on your next adventure with the Wanderlust Planner – Notion Travel Planner Template – Notion Travel Planner Template for 2023 (chasingwhereabouts.com), the ultimate Notion Travel Planner Template. Organize your wanderlust-fueled dreams and turn them into unforgettable journeys. Whether you're a seasoned globetrotter or a newbie explorer, this template has you covered.