If you are planning to travel to Eibsee Germany then in this post you will find all the information you need for your trip.
In Bavaria, Lake Eibsee is cult-famous for its beauty and is often referred to as the most beautiful lake in Germany. It was my first year visiting this lake, and I was astonished! This is a must-see place in Germany.
It's a truly magical spot. The lake is surrounded by crystal clear water that shimmers in every hue of green and blue. You can see reflections of the Zugspitze mountain and surrounding forest during sunrise and sunset. In summer, the lake is ideal for swimming or other water sports.
But in winter, it transforms into a beautiful landscape of snow and ice. This guide to Lake Eibsee Bavaria will tell you everything you need to know about the area, including interesting facts, where, when, and what to do there.
Things you need to know about Lake Eibsee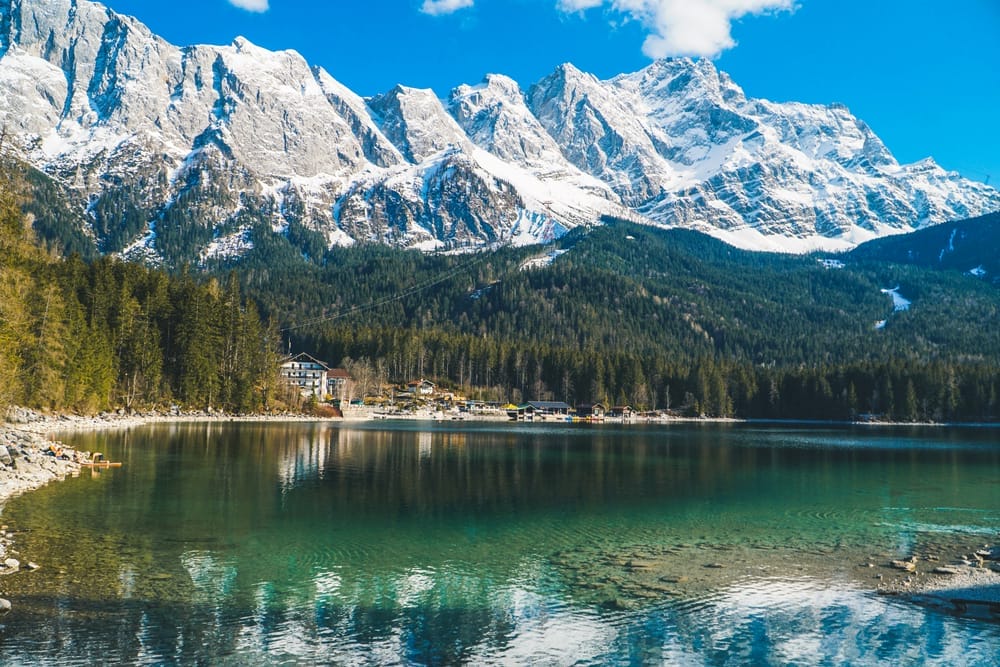 The Eibsee Hotel owns Lake Eibsee, but it is open to all. It measures 2450m in length and width and can reach a depth of 32,5m. It is located in the Bavarian Alps at the foot of the Zugspitze, Germany's tallest peak. It is located at 1000m above sea level, so it can get a bit colder than you might expect, especially in spring or autumn. You can enjoy many activities at Lake Eibsee throughout the year, so don't be concerned if it snows.
Lake Eibsee can be reached via public transport and by car from Grainau.
How to reach Eibsee Germany?
Eibsee Germany by Public transport
You can use the Eibsee bus, which departs in Garmisch-Partenkirchen and drives through Grainau. From Garmisch-Partenkirchen, it takes about 45 minutes, and the ticket costs 1.70 to 4.90 Euro depending on where you start.
This page contains a timetable as well as a price list. This page is in German. To view the timetable, go to Fahrplan. To find out the prices, go to Tarife or you can check out the ticket from here.
Eibsee Germany by Car
It is very easy to get to lake Eibsee Bavaria via car. However, parking fees will apply. The Eibsee Hotel has a parking area right by the lake, but it fills quickly, so be sure to arrive early or later in the morning. You can also park at the Zugspitzbahn for 17 Euros for 4 hours or 1 Euro an hour thereafter. It costs seven instead. Parking at Eibsee Hotel can be accessed from 5 AM until 10 PM
From 5 AM to 10 PM 4 Hours 7 Euro
After 4 hours per hour , 1 Euro
When is the best time to visit Lake Eibsee?
Lake Eibsee is beautiful throughout the year, but I recommend visiting between May and September. The temperatures get warmer in May (though the water is still freezing), and then it gets colder after September. You can enjoy the most water and outdoor sports at Lake Eibsee during the summer months.
It's too cold for swimming in spring, but you can still use the hiking trails around the lake. You might also be able to ski in the area.
Summer is the best time to relax on the lake, take a dip, and rent SUPs or boats. Lake Eibsee is one of Germany's most beautiful lakes. However, it can also be the busiest time, so make sure you arrive early to get a spot in the parking lot and enjoy a more peaceful experience. To avoid the crowds, you can visit in May or September.
The water is too cold for swimming in autumn (but you can still swim). However, there is a hiking trail that can be accessed, and you can enjoy the fall foliage.
You might see Eibsee frozen in winter. However, it is possible to still hike around the lake. You can also enjoy winter sports in the region. If you are a photographer, this is a great place to capture beautiful landscapes.
Where to Stay at Lake Eibsee
You will find many apartments and hotels in the vicinity. This guide to Lake Eibsee will also show you how to save money on your travels. The Eibsee Hotel is right next to the lake. Although the hotel is beautiful, it's a little more expensive. I would recommend looking for holiday apartments in Grainau or Garmisch-Partenkirchen. You can find great, affordable options on the tourism pages of Grainau and Garmisch-Partenkirchen. You can also save money by cooking in your apartment, as German restaurants can be very expensive.
A Guide to Lake Eibsee Bavaria: Things to Do in Eibsee Germany
There are many things to do in the beautiful Lake Eibsee, which is also one of Germany's most popular lakes. Hiking, renting boats, SUPs, and exploring the area such as the Zugspitze are the most popular activities.
Hiking
You can hike the 7.5km trail around the lake to see amazing places or enjoy the beautiful nature around Lake Eibsee. It is easy to access and takes approximately 2 hours. I recommend walking counterclockwise. The first half of this hike will take you to the most beautiful spots, with the islands being within easy reach. You can also walk closer to the lake and leave the trail. This way, you can enjoy the stunning views from a hidden spot along the most beautiful lake in Germany.
Boat rental
You can rent paddle boats and rowing boats at Lake Eibsee. The boat rental is located at the lake's beginning, which can be found on the left side when you come from the parking.
The pedal boats can be used by up to five people and are priced at 15 euros an hour. You can also buy pedal boats that have a slide and cost only 16 Euro an hour. A rowing boat can hold up to four people and costs only 12 Euro an hour. You can explore lake Eibsee and the small islands from the water.
You can also use SUPs to explore the lake.
SUP Price
1 hour 15 Euro
2 hours 25 Euro
3 hours 35 Euro
4 hours 45 Euro
Each additional hour of starting time 10 Euro
Reseal, a tour boat that offers 20-minute round trips for adults, is available if you are not looking to get active but still want to enjoy a peaceful activity on the water. It costs 7,50 Euro.
Things to Do Around Lake Eibsee Bavaria
Visiting Lake Eibsee is one of the best things to do in Bavaria but there is so much more to the area of Garmisch-Partenkirchen. You can find lots of Bavaria highlights in my blog post about the best things to do in Garmisch-Partenkirchen.
The Zugspitze – This is the most spectacular and close-knit thing around Lake Eibsee. The cable car that takes you to the top of Zugspitze, Germany's highest peak, is just a few steps away. It takes about 10 minutes, and you will be rewarded with stunning views. You'll also find snow here all year!
You should also not miss Lake Geroldsee, Hammersbach and the Partnach Gorge. Also, take a hike up to the Herzogstand for panoramic views of Lake Walchensee.
Hammersbach
Partnach Gorge
What should you bring to Lake Eibsee?
I wanted to complete this guide to Lake Eibsee by including a list of important things you should not forget.
Sommer
Towel
Swimmers
Hat
Jumper (it can get cold in the evening).
Hiking shoes
mosquito repellent
Water
snacks
Camera
Winter
Warm clothes
Thermal wear
winter hat
Scarf
Gloves
Waterproof hiking shoes
Water
snacks
Camera
This is my guide to Lake Eibsee Bavaria, the most beautiful lake of Germany
This will help you plan the perfect Lake Eibsee trip. It's sure to be a wonderful experience. You can leave any questions or tips about Lake Eibsee in the comments
LAKE EIBSEE TRIP MAP
Route: Garmisch-Partenkirchen – (Hammersbach) – Grainau – Lake Badersee – Lake Eibsee
EIBSEE LAKE
Lake Eibsee lies at the base of Zugspitze in Germany. It is located at 973.28m (3,193.2 ft) elevation. It is 35,40m (116ft) deep. It measures 3.15 km (1.96 miles) in length and 0.56m (0.35 mile) in width.
See in German means lake. Eib does not have a meaning. The lake is often referred to in English as Eibsee Lake or Eibsee.
HOW TO GET TO EIBSEE- FROM MUNICH TO LAKE EIBSEE BY PRIVATE TRANSPORT
2.1. FROM MUNICH TO GARMISCH-PARTENKIRCHEN BY TRAIN
This cheapest ticket is the BayernTicket. You don't need to know Bayern Tickets. Check out my blog post.
Start your day at 8 AM to get the most out of it, especially in autumn. To check the timetable select Garmisch-Partenkirchen as your destination. You can buy the Bayern Ticket immediately if you wish to plan ahead.
Munich Central Station – Garmish-Partenkirchen Station
Distance: 89 km (55 mi)
Duration: 1:30 H
Once you get to Garmisch-Partenkirchen, you have two options. Either you can take the Zugspitzebahn, then walk, or take the bus to Lake Eibsee.
2.2.1. FROM GARSMICH-PARTENKIRCHEN TO LAKE EIBSEE BY ZUGSPITZEBAHN AND HIKING
Take the Zugspitzebahn to Garmisch. Follow the signs to the right when you get off the train.
The Bayern ticket ticket is valid for the Zugspitzebahn up to Grainau.
HOW DO YOU GET YOUR FREE TICKET FOR THE ZUGSPITZEBAHN
Yes, the ticket price is included in the Bayern Tickets. You will need to purchase a ticket for Zugspitzebahn at the Zugspitzebahn station.
You will get your ticket for free by presenting your Bayern ticket to the ticket counter. You will each receive a ticket card. Everyone must have a ticket card to pass through the ticket barrier.
You can also travel with the Zugspitzebahn all the way to Eibsee Lake. The Zugspitzebahn ticket will cost you an additional 3,30 EUR.
INSIDER TIP
The ticket counter will be visible as soon as you arrive at the station. If you see people queuing, go to the second ticket counter located inside the station. People don't notice this and just continue to line up outside for tickets.
You have two options when you get off the Zugspitzebahn. You can either get off at Hammersbach or in Grainau.
HIKING FROM HAMMERSBACH – LAKE EIBSEE
Difficulty Level: Medium
Distance: 6,6km (4.10 miles).
Duration 1:40
Ascent 390m
Descent 150m
GRAINAU TO LAKE EBSE HIKING
Difficulty Level: Medium
Distance: 5,5 km (2.8 miles).
Duration 1:10
Moderate difficulty is a condition in which you can't walk or hike too often.
The trail is stunning.
Hiking route between Hammersbach, Lake Eibsee in Germany
You will find some of the trails through farms. You can make friends with adorable cows and sheep there.
Friendly sheep on a farm near Lake Eibsee, Germany
In both cases, make sure you pass Badersee Lake. Although it is a small lake, it is incredibly picturesque and beautiful.
Battersea Lake is one of the highlights of the hiking trail that leads to Eibsee Lake in Germany.
2.2.2. FROM GARMISCH-PARTENKIRCHEN TO LAKE EIBSEE BY ZUGSPITZEBAHN AND BUS
As explained above, take the Zugspitzebahn to Grainau. Take the Lake Eibsee bus from Grainau. Every hour, a bus runs to Lake Eibsee. The Bayern Ticket is valid up to Grainau. Take the bus there.
For 3,20 EUR (3.50 USD), one-way, the ticket from Grainau To Lake Eibsee is $3,20
It is possible to take the bus from Garmisch. However, it is less interesting than traveling by bus or hiking.
The bus ticket from Garmish-Partenkirchen to Eibsee Lake costs 4.90 EUR.
HOW TO GET TO EIBSEE LAKE BY CAR
Rent a car to drive all the way up to Eibsee Lake if you're not interested in hiking. Enter Eibsee Hotel into your navig, and you will reach the parking lot near the lake.
Hire a car through Discover Cars if you don't have a car.
PARKING NEAR LAKE EIBSEE
Near the Eibsee Hotel, there is a large parking area that is approximately 100m from the lake's shoreline.
The office is open between 05:00 and 22:00. You can't have your car taller than 2,10 meters.
PARKING PRICES
5:00-9:30:2 EUR
Parking for up to 4 Hours: 7 EUR
Every hour: 1 EUR
Penalty for parking after 22:00:50 EUR
EIBSEE LAKE'S TOP 5 BEST THINGS
#1 HIKING
You can read more about it in the next section.
#2 KAYAKING, CANOEING, PADDLEBOARDING & BOATING
The Eibsee offers a range of rental options, including canoes, kayaks, stand-up paddleboards, and paddle boats.
#3 SWIMMING
Summer is the best time to swim in the ocean.
#4 VISITING ZUGSPITZE
You can take the Zugspitze Cable Car from Eibsee to visit Zugspitze, the highest mountain in Germany.
#5 LUNCH IN EIBSEE HOTEL
We'll be talking more about this later.
HIKING ALONG LAKE EIBSEE
EIBSEELOOP – Hiking Summary
All ages are welcome to walk the trail around Eibsee.
Difficulty Level: Easy
Distance: 7,5km (4.7 miles).
Duration 2 Hours
Ascent 224
Descent 224 M
You decide how far you want to walk and can plan your trip accordingly.
HIKING FROM HAMMERSBACH – EIBSEE + EIBSEE LOOP
1) You'll walk approximately 20,70 km from Hammersbach to Lake Eibsee and return to Hammersback.
Or
GRAINAU TO EIBSEE + EIBSEE LOO
2) Walk approximately 16,50 km from Grainau to Lake Eibsee by following the circular track around Lake Eibsee and then returning to Grain.
Photography off the beaten path – Lake Eibsee, Germany
Photograph was taken on the shores of Lake Eibsee, Germany
Amazing autumn colors around Lake Eibsee, Germany
LUNCH AT LAKE EIBSEE
Either you want to enjoy a picnic in nature's arms, or you want to visit the Eibsee-Pavillon. You can take in the stunning view of Eibsee Lake from its large terrace.
BUDGET SUMMARY EIBSEE LAKE TRIP
Obligatory
Bayern Ticket: 11.60 EUR/ 13 USD (if you have five people)
TOTAL: 11.60 EUR/13 USD
Optional
A two-way bus ticket to Grainau from 3,20 EUR x 2,= 6,40 EUR/ 7 USD
Tea and Coffee: 4.30 EUR / 4.00 USD
Lunch: 12.00 EUR/ 13 USD
BEST TIME TO VISIT LAKE EIBSEE
Eibsee is stunning all year, and hiking is possible at any time.
Eibsee is best visited in June-August if you enjoy warm weather.
Eibsee is best visited in autumn when it's vibrant with autumn colors. All of my photos are from October middle.
The lake can freeze in winter and accumulates a lot of snow. From December through February, Eibsee is pure winter beauty.
It's the time when snow begins to melt, so spring can be exciting.
You can call the Sportbetriebe am Eibsee at this number: +49 0882 198 810.
WHERE TO STAY NEAR LAKE ELSE
If you are planning to stay in the hotel next to Eibsee Lake, it is a great choice. The Eibsee Hotel has the best location. This hotel offers a stunning view of the lake and the Zugspitze.
Get your Notion Travel Planner Template!
Embark on your next adventure with the Wanderlust Planner – Notion Travel Planner Template – Notion Travel Planner Template for 2023 (chasingwhereabouts.com), the ultimate Notion Travel Planner Template. Organize your wanderlust-fueled dreams and turn them into unforgettable journeys. Whether you're a seasoned globetrotter or a newbie explorer, this template has you covered.