In this post we will be talking about the ultimate weekend trips from Munich. This could also be a good Day trips from Munich if you are looking for some.
We have shared some awesome post around Weekend Trips in Germany, So you can check out Weekend trips from Frankfurt and Weekend Trips from Berlin if you are living in any of these cities or planning for a trip from these cities.
Weekend trips from Munich
There are so many things to do in Munich! The city is a great place to explore on foot, with the Oktoberfest, the Munich Zoo, and other attractions right in the center of town. If you feel like getting some sun, the Englischer Garten is the perfect spot, with the city's largest lake and plenty of green space. If you're a fan of beer, then you can't miss the annual Oktoberfest, held right around the first week of October and featuring traditional German beer tents and music.
If you want to check the video then you check my Munich Playlist where I covered all the top things to do in Munich on your trip to Munich. There is a seperate post about Top Things to do in Munich if you not looking for Day Trips from Munich but just want to concentrate on exploring Munich at your own pace.
Munich City Card
Do you know Munich city has a city card which offers free unlimited travel on the Munich Public Transport and along with that discounts on couple of things in Munich.
So if you are planning to explore Munich to the fullest then I would recommend you to check this out.
More detail about this can be found below
Rothenburg ob der Tauber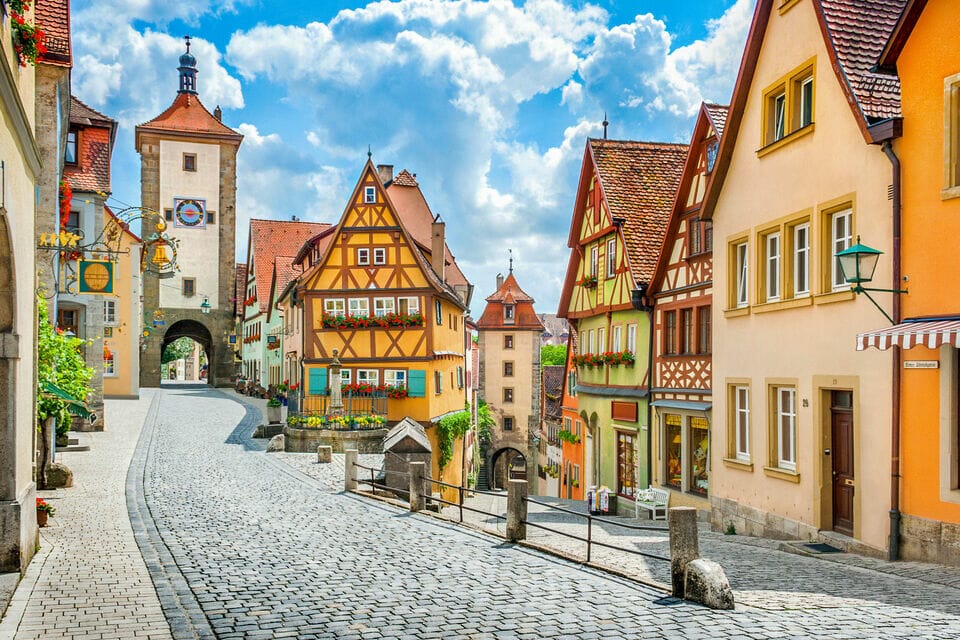 Rothenburg ob der Tauber is best experienced at other times of the year, but it's no less charming when the house fronts are adorned with lights and the streets are filled with Christmas shoppers. The old town is a great place to explore on foot, with the most beautiful half-timbered houses you'll find outside of Bavaria.
The narrow, twisting streets are a testament to the city's history as a trading center, and it's fun to imagine what it was like to live in a town where the only way to transport goods was by horse and cart. Of course, modern-day Rothenburg has plenty to offer as well, with a charming Christmas market and plenty of windows boxes and other architectural details to explore.
You can either book your car on rent in Munich or just plan your trip from the touring company anything is just fine for your weekend trips from Munich
One such interesting trip for you would be the romantic road trip to Rothenburg.
Neuschwanstein Castle or Hohenschwangau Castle
Well if you are in Germany and you are not visiting these Castles in Germany then you are actually missing out here. One of the best day trip from Munich or Weekend trip from Munich is visiting the Neuschwanstein Castle.
I was finally able to visit the Neuschwanstein recently only by taking a day trip from Frankfurt and it was kind of tiring for me but for people who stay in Munich it is so easy to travel to. You can just head to the Hauptbahnhof station of Munich and take a train to Fussen and then just take the bus 73/78 which will drop you to the Hohenschwangau Castle.
You can check the cost of ticket on the Deutsche Bahn website.
One important thing to suggest you for this trip is to book the tickets for the Neuschwanstein or the Hohenschwangau Castle before end only because it is likely to sell out. When we visited it was sold out before only so I was not able to see the castle from Inside.
Eagle's Nest Tour from Munich
You can spend your full day tour from Munich to Hitler's mountain retreat, located in the mountains above Berchtesgaden. Presented to him in 1939 as a 50th birthday present, the mountain chalet took 13 months to complete, and includes an elevator that was bored through a tunnel in the rocks to reach the entrance.
Couple of highlights for this trip are
You can Drive along the most scenic German Alpine road
Ride an elevator straight through a tunnel in the rocks
Visit the mountain peak and see Eagle´s Nest
Enjoy stunning views over the Alps
Spend some free time at the NS-Documentation-Center
You can visit Salzburg 
One of the most beautiful cities in Austria, Salzburg is a great place to visit any time of year. The city is surrounded by mountains, making it a great place for hiking and mountain biking, and the architecture is beautiful, with a lot of old buildings and churches.
There are also tons of festivals and events throughout the year, including the International Music Festival in June, the Christmas Market in December, and the Mozart Festival in March. Your Euromaster tour from Munich will take you to Salzburg, where you can use your transfer ticket for admission to one of the city's many attractions.
You can take the Königssee Full-Day Tour from Munich
Visit the magical Königssee in the Berchtesgaden Alps of Bavaria. Explore Germany's third deepest lake, a fjord-like body of water, surrounded by towering rock faces. Take a boat ride on the lake, and drive along some of the most scenic Alpine roads.
---
Ads Starting
Post Continues
---
How about exploring Zugspitze 
The Zugspitze, or Zugspitze Schwarzsee, is the highest mountain in Bavaria and also Germany, with the closest peak at located only 3.6 kilometres away and the highest peak at located 5.8 kilometres away. The mountain is also a part of the European Green Belt, which aims to protect its highland nature from development activities.
It's a fun, scenic way to reach the top of Germany's highest mountain, the Zugspitze. The Zugspitze has an area of 6,700 square kilometres, making it the largest ski area in Germany, and you can go skiing or hiking in the winter months. You can also go in the summertime for a hike or even go paragliding over Lake Walchensee.
Visiting Nuremberg 
Nuremberg is another great place to visit during your stay in Bavaria. This former German capital is full of history, with more than 6,000 structures dating back to the Middle Ages. The most impressive sight in Nuremberg is the Imperial Castle, which is home to a variety of museums and palaces. In addition to the main attraction, the Imperial Castle, you can also catch a glimpse of the city's old town at the Market Square.
Linderhof Palace Tour from Munich
You can visit the Visit Linderhof Palace, the smallest of the 3 palaces built for King Ludwig II. Explore the rococo architecture, and the exquisite grounds, including the Moorish Kiosk, and Moroccan House. Stop at historic Oberammergau, famous for its Passion Play.
If you are planning to visit the Neuschwanstein Castel and Hohenschwangau castle then this would be an excellant addition to your trip.
Day-Trip to the Royal Palace of Herrenchiemsee
You can Travel from from Munich to the Chiemsee: the largest Bavarian lake, and take a boat ride to the fine sights at the island of Herreninsel. See where the Bavarian dukes and duchesses played and relaxed, then tour an Augustian Monastery.
Some of the highlights for this is
Drive to the Chiemsee, the largest Bavarian lake
Visit the island of Herreninsel, a replica from the castle of Versaille from King Ludwig II
Discover the beautiful sights at Augustian Monastery
Enjoy a boat ride to the Fraueninsel, where there will be time to visit a Benedictine Church
Daytrip to Regensburg with Artist Paul Riedel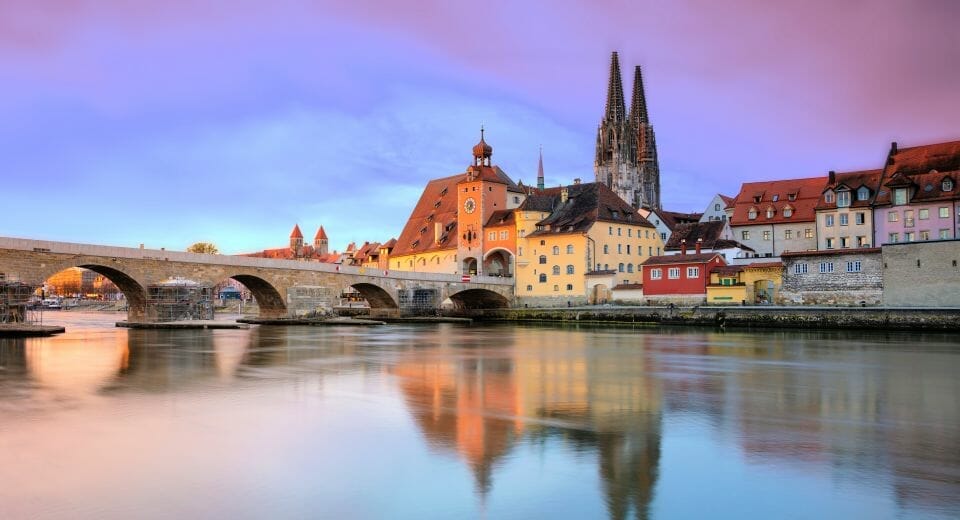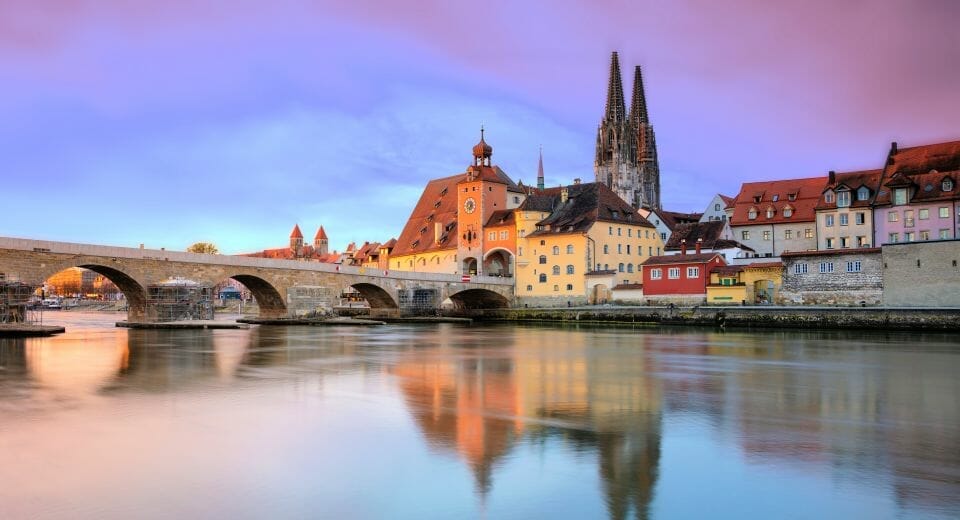 If you'd like to explore Bavaria a little further, Regensburg is another UNESCO World Heritage Site worth visiting. The old town center is full of churches, including the biggest church in Bavaria and the oldest church in Germany, and the Domkirche, a large church built in the 11th century.
Other attractions in the old town center include the New Town Hall, which was completed in 1402, the Imperial Crypt, and the Town Hall Tower, which was probably the tallest building in the world when it was built in the 16th century. The New Town Hall was rebuilt after it was destroyed in a fire in 1805, and today it is home to a museum and the Town Hall Art Gallery.
That was our list for the Weekend trips from Munich or Day Trip from Munich if you have visited anything around Munich which you think is not included in this list then you can reach me out in comments below.
Some more Day Trips –
Get your Notion Travel Planner Template!
Embark on your next adventure with the Wanderlust Planner – Notion Travel Planner Template – Notion Travel Planner Template for 2023 (chasingwhereabouts.com), the ultimate Notion Travel Planner Template. Organize your wanderlust-fueled dreams and turn them into unforgettable journeys. Whether you're a seasoned globetrotter or a newbie explorer, this template has you covered.