Attention all travelers! Are you ready for an unforgettable adventure in the heart of Germany? If you're looking for a destination that offers a perfect mix of history, culture, and fun, then Munich is the place for you. Join me on this 2 days in Munich itinerary as we explore all the highlights of this amazing city and make memories that will last a lifetime.
From savoring traditional German cuisine to marveling at stunning architectural masterpieces, Munich has something for everyone. So, pack your bags and let's get ready to experience the best of this city in just 48 hours. Get ready to immerse yourself in the rich history, lively atmosphere, and warm hospitality that Munich has to offer!
Munich history in a nutshell
Munich, the capital of Bavaria, has been a vibrant center of culture and commerce for centuries. From its humble beginnings as a small settlement in the 12th century to its current status as one of Germany's most iconic cities, Munich's history is a fascinating story of growth and transformation.
In 1158, Munich was founded by a group of monks from the Benedictine monastery of Tegernsee. The settlement quickly became an important trading hub due to its location
Discover the best of Munich in 2 days
Resource for Munich
Munich Hop on Hop Off Bus Tour
The Hop-On Hop-Off Tour in Munich is a popular sightseeing option for visitors to the city. The tour takes place on a double-decker bus and offers a flexible itinerary with multiple stops at major attractions and landmarks throughout Munich.
Passengers can hop on and off the bus at any of the designated stops, allowing them to explore the city at their own pace. The bus operates on a regular schedule throughout the day, with commentary available in multiple languages to provide information about each stop and the city's history.
Some of the stops on the Hop-On Hop-Off Tour in Munich include the Marienplatz, the Nymphenburg Palace, the Olympic Park, and the Viktualienmarkt. The tour also includes a loop through the city's famous beer gardens, providing a taste of Munich's traditional beer culture.
Tickets for the Hop-On Hop-Off Tour can be purchased online or at the ticket office near the main train station in Munich. A one-day ticket is typically valid for 24 hours, while a two-day ticket offers more flexibility for travelers. The tour is a great way to see the city's top attractions and get a feel for Munich's unique culture and history.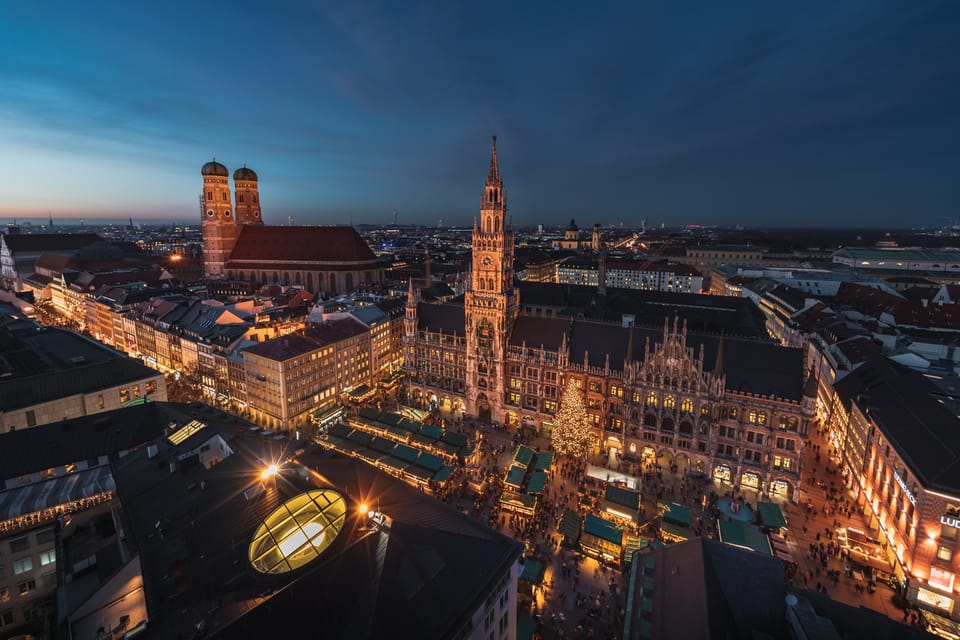 The CityTourCard Munich is a pass for unlimited travel on public transportation and discounts on attractions in the city. The pass is valid for 24-48 hours, or 3-6 days, and includes metro, trams, regional trains, and buses within Munich or the entire MVV network including the airport.
It also allows for discounts at museums, exhibitions, theaters, concerts, shops, cafes, and restaurants. The pass is for families, with up to 5 adults and 2 children counting as one adult. Discover Munich with the CityTourCard.
2 Days in Munich Itinerary – Day 1
Have breakfast at Bakery Zöttl
Bakery Zöttl is a charming bakery located in the heart of Munich. They offer a variety of fresh-baked goods, including bread, pastries, and cakes. Their croissants and apple strudels are particularly popular among visitors. It's a great place to start your day with a cup of coffee and a delicious breakfast.
Climb St. Peter's Church's Tower
St. Peter's Church is one of the oldest churches in Munich, and it's located in the historic city center. Visitors can climb to the top of the tower for panoramic views of the city. It's a bit of a workout, with over 300 steps to climb, but the view is definitely worth it. From the top, you can see many of Munich's famous landmarks, including the Frauenkirche, the New Town Hall, and the Alps in the distance.
Entrance fee to the tower:
Adults: 5 euros (reduced: 3 euros)
Pupils (6-18 years): 2 euro
Students (on presentation of a valid ID): 3 euros
Children under 6 years: free
Advance reservation is not possible
Admission to the church is, of course, free of charge
More details about this can be found here
Look for the Footprint of the Devil in Frauenkirche
The Frauenkirche is a stunning Gothic cathedral located in the heart of Munich. Legend has it that the devil left his footprint behind when he was tricked into thinking that the church had no windows. Visitors can look for the footprint near the entrance of the church. The interior of the church is also worth exploring, with its intricate stained-glass windows and impressive vaulted ceilings.
See the New Town Hall and the famous Glockenspiel
The New Town Hall is one of Munich's most recognizable landmarks, with its impressive Gothic architecture and the famous Glockenspiel located in the tower. The Glockenspiel performs twice daily, at 11am and 12pm, and features a display of 32 life-sized figures reenacting scenes from Munich's history. It's definitely worth sticking around to watch the show.
Have lunch at Ooh Baby I like it raw
This restaurant is a great option for health-conscious travelers, with a menu focused on fresh, raw ingredients. They offer a range of dishes, from salads to smoothies to sushi rolls, all made with high-quality ingredients. The atmosphere is bright and lively, with a hip vibe that's perfect for a mid-day meal.
Visit Theatine Church
The Theatine Church is a stunning Baroque church located near Odeonsplatz. The exterior of the church is particularly impressive, with its ornate yellow facade and two bell towers. The interior is equally stunning, with ornate stucco work, colorful frescoes, and a beautiful high altar.
Explore the royal Munich Residence
The Munich Residence was the former palace of the Bavarian kings and is now a museum. Visitors can explore over 130 rooms, including the lavish living quarters of the kings and queens, the Hall of Antiquities, and the famous Cuvilliés Theatre. The museum is filled with beautiful art and furnishings, providing a glimpse into the opulent lifestyle of the Bavarian royalty.
Dinner at Bratwurst-Glöckl am Dom
This traditional Bavarian restaurant is located just a stone's throw away from Munich's famous cathedral, the Frauenkirche. The menu features a variety of local specialties, including various types of bratwurst, schnitzel, and sauerkraut. The atmosphere is cozy and rustic, with wood paneling and traditional decor.
Have a beer at Hofbräuhaus
Hofbräuhaus is one of Munich's most famous beer halls and has been serving beer since the 16th century. The atmosphere is lively and festive, with traditional Bavarian music and plenty of beer flowing. It's a great place to experience the local beer culture and meet some friendly locals. The beer hall also serves traditional Bavarian food, like pork knuckles and pretzels, which are great for soaking up all that beer.
More ideas for your 2 days in Munich – Day 1
If you have some extra time on Day 1 of your Munich itinerary, there are plenty of other great places to explore in the city. Here are a few more ideas:
Old Town Hall
This beautiful building is located in Marienplatz and has a fascinating history. It was originally built in the 14th century, and over the years it has been used for a variety of purposes, including a salt warehouse, a prison, and a city hall.
Take a Third Reich Tour
If you're interested in learning more about Munich's role in World War II and the rise of the Nazi party, a Third Reich Tour is a great way to do so. These guided tours take you to important historical sites around the city, including the former Nazi Party headquarters and the site of the infamous Beer Hall Putsch.
Get the tickets for Third Reich Walking Tour.
Asam Church
This small Baroque church is one of the most beautiful and ornate in Munich. The interior is filled with incredible artwork and intricate details, and it's definitely worth a visit.
Bürgersaalkirche
This historic church is known for its stunning ceiling frescoes and beautiful architecture. It's located in the city center and is free to visit.
Church of the Holy Spirit
Another beautiful church in the city center, the Church of the Holy Spirit is known for its stunning Gothic architecture and impressive artwork.
St. Michael's Church
This Renaissance church is one of the largest in Munich and is known for its impressive dome and stunning artwork. It's a bit further out from the city center, but definitely worth the trip if you have the time.
2 Days in Munich Itinerary – Day 2
Day 2 of your Munich itinerary will take you to some of the city's most beautiful outdoor spaces and cultural attractions. Here's what you can expect:
Have breakfast at Backspielhaus
Start your day with a delicious breakfast at this popular bakery chain. They offer a variety of fresh bread, pastries, and coffee to fuel you up for the day ahead.
Tour the royal summer palace – Nymphenburg
Located just a short tram ride from the city center, the Nymphenburg Palace is a stunning example of Bavarian Baroque architecture. Take a tour of the palace and its beautiful gardens to learn more about Bavaria's royal history.
Have lunch at Aroma Kaffeebar
his cozy cafe serves up delicious sandwiches, salads, and coffee. It's the perfect spot to relax and refuel after a morning of sightseeing.
Have a beer at the English Garden
The English Garden is one of the largest urban parks in the world, and it's a must-visit attraction when in Munich. Grab a beer at the Chinesischer Turm beer garden and enjoy the beautiful scenery.
Visit a museum
Munich is home to a variety of world-class museums, so take your pick and spend the afternoon exploring some art, history, or science. The Alte Pinakothek and the Deutsches Museum are both great options.
Have dinner at Andy's Krablergarten
This traditional Bavarian restaurant is located in the city center and serves up hearty portions of classic Bavarian cuisine. Don't miss the schnitzel or the potato pancakes.
How many days in Munich
The number of days you should spend in Munich depends on your personal preferences and travel goals. However, for most visitors, 2-3 days is enough time to see the city's top attractions and get a feel for its culture and history.
Are 2 days in Munich enough?
If you only have 2 days in Munich, you can follow a carefully planned itinerary that includes the city's top attractions and allows you to experience its unique culture, history, and cuisine. Some must-see attractions in Munich include the Marienplatz, the Frauenkirche, the Munich Residence, the English Garden, and the Hofbräuhaus beer hall.
What if I don't have 2 full days in Munich?
If you don't have 2 full days in Munich, you can still make the most of your time by focusing on the city's top attractions or by taking a guided tour that covers the highlights. For example, you could take a half-day city tour that includes stops at Marienplatz, the Frauenkirche, and the English Garden, or you could take a food tour that allows you to sample some of Munich's famous cuisine in a shorter amount of time.
Ultimately, the amount of time you spend in Munich will depend on your travel goals and interests. Whether you have 2 days or just a few hours, there are plenty of ways to experience this vibrant and historic city.
Munich Practical information
Getting to Munich
Munich can be reached by air, train, or car. Munich International Airport is one of the busiest airports in Europe and is located about 40 km northeast of the city center. There are direct flights to Munich from major cities around the world. The city is also well connected to the rest of Europe by train, with regular services to cities such as Berlin, Vienna, and Paris. If you prefer to drive, Munich is located at the intersection of several major highways.
Getting around
Munich has a well-developed public transportation system, which includes buses, trams, and the subway (U-Bahn). A single ticket can be used on all forms of public transportation and is valid for one trip within the city limits. There are also various types of passes available, including day passes and multi-day passes, which can be purchased at ticket machines or at the MVG Service Center.
Munich Airport Transfer
There are several options for getting from Munich Airport to the city center. The fastest and most convenient option is the S-Bahn, a commuter train that runs between the airport and the city center every 10-20 minutes. Another option is the Lufthansa Airport Bus, which runs every 20 minutes and stops at several locations in the city center. Taxis are also available, but they are more expensive than the other options. Additionally, private airport transfer services are available for those who prefer a more personalized experience.
Where to Stay in Munich
Budget
Mid-Range
Hotel Metropol: A modern and stylish hotel located in the city center, with comfortable rooms and a range of amenities, including a fitness center and sauna.
Novotel München City: A well-appointed hotel with spacious rooms and an ideal location near the city center and public transportation.
Luxury
Hotel Vier Jahreszeiten Kempinski München: A luxurious hotel with elegant rooms and suites, a rooftop spa, and a Michelin-starred restaurant.
Bayerischer Hof: A historic and iconic hotel with opulent rooms and suites, several restaurants and bars, and a rooftop spa with panoramic views of the city.
Day trips from Munich
Here's some more information about each of these day trip options from Munich:
Neuschwanstein Castle
This stunning castle is located about two hours southwest of Munich and was built in the late 1800s by King Ludwig II of Bavaria. Known as the inspiration for Disney's Sleeping Beauty Castle, Neuschwanstein is a must-visit destination for anyone interested in fairy tales, history, or architecture.
You check the Day trips to Neuschwanstein Castle and its tickets from here.
Nuremberg
Located about two hours north of Munich, Nuremberg is a charming medieval city that is rich in history and culture. Some of its top attractions include the Nuremberg Castle, the Nazi Party Rally Grounds, and the Germanisches Nationalmuseum.
Check out Day Trip from Nuremberg.
Dachau
Dachau is a small town located just outside of Munich that is home to the infamous Dachau Concentration Camp. Visiting the camp is a somber but important experience that can help you better understand the history of the Holocaust and its impact on the world.
Salzburg
Located just across the border in Austria, Salzburg is a beautiful city that is known for its music, history, and stunning architecture. Some of its top attractions include the Hohensalzburg Fortress, the Salzburg Cathedral, and the birthplace of Wolfgang Amadeus Mozart.
Checkout Day Trip to Salzburg.
Rothenburg & Harburg
Rothenburg and Harburg are two charming towns located in the state of Bavaria, Germany, and are popular day trip destinations from Munich. Here's some more information about each of these towns:
Rothenburg – This picturesque town is known for its well-preserved medieval architecture and charming cobblestone streets. Some of its top attractions include the Town Walls, the Plönlein, the Rothenburg Christmas Market, and the Rothenburg Town Hall. Visitors can also take a stroll through the town's winding streets and explore its many shops and cafes.
Harburg – Located about two hours north of Munich, Harburg is a small town that is home to one of the oldest and best-preserved castles in Germany, the Harburg Castle. Visitors can take a tour of the castle, which dates back to the 11th century and has been owned by the same family for over 400 years. Other attractions in Harburg include the St. Michael's Church and the historic town center.
To get to Rothenburg and Harburg from Munich, you can either rent a car and drive or take a train or bus. While it's possible to visit both towns in one day, it's recommended to spend at least a few hours in each to fully appreciate their charm and history. You can also take the Day Trip to Rothenburg and Harburg if you do not want to stress.
Whether you're interested in history, architecture, or natural beauty, these day trip options from Munich offer something for everyone. Just be sure to plan ahead and give yourself plenty of time to explore each destination!
Conclusion
Munich is a city that offers a perfect blend of history, culture, and modernity. With its beautiful architecture, world-renowned museums, delicious cuisine, and vibrant nightlife, it's no surprise that Munich is a popular destination for travelers from around the world. Whether you're interested in exploring the city's rich history, enjoying its famous beer gardens, or simply soaking up the atmosphere, Munich has something for everyone. From a two-day itinerary to day trips and practical information, we hope this guide has provided you with useful insights and ideas for your next trip to Munich.
Need Help with Booking –
Taking Insurance for your trip is of the utmost importance, I usually get my Insurance from Safety Wings or Heymondo you might wanna check them for your future trips.
If you are traveling and you don't know what to pack then our Packing List would come out in handy for you, Last Minute Packing is especially for the last minute occasion but there are some detailed packing lists as well like The Ultimate Packing Lists and one post, especially for Europe Europe Packing List
Wondering whether you need Visa for your travel then check here if you need visa for Europe or check out the new rule for Travel To Europe
Enjoyed it? How about sharing it with your friends on social media? Just click one of the buttons on this site to share this piece of content.
Pinning an image is a great method for sharing this article on social media. This article will become saved to the Pinterest board, making it easily accessible in the future.
Hey! Thanks for reading this! Look how gorgeous you are.