Done with exploring Dublin? Then how about a Day Trip from Dublin To Cork? Read through the post to get all the information you need for this trip.
If you want to learn more aroud the other Day Trips from Dublin then we have a seperate guide for the same.
The third-largest city in Ireland was originally an island, but it is now spread across both sides of the River Lee, with waterways snaking beneath some of its major streets. Walking the designated walking route from St. Finn Barre's Cathedral and University College's riverside quadrangle up the hill to the red and white Shandon Church is the finest way to view this mountainous southern seaport. You'll encounter several chatty city dwellers along the route. When on a day trip from Dublin to a cork, prepare to cross a lot of bridges as well.

A significant portion of the nation is home to beautiful beaches, countless hiking trails, and entertaining activities. With its lively pubs, outstanding galleries, thought-provoking museums, and possibly the best restaurant scene in Ireland, Cork is the perfect city getaway location.
Day Trip from Dublin To Cork
How to reach from Dublin to cork
The best way to reach cork from Dublin is to take a train ride which takes 2 hours 37 mins and costs around 30 Euros. Alternatively you can fly which would take lesser time and cost you couple Euros more. Train is definitely better in levels of comfort and budget.
Places to Visit in Cork
The English Market:
The English Market is regarded as one of Ireland's best, and it has developed into a popular tourist attraction and a renowned food hub. The market is now a staple and a must-visit for any foodie in the region, selling everything from cheeses to olives, cured meats, unique fish, and imported herbs and spices. The center of Cork City is home to a unique roofed food market that has been operating since 1788 and includes a striking fountain in the center. One of the oldest municipal marketplaces in the entire world, it is owned by Cork City Council. One can choose from a variety of specialties, including fruit, artisan breads, and freshly caught seafood.
Cork opera House :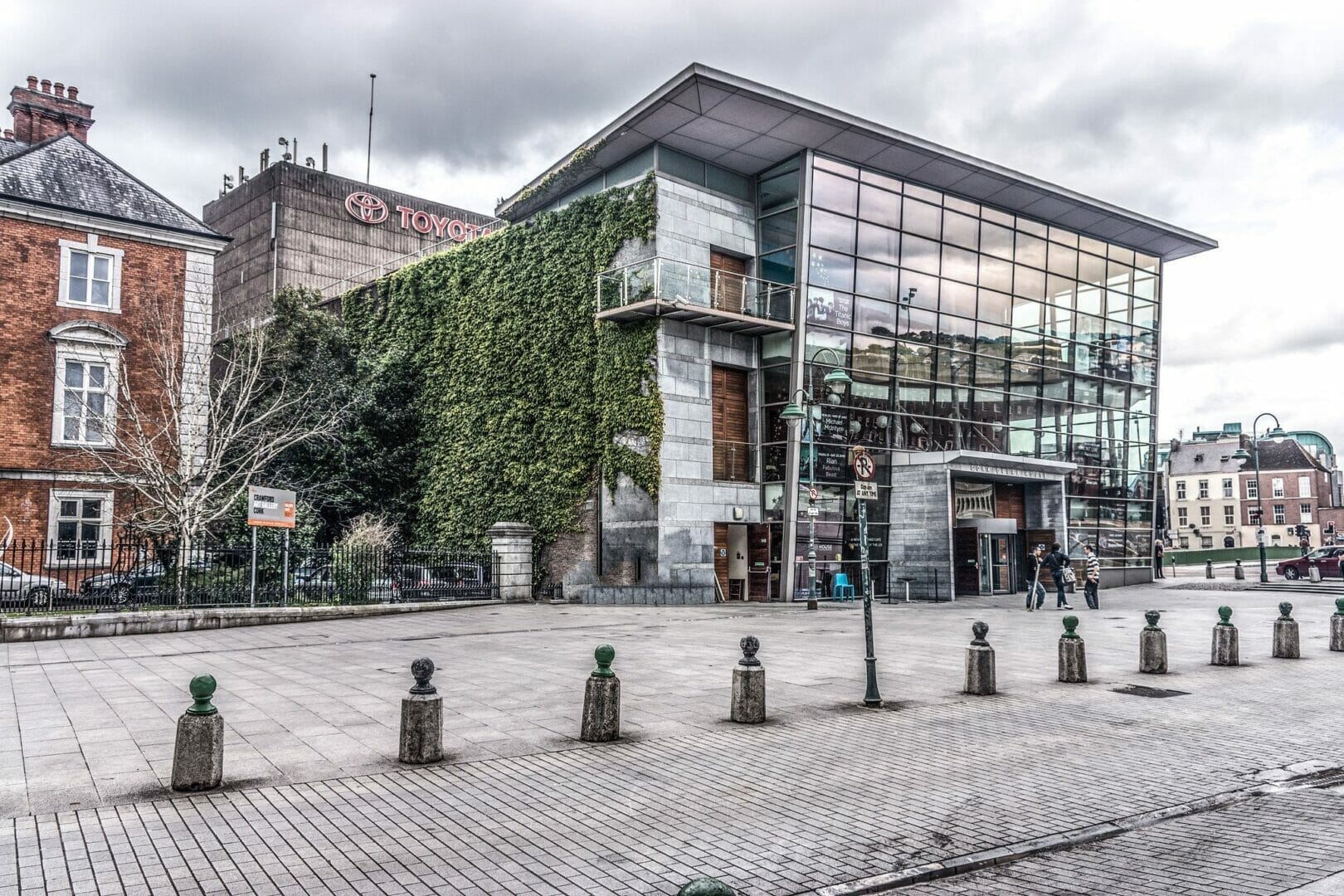 The Cork Opera House's striking aqua-tinted glass façade visually emphasizes the city's newly restored Opera Lane neighborhood and reflects the light of the River Lee that flows by it. Award-winning composers' site-specific projects and newly commissioned works are frequently presented at the Opera House.
Day Trip from Dublin to Cork
Cork Public Museum
The oldest Local Authority museum in Ireland is the next stop. The stunning Fitzgerald Park is home to the Cork Public Museum, which has been displaying Cork's rich history there since 1945.
The exhibits of the museum give visitors a glimpse into Cork's rich civic, political, military, and cultural histories, which helped shape the county into what it is today.
Visitors to the museum can examine archaeological displays that trace Cork's human habitation over 7,000 years ago and explore history displays that highlight numerous notable county residents.
Fitgerald Park
If you want to spend some time away from the city, this is the ideal location. Visitors who come here for a stroll can expect lovely, tree-lined roads, well kept flower beds, several statues, and a sizable fountain.
A playground and a cafe are also located in the stunning 18-acre park. Take a coffee and go for a stroll here to relax.

One of the more well-liked activities in Cork City is to relax with a cup of coffee here in the morning. Grab a blanket, a cup of coffee, and relax while you take in the ambiance
St. Finn Barres Cathedral
The majority of the stone used to construct the Cork Cathedral came from Fermoy and Little Island, two nearby towns. Before entering, take a close look at the outside.
Three spires may be seen, two on the west front and one where the convent and aisles are connected. of the gargoyles and other exterior sculptures were modeled by the sculptor Thomas Nicholls.
The biblical figures and a tympanum—a semicircular or triangular decorative wall surface over an entrance, door, or window—can be found at the cathedral's entry. The tympanum depicts the resurrection scene.
Many cathedral visitors are surprised to discover a cannonball hanging on a chain just past the Dean's chapel. The cannonball has a lengthy history despite not being your typical cathedral decor.
University College Cork:
Since its establishment in 1845, the University of Cork has been one of Ireland's leading centers for higher education. With a stunning mix of Victorian Gothic buildings and historical attractions dispersed throughout the campus, the university campus is a great site to visit and simply explore on summer days. Here, a visitor center organizes tours and lists all the interesting things to see at the campus. Ancient, imposing trees, some of which are as old as the institution itself, line the President's Garden in the quadrangle. Check out the equatorial telescope at the Crawford Observatory as well.
Day trip from Dublin to Cork
Blackrock Castle observatory
Blackrock Castle, which is located directly on the River Lee's beaches where it meets Cork Harbour, has multiple battlements and strong defences that most people would think were straight out of a fantasy novel. The Cork County Council presently owns the 1828-built castle, which has been transformed into a visitor centre and observatory. In addition to a number of interactive displays, this place has a planetarium and a movie theatre. In addition to holding a number of intriguing events throughout the year, a variety of exhibits highlight space, natural, and scientific explorations. This location is especially beloved by children, and the tower's panoramic views make a trip here well worthwhile.
Day trip from Dublin to Cork
Elizabeth Fort :
Recently, St. Finbarr's Cathedral's adjacent to Elizabeth Fort opened for business.  It was initially constructed to strengthen the city's fortifications against a new artillery threat. Additionally, it served as a depot for prisoners being transported to Australia as a food storage facility during the Great Famine of the nineteenth century. It was used as a police station from 1929 until 2013, when it was made public. Amazing views can be had from the towers, and you may take a guided tour to give the history of the castle some context.
Day trip from Dublin to Cork
Shandon Bell Tower:
This park was name after Edward Fitzgerald, Cork's Lord Mayor and Chairman of the Exhibition Committee. The park was built on former marshland that was recovered from the River Lee. It is the ideal location for some peaceful time in the midst of greenery. There are numerous wonderful paths lined with trees here, and there is also a classy fountain. A recently rebuilt playground is located here, and a small museum in the park tells the story of Cork. The Sundays Well Road and the park are connected by the lovely Daly Bridge, and are commonly referred to as the "Shakey Bridge."
The salmon fishing industry, which was quite significant in Cork at the time, is symbolised by the vane.
This is yet another of Cork City's most distinctive sights. One of the few churches on earth where people can ring bells alone is St. Anne's Church.
Because the Shandon Bells are stationary, a device known as a "clapper" bounces off the bell when you hold the rope. The bell doesn't even ring itself! Make sure to be respectful and refrain from repeatedly banging on these bells because they can be heard all the way throughout Cork City.
Day trip from Dublin to Cork
Take a cycle ride :
A leisurely ride through the city's colourful past is provided by the City Cycle Tour. The Greenway Cycle Tour (the most picturesque of the two) takes you by the Marina, the site of the Cork GAA, and the majestic Blackrock Castle as you travel along Cork Harbour and an old railway line. Each individual on a tour pays €45 approximately.
Visit cork Butter Museum:
Visitors can learn more about the history of dairying in ancient Ireland and the development of the Cork Butter Exchange by visiting the Cork Butter Museum. You can watch videos and visit a local museum to learn more about the art of manufacturing traditional butter upon your visit. It's interesting to note that this location formerly had the largest butter exchange in the world, with tens of millions of pounds of butter traded annually.
Rising Sons brewery
Visitors will be given a tour of the brewery's past and given information on how their beer is made. A guided beer sampling of two or three beers concludes the tour. It is perfect if you're travelling to Cork City with pals and looking for a group-friendly activity
You can checkout their website to more about them.
Day trip from Dublin to Cork
Where to stay in Cork?
Okay so your one day was not enough for exploring Cork and you want to extend your stay in Cork. Then below are couple of places where you can stay in Cork.