We have compiled a list of the Cheap Places to Stay in Amsterdam which will suit well within your Budget. This post is one among our series our posts to help you Travel Europe on a Budget.
If you are still in the planning phase for your Amsterdam Travel then you can make use of our other post about planning your Amsterdam Trip.
If you have a question about Where to Visit in Amsterdam? We have got you covered on that front
Best Area to Stay in Amsterdam
While Amsterdam welcomes around 5 million tourists every year, It sure has the capacity to house these tourists in total from around 450 hotels scattered around different regions of Amsterdam.
With that being said it could be easy for you to find the hotels or hostels in Amsterdam suitable to your budget. But finding the perfect location to stay in Amsterdam could make your trip or break it.
So if you have a question about Where to Stay in Amsterdam?
I would say the best place would be Old Centrum. You can stay anywhere in or around Old Centrum if you are visiting Amsterdam for travel-related purpose.
You can take a look at the Hotels in Old Centrum for your Stay in Amsterdam.
Cheap Places to Stay in Amsterdam
Cheap Hostels to Stay in Amsterdam
If you are travelling on Budget in Europe then booking hostels are a much better option as compared to Hotels. If you choose to stay in hostel dorms your expenditure could be from around 20-40 Euro per night per person. Which is around 50 Euro less as compared to the cheapest Hotels available in Amsterdam which could be around 40- 90 Euro per night for one person.
City Hub is a mix in between the hostels and hotels they have combined the privacy of hotels with mix and feel of the hostels. They don't have dorms available so you get to have a private room for yourself. So if you are on a budget trip to Amsterdam then this could be a good option for you for the places to stay in Amsterdam.
Each Hub has a giant, double bed, wifi, app-controlled lighting and a personal audio streaming system. Comfy, indeed.
They are located next to Amsterdam's De Hallenone, of the most hot and happening places in Amsterdam.
Cancellation policy Flexible rates: 48 hours before arrival
Reviews – Hostelword.com
Hotel Damrak-inn is a charming inn located on Amsterdams main road Damrak.The property is located on 1 minute walk from the Dam Square, 5 minutes walk from Amsterdam central station and 5 minutes walk from red light district. Within 10 minutes you can reach all of Amsterdams famous attractions, such as the Rijksmuseum, the van Gogh museum, the House of Anne Frank and the Heineken brewery. Several payable public car parking garages are on a 5 minutes walk from the hotel.
Cancellation policy:
• For individual travelers, cancellations are free of charge until 72 hours before arrival
• Late cancellation, late modification and no-shows incur a charge at full price for all reserved rooms.
• For groups*, long stay* and special Events*, cancellations are free of charge until 14 days prior arrival date (local time starts 0:00 AM). In case of late cancellation, late modification or no show, the full amount of the reservation will be charged.
* Groups: reservations of 3 rooms and more are considered as a group;
* Long stay: reservations with stay of 7 and longer are considered as a long stay;
* Special Events: reservations during International Business Congress (IBC 11 SEP – 16 SEP) reservations during New Year's period (29 DEC – 2 JAN)
Reviews – Hostelworld.com
Complete with original laboratory features, a spacious atrium and a lively bar, ClinkNOORD is the perfect hostel for travellers looking for a unique Amsterdam experience. Located across the IJ river, just 10 minutes from Amsterdam Central Station, ClinkNOORD is right in the heart of the action.
They do offer guest kitchen service which you can use from 7am in the morning till mignight 12 AM.
Example Fare of ClinkNoord if you want to book Private Accomodation
For the Dorm Bed options there are multiple option present which is in between the range of 24 Euro to 30 Euro which is a good deal for your Budget Travel in Europe.
Reviews – Hostelworld.com
Shelter City is a Christian hostel located near Dam Square and Central Station. This drug- and alcohol-free hostel serves a highly praised free breakfast of hot and cold food.
It is a perfect place 'if you want a calm stay' in Amsterdam; it's located 'right in the heart of Amsterdam next to the New Market and [is] thus a good starting point to explore the city'.
The staff have been called 'warm and welcoming', offering 'a safe and comfortable place to relax and meet other travellers'. We like their 'free and delicious' dinner nights.
Example Pricing For Private Rooms
Example Pricing for Dorm Stays
Reviews – Hostelworld.com
If you're looking to hit the museums while in Amsterdam, Hostel Van Gogh is in a great location, set in a neighbourhood near the Van Gogh Museum and the Rijksmuseum.
It's in a great spot for relaxation as well, with Vondelpark and the nightlife of Leidseplein within a short walking distance.
Their reviewers tell that this clean, modern and 'easily accessible' hostel is reminiscent of a hotel, and have recommended it for travellers who 'appreciate calmness and cleanliness but still don't want to pay hotel rates'.
Example of Private Rooms Rate in Hostel Van Gogh
Example of Dorm Rate in Hostel Van gogh
Reviews – Hostelworld.com
It has flexible and spacious social areas, filled with creative design touches like glass-fronted elevators, a raised café and an outdoor terrace.
Free wifi and 24 hours laundry service for washing,ironing and drying are couple of highlights.
Ride your bicycle along café-lined waterways, visit the most creative shops around De Pijp or just kick back by the canal and try a few cold Dutch beers. It's pretty hard to get stressed in Amsterdam, but having a good time is easy. Generator Amsterdam is located in the up-and-coming eastern side of the city overlooking Oosterpark.
Example of Pricing of Private Rooms in Generator Amsterdam
Example of Pricing of Dorm Beds in Generator Amsterdam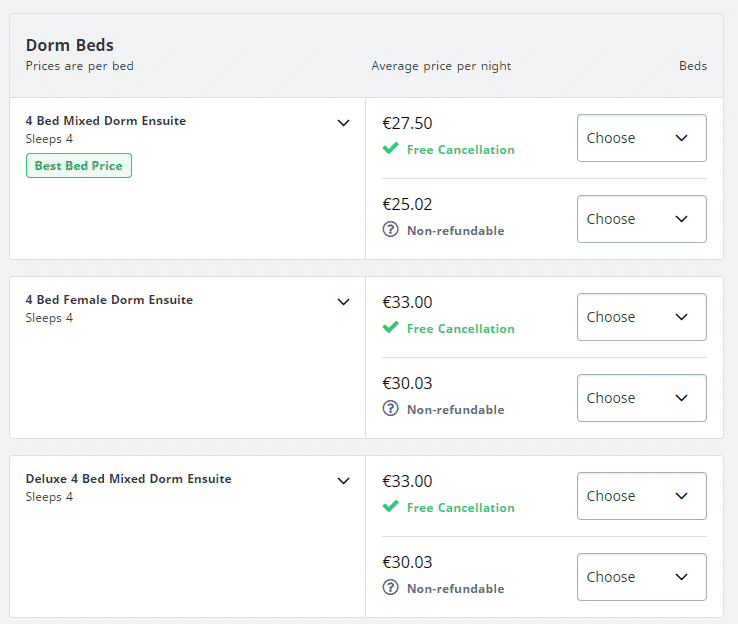 Shelter Jordan is near Anne Frank House and the rest of central Amsterdam. If you're not into partying, drugs or drinking, this is a great place for you. This place is good for Solo Travelers in Amsterdam as it offers safe atmosphere and single-sex dorms on separate floors.
Shelter Jordan is in the heart of Amsterdam, close to Anne Frank House, Dam Square, Royal palace and the Museum District. A direct bus to Schiphol Airport is just around the corner.
The Jordan area is full of charming streets, picturesque canals and fascinating hidden courtyards. Experience real Amsterdam in the lively street markets, "brown" cafés and the tulip and cheese museums. This area is famous for hip and trendy boutiques as well as endless restaurants and cafés.
Example of Private Rooms Prices of Shelter Jordan
Example of Dorm Bed Prices of Shelter Jordan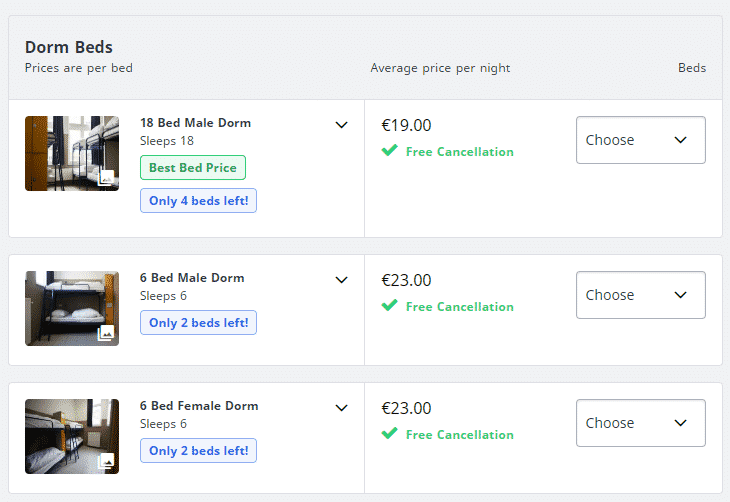 This Hostel could be a perfect option for the youngsters who are searching for hostels near red light district.
The Globe Center is located close to the Red Light District and overlooks two of the most famous historic canals in de Wallen, the oldest part of Amsterdam city.
Its only three minutes walk from Centraal Station and less than 10 minutes walk from all of the major tourist attraction points, such as Dam Square, Flower Market, Shopping Streets, Rembrandt Square, the Red Light District and various coffee shops in the Centrum area.
However, the Globe enjoys its quiet and easy neighbourhood while it is situated some distance away from the major tourist traffic.
Pricing for Private Rooms
Pricing for Dorm Beds
If you are looking for more Cheap Hostels to Stay in Amsterdam you can take a look at HostelWorld.com.
If you are not up for staying in hostels and want to go for an option of finding a place to stay in Amsterdam on Budget it is kind of tricky because you need to know the right places in order to help you enjoy the trip to the utmost level. We have tried to research and compile the list of hotels to stay in Amsterdam which will be in your budget.
One of good pick for staying in Amsterdam if you are looking to explore the museums in Amsterdam. This hotel is perfect for couple who wants to stay in the museum district of Amsterdam.
It is located at a 4-minute walk from the Van Gogh Museum and at a 10-minute walk from Rijksmuseum.
They offer free Wifi, AC and Coffee machine in their rooms. Museumplein and Concert Gebouw are situated at a distance of 200 m.
You can get a single room for as low as 43 Euro and Double room for as low as 49 Euro per night.
Review – Booking.com
Located in Amsterdam, B&B City Farmer Amsterdam offers accommodation with free WiFi and TV, as well as bikes and a garden.
A microwave, a fridge and oven are also provided in the kitchenette, as well as a kettle.
A continental breakfast is available daily at the bed and breakfast. A bicycle rental service is available at the accommodation, while cycling can be enjoyed nearby.
Review – Booking.com
Mozart Hotel is only 300 m from Leidseplein and 200 m from tram stop Prinsengracht. It features free Wi-Fi, 24-hour reception, vending machines and a breakfast room overlooking the canal.
Each of the rooms at Mozart Hotel has an en suite bathroom and a TV. Some of the rooms benefit from panoramic canal views.
The Rijksmuseum is a 5-minute walk from Hotel Mozart. The Kalverstraat shopping area and Vondelpark are both only a 10-minute walk away. Dam Square, including the Royal Palace, is 1.5 km from the hotel.
Review – Booking.com
Concert Hotel is located only 270 m from Museumplein which features the Van Gogh Museum and famous Concert Hall. This hotel features free Wi-Fi, 24-hour reception and a garden terrace.
All of the rooms at The Concert Hotel benefit from cable TV, a work desk and tea and coffee making facilities. The décor features warm brown tones and modern furnishings.
Museumplein's tram and bus stops are less than 2 minutes' walk from the hotel. Tram 16 provides direct links to Amsterdam Central Station, while bus 197 connects to Schiphol Airport. Vondelpark and the P.C. Hooftstraat shopping area is a 10-minute walk away.
Review Booking.com
Stayokay Amsterdam Oost is 3 km away from the city centre. It shares its building with a cinema and theater and is situated in a former school in the Zeeburg district. You have easy access to Dam Square which is 3.6 km away. Free WiFi is available throughout the whole building.
Stayokay Amsterdam Oost offers spacious rooms and dormitories with a private bathroom.
Review – Booking.com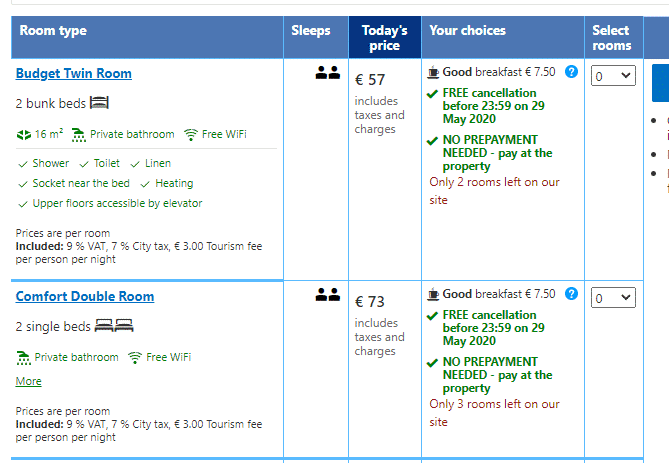 Hotel Mansion is located in Amsterdam at 800 m from Central Station and 700 m from NEMO Science Center. Free Wi-Fi access is available.
Rooms here will provide you with a flat-screen TV. Featuring a shower, private bathrooms also come with a hairdryer and towels. Extras include a desk and a safety deposit box.
Review – Booking.com
Hotel Internationaal is located in a historic street, a 5-minute walk from Amsterdam Central Station and Dam Square. There is free Wi-Fi and a maritime bar.
The basic hotel rooms come with cable TV and have either a shared bathroom or private facilities.
The Red Light District is only steps away. Tram stop Dam Square offers quick access to the Museumplein with the Van Gogh Museum in 10 minutes.
Café Internationaal was first used by sailors. It serves international beers in a traditional setting and sport events are shown on a large screen.
Review Booking.com
Urban Lodge Hotel is situated in the Westpoort district in Amsterdam, 3.5 km from Anne Frank House. Guests can enjoy the on-site bar. Paid private parking is available on site.
Every room at this hotel is air-conditioned and comes with a TV. Certain units feature a seating area to relax in after a busy day. You will find a kettle in the room. All rooms are equipped with a private bathroom. For your comfort, you will find free toiletries and a hair dryer. Urban Lodge Hotel features free WiFi throughout the property.
The hotel also offers bike hire. Vondelpark is 3.7 km from Urban Lodge Hotel, while Leidseplein is 4.1 km from the property. The nearest airport is Schiphol Airport, 10 km from Urban Lodge Hotel.
Review – Booking.com
Bicycle Hotel Amsterdam offers budget accommodation with free Wi-Fi and a bicycle rental service, a 5-minute walk from the Albert Cuyp Market. This eco-friendly hotel recycles and uses solar power.
The hotel offers guest rooms with private facilities or a shared bathroom on the same floor. All rooms are simply-furnished and come equipped with a sink and a TV.
Bicycle Hotel serves a simple yet ample breakfast in the morning featuring a selection of Dutch specialities. The multi-cultural De Pijp district offers a large number of restaurants and bars.
The Rijksmuseum and Van Gogh Museum are a 15-minute walk away. The Albert Cuypstraat tram stop is a 7-minute walk and offers direct access to Amsterdam Central Station with tram 16 and 24.
Review Booking.com
Amsterdam Teleport Hotel offers modern studios in Amsterdam, 400 m from the Amsterdam Sloterdijk railway station. Private parking and rental bikes are available on site. Free WiFi is featured throughout the property.
Rooms feature private bathrooms with a shower and some rooms include a seating area. You will find a coffee machine and a kitchenette in the room. A flat-screen TV is provided.
Continental breakfast is served daily in the breakfast area. For a quick snack during the day vending machines are available in the hotel.
Review – Booking.com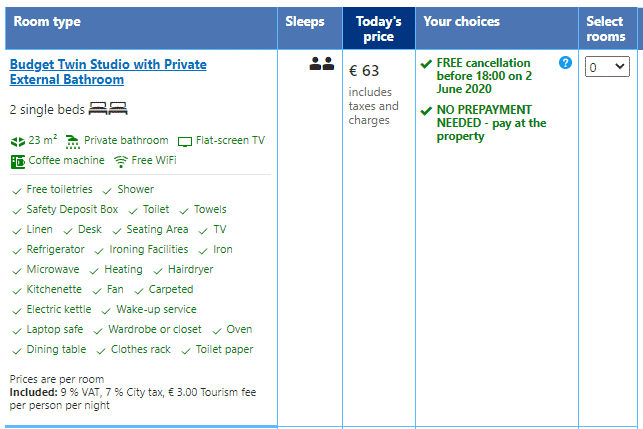 Hampton by Hilton Amsterdam Centre East is situated in the Zeeburg district in Amsterdam, a 22-minute drive from Schiphol Airport. Rijksmuseum, Museum district and Leidseplein are a tram ride away. Guests can enjoy the on-site bar and free WiFi throughout.
All rooms come with comfortable bedding, air conditioning and a walk-in rain shower. Also, a 40-inch HDTV and double glazed windows are featured. Extras include coffee/tea facilities and an iron with ironing board. You will find a 24-hour front desk at the property.
Review – Booking.com
Looking for More options related to the Places to stay in Amsterdam you can check Hotels to stay in Amsterdam.
Do you have some more suggestion related to the places to stay in Amsterdam or a place where you staid in your last trip and you found it really good? Please drop the name in the comment we will modify and include that in our list.
If you are in the planning phase of your Amsterdam trip, you can check out our other post, Things to Do in Amsterdam, Food to Try in Amsterdam, Day Trip to Zaanse Schan, thinking about other destinations in Europe to travel on a budget, we got you covered.
Any planning of the trip is incomplete without taking proper insurance, so make sure you read our post which covers everything about travel insurance and which one to buy.
References of Stats from Amsterdam.org
Some other Good Reads around this Topic –
To Support our Post you can Pin Us on Pinterest.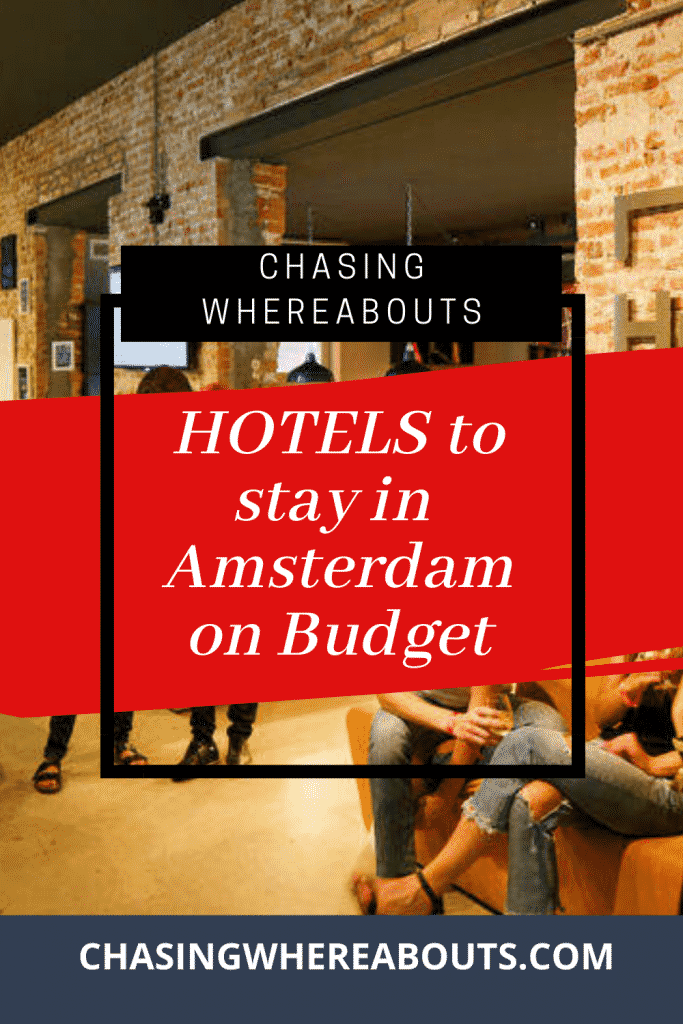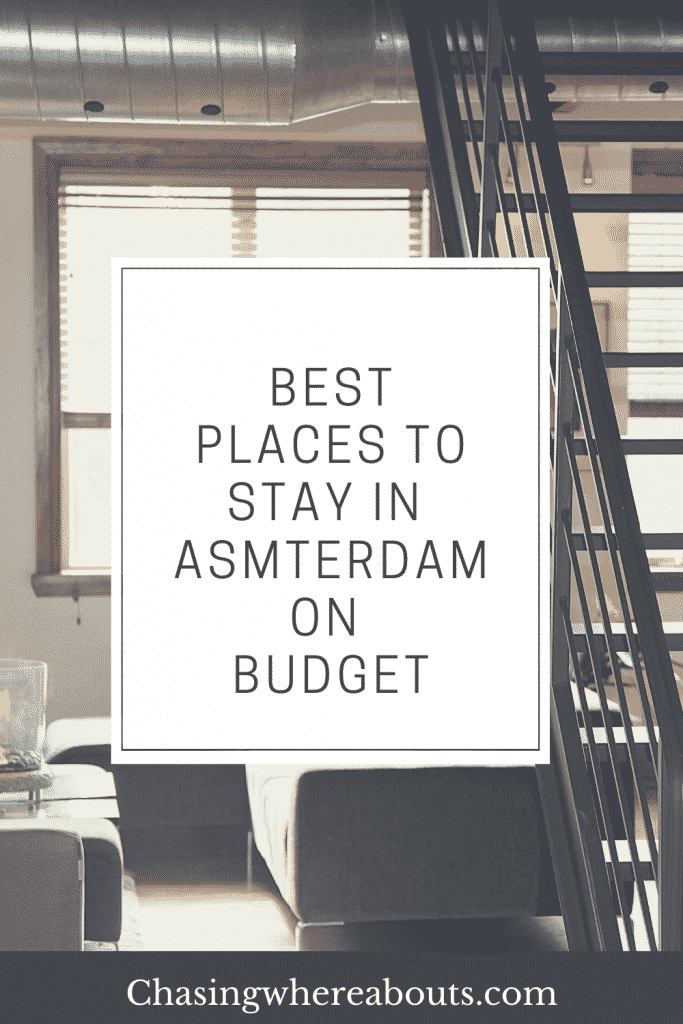 Viesearch – Life powered search