Love Barcelona? Want to visit it for cheap? This is the Barcelona Pass Review you've been so eagerly waiting for and it's here, only on our blog. We do all the work so you don't have to. Are you ready to start planning your next trip to Italy? Then check out our ultimate guide on how to use the Barcelona Pass — including how to get the most bang for your buck!
Recently I visited Barcelona and that is when I came to know about Barcelona Pass. In this post 'Barcelona Pass Review' I will be sharing my honest view about the Barcelona Pass and eventually we will decide whether it is worth to spend money or not.
Unlike the other places there are considerable amount of options for Barcelona since it is one of the most popular location to cover in Spain. So I will be breaking down this post and will talk about all the passes.
If you are still in the planning phase and you don't know what all things to cover in Barcelona then you can check out Awesome Things to do in Barcelona Spain
What is the Barcelona Pass?
Let us start with the most favourite one from the Barcelona Pass and you'll get everything you need to explore Barcelona's top highlights. You can even choose the order you see things in, making it perfect for planning your own custom adventure.
You can get the Sagrada Familia Fast track tickets, Park Güells ticket, you can enjoy the hop on hop off bus tour of Barcelona.
You'll also get a downloadable audio guide that you can use at over 130 locations around Barcelona. Leave no stone unturned as you explore.
Sagrada Familia
This is where you can begin your journey throughout Barcelona along with the magnificent creations by Antoni Gaudi.
The basilica he designed is an incredible project in dimensions and ambition. It remains only three quarters of the way through, more than 140 years since Gaudi first got involved.
When the spires are complete, they will make it the largest church structure in the world. It it is unlike any other religious building you've ever been to.
It is said that the Sagrada Familia combines several architectural styles like Catalan Modernism, Art Nouveau and Spanish Late-Gothic, but Gaudi's masterpiece is a snub to these types of definitions when you gaze open-mouthed on the nave's ceiling.
Get a Skip-the-Line ticket for fast track entrance: Sagrada Familia Skip-the-Line
Park Güell
Complete your Gaudi experience with a visit to this park situated on Carmel Hill. Many visit this area of Gracia for the breathtaking views across Barcelona from the main terrace in the park. You've seen these benches in the mosaic design on their postcards as well as in films.
In addition, there are colonnades as well as sculptures and fountains that are all designed by the distinctive style of the architect.
If you're still not sufficiently Gaudi you can visit the House-Museum in which he resided from 1906 until 1926, with furniture and ornaments made by him available for viewing.
Self Guided Tour of Park Güell
Hop on Hop Off Bus Tour
Barcelona City Audio Guide Extras:
Don't know your Claudius from your Tiberius? You'll get an audio guide for each destination included with each ticket, so prepare to be transported as you walk into the world of Barcelona! On top of that, you'll enjoy an in-depth guide to Barcelona itself, featuring commentary on over 130 hotspots.
What is the cost of Barcelona Pass?
Let us just talk about the price of Barcelona Pass it cost you around 86.50 Euro in the starting. But I will dig deeper and talk about whether the 86.50 Euro cost is worth your money or now.
Check the availibility of the Barcelona Pass below
Is The Barcelona City Pass Worth It?
As I already told that the Barcelona Pass cost you around 86.5 Euro. I am going to break down here about the attraction which is going to be covered.
| Attractions | Cost in Euro | Standalone Ticket Link |
| --- | --- | --- |
| Sagrada Familia Fast Track | 33.80 | Book Here |
| Park Güell | 13.50 | Book Here |
| Hop on Hop off Bus Tour | 28.00 | Book Here |
| Barcelona City Audio Guided Tour | 9.50 | Book here |
| Self Guided Tour of Park Güell | 5.00 | Book Here |
| 10% Discount on next ticket | | |
| Total | 89.80 | |
Barcelona Pass Review
Anyhow with just this combination we are saving around 4 Euro per person when we are taking the Barcelona Pass compared to the standalone tickets so it is anyhow a good deal for you!
On top of that if you are planning to do any more of the things to do in Barcelona which requires tickets like Barcelona Aquarium, Dali Theatre, Barcelona Zoo if you are travelling with Family to Barcelona you can save another 10% on your ticket cost here.
How does the Barcelona Pass Works?
Barcelona Pass Review
---
Ads Starting
Post Continues
---
Barcelona City Pass vs Barcelona Card
Barcelona Card is slightly different than Barcelona City Pass. In the Barcelona Card you get unlimited Public Transport (bus, metro). This pass also provide free access to couple of the Museums and discount to couple of other attractions in Barcelona. On the contrary Barcelona City Pass is more like the club of discount and entry passes with Skip the line tickets for Major attractions of Barcelona.
Hence for some people the Barcelona Card + The Gaudi Bundle is the ideal option for booking in Barcelona because you get the complete benefit of Barcelona Pass along with the Barcelona Free Transport at the cost of 99 EUR.
One thing to note is that Barcelona Card cost you around 48 EUR for 75 Hours.
If you calculate the cost that mean you are paying around 12.5 EUR in extra on top of the Barcelona City Pass to get the Public Transport Free.
If you want to buy the Barcelona Public Transport Ticket then it may cost you around 10 EUR for 10 journeys as checked on the website
Barcelona Pass Review
Barcelona Pass Review
If you want to check the availability of Barcelona Card youc an check below.
Barcelona Pass Review
What all things are included in Barcelona Card?
What's included
Unlimited free travel on the TMB metros and buses, the FGC city and suburban trains, trams, airport trains and Renfe suburban trains zone 1
Skip-the-line entry to museums and sights
Map of Barcelona and a guidebook in 6 languages
Free Attractions in Barcelona Card:
Centre de Cultura Contemporània de Barcelona
Fundació Antoni Tàpies and Fundació Joan Miró
MACBA Barcelona's Contemporary Art Museum
MNAC Catalonia's National Art Museum
Museu Picasso
El Born Centre de Cultura i Memòria
MUHBA: El Call, Museum of the History of Barcelona, Refugi 307, Via Sepulcral
Museu de Cultures del Món
Museu del Disseny
Museu Etnològic
Museu Frederic Marès
Monestir de Pedralbes
CaixaForum and CosmoCaixa
Jardí Botànic de Barcelona
Museu de les Ciències Naturals de Barcelona
Museu de la Música, Museu de la Xocolata and Museu del Modernisme Català
Museu Egipci de Barcelona
Museu Olímpic i de l'Esport Joan Antoni Samaranch
Public transport
Discounted Attractions in Barcelona Card:
Casa Amatller
Casa Batlló
Casa de les Punxes
Casa Milà (La Pedrera)
Casa Vicens
Cripta Gaudí de la Colònia Güell
Gaudí Experiència
Palau Güell
Poble Espanyol and many more!
Barcelona Pass Review
---
Ads Starting
Post Continues
---
Go City Barcelona Explorer Pass Review
Now one other pass which could also be an option for you is the Go City Barcelona Explorer Pass and in this section we will be covering in detail about the Go City Barcelona Reviews and see whether it is worth your money or not.
To be precise there are two kind of passes offerred by Go City, One is the Explorer Pass and the other is is the Go City All Exclusive Pass.
The main difference in between the Explorer Pass and All Inclusive Pass is that Explorer Pass provides you free entry to minimum 2 attractions and there are more options for the same whcih offere for 3,4,5,6 or 7 Barcelona's best attractions,
Now let us try to breakdown the cost of 2 attraction Go City Explorer Pass
Attraction Name
Cost in EURO
Standalone Booking
Sagrada Familia Guided Tour
49.00
Book Here
Casa Battlo Entry with Self Guide Tour
35.00
Book Here
Park Guel Guided Tour
26.00
Book Here
Total
First two options – 84 EUR
Last Two Options – 61 EUR
Break up of Top Attractions in Barcelona which you should cover.
Now just the 2 days Go City Explorer Pass cost you around 59 EUR which is less than the combination of 2 options which we simulated for the top attractions to cover in Barcelona, If you are thinking about just exploring the place on your own by buying the entry tickets then Barcelona Pass would be more suitable option for you to think off because that offeres you entry tickets on discount and you do not have guided tour in that.
If you pick the first two options to visit then the total cost of the standalone booking is 84 EUR and the Go City Explorer Pass is going to cost you 59 EUR that means you are save 25 EUR per person if you are just taking the Go City Explorer Pass.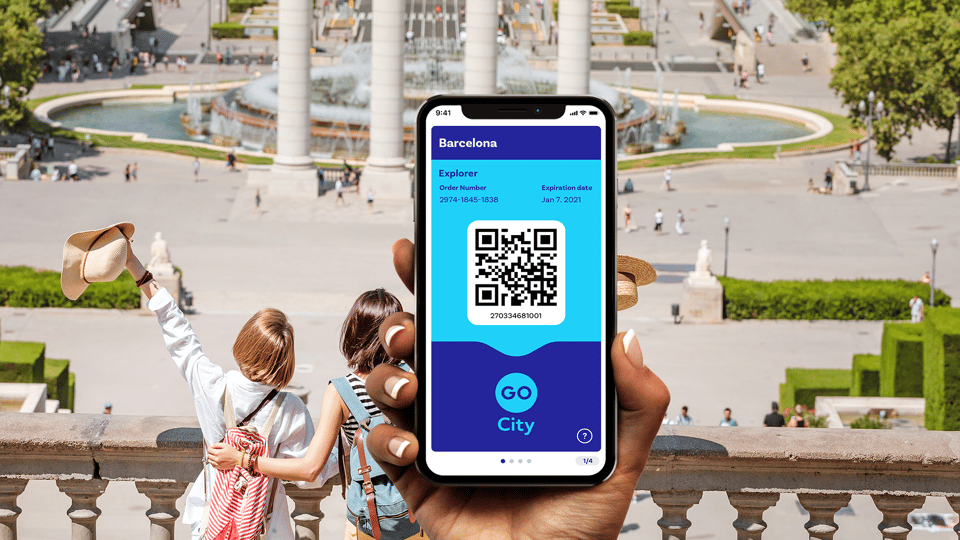 Barcelona Pass Review
---
Ads Starting
Post Continues
---
Now this pass is for someone who want to explore Barcelona in and out out and save a lot of money during the process of exploring Barcelona.
We would be sharing with you the Three Days Itinerary for Barcelona and simulate that how much you are going to save with the Go City Barcelona All Inclusive Pass vs Stanadlone Tickets.
If you are still in the process of evaluating that whether you need Explorer Pass or All Inclusive pass you can check the website in detail for the comparison.
Options available for Go City Barcelona All Inclusive Pass are
2 Days Pass for 109 EUR
3 Days Pass for 135 EUR
4 Days Pass for 141 EUR
5 Days Pass for 156 EUR
Barcelona Pass Review
Sample 3 Days Itinerary for Barcelona
If you are wondering how much you can save with this Barcelona Pass then you can read further.
Day 1
| Attractions | Price in EUR | Standlone Booking |
| --- | --- | --- |
| Casa Battlo | 35.00 | Book Here |
| Park Guell Guided Tour | 26.00 | Book Here |
| Gaudi Experience 4D | 9.00 | Book Here |
| Total | 70.00 | |
Barcelona Pass Review
Day 2
Day 3
So if we sum up everything then the total cost of this sample itinerary is 200.70 EUR and 3 Day Pass cost is 135 EUR so if you calcualte the saving then you are roughly saving 32% on the actual cost. So the Go City All Inclusive Pass is ofcourse going to save you money if you are planning to explore each and everything in Barcelona.
Barcelona Pass Review
Does The Barcelona Pass Save Time?
Short answer is yes but it going to same like booking the seperate tickets online before you actually step foot into Barcelona. I really am not fond of travelling in Europe and exploring places which I want to explore and standing in the queue for hours just to take the tickets and then again another hour in the queue to finally see the attraction.
In the Paris Pass Review I talked about the same thing because when I visited Eiffel Tower I was so happy that I booked the ticket online well before hand which saved me around 1.5 hours from the queue for just the tickets. In Venice City Pass Review – Is it worth it? I talked about similar thing as well and so in the Vienna Pass Review – Is it worth your money?
Tip! I tend to also book the skip the line ticket because it helps you to directly access the attraction without standing in the normal queue just for couple of bucks.
Barcelona Pass Review
Does The Barcelona Pass Save Money?
Well yes for sure as we checked above you are going to save around 6 euro per person if you are planning to explore Barcelona to the fullest.
Barcelona Pass Review
That was all about Barcelona Pass Review and do let me know if you found this post helpful.
If you are on your trip to Italy then below are some of the post which you can check out
Need Help with Booking –
Taking Insurance for your trip is of the utmost importance, I usually get my Insurance from World Nomad or Safety Wings you might wanna check them for your future trips.
If you are travelling and you don't know what to pack then our Packing List would come out in handy for you, Last Minute Packing is especially for the last minute occasion but there are some detailed packing list as well like The Ultimate Packing List and one post especially for Europe Europe Packing List
Wondering whether you need Visa for your travel then check here if you need visa for Europe or check out the new rule for Travel To Europe
Enjoyed it? How about sharing it with your friends on social media? Just click one of the buttons on this site to share this piece of content.
Pinning an image is a great method for sharing this article on social media. This article will become saved to the Pinterest board, making it easily accessible in the future.
Hey! Thanks for reading this! Look how gorgeous you are.
Pin Us to Support US