Planning your trip to Sintra and wondering how to save money during your Trip? Sintra Pass Review is something which will help you decide whether you have to buy Sintra Pass or not.
The Sintra Pass grants you access to a world of wonders, allowing you to explore the opulent palaces and enchanting gardens that have captivated travellers for centuries. From the fairytale-like Pena Palace, with its vibrant colours and intricate details, to the romantic Quinta da Regaleira, with its mystical underground tunnels and hidden initiation wells, each site offers a unique glimpse into the past.
With the Sintra Pass in hand, you can unravel the mysteries of Sintra at your own pace, immersing yourself in the beauty and grandeur of this UNESCO World Heritage site. Whether you're a history buff, an architecture enthusiast, or simply seeking a magical escape, the Sintra Pass is your ticket to an unforgettable journey through time and beauty.
What is the Sintra Pass?
The Sintra Pass is your all-in-one ticket to explore the wonders of Sintra. It is a convenient and cost-effective way to visit the palaces and gardens that make this Portuguese town so special. With the Sintra Pass, you gain access to multiple attractions without having to purchase individual tickets, saving you time and money.
This pass allows you to immerse yourself in the history, culture, and natural beauty of Sintra, unlocking the secrets of this UNESCO World Heritage site. Whether you're interested in exploring the opulent palaces or strolling through the lush gardens, the Sintra Pass is your key to an unforgettable experience.
What is included in Sintra Pass? – Top attractions included with the Sintra Pass
Lisbon Card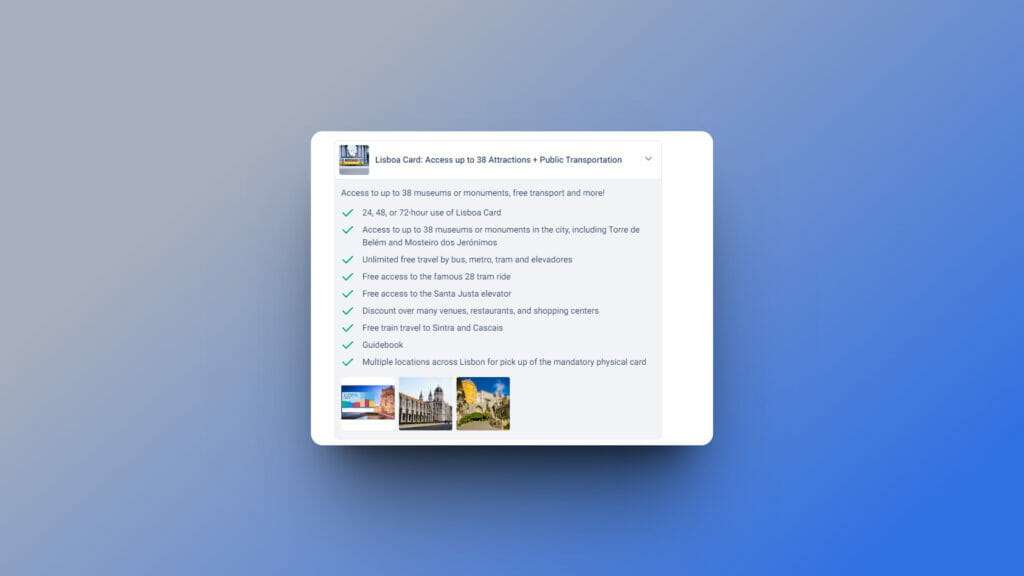 The Lisbon Card grants access to a selection of 26 museums and monuments in Lisbon, such as Torre de Belém, Mosteiro dos Jerónimos, the Santa Justa Elevator, and more. Additionally, it offers discounts for restaurants, the Aerobus, and shopping centers.
Moreover, if you're planning a trip from Lisbon to Sintra, the Lisbon Card is your ideal choice. With the 24, 48, or 72-hour card, you can enjoy complimentary public transportation within the city and its surroundings, including the renowned wooden Tram 28.
Sintra Pass: Pena Palace & More
When you opt for the Sintra pass, you gain access to a remarkable attraction: Pena Palace. Don't miss the opportunity to hop on the complimentary train to Sintra, included in the Sintra-Lisboa combo deal, and immerse yourself in this extraordinary royal retreat that feels straight out of a fairy tale!
Once there, you can explore the extensive 500-acre gardens that enthrall visitors from far and wide. These gardens are home to a captivating array of exotic plants, meandering streams, charming brooks to cross, and countless hidden treasures waiting to be discovered. It's an experience you won't forget, especially since Pena Palace holds the prestigious designation of a UNESCO World Heritage Site.
Castle of the Moors
Another remarkable attraction included in the Sintra pass is the Castle of the Moors. This ancient fortress offers a captivating glimpse into the region's history and provides breathtaking panoramic views of the surrounding landscape.
Perched on a hilltop, the Castle of the Moors boasts impressive stone walls and towers that transport you back in time. As you explore the castle grounds, you'll encounter remnants of its medieval past, including ancient battlements and fortified walls.
Lisbon and Sintra Audio Guides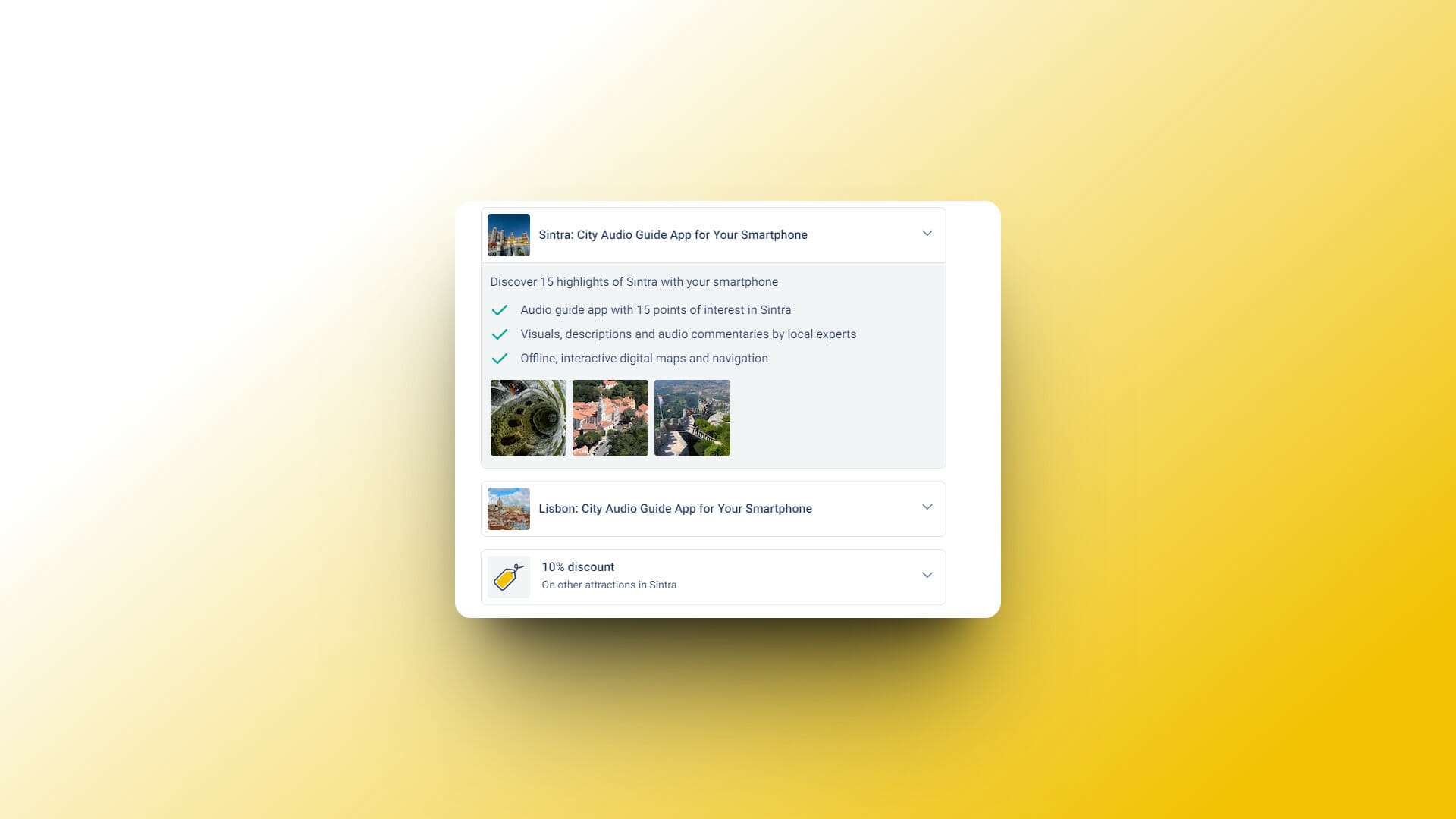 Included in the pass are two useful audio guides that will enhance your exploration of both sunny Lisbon and the hilly terrain of Sintra. These digital guides come with interactive maps highlighting various points of interest, allowing you to navigate easily while immersing yourself in the cultural context through bite-sized audio snippets.
You also get an exclusive 10% Tiqets Discount which is kind of a selling point for all the passes which you find on Tiqets.
Sintra Pass Price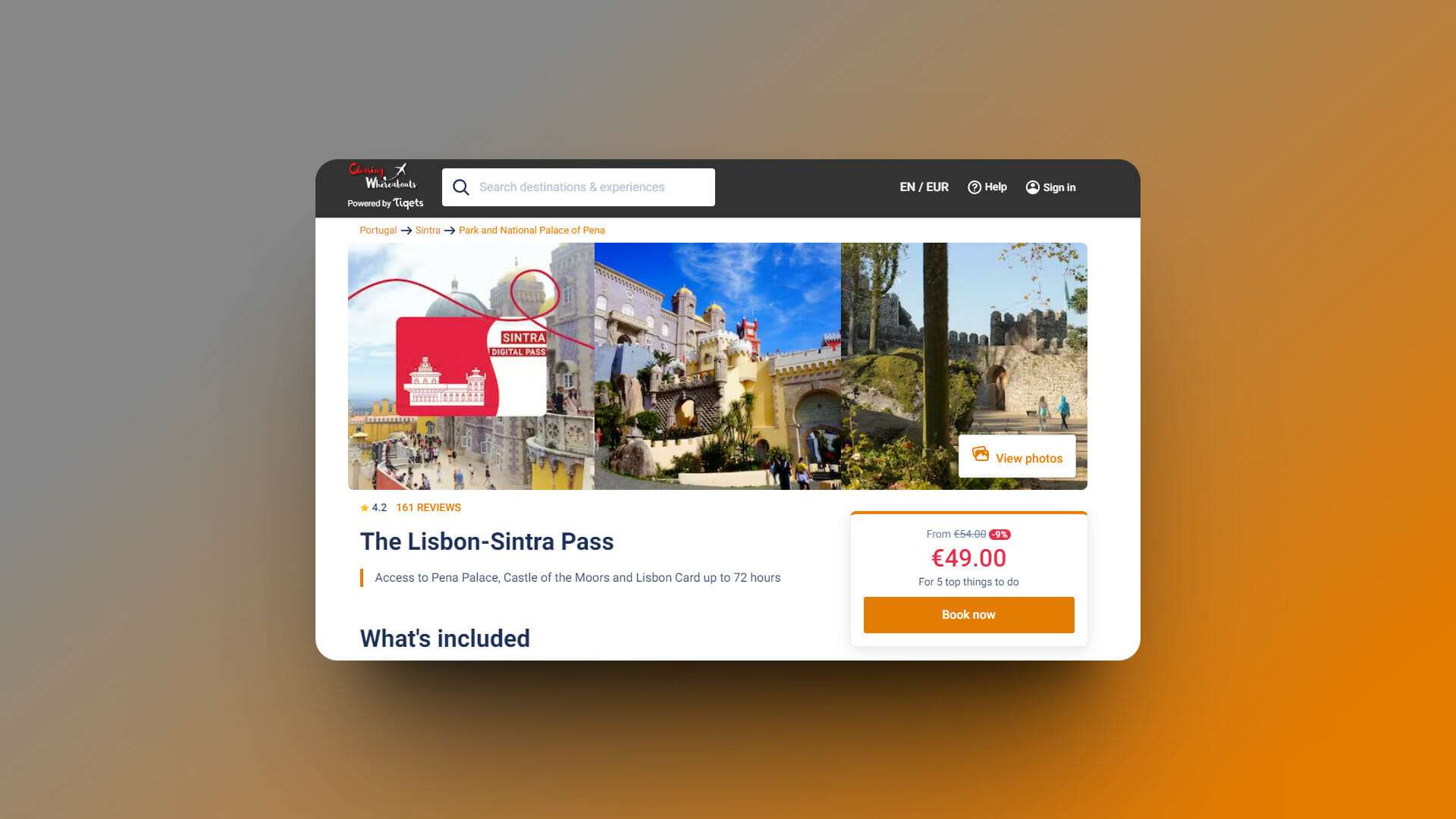 Let us just talk about the price of the Sintra Pass it cost you around 49 Euro in the starting. But I will dig deeper and talk about whether the 49 Euro cost is worth your money or now.
Check the availability of the Sintra City Pass below
Is Sintra Pass Worth it?
As of now we already know that Sintra Pass cost you around 49 €. This is a good time to analyze and break down the cost of the Sintra Pass to understand whether it is going to save you money when you are travelling to Sintra or not.
Attractions
Cost in Euro
Standalone Ticket Link
Lisbon Card
22.00
Check Here
Sintra Pass: Pena Palace & More and Castle of the Moors
22.00
Check Here
Lisbon and Sintra Audio Guides
5.50 for Lisbon
5.50 for Sintra
Check Here
Check Here
10% Discount on Tiqets
Eg. Monserrate Palace
8.00
Check here
Total
55.00
Total + Monserrate Palace
63 €
Sintra Pass Review
So if you go ahead and buy the separate tickets for just the things which are included in the Sintra Pass you will spend around 6 € extra and would get the same thing for 55 €.
So the net saving per person with Sintra Pass is 6€ which is going to be a considerable amount if you are a family of four. You are going to save 24 € with just this pass.
And when you have 10% extra discount which you can do to buy anything on Tiqets in my example I added the Monserrate Palace which is another thing you can do in Sintra.
Does The Sintra Pass Save Time?
All the tickets which are included in the Sintra Pass are normal tickets so the major time saving here is that you are not standing in a queue for buying the tickets at the moment and you are saving money.
But the tickets are not skip-the-line tickets which you should note. I have talked about this a lot in my other post but ticket queues in Europe are a mess when you are travelling in the travel season.
When I was new in Europe, I forgot to take the ticket for the Eiffel Tower and I stood in the queue for a whopping 1 and a half hours just for buying the tickets. That is why I always recommend getting the tickets beforehand if you are sure that you want to explore something and a ticket is available.
Does The Sintra Pass Save Money?
Well yes for sure as we checked above you are going to save around 6 euro per person if you are planning to explore Sintra to the fullest.
Insider tips for using the Sintra Pass
To make the most of your Sintra Pass experience, here are some insider tips:
1. Plan your visit in advance: Sintra can get crowded, especially during peak tourist season. To avoid long lines and ensure a smooth visit, plan your itinerary in advance and arrive early at the attractions.
2. Take advantage of guided tours: Some attractions offer guided tours that provide in-depth information and insights. Consider joining a guided tour to enhance your understanding of the sites and make the most of your visit.
3. Wear comfortable shoes: Sintra is a hilly town with lots of walking involved. Make sure to wear comfortable shoes to explore the palaces and gardens without discomfort.
4. Bring water and snacks: Exploring Sintra can be tiring, so it's important to stay hydrated and energized. Bring a water bottle and some snacks to keep yourself refreshed throughout the day.
5. Check the weather forecast: Sintra can be quite foggy and rainy at times. Check the weather forecast before your visit and dress accordingly to ensure a comfortable experience.
By following these insider tips, you can have a memorable and enjoyable visit to Sintra with your Sintra Pass. br/>
Sintra Pass alternatives
While the Sintra Pass is a convenient option for exploring Sintra, there are also alternatives available. Some attractions offer individual tickets that can be purchased on-site or online. However, purchasing individual tickets can be more time-consuming and costly, especially if you plan to visit multiple sites.
Another option is to join a guided tour that includes transportation and entrance fees. This can be a convenient option if you prefer a structured itinerary and want to learn more about the history and culture of Sintra. Ultimately, the best choice depends on your preferences and travel plans. If you want the flexibility to explore at your own pace and visit multiple attractions, the Sintra Pass is the ideal choice.
Sintra Pass reviews from visitors
The Sintra Pass has received positive reviews from visitors who have used it to explore Sintra. Many travelers appreciate the convenience and cost-effectiveness of the pass, as it allows them to visit multiple attractions without having to purchase individual tickets.
Conclusion: Making the Most of your Sintra Experience
The Sintra Pass is your key to unlocking the secrets of Sintra's majestic palaces and gardens. With this pass in hand, you can explore the opulent palaces, enchanting gardens, and rich history that make Sintra such a unique destination.
Sintra Pass Review: Unlocking the Secrets of Sintra's Majestic Palaces and Gardens
Conclusion
Sintra Pass is a good deal as it is saving 6€ per person in comparison with single tickets.
Pros
Considerable Saving of 6€ Per person.
Cons
It would have been great Monserrate Palace was also included.
Skip the Line tickets should have been awesome
Get your Notion Travel Planner Template!
Embark on your next adventure with the Wanderlust Planner – Notion Travel Planner Template – Notion Travel Planner Template for 2023 (chasingwhereabouts.com), the ultimate Notion Travel Planner Template. Organize your wanderlust-fueled dreams and turn them into unforgettable journeys. Whether you're a seasoned globetrotter or a newbie explorer, this template has you covered.