In this post, we will be covering about Top things to do in Zadar Croatia to have your perfect Holiday in Croatia. We shared one post around the One Week Itinerary of Croatia which contains everything about this planned Summer vacation.
Like, where to stay on budget in Croatia and How to use public transport in Croatia in order to travel and cover all the top attractions in the country.
If you are in the planning phase of your trip to Croatia then you can check the one-week Itinerary which covers, Zadar, Sibenik, Primosten, Split and a special trip around 5 islands in Croatia.
If you have not booked your stays in Zadar then you might wanna check the list of Zadar Hotels which are the most budget-friendly hotels to stay in Zadar.
About Zadar
Zadar, the largest city in northern Dalmatia, is cosmopolitan and artsy, although it is largely unknown to tourists. It's best to arrive before the crowds, as a little city on a small peninsula has a lot to offer.
Many medieval churches and Roman ruins, notably the iconic Church of St. Donat, are located in the city's historic old town, which is great for exploring on foot.
Sea Organ and Sun Salutation are not to be missed also the music and light extravaganzas in Zadar. You can go swimming on the wonderful beaches along the coast.
Finally, Zadar is a major transportation hub, and day visits to adjacent islands are easy to arrange from Zadar's central location. Our list of the best Zadar attractions will help you discover more places to explore in and around this dynamic city.
You can also rent a car in Zadar and plan the complete trip around this part of Croatia.
You can start your first day in Zadar by taking the Zadar Guided Walking Tour and also enjoy a sample of Maraschino liqueur and a taste of Pag cheese.
10 Best Things to Do in Zadar Croatia
St. Donatus' Church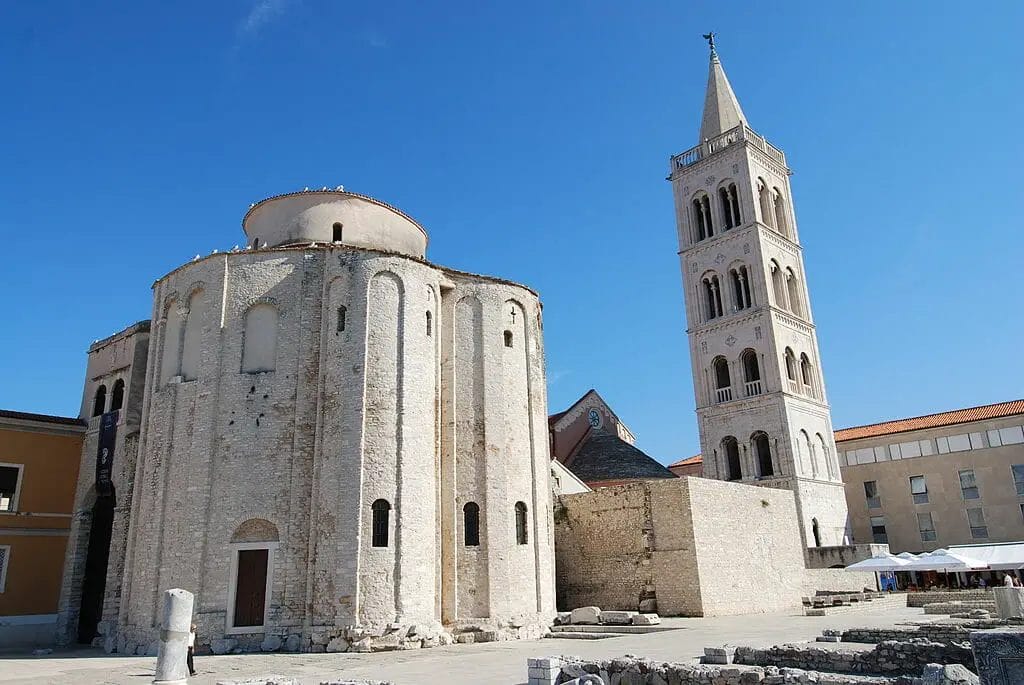 The Church of St. Donat (originally St. Trinity Church) is the most valuable monument of pre-Romanesque architecture of the early Middle Ages (9th century) in Croatia and the symbol of the city of Zadar. Because of its particular shape, it is one of the most important churches of its kind in Europe.
The Roman Forum
Construction of Zadar's Roman Forum took place between the 1st century BC and the 3rd century AD. Its size, measuring 90 meters long by 45 meters wide, still impresses visitors to the Zeleni trg Square (during Roman times, this area was a central market and public area).
A Corinthian column and the foundations for various public structures are among the site's highlights. It's also worth checking out the Pole of Shame, a more recent addition that was utilized from the Middle Ages to the 19th century as a way to publicly humiliate criminals.
Tip – Plan you visit during night because at that time everything will lit up and it will look good.
Come to think of now I have visited two of the Roman Forums, One from Rome and One in Zadar.
City Walls and Gates
Zadar's old city is surrounded by a well-preserved set of walls and gates. Visitors can walk along the top of the walls for stunning views of the city and the sea.
All of the city's four existing gates are largely intact, with the Land Gate being the most significant.
It was built in the Renaissance style by the Venetians in 1543, and it's still the greatest way to explore the historic portion of the city (the other gates are the Gate of St. Rok and Port Gate, as well as one in the Square of the Five Wells).
Zadar's famed Sea Gate (Morska Vrata), also known as the Gate of St. Chrysogonus, is also worth a visit (Vrata Sv Krsevana).
An existing Roman arch served as the gate's base, and it was constructed in 1560. The gate has a number of notable elements, including a relief of the Lion of St. Mark's, Venice's official emblem, and a memorial to seafarers.
Sea Organ
Installed on the city's seashore in 2005, Zadar's Sea Organ has become one of the country's most popular art pieces and a must-see attraction. What it is, in essence, is a large musical instrument that is triggered by the action of the waves.
In total, the tubes produce an intriguing, though bizarre, soundtrack to the whole experience. A number of comparable installations can be found in areas like San Francisco if the installation looks familiar to you.
Greeting to the Sun
Constructed by local architect Nikola Bai (who also designed the adjacent Sea Organ), it's 22m wide, loaded with 300 stacked glass plates that capture the sun's energy during daylight hours.
Sea Organ's sound is generated by wave energy, which is combined with a hallucinogenic light show that simulates the solar system from twilight to sunrise. Enough energy is also collected for the full harbour lighting system.
Especially at dusk when the stunning sea views and the illuminated pavement create for a spectacular scene, this spot is busy with tourists, families, and residents.
St. Mary's Church
This beautiful 11th-century church is home to a number of important works of art, including a Romanesque bell tower and a 15th-century wooden choir.
In the 11th-century Church of Sv. Nediljica, there is an attraction called Gold and Silver of Zadar. Other than excellent gold items, the museum also has a large number of precious religious relics, including remnants of saints and important historical documents.
Museum of Ancient Glass
This museum houses an impressive collection of ancient glass artifacts, including Roman jars, goblets, and vials.
The superb Museum of Ancient Glass, located in the magnificent Cosmacendi Palace near Zadar's waterfront, houses one of Europe's finest collections of antique glass items.
There are dozens of unique Roman jars, goblets, and vials that have been unearthed in the Dalmatia region of Croatia.
In addition, there are a number of perfume bottles and oil bottles, glass cups that were previously used in the earliest churches in the region during Mass, and a number of miniature flasks that were used to contain holy water. Visit the palace grounds for a magnificent view of Jazine harbor afterward.
St. Anastasia's Cathedral / Zadar Cathedral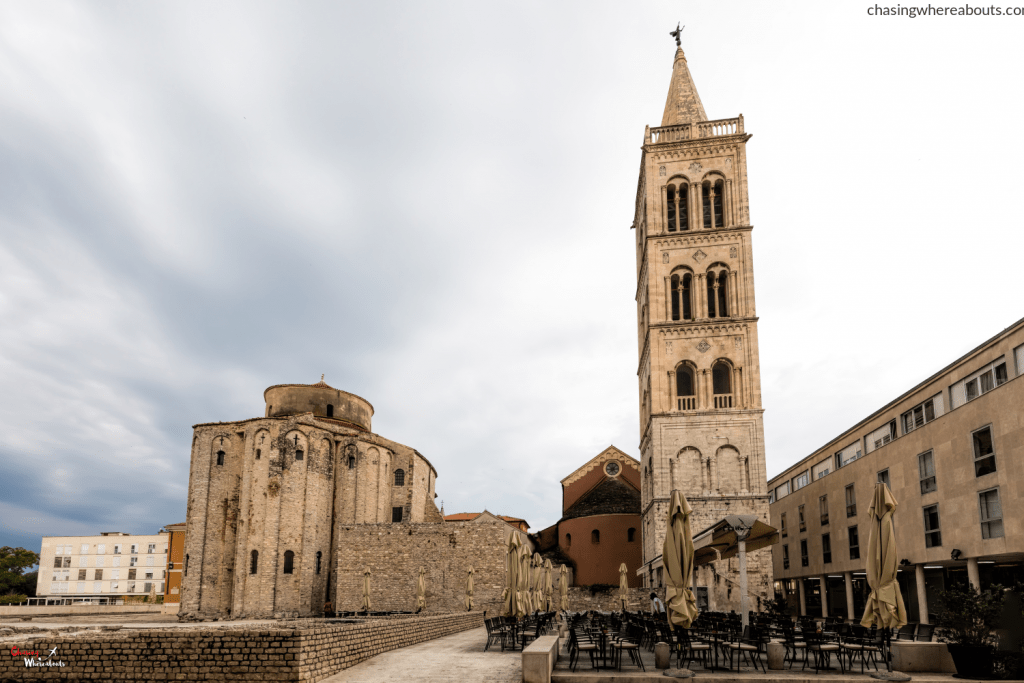 This cathedral is a mix of architectural styles, including Romanesque, Gothic, and Renaissance. It is home to a number of important works of art, including a 13th-century sarcophagus and a 15th-century wooden choir.
Not to forget that is is one of the largest cathedrals in Croatia and home to a number of important works of art, such as a 13th-century sarcophagus and a 15th-century wooden choir.
National Museum
This museum has exhibits on the history and culture of Zadar and the surrounding region.
Zadar National Museum (Narodni muzej Zadar) is a general regional museum founded in 1832. It has four departments: Natural history, Ethnological, Gallery of Fine Arts, and City Museum, and two allocated collections on island Iž – Ethnological and Cultural history.
St. Simeon's Church
This church is home to the sarcophagus of St. Simeon, one of Zadar's four patron saints.
We recommend stopping by St. Simeon's Church, which dates back to the 17th century. Sarcophagus created by Francesco da Milano at the end of the 14th century contains the remains of St. Simeon, one of Zadar's four patron saints. Cedar casket with gold-plated reliefs illustrating St. Simeon's life and a replica of the Capella dell'Arena in Padua. Note the church's beautifully designed altar, which features the Virgin Mary and Saints.
Archaeological Museum
Established in 1832, the Zadar Archaeological Museum (Arheoloki muzej Zadar) is Croatia's second-oldest museum. If you're interested in Dalmatian history, this is where you should go.
Many of the exhibitions on the ground floor focus on artifacts from the 7th to 12th centuries, and the glass collection is noteworthy. On the upper story, there are numerous displays focusing on the Roman period in Northern Dalmatia, including a model of Zadar demonstrating the Roman layout of the city.
Two floors of exhibits include the Paleolithic and Neolithic periods as well as the Copper, Bronze and Iron Ages with weapons, pottery and other artifacts on display.
Five Wells Square
The Square is located on a site between the medieval City Walls and the Renaissance bastion Grimani, where the oldest park in Croatia is located. The Square features exactly what its name suggests – five wells lined up in a row.
Paklenica National Park
The Paklenica National Park is located in the Dalmatia region , approx. 50 km north of Zadar . The area is located between the coast and the highest peaks of the Velebit Mountains, the Vaganski Vrh (1,757 m) and Sveto Brdo (1,753 m). The deep gorges Velika Paklenica and Mala Paklenica form direct access from the mountains to the sea.
The cost of visiting this park or actually any park in Croatia varies according to the time when you are going to visit Croatia, So the value could range from 05 Euro to 08 Euro based on the time you are visiting. Price of visiting Paklenica National Park has all the information around that.
This is one of the most visited places for Hiking, climbing and camping. If you are lucky you can see different wildlife as well including bears, wolves and eagles.
Book Paklenic National Park Ticket Online by this link.
Plitvice Lakes National Park
This national park is located about 120 kilometres from Zadar and is famous for its cascading lakes and waterfalls. The park is a UNESCO World Heritage Site and one of the most popular tourist attractions in Croatia.
It is home to 16 cascading lakes and over 90 waterfalls.
Book Plitvice National Park Tickets Online here
Kornati National Park
Kornati National Park is called a "nautical paradise" thanks to its incomparable and unique beauty. Nacionalni Park Kornati is an archipelago of 89 gorgeous islands, islets, and reefs in the northern part of Dalmatia, near Dugi Otok, Pašman, Murter, Zadar, and Šibenik. Like Brijuni National Park, Kornati National Park is comprised of both land and sea.
Unlike Plitvice National Park in Kornati national park you can carry your swimsuit and take a bath in the lake as well so people really enjoy this.
Book Kornati National Park Full Day Trip from Zadar
Kolovare Beach
Main beach of Kolovare is about a 10-minute picturesque walk from the old town. It has a combination of pebbles and sand and is backed by clear blue water.
This spot is popular for picnics and can be crowded in summer, but if it's too hot, you can retire to a shady green space immediately above the shore.
Besides showers and changing rooms, the beach also has restrooms and showers. Shopping and dining are also available in the immediate vicinity. From Kolovare, proceed east towards the headland if you wish to swim with fewer swimmers.
Day Trip to Zadar Archipelago
In addition to exploring the Dalmatian coast, Zadar is also a great base for exploring the Zadar Archipelago, which includes a number of stunning islands. In Dugi Otok, the largest island at 124 square kilometers, you'll find a scattering of communities that rely mostly on fishing and farming for their livelihood.
Sali, the principal hamlet and port of Dugi Otok, has Renaissance summer residences and the Church of St. Mary, while Bozava, a fishing village, has the 10th-century Church of St. Nicholas. Aside from Sakarun Bay and Telascica Nature Park, the island's main beauty is found in its rocky terrain and natural wonders.
It's also worth a visit to the calm islands of Molat, Ugljan, Pasman, and Premuda, which have magnificent beaches.
One such trip will make your day in Zadar BEST OF LONG ISLAND – DUGI OTOK TOUR
The People's Square
As soon as it was built in the 16th century, the square was known as the People's Square (Narodni Trg). On the west side of the plaza, you'll find the historic City Guardhouse (Gradska Straza), built in the mid 1500s, with a huge clock tower added in the 18th century (it's worth a visit for its modest ethnographical museum).
Built in 1565, across from the tower, is the Renaissance City Loggia (Gradska Loza), which has been used for important public announcements and proclamations in the city for centuries. Art and other exhibitions are now held in this magnificent ancient structure, which is now used as a public gallery.
Museum of Illusion
I am not sure if you are a fan of this or not, but I really like the Museum of Illusion and it has to be on our list of Zadar attractions.
Explore a world of illusions in old town Zadar. Be thrilled and bewildered by exhibits that will blow your mind and let you discover fascinating things.
A ticket for 1 person costs you around 9.71 Euro, Book your Zadar Museum of Illusion ticket online now.
Conclusion: 20 Things to Do in Zadar Croatia
That was all about the Top Things to Do in Zadar. If there was something which you visited and found exceptionally good in Zadar then don't forget to drop your comments below!
You can plan your trip by checking our One Week Itinerary for Croatia.
You can check Top Things to do in Sibenik for finding all the attractions in Sibenik. Top 20 Things to do in Split Croatia if you are travelling to Split.
Need Help for Booking –
Taking Insurance for your trip is the upmost importance, I usually get my Insurance from World Nomad or Safety Wings you might wanna check them for your future trips.