Planning your European vacation for the summer? Make sure travelling to Rome, Italy, is part of your itinerary. With pizza, pasta, the Trevi Fountain, ancient Roman history, and the Colosseum, there is an endless amount of experiences to partake in and food to indulge in.
If you are travelling from Australia, there are a few things to keep in mind before booking your trip. We have gathered everything to know to keep you safe,on-budget, and having the time of your life whilst exploring the city.
Flying to Rome from Perth Airport:
If you plan to drive to Perth Airport and leave your car there whilst away, you can find affordable, secure Perth Airport parking when you book at least 2 weeks in advance, especially if you are travelling in peak travel season as airport car parks tend to get booked quickly. If you'd like to receive the best rates and to spend more on your vacation than the costs it takes to get there, book with an off-site provider who offers complimentary shuttle services to and from the airport on demand. Booking your flights and airport parking doesn't have to be expensive when done in advance and online!
Costs associated with flying from Perth Airport to Rome in the months of June, July, and August (peak travel season) will be around $1,700 – $3,500. Travelling to Rome in the winter months, or December – February will cost you closer to $1,000 – $1,500. While you will encounter most flights are in-direct, or have a stop-over in some cities, Qantas does offer a direct flight from Perth to Rome, but you will be paying for the luxury of a non-stop flight of around $2,200. Overall, you can expect to spend between 16 – 22 hours in the air, depending on the airline you take, and the layovers associated with your flight.
When to Travel to Rome?
Travelling to Rome in the months of March-May is highly recommended as you will encounter fewer tourists than you would travelling in the European summer months. Additionally, it is a great time for outdoor activities and sightseeing as it is not so hot – you can expect temperatures to be between 11 – 20 C°, depending on the month you visit. Travelling in June – August or the summer months of Europe will bring you heavy crowds, and high temperatures (up to 34C°). It is when most people travel in Europe, so if you are not one for crowds or being surrounded by tourists, avoid travel in these months.
Travelling in the months of September – November will bring you pleasant, mild temperatures and low crowds. Finally, visiting Rome in the winter, or December – February will officially be an off-peak season, where the weather is cool and anywhere between 2 – 12 C°. If you can, try to visit around Christmas time to reel in the magic the city has to offer.
Ultimately, the best time to visit Rome depends on your preferences. If you like to meet tourists and don't mind the heat, Summer is your best bet. Want to mingle more with locals and not constantly be sweating? Opt for Spring or Fall. Winter should be your go-to time to visit if you want to experience a charming Christmas and New Year celebration.
Travel Visas
As an Australian citizen, you do not need a visa to enter Italy, however, you can only stay for 90 days. If you plan to stay longer, you will be required to apply for a residence or work permit. Before arriving, be sure that your passport is valid for at least 3 months past your planned return date to Australia.
Getting Around Rome
There are a few ways to get around Rome, some of which include Metro, Taxi, Tram, and walking are the most popular.
Metro:
Purchase your metro station PRIOR to getting on the vehicle. You can do this at any metro kiosk station. Check either Google Maps by typing in your end destination, or the map located on the Metro walls to see which line you need to take, and which Metro to get on. For the Metro lines, see below:
Line A (orange)
Line B (blue)
Line C (green)
Be sure to keep your ticket until entirely exiting the metro station, as you will need it to get out, and if a ticket inspector needs to scan it.
Buses / Trams:
To plan your route, it is recommended to use the ATAC app as it will help you to plan your route, and you can even buy tickets on the app if need be. Children under the age of 10 can travel for free, while adults will need to pay. You can even pay with your credit card upon entering the bus or tram, simply tap your credit card upon entry, and again upon exit. In the case that a ticket inspector asks for your ticket, allow him to scan your credit card to see you have paid.
Walking:
Rome is a very walkable city, just be sure you bring a good pair of walking shoes and keep your backpack locked if travelling with one on your back, or your purse covered if walking with one on your shoulder. Pickpocketers are everywhere in the world but are very cunning and swift at doing so in Rome. Remain vigilant and you will be fine!
Best places to visit in Rome:
Rome is filled with many places you can not miss upon visiting – some touristic, and others not. Depending on your likes and dislikes, you may not find interesting all the places listed below, so be sure to do your own research so you don't miss out on anything you'd really enjoy.
Catacombs of Domitilla – For the history lover and cemetery enthusiast; the Catacombs of Domitilla are ancient burial grounds located beneath the city and allow the visitor to take a step into Christian history as they explore Rome's past.
The Colleseum – For everyone. You probably knew this was going to be on the list, but it is a must-see as the amphitheater hosted dozens of historical events and gladiator contests. Take a walking tour if you can, and you will mark this off your list easily!
Pantheon – Like the Coliseum, everyone should see the Pantheon. As a former Roman temple, it was dedicated to 12 gods and was built following Augustus's military victory, which paved the way for the establishment of the Roman Empire
Testaccio Market – For the foodies! You can view and try an array of Roman cheeses, snacks, meats, and specialities whilst taking in all of the aromas as you walk through the Roman market.
Monti Neighborhood – Characterized by charm and whim, take a stroll through this neighborhood and visit some authentic Roman boutiques, cafes, art galleries, and shops.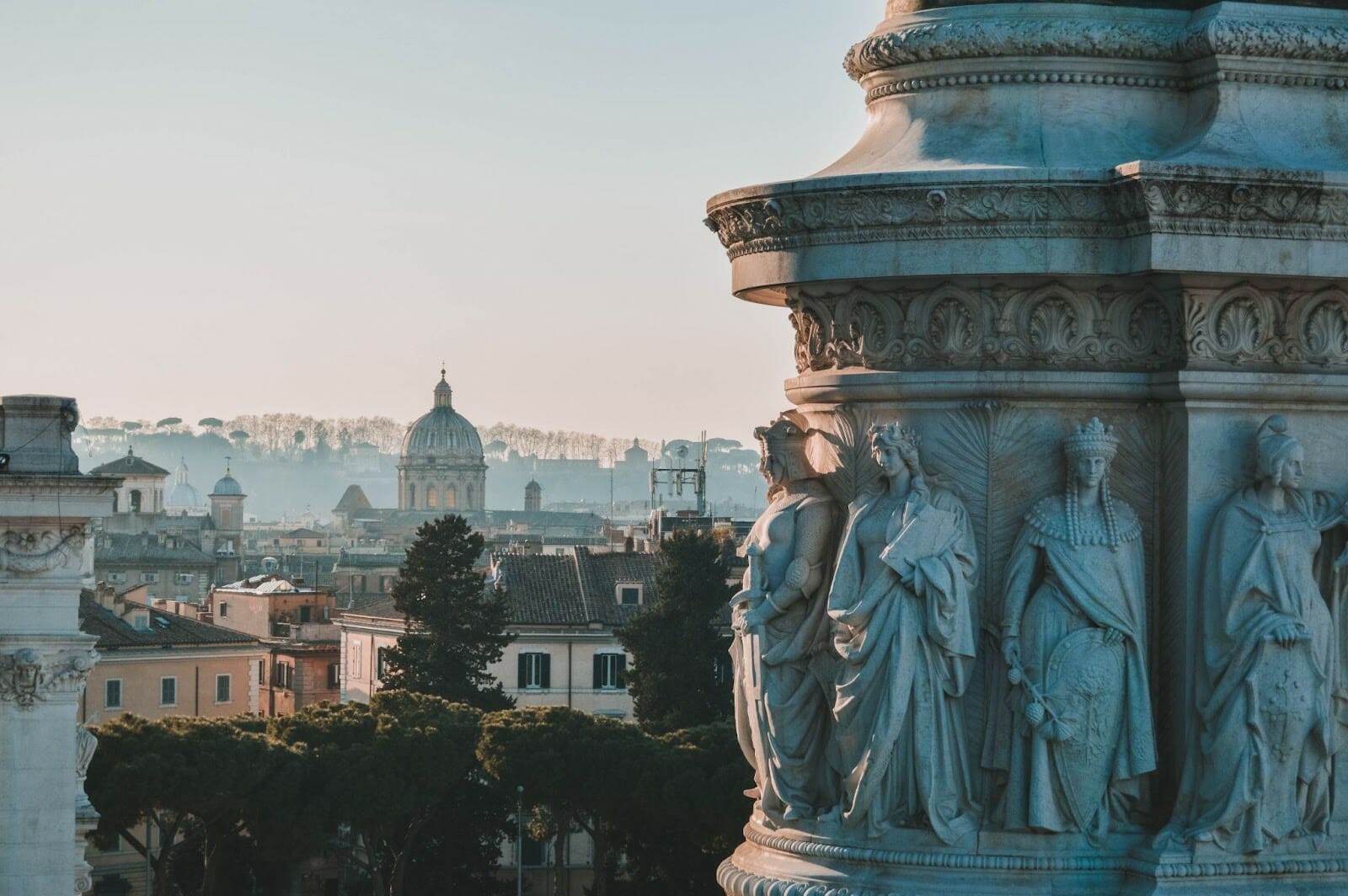 There is an array of other places to visit around the city, but some of the best-kept gems are experienced by stumbling upon them while wandering Rome on foot, so we will leave that to you!
Conclusion: From Perth to Rome
All in all, Rome is a must-see city, at least once in your life. There are restaurants and activities to keep you occupied (and full) for weeks and offer experiences suitable for every type of traveller. Remember to keep your belongings by yourself and remember that if you want a picture with horses / costumed soldiers, it will cost you, even when they don't tell you beforehand! Happy travelling.
Get your Notion Travel Planner Template!
Embark on your next adventure with the Wanderlust Planner – Notion Travel Planner Template – Notion Travel Planner Template for 2023 (chasingwhereabouts.com), the ultimate Notion Travel Planner Template. Organize your wanderlust-fueled dreams and turn them into unforgettable journeys. Whether you're a seasoned globetrotter or a newbie explorer, this template has you covered.