Are you looking for Canva alternatives for your DIY Graphic Design? To build your own marketing and social media images, we have become more adept at using visual content tools, even using more than one tool to do so. I share a range of resources in this post that you might consider adding along with Canva to your toolkit.
Canva is my go-to place to design my Instagram Stories, Post, Youtube thumbnails and blogs. In this post, we will be exploring some Canva Alternatives present in the market. This will introduce you to some more programs like Canva or website present online which can help you create better content.
Infographics are the future of digital marketing and Canva helps a lot in bringing our creativity in digital representations. However, the free template present on the website is limited. There are times when I check for alternatives of Canva to look for more templates which I can use my present.
So let us read more about the Canva Alternatives.
If you still want to continue using Canva then you can check out the Offer for Canva Paid Plan here.
Top Canva Alternatives
Adobe Express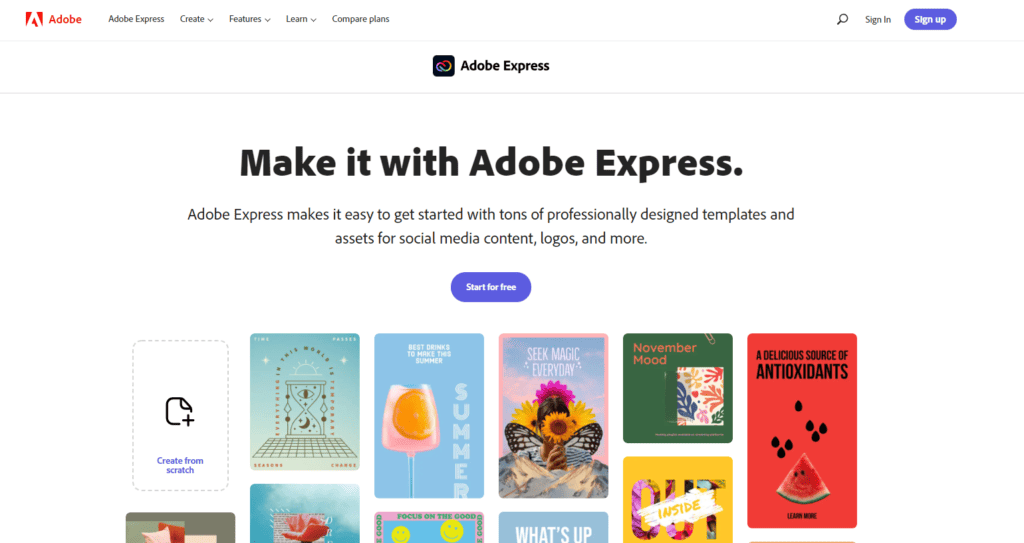 Adobe Express (Previous Adobe Spark) is the fun, fast and easy way to create stunning graphics for all occasions.
Adobe Express Post is part of the video, web and image creation tools suite of Adobe. This collection of Adobe tools is much simpler to use, than their more sophisticated Adobe counterparts, Illustrator, InDesign and Photoshop. But more automation and less imaginative control comes with that. It stacks up well however, as one of DIY Design's Canva alternatives.
Adobe ExpressPost is for the development of images or graphics and is the Adobe Express products' closest feature to Canva. It's available on desktop and mobile, and this is probably the only tool that I've used more on mobile than desktop over the past few years out of this range (mainly to access the mobile-only animation feature).
Placeit by Envato
So if you have been working with website design or video making you must be already aware of Envato website. Even Chasing Whereabouts uses one of the Envato Elements plugins for designing.
Placeit is a graphical designing options by Envata which has an extensive library for graphic designing. One of the best thing about it is How easy it is to use this website to create product mock ups. The freebies inventory is actually jampacked to get you a perfect gist of the website.
Price: Starts free; paid plans start at $14.95 per month or $89.69 Annually.
Stencil
Stencil is a marketing-focused graphic design tool, rather than making graphic design available. And Stencil is primarily based on social media photos outside advertisement.
This 'niching down' enables them to provide a hyper-focused tool, but when it comes to models and stock images, you will also lose some versatility.
Stencil's big draw is that it's built to allow you to push out images from social media as quickly as possible. And it's stupidly easy to use too.
There are hundreds of models, 1,200,00+ photos of CC0, 800,000+ icons, 100,000+ quotations, and many other nifty features in Stencil.
They've got a free plan that allows you to make 10 photos a month. But you'll need one of the paid plans starting at $9 a month if you really want to use it to improve your social media resources.
Choose Stencil if:
You plan to produce social media posts featuring motivational quotes to appeal to your audience.
You source inspiration for visual content from all over the internet and want to be able to easily access your design tools from a browser extension.
Desygner
Desygner is another awesome tool which is a nice alternative to Canva. It has many free templates to kick start your Infographic designing. The best thing is that if you buy the premium version of Desygner then in the same cost you end up getting access to Shuttestock Library as well so you end up getting free stock images as well.
The designing intereface is simple with drag and drop feature if you are willing to design the graphics on your own. In case you want their designer to do the job for you then they have that feature available as well for which youc an get further information on this page.
Choose Desygner if:
You are looking for some awesome free prebuilt template.
You also want access to the Shutterstock library and you are already on Canva Premium.
Snappa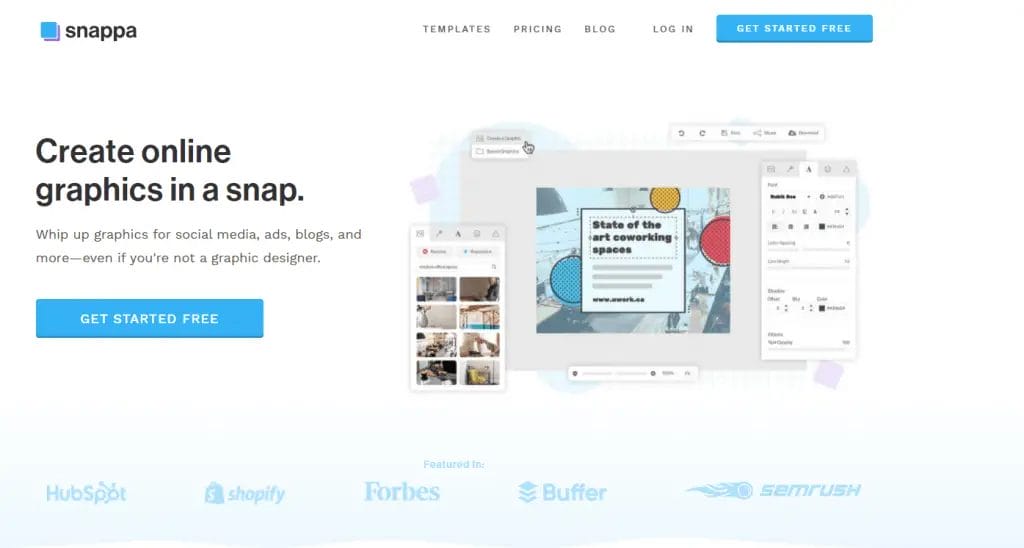 Snappa is another all-purpose design tool, just like Canva and DesignBold (next on this list), that simplifies graphic design enough to make it accessible to an average person. Build pictures easily based on defined dimensions or pre-built models. Then to create the perfect template, edit and add effects as necessary.
To help you make some stunning designs, Snappa offers up to 200+ fonts and 3,000 + vectors and shapes. And what's really cool is that without leaving the Snappa gui, you can schedule your photos to share on social media.
Surely that's convenient!
Snappa also has a feature that allows you to automatically resize images to be transformed between different dimensions, like Canva and DesignBold (again!).
There is a free plan for Snappa that makes 5 downloads per month. You'll need to go for the $10 per month pro plan after that.
Choose Snappa if:
You want to be able to create and share social media images on the fly (without needing to re-upload them to a social sharing tool).
You want to use custom fonts in your images.
Easil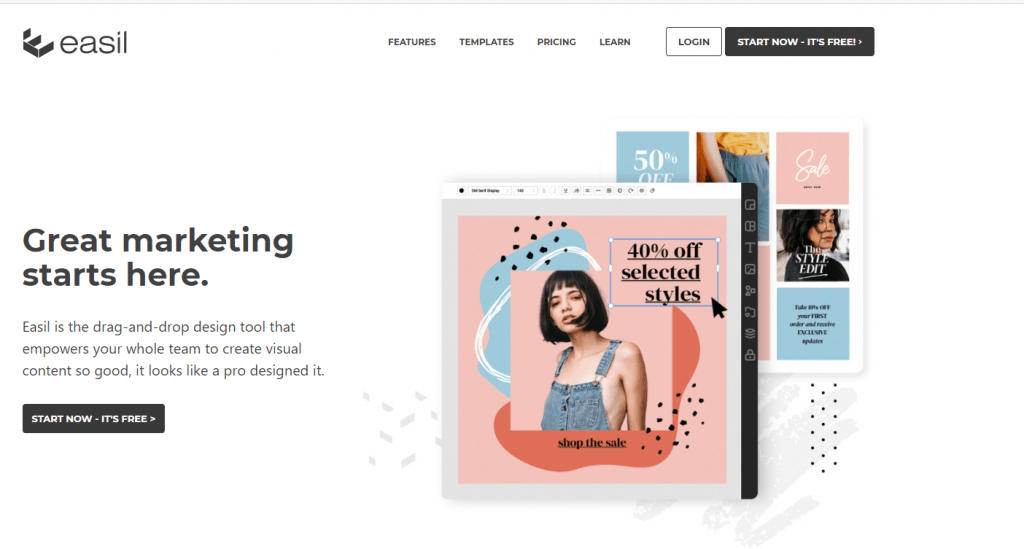 Your DIY Design Secret Weapon – Easil is the Drag-and-Drop Design tool that helps you create Visual Content SO good it looks like a Pro designed it.
Among the Canva alternatives, Easil provides some of the most advanced image editing capabilities that also provide various models for different channels and formats of web content. Easil allows users to upload their brand assets and create their own models to create their own branded images for other team members, and users can if appropriate, print images directly from inside the tool.
Easil also provides its exclusive stock images to users, so you can stop using the same royalty-free images on the internet as anyone else and you can use Easil to create GIFs as well as static images.
Please pick Easil if:
You need to build branded models that are easily used by the rest of your team.
You want your photos and designs to have a more distinctive look and feel.
Price: Starts free; $7.50 per month per Plus subscription member.
Crello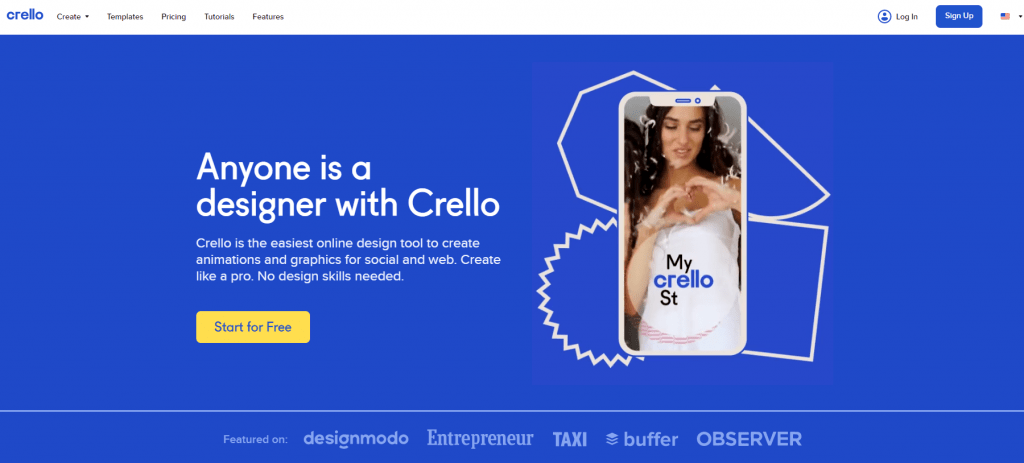 Easy-to-use design tool for creating stunning visuals.
Crello is the newest kid on the block and is the Depositphotos team's DIY design tool. It reminds you of Canva with a similar tool kit at face value, but this list of Canva alternatives certainly makes it possible.
But in the sense that you can go one step further and create animated visuals with the Animation Creator app, it's different to Canva. Sure, in Canva, you can create animated visuals, but they are rather restrictive, as I said above (just text and elements flying in). Crello allows animation to have a lot of artistic independence.
But let's take a look first and why I have included it as one of the Canva alternatives) at the graphic design features.
Crello is probably the best tool in this list for getting a good template library, next to Easil. Crello also has one of the best collections I have seen anywhere of illustration-style graphic elements.
Choose Crello if:
You want to create and share animated images.
You want a mix of stock photography and illustrations to use in your images.
DesignBold
DesignBold is rather a similar tool to Canva. In DesignBold's gui, though you will feel right at home if you are already familiar with Canva, DesignBold does a few things well to distinguish itself.
First off, it has a much wider stock picture range. If you were still disappointed by the stock photos available in Canva, you will be pleased to know that DesignBold made an agreement with the famous DepositPhotos stock photo site to make all stock images of DepositPhotos available within DesignBold (for a fee of course).
In addition, when you build your designs, DesignBold has a whole new set of models that you can choose from.
DesignBold has a stellar free plan, much like Canva. Then you can switch to a paid plan if you want more features to get access to resources such as:
20MB upload limit (free plan is 5MB)
Download transparent PNG
Download PDF for Print (in beta)
Custom color palettes for your own design info
Ability to upload custom fonts
Magic resize tool to reuse the same design across different dimensions
The pro plan starts at $19 per month.
Fotor
Fotor is another tool that offers a surprisingly similar interface to Canva. If you enjoy the Canva interface, you'll feel right at home in Fotor.
Like the others, you select your dimensions and then build your page from a variety of text and shape elements. Or, you can always start from a pre-made template if blank canvases aren't your thing.
The only downside of Fotor is that, at the time I'm writing this post, their library of elements is not nearly as good as Canva or DesignBold.
Choose Fotor if:
You want to edit and retouch your images.
You want to build your web and social images off of a template.
Picmonkey
Photo editor. Design Maker. Idea Realizer.
PicMonkey, like Canva, DesignBold, and Stencil, is more focused on photo editing than full-on graphic design. Although text and vectors may be introduced, most of the tools concentrate on changing items such as exposure, colors, and more.
It's a good photo editing tool, but it may not be the best option if you need anything to really imitate Canva and others.
Choose PicMonkey if:
You want to edit images without needing to learn how to use Photoshop.
Image quality is more important to you than having a wide variety of templates on-hand.
Pablo
Pablo is probably the easiest of these Canva alternatives, but it also has a place here to quickly and easily create visual content. I would compare it to the 'no frills' tool in this list. If you're a Buffer user (it's a Buffer tool!), using Pablo for fast and easy photos, straight from Buffer, is a no brainer.
It's a scheduling tool that lets you share any web page you're reading if you don't know about Buffer. You basically create a Buffer Queue and then add content to it to keep it updated and shared during the day on your social media. Pablo is the sidekick of Buffer to allow you to build photos for your Buffer queue to share.
As a stand-alone app, you can also use Pablo, but it's a little more basic than some of the other tools on this list.
Piktochart
If it were solely based on infographics and charts and graphs, Piktochart is what Canva will look like. It's obviously a niche usage, but Piktochart is a specialized tool for the job if you find yourself having to create infographics or reports.
Even if you have never done it before, Piktochart provides a variety of infographic templates to make it simple for you to create an infographic.
Although Piktochart does have a free plan, if you want access to the best templates and functionality, you really need to go with the pro plan.
Choose Piktochart if:
You want to produce data visualizations for sharing on your website, in your content marketing, or on social media.
You want to create a more visually appealing presentation slides.
When you don't have much time to spare moonlighting as a designer, RelayThat is an ideal choice to create your own branded visuals for landing pages, social media and advertising.
Users simply upload their brand properties, and for various platforms, RelayThat will recommend different template sizes and formats. RelayThat is a fantastic tool if you've tested out Canva and need more template choices to choose from or test design suggestions.
The more photos and colours you add to your library to choose from, the more RelayThat will recommend custom image templates for you. You can upload it to RelayThat if you have started building up an arsenal of branded content, but if not, it offers thousands of royalty-free images to choose from. To help your images rank in organic search, it also includes image SEO capabilities.
Choose RelayThat if:
You're creating images for multiple different websites, ad, and social media platforms.
You're not a designer, and you need an easy to use the tool when it comes to choosing the right colours and text styling to help your images convert.
Pixlr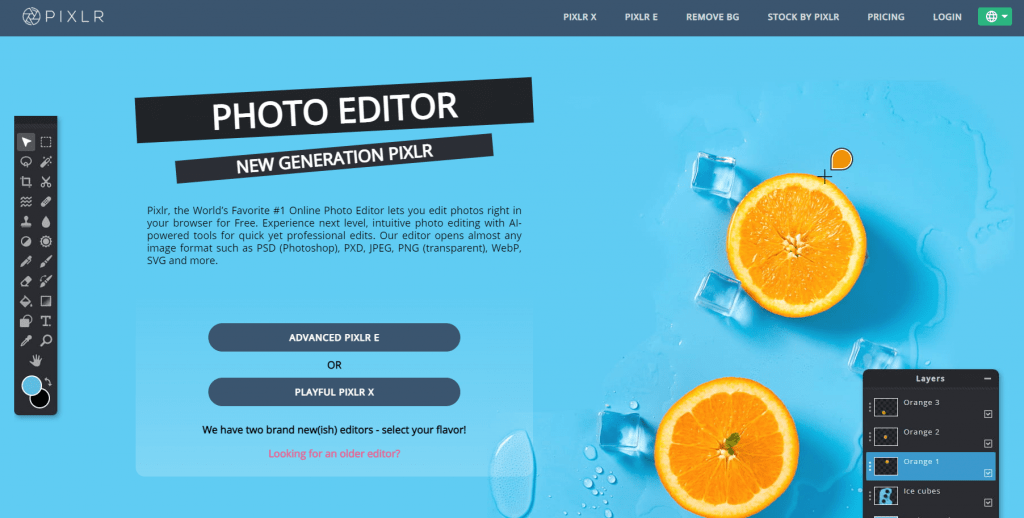 Pixlr shines with its photo editing skills, unlike other Canva alternatives. It has never been easier, quicker, or smarter to edit images with Pixlr, which also makes it a good alternative to Adobe Photoshop.
Ever attempt to delete unwanted objects or individuals from a picture in vain, or blur out an ugly background with exact pixel accuracy? There's the AI Cutout button for those of us who haven't been blessed with great vision and steady surgeon hands, which helps you to delete backgrounds with just one press. You may also apply accents or textures to your images, such as light streaks, dust flecks, and glitter.
Select Pixlr if:
A DIY graphic design tool with photo editing capability is what you want.
Choose Pixlr if:
You want a DIY graphic design tool with photo editing capabilities.
Tyle
When you use Canva to create social media images, it is fine, but it lacks features in the creation of social media videos. Because of limited time and money, too many marketers miss out on the engagement that video brings. And that's where Tyle joins the game.
The smart video and image editor of Tyle helps you to create high-quality content and regular social posts easily. Choosing a template and positioning your media and messaging is everything you need. From there, editing each layer quickly and easily to customize your video to your specifications is easy.
The best part: to create a share-worthy social video, you don't have to film your own video or take your own pictures.
Right inside the native tool, Tyle provides access to three million free stock images and video clips. You should concentrate on your message now and leave the experts with the visuals.
Choose Tyle if:
You're creating video content and social media posts for your businesses and brands.
You want to save time from endless tweaks by letting the smart editor adjusts your design automatically to optimize the video for overall appearance and readability.
You want access to (over three million) free stock photos and video clips right within the native tool.
Venngage
For users to choose from, Venngage has a large variety of different templates. This Canva option is a great choice for those with a wide range of graphic design needs, including social media photos, cards and postcards, and reports and presentations.
Venngage also publishes a lot of educational content on their blog to share with their community best practices and new tutorials, which will help you improve your DIY design skills even further. Similar to Piktochart, the primary use case for Venngage is for data visualization and development of infographic content, but users can find minimal templates with plenty of infographic templates to choose from in other content formats.
Venngage is pricier each month than the other options on this list, but it helps to defray the expense by paying annually.
Choose Venngage if:
You have a lot of different visual design needs and want to create and save your images all in one place.
You plan to create infographics, charts, and other data visualizations.
Price: Starts free for students; paid plans start at $24 per month, billed annually.
Visme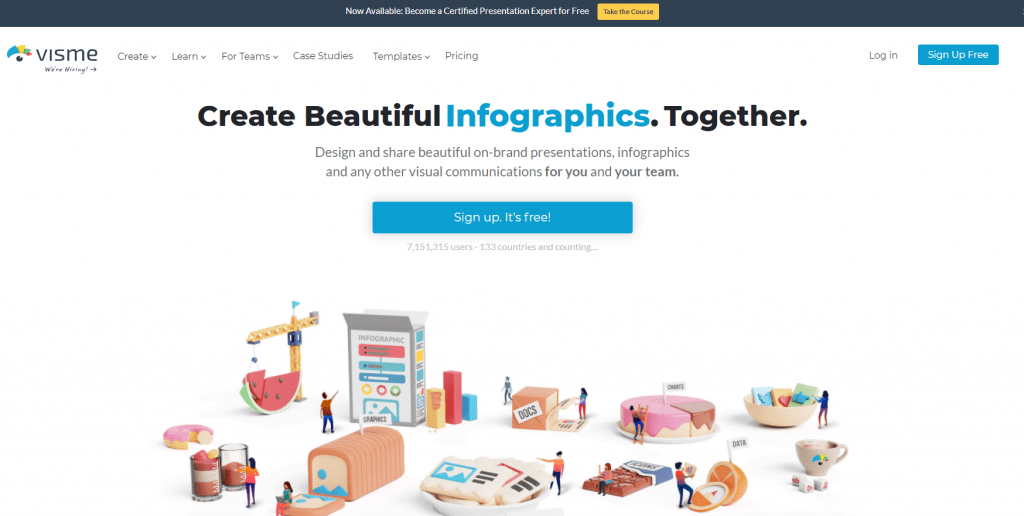 Visme is one of Canva's most flexible solutions, enabling users to create engaging presentations, infographics, documents, images, graphics and everything in between. The tool unifies the process of creating content and offers templates that are easy to use, millions of images and thousands of icons, and more than 50 widgets for charts and data. Plus, you can add and embed something with video or audio. Also, editing and customizing is a breeze.
For a Simple Plan, Visme begins free, but the full plan comes with unlimited projects, more storage, and key features such as the slide library.
Choose Visme if:
You want access to easy-to-use templates, infographics, and an extensive image library.
You want versatility and all-in-one capabilities in your visual content creator.
Price: Starts free; paid plans start at $15 per month, billed annually.
This was my intensive list of canva alternatives tool which I found while researching over the internet. How many of the tools have you tried before? What's your go-to visual content tool for DIY Graphic Design? Or maybe you use a number of tools like Canva for creating visuals. Are you now inspired to try a new tool from this list of Canva alternatives? Leave me a comment below!
If you want to up your travel backlinks game then consider reading our post travel backlinks for SEO. We have also written one in-depth guide for travel hashtags for Instagram.
FAQ ( Similar to Canva)
What are some popular Canva alternatives?
Adobe Express
Visme
Snappa
Easil
VistaCreate (Crello)
What are the benefits of using Canva alternatives?
More advanced features and customization options
Specialized tools for specific design needs
Integration with other software
Greater flexibility and control over your designs
How do I choose the right Canva alternative for me?
Consider your design needs and preferences
Evaluate your level of design experience
Check for integration with other software you use
Compare pricing and plans
Where can I find more information about Canva alternatives?
Online resources, reviews, and comparisons
Free trials or demo versions of various tools
Official websites of Canva alternative providers