Athens being the largest and capital city of Greece is one of the popular destinations among tourists. Generally, tourists club Athens with few islands like Corfu, Crete, Mykonos, Santorini, and Rhones. I am so thrilled to share my experience and tips to access Athens Public Transport Guide. Travelling to Greece and getting around in Athens can be cheap with Chasing Whereabouts in 3 ways – By Metro, By Bus and Bus Trolley and By Tram.
Among which 3000 islands have habitat. The city of Athens is among the top choices for travellers for clubbing with few other islands in Greece. Did you know that 80% of Greece consists of hills and mountains? Also, there are 6000 islands in Greece scattered in the Aegean Sea and the Ionian Sea. You can check from the best affordable airlines in Europe for the cheapest flight tickets and connectivity.
In recent years, Athens has seen major improvements in transportation. I have read that installation of metal bars at metro stations were introduced as a safety feature to reduce people from travelling without a ticket. Actually, I personally feel using public transport in a new city can be as adventurous as exploring new monuments in that city. One can be amazed by the amazing metro maps, changing trains, using a mix of bus and train to reach your destination.
Athens Public Transport Tip no: 1
Your first destination to explore Athens metro schedules, station information, public transport strikes and related information is the official website of Athens Public Transport in Greece.
Athens Public Transport Tip no: 2
Your second destination to explore the variety of options for Athens Metro Tickets, Athens Metro Pass, Athens Bus Pass, and cheap offers of tickets can be availed on the official website of ATH.ENA CARD.
Athens Public Transport Tip no: 3
Lastly, plan your itinerary in a way that you only have to buy minimum tickets. Travel by making a combination of travelling of Athens public transport and on foot.
Because many of the main attractions and monuments of Athens are located in the city centre of Athens. The vibrant city of Athens has some amazing sights if you travel on foot. Thus, if you do not want to board a train or take a bus in Athens, the city will not disappoint you at all.
The above three tips will help you save a lot on your Europe Budget Travel to Athens, Greece.
1. By Metro
The Metro operates from 5:30 am to midnight every day. Few stations are also operational on Friday and Saturday night till 2:30 am. There are three major metro lines in Athens 1, 2 and 3 that run across places covering connectivity to Airport as well. All stations are wheelchair accessible making getting around in Athens convenient for physically challenged.
It is very important to validate the tickets inside metro stations after you buy it or you will risk a fine. A single ticket costs 1.40€; a day pass costs 4€. Metro and bus tickets are interchangeable, except for bus E22, that heads to the coast and costs 1.60€ more. Athens Public Transportations also penalises people who support tailgating. Make sure, you buy tickets for everyone in your group.
Even if you do not use the Metro to get around Athens, you may want to take it from Omonia, Monastiraki, or Thissio to Piraeus to catch a boat to the islands. (Don't miss the spectacular view of the Acropolis as the subway goes above ground by the Agora.) The harbour in Piraeus is a 5-minute walk from the Metro station. Take the footbridge from the Metro and you're there.
Syntagma Square, Monastiraki, and Acropolis metro stations have displayed excavations in the subway which are beautiful and unique. You will feel like visiting a museum when you enter these metro stations in Athens.
Metro Line 1
Line 1 (Green Line) started operation in 1869 is the second oldest underground system in the world after the London Underground. Carrying almost 600,000 passengers daily, line 1 serves to connect the port of Piraeus and northern suburb of Kifissia in less than an hour. It's worth noting that this line is a bit different than the other two, as it is much older, slower and not as "clean". This line is still a great contribution to the Athens public transportation system to date.
Metro Lines 2 & 3
Line 2 (Red Line) runs from Anthoupoli to the southern suburb of Elliniko near the Sardonic Gulf. Line 3 (the blue line) runs from the western suburb of Agia Marina, past the center of Athens and suburb of Halandri, and then ascends up to ground level towards the airport. The trip from the Airport to Syntagma (center of Athens) lasts 38 minutes. Lines 2 and 3 opened in 2000 with increased security measures and cleanliness as compared to Line 1.
Since my hotel was at the city centre of Athens, getting around in Athens was very much easy with Line 1 and Line 2. Every day at night, I used to have dinner at Syntagma Square in an Indian Restaurant which I will discuss later in another blog and then take Line 2, to reach Metaxourghio. Very convenient for me to reach the hotel if I wanted to reach before midnight.
Athens Metro Map Printable: Download Here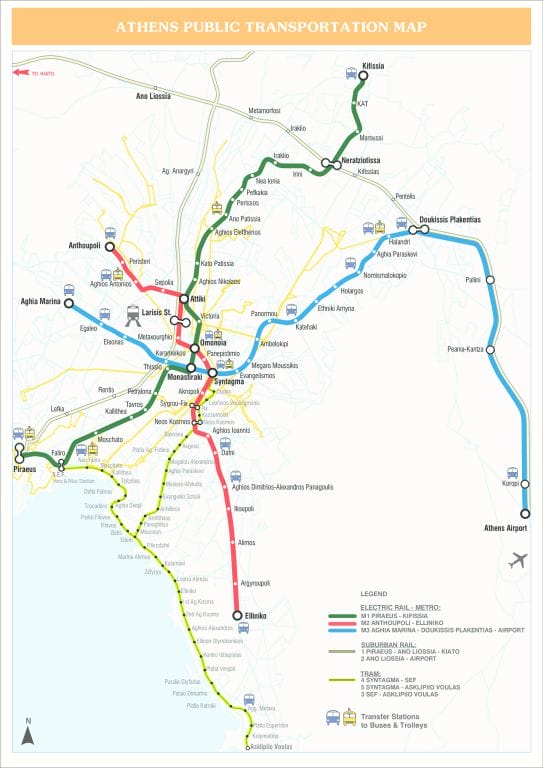 2. By Bus and Bus Trolley
Bus and Bus Trolley are another significant means of transport in the Athens Public Transport System. Bus Trolleys are buses that run on the roads via electricity cables. Although you can get by bus or trolley to almost anywhere you want in central Athens and the suburbs, it can be frustrating to find out which bus to take.
This is particularly true now when as new Metro stations open, many bus routes changes. The timings shown in google maps don't always match the Bus timings in Athens. You will have to wait a long time before the bus appears—usually stuffed with passengers—even though you know which bus to take. Getting around in Athens is easier if you are able to locate the bus at the right time. Athens Public Transportation Bus TimeTable for bus timings and routes.
Again, please do not forget to tap on the blue machine after boarding the bus. The blue machine below in the picture is placed at the two gates of the bus. You just have to tap your paper ticket.
3. By Tram
The Trams in Athens are environment friendly making Athens Public Transport towards sustainable development. The trams connect Syntagma Square with the beach areas along the coast, including Glyfada neighbourhood in the east and Piraeus in the west. There are 3 lines operating exclusively along the scenic sea-front promenade.
Though it may not be the fastest means of transport as there are multiple stations in this line. It takes a scenic route once it hits the coast and is handy for those wishing to visit the city's beaches and the coastline's attractions and nightlife.
Line 1 "Syntagma – SEF" – linking downtown Athens to the Peace and Friendship Stadium,
Line 2 "Syntagma – Voula" – runs between the city center and southern suburb of Voula and
Line 3 "Voula – SEF" – running along the coastal zone.
Trams are an affordable option for unlimited one-way travel with up to 5 stopovers in 90 minutes. Because, in the 90 minutes schedule, you can do your grocery shopping and pick up some fresh vegetables from the local markets near the beachside.
Did you know there are Travel Agencies in Europe, where you can book your entire trip at affordable prices? We have covered different options which are available for your budget travel in Europe. If you are a student studying in Germany or an ex-pat visiting Germany on a work visa. This blog is for you for booking readymade trips.
Now the main reason to write this post was that we were not aware of different travel agencies which are present in Germany which offers trips across Europe which fits in your budget.
Transportation From Airport
Athens International Airport is located 33 km southeast of Athens. It is easily accessible via the Athens ring road (Attiki Odos). The drive from downtown Athens takes 55-60 minutes, depending on traffic. For me, it took around 90 minutes to reach the city centre via bus because of heavy traffic in the evening.
By Metro
Metro Line 3 connects the airport to the city centre (Syntagma Square). The journey time is approximately 40 minutes. Trains run every 30 minutes, 7 days a week from 6:30 am to 11:30 pm. One way tickets cost €10 (€5 for children, teenagers, over 65).
Please note you cannot use a regular ticket on Metro line, which starts from Plakentias to Athens Airport. The charge for metro is different from the regular 90 min ticket. This is the suburban railway line connecting blue line 1 to Airport.

By Bus
24-hour express buses connect Athens International Airport with the port of Piraeus and the Intercity Bus Terminal (KTEL Kifissos). These non-stop services operate daily, including public holidays. All buses drop off passengers at the Departures Level and depart from the Arrivals Level. Bus tickets are sold at the ticket booth outside the Arrivals hall (between Exits 4 and 5), or onboard at no extra cost. One way tickets cost €6 (€3 for children, teenagers, over 65). There was a bus running from the city centre to Athens Airport every 15-20 minutes.
Airport EXPRESS Bus Lines Ticket
Airport EXPRESS Bus Lines Ticket is valid only for a one-way journey from or to the Airport. Airport EXPRESS Bus Line direction to Airport is allowed only at the Airport and vice-versa, boarding the Airport EXPRESS Bus Line direction downtown is allowed only at the Airport.
There are four express bus routes from the airport:
Χ93: Airport – Kifissos Station (Estimated journey time: 65 minutes)
X95: Airport – Syntagma Square (Estimated journey time: 60 minutes)
Χ96: Airport – Piraeus port (Estimated journey time: 90 minutes)
Χ97: Airport – Elliniko (Estimated journey time: 45 minutes)
By Suburban Railway
The suburban railway (Proastiakos) connects Athens Airport with Larissis Station, the central Athens railway station in approx. 45 minutes. Trains depart from Athens airport every 15-25 minutes to Doukissis Plakentias station, where you can transfer to the Athens Metro network, using the same ticket.
Athena Card
Along with paper ticket from the vending machines, you can buy an anonymous rechargeable card. This card is very convenient because its a plastic card with easy top-up options. For a more detailed overview of the tickets and passes of Athens Public Transportation, this will be the ultimate guide.
The 3-day Tourist Ticket's validity term is 3 x 24 hours since its first validation at any blue ticket reader on subway station gate or bus, trolley-bus and tramway. This ticket is valid for all Athens Public Transportation to board buses, trolley-buses, Athens Tram and Athens Metro Lines 1, 2 and 3 (up to Koropi Station) networks and for the Suburban Railway (TRAINOSE) route part Maghoula – Piraeus – Koropi. This ticket type also includes a 2-way Airport Travel fare valid for all Airport Transport lines, i.e. Athens Metro and Airport EXPRESS and EXPRESS X80 bus lines.
If you are staying in Athens for a longer duration from 30 days to 365 days, then you have number of options as shown below.
I hope I covered every information around the Athens Public Transport, In case if you feel there is something missing do let us know in comments.
I am very much sure that you would also like to save on your flight tickets. Check our latest blog and book the cheapest flight tickets on the most affordable airlines in Europe. This is a list of top 18 Budget Airlines of Europe, where we have covered all the airline companies which are present in Europe which offers the cheapest flights for your commute within Europe. In case you feel like booking the tickets for them you can head out to the travel resources page where you can book these cheap tickets.
Are you looking for the best Solo Female Travel Destinations in Europe? Are you tired of finding a partner to complete your Euro trip? Maybe you like being in control of where to travel and what to do during your trip so you want to travel alone. This is the ultimate guide that every girl should read before travelling solo in Europe.
Please Pin our image to save this post 🙂