The last minute packing checklist is a lifesaver in most of the cases. There is always this thing when we think we got it and we have everything planned out but because of the adrenaline or the pressure of leaving on time to catch your commute be flight, train or bus five times out of ten you often forget something which you were supposed to carry.
The thing which you forget could be some essentials which you really needed during the trip or maybe the electronics which you just plugged in for charging but you missed to take that out and pack.
If you haven't checked our post related to The Ultimate Travel Packing List you will ever need, Make sure to download the free copy for travel packing list from here which you can print it out later.
I will try to divide the Last minute packing checklist in categories which will help you close or mark what you have already packed and you don't have to worry about that.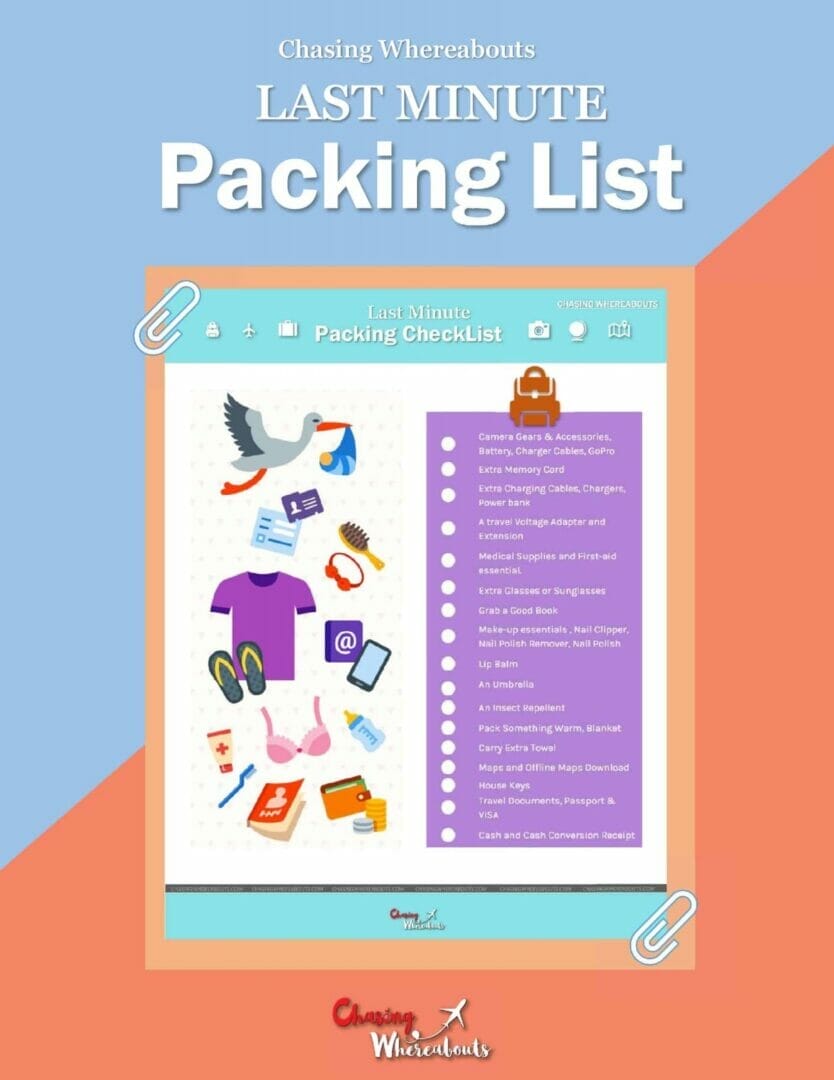 Last minute Packing CheckList
Camera Gears and Accessories –
Make sure that you have packed the battery for your camera along with the camera charger. In case you have extra batteries which you would like to carry just cross-check whether you have packed that or not.
If you are carrying GoPro Just cross-check that you have packed extra batteries, GoPro related gears, Tripod along with it.

Fun Fact – During our trip to Zurich and Rhine Falls I carried my Camera without any battery, I kept it for charging and went for office and in the evening I was in a hurry that I forgot and rushed and just packed my Camera back. I realized it when I was near Rhine Falls in the morning 05:00 Am in Switzerland and I tried taking the picture and guess what? I felt like shit.
I had to bear with that and manage with the resources I had, My Phone and GoPro for this complete trip. That when I though that writing about the last minute travel packing list is a must on the blog and here we are.
Extra Memory Card
The importance of memory card is unexplainable for any travel blogger or photographer there is a story about this as well which I will share in the Fun Fact. But before that just check that you have packed your extra memory card.
Fun Fact – During our trip in Asia when I bought the action camera for this first time, I was using a class 6 memory card on my action camera and the action camera was struggling to record anything, I wish I could have checked that before because I ended up paying five times to grab a new San Disk Memory Card from the shop.
Extras Cables and Chargers
Make sure you have packed all the cables which you need charging cables and data transfer cables, Cross check that you have packed all the chargers and Power Bank.
A Travel Voltage Adapter
If you are travelling to a different region then it is recommended that you carry a voltage adapter with you. I also try to carry extension along with me just in case if I need it when the power sockets are less in the hotels, Because I have all the electronics gadget to charge. It comes in handy in all my trips.
Here is the one I use mentioned below –
Medications
If you are on medication don't forget to pack your essentials which you need while travelling, Make sure you are carrying the prescription for your medications because most of the borders have the control check related to the drugs which you can carry along with you during your travel.
Do make sure you have a couple of Band-Aid in your wallets or in your Rucksack, Make sure it is in your reach it comes in handy when you get a cut sometime during travelling. It can also help you in case you are having a shoe-bite. Well I use in this way often when I end up travelling with a new shoes which I just bought.
Glasses or Sunglasses
It comes as an important point for me because I wear glasses, It is always good to carry spare glasses if you have power.
And yes, of course, the Sunglasses, I can't imagine myself getting a perfect shot when the sun is up high ready to bite us.
Make sure you grab a good book to read
I can't imagine myself just listening to music when I have a layover for more than three hours or so, I get bored exploring the duty-free area and yes it is fascinating only for one hour but then what?

It is then when books come to our rescue, I think I have read most of the books while travelling, Be it travelling to the office during the commute or some trips.
Alternative, You can also try downloading some movies on your tablet or maybe downloading some new books on your Kindle Reader, The choice is yours. Just make sure you have a plan for your waiting time.
Take Nail Clipper, Nail Polish Remover and Nail Polish or Go to Make up essentials
This one is for the ladies. Make sure you have packed your go-to make up essentials which you need it right before starting your day trip. Well you have to look fresh, Don't you.
Lip Balm
Certainly a thing which I often realise I should carry during the trip but I don't, I realise it only during the trip when my lips gets dry from. So this one is a point for me to pack the Lip Balm and keep it in my rucksack.
An Umbrella
The last thing which you want is Rain messing up with you trip, It happened with us during your trip to Belgium and also in Italy, So It is wise that you are check that you have kept your Umbrella along with you.
An Insect Repellent
You never know which kind of hotels you are checking in, Mosquitoes are everywhere so it is wise that you are carrying Insect Repellent with you.
Pack something Warm
Even if you´re traveling to a warm place. Make sure you have a light cover up for your commute it gets little cold in the morning.
Maps and Direction
If you are travelling to a place where you have Internet Connectivity or you are planning to buy the Local Sim card there then that is fine, But in case you are not going to have internet, Make sure you are carrying the Maps with you and Also you have downloaded the offline maps of Google or Here Platform.
Don't forget to carry your Beach Towel
I always like to carry my personal Towel, Just in case I don't like the towel which I get in Hotels. In case you are backpacking then this becomes one of the essentials things to carry. So just cross check that you have packed one set of towels.
Keys
Cross Check that you are carrying your house keys along with you , you certainly have to come back home and I am sure you don't want to be locked outside.
I usually keep these two things at the very end as they are literally my last minute packing checklist item because I couldn't afford to miss them.
Travel Documents and Passport
I start my packing list by checking these documents and end with rechecking this before leaving my house, Make sure you are carrying your passport, Your Visa Document with you and all the travel essential Documents, Be it your Itinerary your round trip plain tickets.
Your booking tickets for the attractions.
Cash
The last and the most important one in my last minute packing checklist is Money, Make sure you have packed the currencies well and if you got that converted don't forget to carry the receipt with you.
---
If there is something which you think should be included in the last minute packing checklist then make sure you drop us a comment and we will include it here along with the credit, these will help us make a perfect and go to last minute travel packing checklist
---
If you find our Last Minute Packing list Helpful then don't forget to pin our Post.