If you are residing in Croatia or planning to visit Croatia this is your sign to take a day trip from Dubrovnik, the ancient walled medieval city to the magnificent Kravice waterfalls in Mostar. Dubrovnik to Mostar day trip would take you almost one full day and an overnight stay if you're planning to not miss out on the beautiful nightscape.
When I was planning my trip to Dubrovnik, It was clear to me then I would visit one day to Bosnia and Herzegovina and one day to Montenegro. Each place has its charm and uniqueness which cannot be covered in just a few hours but if you're short on time and want to visit the highlights of the place this post has got you covered.
Dubrovnik is the most beautiful medieval towns in earth. What makes it attractive and insta worthy is its location, the Mediterranean climate and the beautiful lime stone streets. Dubrovnik has the amazing Mediterranean climate which makes travelling a more delightful experience.
Apart from the astounding sceneries ,this place also has its dark history which often remains a subject of interest to the tourists. It had once suffered enormous damage after it was bombed in 1991 in the Croatian wars. It recently had the surge in being the travel destination after the famous Game of Thrones series was shot here and you could also know this place by it's popular name The Kings Landing.
Heading  towards Mostar , you get to see the old Turkish houses ,bridges and mosques which makes it one of Bosnia and Herzegovina's most beautiful city and a top attraction in the Balkans.
If you running short of time then we would suggest you to book the full day Mostar trip from Dubrovnik to save you time and the effort of planning for the commute.
Well, that is what I did when I was in Dubrovnik.
How to reach to Mostar from Dubrovnik
Listed are 3 different ways you can plan a trip from Dubrovnik to Mostar.
Dubrovnik to Mostar Day Trip by Bus
The distance between Dubrovnik to Mostar is roughly 140 kilometers which makes it a journey of 3 hours if we choose to take the bus. The bus ride is comparatively cheaper and blesses your eyes with the scenic beauty of the Adriatic ocean upon getting a window seat. The route follows the Adriatic coast to Opuzen from where it continues via Metkovic to Mostar.
The tickets range from 15 Euros to 20 Euros which is quite affordable. Usually, the food and other options like WIFI are also available upon choosing a package for the same. The time one spends on the bus may vary by an hour or two as there are 3 border crossings on the way which take up the time. It is advisable to take a night's stay at Mostar as one day is not enough and the nightscape is something to witness here.
You can use the tool below to check the available bus and the journey cost for Dubrovnik to Mostar Day Trip by bus
Dubrovnik to Mostar By car
It takes approximately 2 hours and 15 mins to reach Dubrovnik by car. While crossing the borders of Bosnia a cross border card was needed earlier. At the present time, it is no longer required. The Balkan sceneries, coastal views, and valleys are truly a delight to the eyes.
You can also plan to rent the car for your trip and use the below tool to check the available options and the prices.
Dubrovnik to Mostar Day Trip by Tour Operators
Now the reason for adding this is because this is something which I tried in Dubrovnik and I could share information around this.
You can choose the point of pick up if you are staying in some famous Hotels in Dubrovnik and if not that the most famous pick up point is Pile Gate in Old Town.
It takes around 3 hours to reach there and the first stop is normally the Kravice Waterfalls. The entry ticket cost you 10 EUR and I would see bring your swim wears with you because you will love this place. I was not able to get something to eat here but had a cold drink here which cost me around 2 EUR.
The tour guide from my bus was really great as she kept on telling about the history of Bosnia and Herzegovina along with Dubrovnik history which made this journey really exciting which we have shared briefly in the post below.
Mostar is fairly awesome place to be and this is the place where you will get to do your lunch. Don't miss to try the special Turkish Coffee along with Cake which is the speciality of this place.
You can check the availability of the trip using the tool below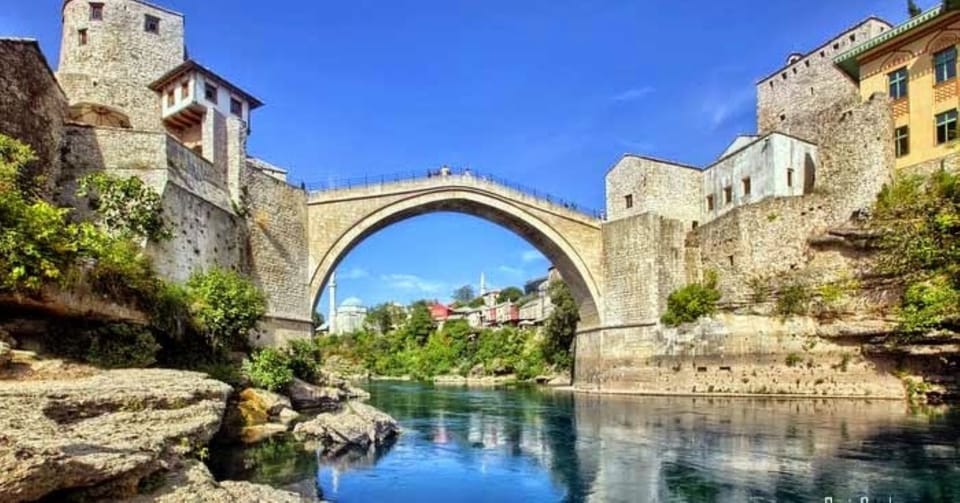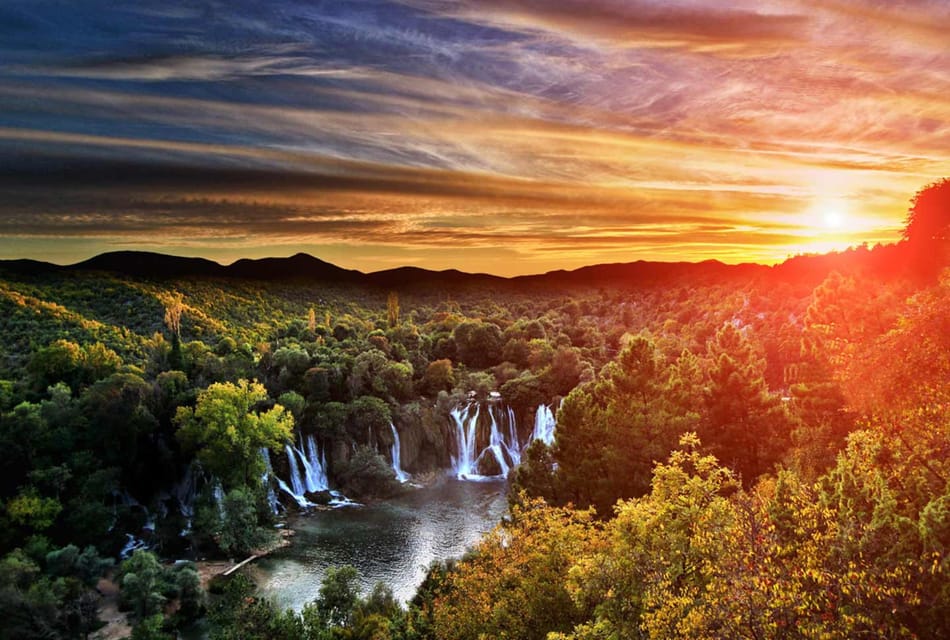 Where to stay in Mostar
While on a Dubrovnik to Mostar day trip you can choose to stay overnight at Mostar to have a soul-satisfying experience. The bus stand in Mostar is just across the edge of the city which gives easy access to the hotel and accommodations.
Some of the accommodations include:
If you are not happy with the options shared above you can look for more Hotels to stay in Mostar using the option below, checkout Hostels in Mostar Bosnia
Dubrovnik to Mostar day trip
History of Mostar
Between early 1992 and late 1995, Bosnia and Herzegovina was engulfed in an international military conflict known as the Bosnian war. Serbs and Croats (who lived in Bosnia) aspired to take Bosnian territory for their own countries, which eventually led to war.
Serbia's objective was to "ethnically purify" Bosnian territory by removing all Bosnian Muslims (known as Bosniaks) to accomplish this. Serbia, along with Bosnian Serbs, was able to assault Bosniaks using former Yugoslav military weapons due to its sheer size and power.
In total, an estimated 100,000 people died, 80% of whom were Bosnians. In July 1995, Serbian troops in Bosnia killed up to 8,000 Bosnian men and boys, making it the largest massacre in Europe since the Holocaust. Let's sink it for a while. 1995. The biggest slaughter since the Holocaust. 1995. Enough, other parties had to intervene to end this ridiculous turmoil. Finally, the war ended in 1995 after the Dayton Agreement, a treaty granting independence to Bosnia and Herzegovina, was signed.
Dubrovnik to Mostar day trip
Things to do in Mostar
Positelj and Kravice falls are must-visit spots once you reach there at Mostar. There is no direct route from Mostar to reach Kravice falls but the hotel accommodation would help you out in such a case. Tours from Mostar to Kravice don't run in the winter months so it is necessary to plan to visit Kravice in the summer.
Kravice Waterfalls
Driving to Kravice waterfalls from Mostar is relatively easier and affordable than booking a private tour which costs around 35 to 40 euros specially for solo travellers who are on a budget. But still if you want to look for day trip option to waterfall from Mostar then you can book the trip from Getyourguide.
To visit the Kravice waterfalls situated on the Trebizat river, an entry fee or 10 EUR and parking fee of 3 euros may be charged and it may vary according to season. The water is pretty chilly and serene even during summers but it is advisable to visit during the month of July and august which is the best time to go swimming along the coast of falls.
Kravice waterfall is named Kravice, by the locals after a little cow drowned in there which is quite an amusing story. Upon trailing down the river for almost 20 to 30 mins there is another waterfall called Mala kravice .
The water level is very high during winters which is the main reason why the restaurants and bars along the coast remain closed. During summers there are plenty of restaurants with food available at low costs. Kravice falls also has a super fun boat riding activity which costs around 5 euros per person. Overall it's a nice eco friendly place for spending a quality time with friends and family
Pocitelj, Bosnia
Located on the bank of the Neretva river, the medieval village of Počitelj is a small ad perched on top of the mountains located near Sarajevo. A quick tour to Počitelj village can be a part of your itinerary on a Dubrovnik to Mostar day trip. It was developed in the fifteenth century influenced by the ottoman and medieval culture.
After suffering heavy damage during the Bosnian war, this village is now regarded as the most endangered historical place. The architecture is a unique mix of 18th century Turkish and medieval Hungarian eras. It has the most beautiful panoramic views with obvious Muslim and Christian influences.
Old town of Mostar
The old town in Mostar is itself a picture-perfect example of ottoman and Mediterranean culture. Besides the cobbled streets and stone-smothered town, there are a lot of restaurants, souvenir shops, tiny Turkish restaurants, and cafes. We can also find shops with tons of metalwork, clothes, and jewellery for sale in the Old Bazaar Kujundziluk. The old town of Mostar has been restored a lot after the damages in the Bosnian war.
Stari Most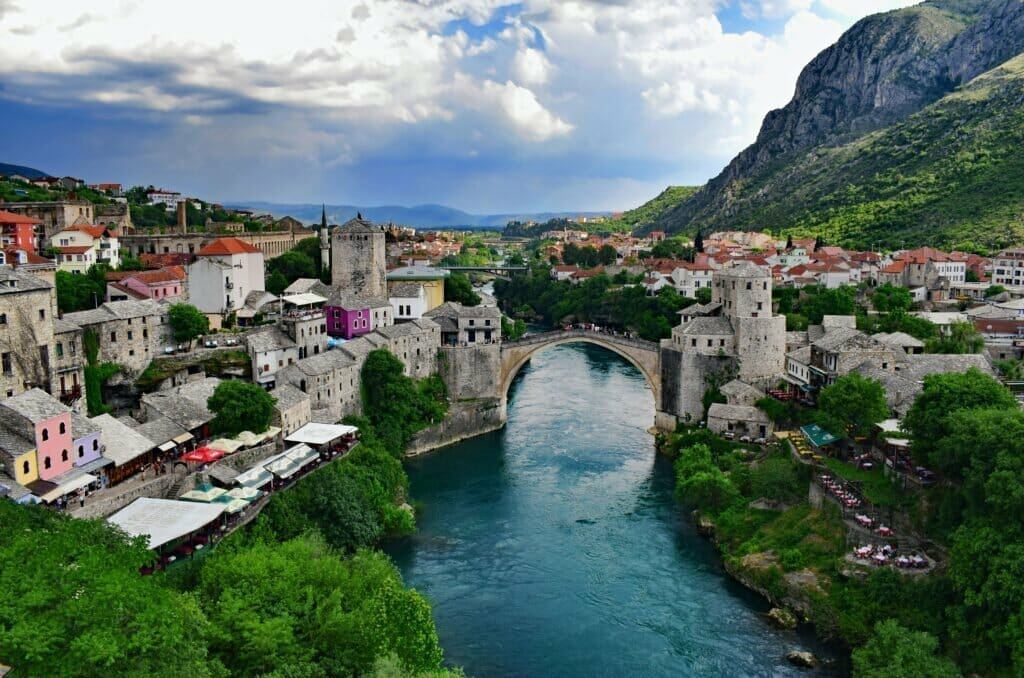 Situated on the emerald green Neretva River, stari most is the old bridge of Mostar located in the old town itself. It is a humpbacked stone arch bridge. Before the war took place this bridge was just a wooden suspension which was feared by the locals as it swayed too much. Today the bridge holds a jumping competition at the end of July where people jump off the bridge into the freezing water which is quite entertaining to watch.
If you are looking for a day trip from Dubrovnik to Mostar to book without taking the effort of planning the entire trip and commute in between the city then we would recommend you to check out Full Day Dubrovnik to Mostar Trip.
Blagaj
Blagaj is a small village town not too far from Mostar which is worth visiting if you plan to stay overnight at Mostar. Along the side of river Buna, there are a few restaurants and tourist shops as well. The major hotspot in blagaj village is the Dervish monastery (600 year old )which is also known as the heart of blagaj for its medieval ottoman architecture which is a treat to the eyes. The river Buna just below is so serene and pure that one can actually drink water directly from there.
Recommended Read: Best Hostels in Dubrovnik Croatia.
Kioski Mehmed Pasha mosque
The spectacular vistas of Mostar are well worth the effort of climbing the mosque's minaret. It's without a doubt one of the best spots in the city for views of the Old Bridge and the surrounding area, and it's only a few steps up!. The entry fee is nominal and wearing shoes inside is allowed.
Cuisines to try in Mostar
Near the old town bridge, there are a few Babilon restaurants that serve delicious Cevapcici. Cevapcici is the national dish of Bosnia and Herzegovina. This is a type of kebab made of minced beef, and pork and served with flatbread, sour cream, feta cheese, and red pepper. Bakeries around the town are known as Pekaras which serve delicious Bosnian pastries for as cheap as 1 mark each.
In Bosnia and Herzegovina, coffee is a big component of the social scene. To make the correct quantity of froth, very finely ground arabica or Robusta coffee beans are cooked with sugar in a special pot called a Cezve or ibrik. Café de Alma is a nice place to rest and relax with a fresh cup of coffee, plus it's only 20 meters from the Old Bridge!
Taking a Dubrovnik to Mostar day trip is indeed a very pleasant and tiresome experience. However, if you plan to visit Croatia, do visit Mostar. Mostar is a city with a tragic past and it's often mesmerizing to witness how far Bosnia has recovered after the war. Most tour guides here are aware and educate you about this former warzone that has developed to be such a heavenly place today.
Some more post around Croatia and Europe to get your started

The Complete Guide to Rogoznica Croatia and What to do when you Visit
Top 8 National Parks you can visit in Croatia
Island Hopping in Croatia – The Free Guide
The Ultimate Guide to Primosten Croatia
Best Places to Visit in Europe in April
Best Places to Visit in Europe in December
Get your Notion Travel Planner Template!
Embark on your next adventure with the Wanderlust Planner – Notion Travel Planner Template – Notion Travel Planner Template for 2023 (chasingwhereabouts.com), the ultimate Notion Travel Planner Template. Organize your wanderlust-fueled dreams and turn them into unforgettable journeys. Whether you're a seasoned globetrotter or a newbie explorer, this template has you covered.