When I was planning my trip to Budapest I was not really sure whether I should take the Budapest Card or not, But thank god I did the research around it. In this Budapest Card Review post, I will make it easy for you to decide whether you have to take the Budapest Pass or just skip that.
What is Budapest Pass?
The Budapest Pass is your golden ticket to uncovering the rich history and beauty of one of Europe's most captivating cities. This pass bundles together a range of experiences that will make your visit to Budapest truly unforgettable.
What all things are Included in Budapest Pass?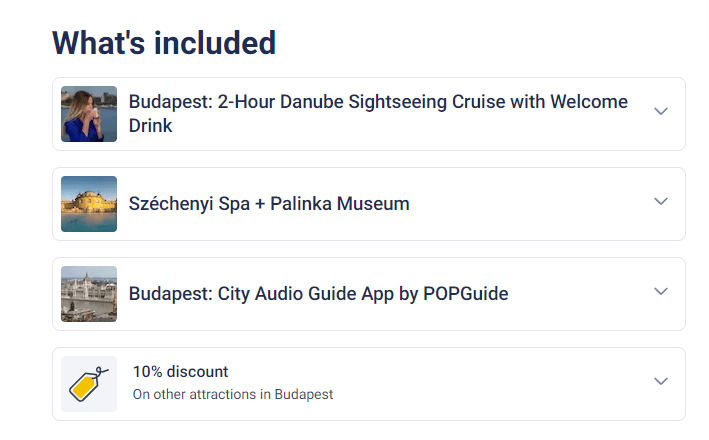 Budapest 2-hour Danube Sightseeing Tour
Experience the magic of Budapest from a unique perspective on our 2-hour Danube Sightseeing Tour. This captivating journey takes you along the majestic Danube River, offering breathtaking views of the city's iconic landmarks and architectural wonders.
As you glide through the gentle currents of the Danube, you'll be treated to a panoramic feast for the eyes. Marvel at the UNESCO-listed Buda Castle, perched high on Castle Hill, and soak in the grandeur of the Hungarian Parliament Building, a neo-Gothic masterpiece that stands as a symbol of Hungary's rich history.
Danube Cruise with Welcome Drink
The Budapest Pass adds a touch of elegance to your itinerary with a Danube Cruise. This cruise offers an exquisite perspective of Budapest as you glide along the Danube River, passing by remarkable historical buildings and picturesque old bridges.
As a special treat, you'll be welcomed aboard with a complimentary drink, adding to the delight of your journey. This cruise is not just transportation but a relaxing experience that allows you to soak in the beauty of Budapest from a unique vantage point.
City Tour of Budapest: Audio Guide App
To enhance your sightseeing adventure, the Budapest Pass includes access to a user-friendly audio guide app. This app is your virtual best friend in Budapest, providing maps, walking routes, pinned locations of significance, and engaging audio commentary.
Think of it as a personalized podcast that accompanies you as you explore the city. With this app, you'll have the freedom to discover Budapest at your own pace while learning about its history and culture.
10% Discount Code for Additional Adventures
The Budapest Pass offers even more value with a 10% discount code that can be used for other Budapest activities and attractions listed on Tiqets.
This means you can further tailor your Budapest experience. Whether you're interested in delving into history at the House of Terror Museum, enjoying arcade games at the Pinball Museum, experiencing the grandeur of the Danube Palace, or indulging in the relaxing waters of Gellert Spa and Szechenyi Spa, the Budapest Pass gives you the flexibility to choose your own adventures.
Budapest Pass Price
Let us just talk about the Budapest Pass Price it costs you around 56 Euro at the start. But I will dig deeper and talk about whether the 56 Euro cost is worth your money or not.
Check the availability of the Budapest Pass below
As I already told the Budapest Pass cost you around 56 Euro. I am going to break down here about the attraction which is going to be covered.
Attraction
Price in €
Standalone Ticket
Danube Cruise with Welcome Drink
17.00
Check Here
City Tour of Budapest: Audio Guide App
7.50
Check Here
Access to Széchenyi Spa + Guided Tour in Palinka Museum
36.26
Chere Here
10% Discount – Example Visiting Dohány Street Great Synagogue
23.40
After Discount 21
Chere Here
Total
60.76
Total + Synagogue
81
So just doing the Top 3 Things in Budapest i.e. Danube Cruise, Access to Thermal Bath and Palinka Museum would in total cost you around 60.76 Euro. If you include your trip to Dohany Streed Synagogue then you can add 23.40 Euro more which would be in total 84.16 Euro without any passes.
With the Budapest Pass it is going to cost you around 56+21 which is 77 Euros roughly around 7.16 Euros for the same deal not bad if you are exploring with Family, isn't it? Because for a family size of 4, you are going to save around 28.64 Euros. Enough to get something to drink.
If you don't even take the Dohany Synagogue and just plan to take the Pass and use the 10% discount later in future then you are saving 4.76 Euros which is a better deal compared to getting the standalone ticket.
But in case you are not interested in exploring all the things included in the pass then I would say go for standalone tickets but I am pretty sure that the things included in the pass would come into your things to do in Budapest.
Does Budapest Pass save time?
Short answer Yes, Budapest Pass saves time because you don't have to queue in line for the get the thermal bath ticket. The Széchenyi Spa is one of the most visited Thermal Bath in Budapest and tourist tends to visit this for sure when they are visiting Budapest.
Does Budapest Pass save money?
Yes, Budapest passes save money. It saves around 4.5 € per person.
How many days to spend in Budapest?
Based on your preferences and interests, it is recommended to spend at least 3-4 days in Budapest to fully appreciate the city's rich culture, architecture, and cuisine. However, if you have more time, there are plenty of other attractions and activities to explore in and around Budapest. Ultimately, the length of your stay will depend on your personal schedule and travel goals.
What is a Budapest Card?
Unlock the treasures of Budapest with the Budapest Card, the official city pass that offers a wealth of benefits. Here's a closer look at what the Budapest Card has to offer:
Pros of the Budapest Card:
Unlimited Public Transportation: Enjoy hassle-free exploration with unlimited access to Budapest's public transportation system, including buses, trams, and metro.
Free Entry to 30+ Attractions: Gain complimentary admission to over 30 of Budapest's top attractions, including renowned museums and galleries.
Guided Sightseeing Tour: Immerse yourself in the city's history and culture with a guided sightseeing tour of both Buda and Pest, offering a comprehensive overview of Budapest's unique charm.
Thermal Bath Experience: Relax and rejuvenate at St. Lukacs Thermal Bath, a renowned thermal bath and swimming pool, included in your pass.
Discounts Galore: Enjoy discounts of up to 50% at various attractions, cafes, restaurants, and shops, allowing you to make the most of your Budapest experience without breaking the bank.
Museums and Galleries Included with the Budapest Card:
Hungarian National Gallery
Hungarian National Museum
Museum of Fine Arts
Budapest History Museum – Castle Museum
Memento Park – Statue Park Museum
Robert Capa Contemporary Photography Center
House of Hungarian Photographers – Mai Manó House
Ludwig Museum – Museum of Contemporary Art
Budapest History Museum – Aquincum Museum
Ferenc Hopp Museum of Asiatic Arts
Vasarely Museum
Budapest History Museum – Kiscell Museum
Other Attractions Included:
Free visit at Budatower
Free visit at Pálvölgyi Cave
Free Official Budapest Castle Bus
Free Pest and Buda guided walking tours
Free admission to St. Lukács Thermal Bath and Swimming Pool
Free ride on Zugliget Chairlift
Discounted Experiences with the Budapest Card:
50% discount at St. Stephen's Hall – Buda Castle
25% discount on Legenda city cruises
25% discount at Hospital in the Rock – nuclear bunker museum
20% discount at City Sightseeing Hop-on Hop-off
20% discount at Széchenyi Bath, Rudas Bath, Aquaworld Resort, Lupa Beach
20% discount on door-to-door airport transfer by miniBUD
10% discount at Dohany Street Synagogue
10-20% discount at Molnár's Kürtőskalács, Halaszbastya Restaurant, Zsolnay Café, Parisi Passage Cafe, Cafe Astoria, Hard Rock Café
Budapest Card 72 Plus:
Upgrade to the Budapest Card 72 Plus for an even more enhanced experience, which includes additional services like door-to-door airport transfers, a Danube river cruise, a ride on the Buda Castle Funicular, admission to Matthias Church, and a delightful Hungarian dessert (Molnár's kürtőskalács).
The Budapest Card is your ultimate companion for a memorable and budget-friendly exploration of Budapest. Whether you're a culture enthusiast, a food lover, or simply seeking adventure, this card unlocks the city's best, ensuring a fulfilling visit to Hungary's vibrant capital.
Budapest Card Price
The Budapest Card is available in multiple varient the 24 hours card cost you 33 € and 48h 49€ and likewise.
Is Budapest Card worth it?
Now Budapest Card is different then Budapest Pass hence this Budapest Card Review would be summarized in two ways. Whether the Budapest Card is worth it depends on your travel plans, the attractions you want to visit, and your preference for convenience and savings. Here are some factors to consider:
When the Budapest Card Might Be Worth It:
Multiple Attraction Visits: If you plan to visit several of the included attractions and museums during your stay, the Budapest Card can provide substantial savings. It offers free entry to over 30 attractions, including some of the city's top museums and galleries.
Unlimited Public Transport: The card includes unlimited use of Budapest's public transportation system, which can be convenient for exploring the city. If you intend to use trams, buses, and the metro frequently, this feature alone can make the card worthwhile.
Discounts on Tours and Activities: The card offers discounts on various tours, cruises, and other experiences in Budapest. If you plan to participate in these activities, the discounts can add up, enhancing the value of the card.
Convenience: The Budapest Card simplifies your stay by providing a single card for public transportation and access to attractions, eliminating the need to purchase individual tickets.
Time Efficiency: With the Budapest Card, you can often skip ticket lines at some attractions, saving you time, especially during peak tourist seasons.
When the Budapest Card Might Not Be Worth It:
Limited Sightseeing: If you have limited time or do not plan to visit many of the included attractions, the card may not offer significant value. In such cases, it might be more cost-effective to purchase individual tickets for specific sites you want to see.
Short Visit: For very short visits to Budapest (e.g., a day or two), the cost of the card may not be justified, as you might not have enough time to fully utilize its benefits.
Specialized Interests: If you have specific interests that aren't covered by the attractions included in the card, it may not be the best fit for your travel plans.
Discount Cards: Consider if you qualify for any other discount cards or passes, such as student or senior discounts, which might offer better value for your needs.
In summary, the Budapest Card can be worth it for travelers who plan to visit multiple attractions, use public transportation frequently, and take advantage of the included discounts on tours and activities. To determine its value for your specific trip, calculate the potential savings based on your itinerary and preferences.
Budapest Card Review
Now in this part I will just pick the 24 hours Budapest Card and will try to check if the cost of this is valid. Honetly I still think not much features can be used from Budapest Card if you are just staying there for one day rather it is good deal when you are spending a week in Budapest.
The 24 Hours Budapest Card cost you around 33 €
Public Transport in Budapest
The Public transport in Budapest is covered by Budapest Card so that would cost around, the 24-hour travel card would cost you around 6.5 €.
Sample One Day Itinerary for Budapest to use Budapest Card
Making the most of your Budapest Card in 24 hours requires a well-planned itinerary. Here's a suggested one-day itinerary to maximize the benefits of your Budapest Card:
Morning:
Start with Breakfast: Begin your day with a hearty breakfast at one of Budapest's charming cafes or bakeries. Try a traditional Hungarian pastry like a "kürtőskalács" or enjoy a coffee at a local cafe.
Visit a Museum: Head to one of the museums included with your Budapest Card. The Hungarian National Museum or the Museum of Fine Arts are excellent choices for exploring Hungary's rich history and art.
Cost of a Hungarian Nation Museum Ticket is 9.12 €
Late Morning:
Hop-on Hop-off Bus: Use your Budapest Card's 20% discount for a City Sightseeing Hop-on Hop-off bus tour. This allows you to see the city's major attractions while enjoying informative commentary.
The actual cost of Big Bus Budapest is 32,40 € so with 20% Discount it would be around 25,92 €
Lunch:
Lunch Break: Take a break for lunch at a traditional Hungarian restaurant or café. Try goulash, a local favorite, or explore the diverse culinary scene in Budapest.
Afternoon:
Thermal Bath: Head to St. Lukács Thermal Bath and Swimming Pool for a relaxing afternoon. Your Budapest Card grants you free admission to this historic and rejuvenating thermal bath.
The actual cost of St Lukacs Thermal Bath is 19€ this is an alternative to much Popular Széchenyi Spa which you get the access to in your Budapest Pass.
Late Afternoon:
Guided Walking Tour: Join one of the free Pest and Buda guided walking tours included with your card. These tours provide insights into the city's history and architecture while exploring its neighbourhoods.
Evening:
Dinner: Enjoy a delightful dinner at a local restaurant, perhaps trying some more Hungarian dishes or international cuisine.
Night:
Discounted Night Activity: Use your Budapest Card's discounts for a night activity. Consider a cruise on the Danube River with a 25% discount, providing a stunning view of the city's illuminated landmarks.
No trip is complete without doing the Cruise in Budapest and you get a 25% discount for the Cruise which would be around 11€ so with the discount it would be 8,25€ per person.
Late Night:
Return to Accommodation: Head back to your accommodation, making use of your Budapest Card's unlimited public transportation.
This itinerary allows you to explore Budapest's culture, history, and relaxation spots while taking advantage of your Budapest Card's free admissions and discounts. Keep in mind that Budapest is a city with a vibrant nightlife, so you might also want to explore some of its famous ruin pubs or bars if you have the energy and desire to do so.
Here I will only sum the sure shot free things which you get with the card which you can cover in one day.
| Included Attraction | Cost in € | Single Ticket |
| --- | --- | --- |
| Free Public Transport | 6.50 | Check Here |
| Hungarian Nation Museum Ticket | 9.12 | Check Here |
| St Lukacs Thermal Bath | 19.00 | Check Here |
| Guided Walking Tour Buda | 12.00 | Check Here |
| Guided Walking Tour Pest | 12.00 | Check Here |
| Total | 58.62 | |
If you plan to just take the 24 hours Budapest Card and cover the Itinerary which I shared above you are going to save around 25.62 € per person with the Budapest Card so Budapest Card is going to save you money for sure and that too a lot of them.
But if you are not planning something of this sort and just want to cover some of the places from the list then a standalone ticket would the be the option for you.
Conclusion
That is all the information about Budapest Pass to help you understand if Budapest Pass is worth your money or not. For me it was and I was happy to buy that. I leave it to you to decide what to do further.
If you are looking for what to do in Budapest then we have covered in detail about that on our Things to do in Budapest guide.
If you are also travelling to Rome then you might wanna read about Rome Pass Review | Rome Tourist Card Review
Get your Notion Travel Planner Template!
Embark on your next adventure with the Wanderlust Planner – Notion Travel Planner Template – Notion Travel Planner Template for 2023 (chasingwhereabouts.com), the ultimate Notion Travel Planner Template. Organize your wanderlust-fueled dreams and turn them into unforgettable journeys. Whether you're a seasoned globetrotter or a newbie explorer, this template has you covered.
Budapest Card Review – Should you take Budapest Pass?
Pros
Scenic Views: Offers breathtaking views of Budapest's landmarks.
Informative: Knowledgeable guides provide cultural insights.
Cost Savings: Saves approximately 4.5 euros per person.
Time-Efficient: A quick tour option for travelers with limited time.
Cons
Weather Impact: Experience quality may be affected by weather conditions.