Budapest is a city which has a lot to offer to each and everyone who is visiting for travel. Here are the top things to do in Budapest Hungary for your trip. a mesmerizing city that offers a wide range of exciting activities and attractions for every kind of traveler.
From its stunning architecture and rich history to its vibrant nightlife and delicious cuisine, there is never a dull moment in this enchanting city. Explore the iconic landmarks such as the magnificent Buda Castle, the grandiose Parliament building, or take a leisurely stroll along the picturesque Danube River.
If you are planning for a budget trip in Europe then Budapest should be a destination in your list. I have talked more about the Cost of Living in Budapest in my detailed post about Cheap Places to Live in Europe.
One thing that makes Budapest so dynamic is its mix of Western and Eastern Europe. The city is still transitioning, so more and more young Hungarians are breathing new and youthful life into this great city. It's still a little rough around the edges but that just adds to its charm.
There is an interesting story behind how Budapest was named as Budapest, In case you are fascinated to learn more about the history around the name you can read about it here History of Budapest Name
If you just want to get the gist of the city then you call also plan your Big Bus Tour to explore the city.
The Budapest Travel Guide is for you if are wishing?
To find top things to do in Budapest.
When to travel to Budapest?
What to eat in Budapest
what to do in Budapest Hungary
budapest stuff to do
Top things in Budapest
But before that read the overview of the Budapest, and do not miss to check How to Learn Hungarian Quickly, which is the coolest section in our Travel Guide.
Overview of Budapest (Buda-Pest)
Hungary was officially declared as a republic country in the year 1989 on 23rd October. Budapest is the capital city of Hungary with Buda on the west side of the Danube and Pest on the east. You can experience the major sights just by walking on foot and get immersed in the local heritage and culture.
Do you know : Ball Point Pen, Rubik's Cube, Holography, Helicopter and Vitamin C was invented in Hungary?
How many days to travel in Budapest?
According to this travel guide and amazing places to see in Budapest, two days are enough to cover all the top attractions in Budapest. If you want to relax, go on hiking or picnic near Elizabeth Lookout Tower, you can add 1 more days. You will get the best panoramic view of the city from this tower at Janos Hill.
But it is entirely up to you how much time you want to spend in this capital, If you like parties and drink you may even plan a week of the visit in Budapest,
It is getting popular and has become one of the cheapest places to visit in Europe in you wish to travel to Europe on budget. There are other cheap places to visit in Europe as well which you can read in our other post.
What is the Best time to visit Budapest?
Budapest is a beautiful city that you shouldn't miss out on. When it comes to the best time to visit, it really depends on your preferences. If you enjoy warmer weather and want to take advantage of outdoor activities, then the months of May to September are perfect for you.
During this time, you can explore the city's stunning architecture, enjoy boat rides on the Danube River, and unwind in the lush parks. On the other hand, if you prefer fewer crowds and cheaper accommodation rates, you might want to consider visiting during the shoulder seasons of spring (April and May) or fall (September and October).
The weather during these months is still pleasant, allowing you to explore the city comfortably while avoiding the peak tourist season. Do keep in mind that Budapest can get quite cold in winter, with temperatures dropping below freezing.
However, if you're a fan of Christmas markets and a magical festive atmosphere, then visiting Budapest during the holiday season can be truly enchanting.
You can also check nearby cities to Hungary for your next Spring Break vacation in Europe.
Where to Stay in Budapest on Budget?
In case you are looking for the perfect place to stay in Budapest try booking your stay in the PEST side, which is the city side of Budapest. I stayed at Adagio Hostel 2.0 Basilica which was 300m from the city centre. This hostel included breakfast, WI-FI and a separate bathroom.
The reason for staying here was not something out of the choice but it was in our tour package and Budapest was one of the first city which we were exploring in Europe.
HOSTELS- Hostel with dormitory would cost you from approx. 20 EUR.
You can check some cheap and budget hostels in Budapest on Hostel World.
We will try to list down some of the Budapest Hotels which can help you to plan your trip in Europe on Budget.
How to get around in Budapest during your visit?
It's always best to walk and explore the city on foot
You can take Subway by either buying 24 hours travel card or single /group of 10 tickets
You can buy your travel card Budapest Card , I have talked in detail about this in my Budapest Card Review.
TIP: Don't forget to validate your ticket in subway or tram after buying the tickets. You can validate the ticket by punching in the red and orange machines.
---
What to do in Budapest Hungary? – Top Things to do in Budapest
Wondering about what are the Budapest Stuff to Do then in section we will be covering the same.
Castle district is one of the prime location to cover during your Budapest Travel, The serene beauty of the mountain and jam packed with tourist this place is a perfect stop to take a look at the complete Budapest.
Castle District was declared UNESCO World Heritage Site in 1987. The district is situated over the Buda hill. As soon as you cross the chain bridge, Buda region/hill starts, and you can see various tunnels and one of the historical car- Buda Castle Funicular.
The Buda Castle Funicular has connected the shores of the Danube and the Buda Castle since 1870 and was listed as a UNESCO World Heritage site in 1987. This will take you to the castle and you won't get tired from hiking up the hill on foot. Thus, Castle District consists of Buda Castle, Fishermen's Bastion and Matthias Church.
Quick Tip: You can only take round trip tickets for the funicular and can be bought right there only. You can not take one way ticket.
Fishermen's Bastion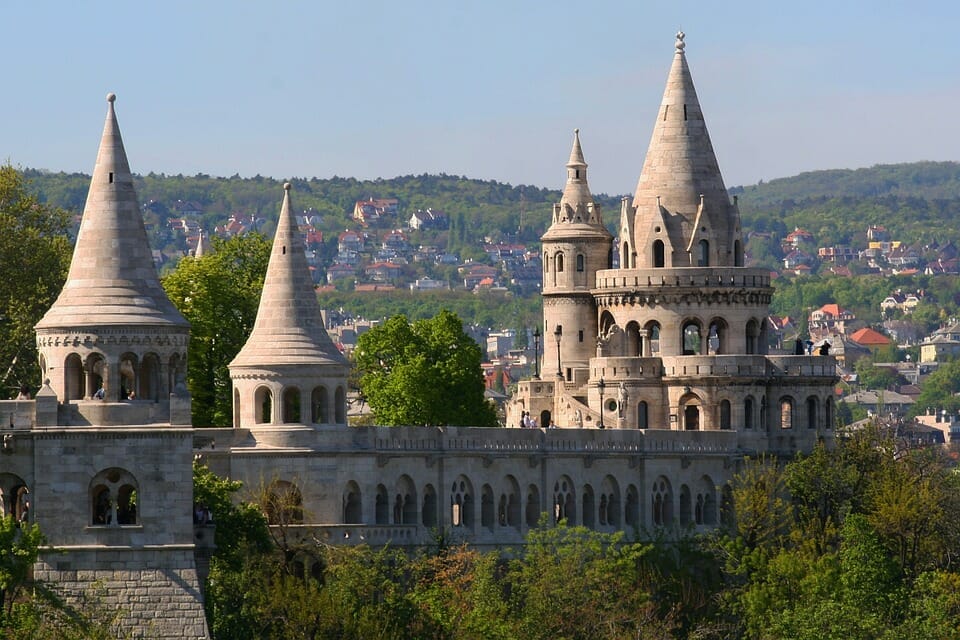 Fisherman Bastion is one of the Free things to do in Budapest. Well actually Castle District is entirely free to visit if you are just walking around and strolling in the Buda side.
Buda Castle was built in the 13th century, to protect Budapest from the attacks of Tartars and Mongols. Despite getting destroyed in the IInd World War, Buda Castle currently has more than 200 rooms, and 62m high central dome. This place now serves as one of the main attractions by tourists as it hosts galleries of Hungary, fine museum
This was a lookout tower during the 19th century for protection purposes. Majorly famous for its architecture, Fishermen's Bastion has seven towers, symbolizing the seven Hungarian tribes who in the year 895 AD founded Hungary. Currently, you can have a clear panoramic view of the Pest city from the terrace of the tower.
Fun Fact: You can wonder about 7 towers of Fisherman's Bastion so here is the answer. Its seven towers represent the seven Hungarian tribes that founded the country.
Matthias Church
Located at the Trinity Square on Buda Hill, this church is also known as, Church of our Lady. It was renamed after King Matthias who married twice inside the church.
This monument was has served as coronation church by the kings of Hungary for centuries, been a mosque for 150 years after been invaded by Ottoman Turks.
Currently, it's a catholic church where thousands of weddings take place and tourists visit for its beautiful architecture and gothic style design,
Szchenyi Chain Bridge

The most important work that this bridge does is connect people from Buda and Pest region. the fake stories of stone lions (total 4 on the suspension bridge) not having tongue and architect/engineer committing suicide after that, this bridge has many other stories bonded with emotions and affection with the historic presence of the bridge since 18th century.
This bridge was once one of the longest suspension bridge in the world. The proposal to make this bridge was made by Count Istvan Széchenyi (whose name you will see at most of the places and monuments). Since its construction, the bridge has sustained turbulence during World War II and finally independence of Hungary in the year of 1989.
But guess what? As of in year 2020, Budapest has passed a law that you can't walk on the Bridge. The current state of the Bridge is pretty bad and they need to fix that, I just read it in local news of Budapest.
With that being said, It is always good to get yourself covered with Insurance when you are travelling to a new country and we covered all the information related to insurance in our blog.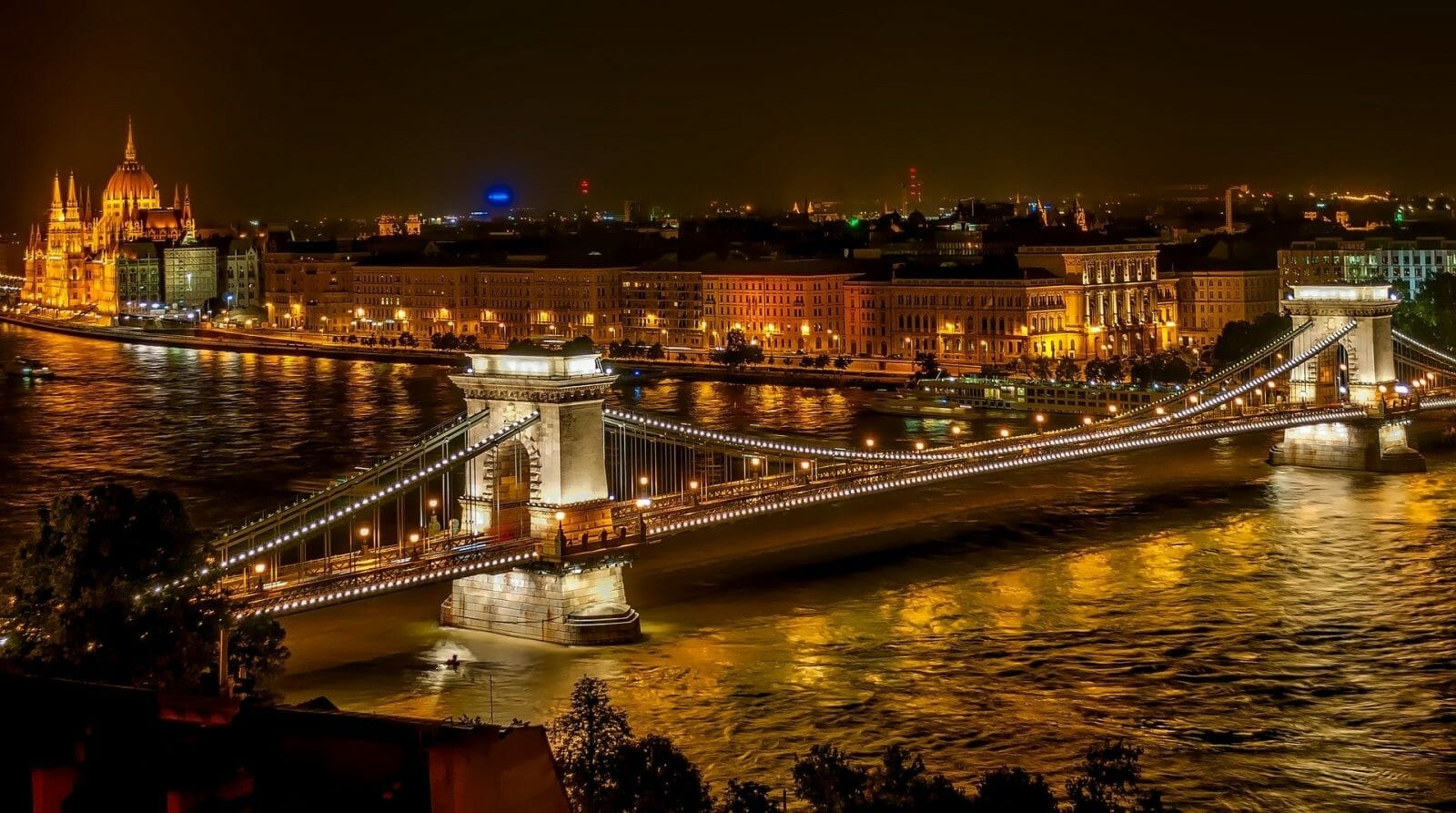 Danube River Cruise with Drinks / Boat Party Budapest
Enjoy the Danube River Cruise with or without dinner because you must not miss how Budapest looks at night from the water when its lit. There are many agencies that partner with boats and arrange boat parties, which also offers two free alcohol/non-alcoholic drinks.
After the boat tour, these agencies will also take you for the pub crawl. Hoping from one pub to another and you may also get a free welcome drink if lucky. Along the banks of Danube river, you will find 60 pair of iron shoes in different sizes, which symbolises the massacre of Jews shot in the river after being asked to remove their shoes and stand at the edge of Danube river.
House of Parliament
On the riverbank of Pest next to Danube river, the Hungarian parliament building gives a spectacular view, which should not be missed from cruise/boat ride in the night. The Hungarian Parliament is the 3rd largest parliament building in the world and the largest building in Hungary.
The building is so huge, that it consists of 20km of staircases, 691 rooms, impressive dome and 88 statues of Hungarian rules. The pointed architecture gives a redefined look to this building during day time as well as at night, when it shines in golden colour.
If you want to explore the parliament of Budapest from inside then I would recommend you to get some Guided Tour with the Skip the line ticket because it tends to be busy.
The Fat Policeman
Don't miss rubbing the tummy of the fat policeman, its apparently said that rubbing will bring you good luck in LOVE.
That's the reason why tourist come and never miss to rub the stomach of the policeman. That's the reason why his stomach is as shiny as gold now.
Dohany Street Synagogue
This is the 2nd largest synagogue in the world known as the Great Synagogue of Budapest is the largest in Europe. It has a seating arrangement of 3500 seats. The architectural design is known as Moorish style which was inspired by Sevillian Alhambra. This style has traditional Arabic designs.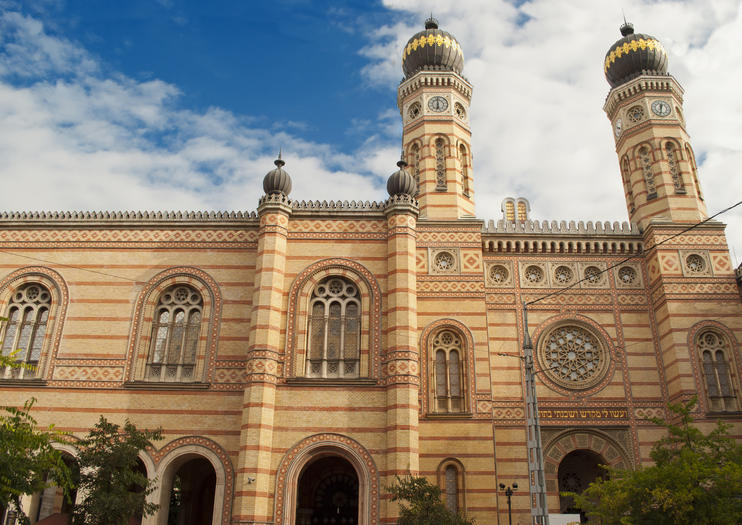 You can take the tour of all the Jewish landmark of Budapest on a discounted price from here Tour of the Jewish landmarks of Budapest
If you are planning to visit the Great Synagogue from inside then I would suggest your to book the tickets online prior to visiting to avoid the queue and save time. You can also check out the Hunagrian Jewish Museum and Archive.
Széchenyi Thermal Bath & Gellert Thermal Bath
Its recommended that in order to have a relaxing time, try visiting Gellert Thermal Bath or any other special of your choice, because Széchenyi is extremely crowded, even on weekdays.
Want to look the pricing of the Gellert spa then visit here Gellert Spa Pricing Structure
Get your ticket from below
Andrassy Avenue
Shopping shopping & shopping, just take a LIME/ e-bike and explore a huge range of shops in this Boulevard on the Pest side.
You will also find Terror house and Budapest Opera, which is considered more beautiful than the Vienna Opera. Terror house is now a museum but earlier, it used to be the headquarter for Nazi Party.
Ruin Bars
After World War IInd, many houses, garages, gardens were abandoned by Jews. So this idea was created to utilise these abandoned places by transforming it into pubs in order to commemorate those memories of Jews and make it a gathering place again.
Thus, you will walk through old buildings and ruins, that are now filled with flea markets, furniture and has now become a perfect gathering location to sip your drinks.
The Great Market Hall
For more than 100 years, people in Budapest have been buying groceries from this market hall. Its lovely to visit this place, buy fruits, vegetables and click pictures. If you wish to taste local cuisine in Budapest, do visit this great indoor market.
You can try goulash (Hungarian stew), langos (deep fried bread topped with garlic, cheese and sour crème) and sweet strudel.
The Citadel
On top of Gellert Hill, you will find this famous symbol of Budapest, which symbolises the freedom of the people. This is also a lookout point that gives a panoramic view of the city including Danube river, Buda castle, Parliament building and Buda hills. It's said that the proud lady has been watching over Budapest since 1947, which made her another World Heritage site listed by UNESCO.
Hero's Square
The famous square in Budapest is surrounded by the Museum of Fine Arts and the Palace of Art. This was made in order to commemorate 1000 years since the settlement of Hungary in 895.
Archangel Gabriel can be seen holding a crown, while one side of the square has seven leaders of the tribe who settled Budapest, while the other side has important person and leaders in the Hungarian history.
St. Stephen's Basilica Church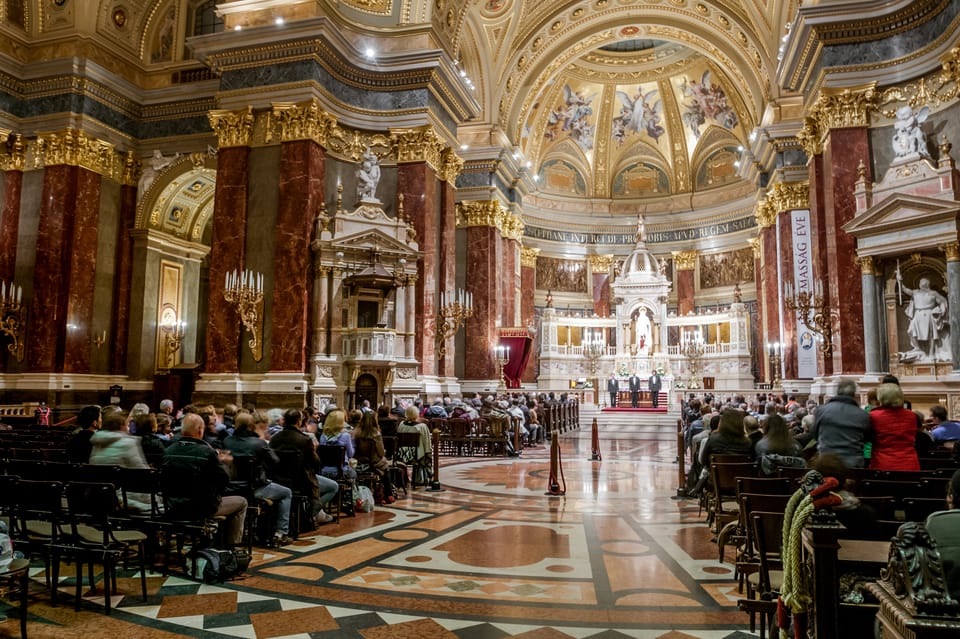 This is still the tallest building in Budapest. Named after the first Christian king of Hungary, St. Stephen, you can still find the mummified hand (The Holy right) of him inside the Cathedral.
St. Stephen was crowned in 1000 AD, but in the year 1083, when he's dead corpse was opened from the burial for canonizing, it was found that his fist was as fresh as at the time of burial.
Thus, the fist was lopped off and mummified. You don't have to pay for the ticket in order to view the hand, but it's suggested to donate 200 Hungarian Forint which will illuminate the box for 60 seconds and you can clearly see the hand of St. Stephen.
I would recommend you to try the Organ Concert at St. Stephen's Basilica, I am sure you would enjoy it.
Take the Boat Tour
Taking the boat tour should be one of the top things to do in Budapest Hungary because of the absolute beautiful view of the city and Parliament Building you get from the the Boat Tour.
So it doesn't matter which time you choose it is going to be the breathtaking experience for you so don't miss that at all.
Dinner and Cruise would be one of the options which you can take for your Boat Tour in Budapest. But if you want the complete packagage of dinner cruise with music then there are some of the cruise which we could recommend.
Take the Bus Boat Tour
Okay, I alreay talked about the Boat Tour but what is different in this?
Well many things, if you are looking for some unique experience in Budapest then this is something which you should try.
River Ride Budapest puts you on the land and the water in a fun sightseeing tour of Budapest's best attractions. Guests can take the bus to the station Széchenyi István tér and then walk a short distance to board.
---
What not to miss during your travel to Budapest?
Night view of Hungarian Parliament Building from Boat Cruise
It is breathtaking. I actually felt that the money which I spent for buying the boat cruise was all worth it after looking at the parliament building.
What Happens at the Boat Party in Budapest?
In case you buy these famous Boat Party tickets in Budapest, Then you can enjoy the two to three hours of Booze, Dance and meeting with strangers on the boat, All these Boot party are often clubbed with Multiple pub crawl options as well In which you are taken to different night clubs in Budapest.
Another hour of drinks and booze or maybe more dance.
The one which did had two complimentary drinks per person, So if you just want to sober up and just enjoy the beauty of Parliament building in night, You get a fair deal for around 20 Euro or Less.
Don't miss to go to Thermal Bath in Budapest
Bathing in Thermal pool followed by Sauna and then the best part will come here, dip in an icy chilled water pool. Trust me, it will open your senses, relax your body and
Good Things in Budapest
Relax in thermal Baths
Walk across the chain bridge and click lots of pictures.
You can book a guide for a free walk tour, they will tell you about the amazing stories related to most of the attractions which are covered in the walking trail of 2.5 hours.
Generation Tours offer free walking tours. You can book your free walking tour in Budapest here : Book Here
Not so good things in Budapest
Pick Pockets are everywhere. Keep your belongings safe. In case you lose your wallet, directly inform the police. They might help you.
Money conversion on streets is one of the most common scams. They will cheat you with expensive conversion rates. It's best to use your travel cards or get the money converted in your own trusted places.
The best thing which I like to do in this case is have a travel insurance, If you want to get a travel insurance do check our our travel insurance page.
We have come with list of foods which you can try in Budapest during your travel in Budapest, We have also covered this in depth on our separate blog which goes by Top Hungarian Dishes to try in Budapest.
Some of the local dishes which are rich in spices and varied flavors have been included below:
A very old recipe that highlights the traditional soup made with a dashing flavour of paprika and fish. The soup is made on outside on fire and is processed for several hours.
These are cute cabbage rolls are filled with rice and meat. The cabbage in Hungary is pickled and will give you a tangy taste while eating these rolls.
It's said a good slice of Retes and a cup of Hungarian coffee will definitely make your day if you are a food lover. Retes is also a sweet long pastry filled with apple, poppy seed or cherry.
Kürtőskalács is a sweet spiral bread rolled over cinnamon, sugar, nuts or grated coconut. This is cooked over charcoal, thus it's a good hot and sweet snack.
It's one of the traditional cakes from Hungary. Topped with chocolate rum sauce, whipped cream and raisins. There are three types of sponge cake, plain, walnut and chocolate.
This fruity alcohol has strong alcohol content which ranges between 37.5%- 85% ABV. As per the EU regulation and law, Pálinka should be distilled in Hungary.
Helpful Information and Tips for Budapest Travel
WC which is a common sign for toilets in Europe is not free. You will have to pay 1 Euro in order to access the loo or just buy a bottle of coke or water at a restaurant, and you can then use their restroom for free. I like going to Mc Donald for using the restroom. Just pay with 1 Euro coin, you will get a receipt which can redeem while placing your order.

Széchenyi Thermal Bath is packed with over-tourism. You can try Gellért Thermal Bath instead.

Don't forget to take your swimwear, towel, swim cap to save some Euros. At Gellért Thermal Bath, you can only enter the indoor thermal pool only after wearing a swimming cap.

Police: 107

Ambulance: 104 or 311 166

Tourist Police (0-24): 06-1-438-8080
How to learn Hungarian quickly – Budapest Travel Guide for Tourists
Hi- Szia (See-ya)
Bye- Csa (Tchaa)
Thanks- Köszi (Kuh-see)
Yes/ No – Igen/Nem (ee-gehn/Nehm)
How are you? Hogy Vagy? (Hodge vudge)
Two beers, please! – Ket sört kerek! (Kate shirt kaeh-rack!)
Cheers! – Egeszsegedre! (Eh-gay-shay-gahd-reh!)
Could you help me? – Segitenel? (Sheh -ghee-the-nail?)
Ticket Control- Jegyeket, berleteket! (Yea-dgea-kath, baer-lae-takh-aet!)
FAQ
Is travelling to Budapest safe for solo traveler?
Yes, of course, its safe. You can walk across the streets of Budapest even in midnight carefree. We don't feel that it is dangerous at all. Be it our experience at the boat party or at the pub crawl everything was super smooth.
What is the best way to travel in Budapest?
The best way to travel in Budapest if you have sufficient time is walking or biking, In that way you can give perfect justice to this beautiful city and enjoy the stunning architecture.
Is Budapest Expensive to visit ?
If you are planning to travel Europe on Budget then Budapest is the city which has to be on your list. There are other places which can be clubbed with Budapest like, Vienna or Bratislava.
How to travel to Budapest?
If you are in Asian Countries or America then no doubt you have to take a flight, You have to plan around one or two months before so as to land the cheapest air fare deal. If you are there in Europe then you can of course travel by Car or may be bus or train it will just be an overnight journey,
Where to Buy Budapest travel Card?
You can buy Budapest travel card at any of the train station but the best thing would be to buy that online, it saves time and you can use it as soon as your are there. There are links for the cheapest deals on the Budapest travel in this post.
Get your Notion Travel Planner Template!
Embark on your next adventure with the Wanderlust Planner – Notion Travel Planner Template – Notion Travel Planner Template for 2023 (chasingwhereabouts.com), the ultimate Notion Travel Planner Template. Organize your wanderlust-fueled dreams and turn them into unforgettable journeys. Whether you're a seasoned globetrotter or a newbie explorer, this template has you covered.
---
Don't forget to Pin our Post
---