If you are looking for a romantic getaway, there is nothing like visiting Europe in the winter. Any place you visit is unique and can be a whole different experience if you have been there in the warmer season compared to the winter.
Winter can completely transform a destination and create an unforgettable experience compared to other times of the year. We are going to cover the best romantic winter destinations in Europe so stay tuned.
Winter brings many activities that call for anything from cuddling up by the fire in a beautiful location or an adventurous winter sports date. No matter which one you choose, there's unlikely to be a better time to visit. Here are the seven best romantic winter getaways in Europe.
What are the Best Romantic Winter Destinations in Europe?
1. Zermatt, Switzerland
Zermatt is located near the bottom of the snowy region of the Swiss Alps. This fantastic winter spot in Europe is one of the best winter spots because of the gorgeous Matterhorn peak backdrop. It even inspired the Toblerone candy logo and is full of the perfect snow slopes for couples that love outdoor winter activities.
The highest ski resort in Europe is in Zermatt and has beautiful scenic landscapes to enjoy with your loved one. The trails offer lots of activities like sledding, skiing and snowboarding- even if you are a beginner, strap in your boots and throw on a helmet since any skill-level options are offered to build confidence in the snow.
Even if you aren't into winter sports, you can do many other things to spend quality time with your partner. The town is cozy, with many shops and restaurants offering delicious winter treats. You can enjoy warm hot chocolate or fondue while enjoying the breathtaking views surrounding the area.
2. Prague, Czech Republic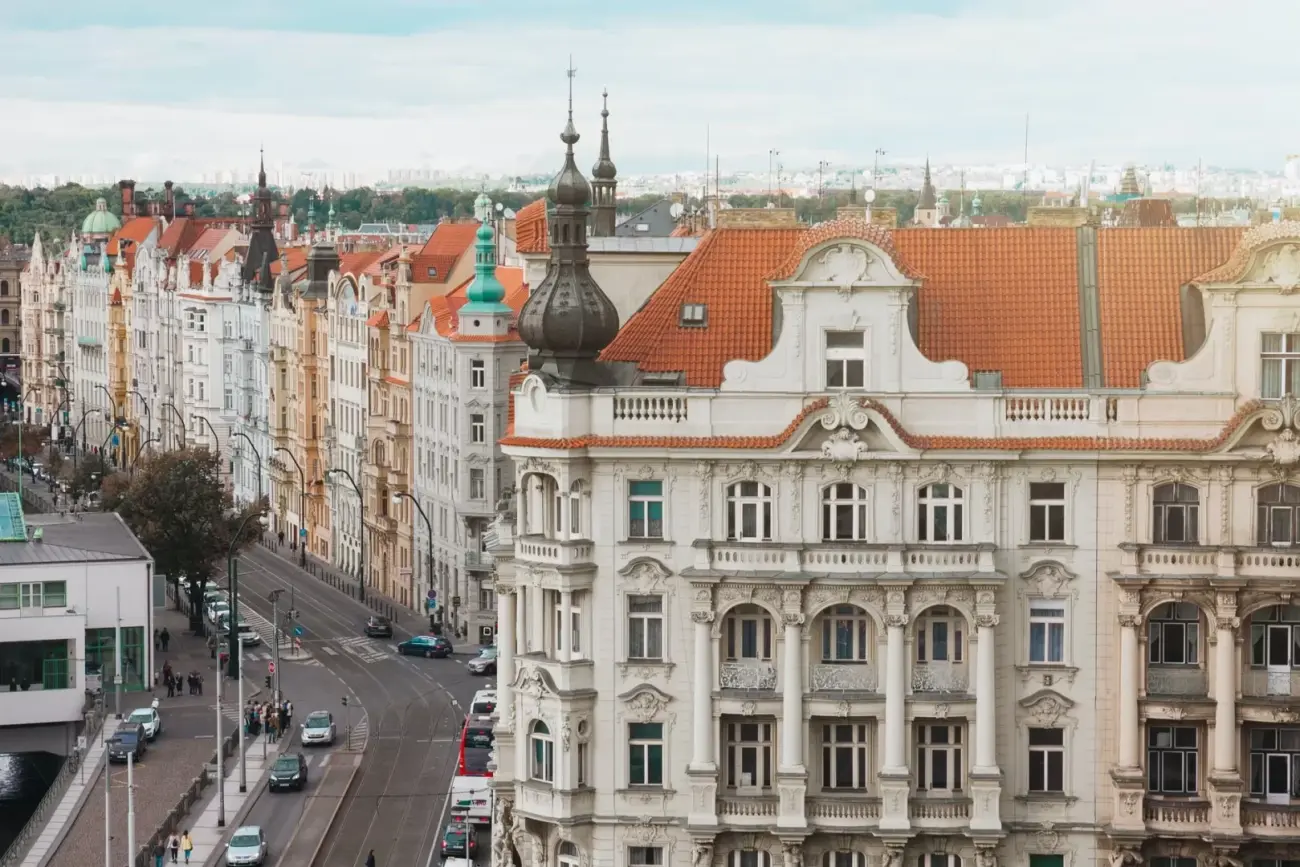 Prague is one of the most extravagant cities to visit in Europe. You will remember this experience forever while having the person you love by your side. It gets jam-packed here during the warm months for a good reason. However, it's still just as grand in winter with fewer tourists. The city is even more mesmerizing when snow is on the ground to complement the blue skies.
If you and your partner love an energetic place filled with culture, this is the best place to spend winter in Europe. There is a natural love for beer and parties featuring different local beers across the city's bars during any season. You can even try a completely new experience with beer spas where you can soak up the local brews.
3. Paris – the ultimate romantic weekend getaway in Europe
Paris is the first spot most people think of when mentioning a magical, romantic getaway. During the winter season, there are lots of holidays to be celebrated in a new light. During Christmas, Paris lights up under all the Christmas decorations for a one-of-a-kind experience. You can stroll through many Christmas markets and get gift inspiration to embrace the romantic holiday mood. Even having a lazy day eating delicious croissants is a cozy way to spend your time in the winter.
Another reason Paris is a great choice is because the city is easy to get around and can be explored in a few days. You will want to take extra precautions and pack appropriate shoes and clothes for exploring in the winter. Over 800,000 people are hospitalized each year from falling injuries, so walking slowly in proper footwear is essential during the snowy months.
People from France have an attitude towards life that can remind you to enjoy what's around you. When looking for a romantic getaway, it's a great reminder to value your time with your partner.
4. Barcelona, Spain
Another fun and exciting holiday during the winter is New Year's Eve. Whether you plan the trip for a romantic celebration of the new year or want to experience this incredible city at any point, it will not disappoint. Barcelona provides fireworks to watch while you can indulge in the tradition of eating 12 grapes at midnight for New Year's luck.
If you go at another point in the wintertime, you can experience many other perks. This city is a bit warmer than many other European areas if you aren't looking to spend your time in the cold climate. Coming during the winter will eliminate high tourist numbers. It is hard to be bored in the lively city of Barcelona with your loved one.
5. Abisko, Sweden
Watching the northern lights with your partner can't be any more romantic. If you want a prime spot to watch this beautiful natural phenomenon, Abisko is the place to visit. This is a tiny village that is north of the Arctic Circle.
When you are so close to the poles, you have long nights, making it the best-case scenario to see the skylight display. There is so much joy to be spread when experiencing such a fantastic thing in nature alongside your partner.
6. Lofoten Islands, Norway
This is a popular location in the summer since there are options like hiking, swimming and fishing. The island is typically dark for most of the day and sprinkled with snow in the winter. Despite these qualities, there are many things to do if you and your partner love to explore. The areas can seem more mysterious when the light barely peaks the horizon, giving it a continuous romantic feel.
You can explore eight significant islands connected by bridges and tunnels, making traveling the whole length in a designated route easy. There is nothing like exploring new places with the one you love.
7. Nuremberg, Germany
Nuremberg is magnificent to travel to during Christmas time. There are lots of markets to explore in the medieval old town. The Nuremberg Christkindelmarkt has become a recurring festival that dates back centuries you can still enjoy today.
You can learn something new by interacting with people while shopping and eating delicious traditional foods. Try bratwurst sausage and local gingerbread and wash it down with a hot mulled wine to keep you warm. You and your loved one can bring home many souvenirs and the experience to remember forever.
Enjoy a Romantic Winter Getaway
Winter is the best time to get cosy with the person you love. Heading to one of the best places to spend winter in Europe will bring your bond closer as you experience new things while having each other to cuddle up with to stay warm. 
Read More: Romantic Winter Cabins in Europe
Get your Notion Travel Planner Template!
Embark on your next adventure with the Wanderlust Planner – Notion Travel Planner Template – Notion Travel Planner Template for 2023 (chasingwhereabouts.com), the ultimate Notion Travel Planner Template. Organize your wanderlust-fueled dreams and turn them into unforgettable journeys. Whether you're a seasoned globetrotter or a newbie explorer, this template has you covered.