Wondering what to do during your flight Layover, then in this Frankfurt Layover Guide I will be sharing all the details you need to know about Frankfurt airport layover.
Frankfurt, the home of the German stock exchange, and its home to the European Central Bank. This central German city is best known as a financial center. Yet, its reputation as a boring banker's city completely ignores the rich cultural and historical heritage that this vibrant and international city offers.
With a sparkling backdrop of modern-day skyscrapers, Frankfurt is home to charming cobbled streets, half-timbered medieval structures, stunning green spaces, unique galleries and museums, and a wide range of restaurants and bars that will satisfy all budgets and tastes.
With such a brief travel duration from airports to the center of city life, a vast pedestrianized downtown, and a wealth of centrally located museums and historical sites, you can take advantage of the time of a brief stopover in the capital of Germany's economy.
VISA Required: You can check about this with iVisa
MINIMUM CONNECTION TIME International to Domestic: 45 minutes
MINIMUM CONNECTION TIMES, International to International: 45 minutes
A MINIMUM TIME FOR CONNECTION to leave the airport: 5 hours
So without further adieu let us start with our Frankfurt Layover Guide
Visa information for Germany
In Europe's Schengen Zone, citizens of numerous countries, such as the United States, can travel to Germany without visas for as long as 90 days. But if you really want to check that out then you should visit iVisa, in case you need visa then this service allows you to apply for that quickly and you can be stress free during your Frankfurt layover.
Minimum layover times for Frankfurt
To make international to domestic connection: 45 minutes
Frankfurt Airport is Europe's fourth-busiest airport and the most crowded airport in Germany. Terminals 1 and 2 host international and domestic flights. Unless both of the flights that connect Lufthansa or the other partners operate you, all of which originate from Terminal 1, you'll not likely have to transfer between the two terminals.
Most of the flights which are heading to USA end up having a Frankfurt layover first. If you are also travelling from India to USA then there is a high chance that you have a Frankfurt Layover in between.
Finding your way through the massive airport in Frankfurt can be a bit confusing, particularly when you're in a hurry. Still, there's clearly-marked overhead signage in both German and English to assist travelers through the airport.
The blue signs will help navigate between areas and gates, and gray signs provide directions to services for passengers. Screens at both terminals display not just the most recent flight information; however, they also show the length of time required to walk to the gate that you will be leaving from.
Terminals 1 and 2 are near one another and are linked by the no-cost SkyLine monorail that departs every 2 to 3 minutes from the transit and public areas. There are also complimentary shuttle buses that run between terminals every 10 minutes between 5:30 am and 11:30 pm.
The journey between Terminals 1 and 2 is swift and easy, and although travelers must be ready to line up for the SkyLine during the peak hours, you'll not likely need to wait to catch more than one train. Prepare yourself for long walks through Terminal 1; however, moving walkways could cover further distances.
The luggage you've checked will likely be sent to your final destination. However, if not, you'll have to take it to the baggage claim area and go through rechecking it. The need to go through a passport verification is contingent upon whether the airport you've arrived from and the destination you are heading to is in or outside the Schengen Area.
There is a required brief security check-in before moving to the terminal. The lines tend to flow at a decent speed. However, anticipated wait times are shown on the screens. If you're in a hurry to get on a flight, these so-called Fast Lanes at security checkpoints are available to select passengers whose flights are displayed on the screens.
To make international to international connection: 45 minutes.
Airport guidelines recommend a minimum of 45 mins for connections to international airports. However, considering the large size of the airport, providing 60 to 90 minutes is a more accessible buffer.
In most cases, you will need to pass security checks before proceeding through the airport. However, the airport team will most likely send the luggage you have checked in directly to your destination. But if it is not being done then you would need more time in your Frankfurt layover to sort of the luggage.
To depart from the Frankfurt airport and explore the city for an hour or so: 5 hours.
It shouldn't take longer than about 30 minutes to get to the city's center by taxi or train. A five-hour stopover in the morning gives you enough time to make it into the city's center and then spend a few hours exploring Frankfurt's historic city center and riverside before returning to the departure point.
Seven hours of travel time will allow the opportunity to take in the centrally situated cities sights and have an eat-in-the-park or perhaps visit the museum.
It takes about 1 hour to get off the plane and pass through customs and immigration (Frankfurt Airport is huge, and therefore this depends on your arrival gate, as well as other factors like the length of the lines at the immigration counter and whether or not you have to store or recheck your luggage)
30 minutes to get a taxi from downtown, dependent on traffic conditions, or for up to 30 mins by train with ticket purchase
2-hours to discover
A minimum of 30 minutes are required for a return flight.
One hour to get through security, return to your gate and then board the plane (longer if you have to check in your luggage and get a boarding pass for your flight that connects).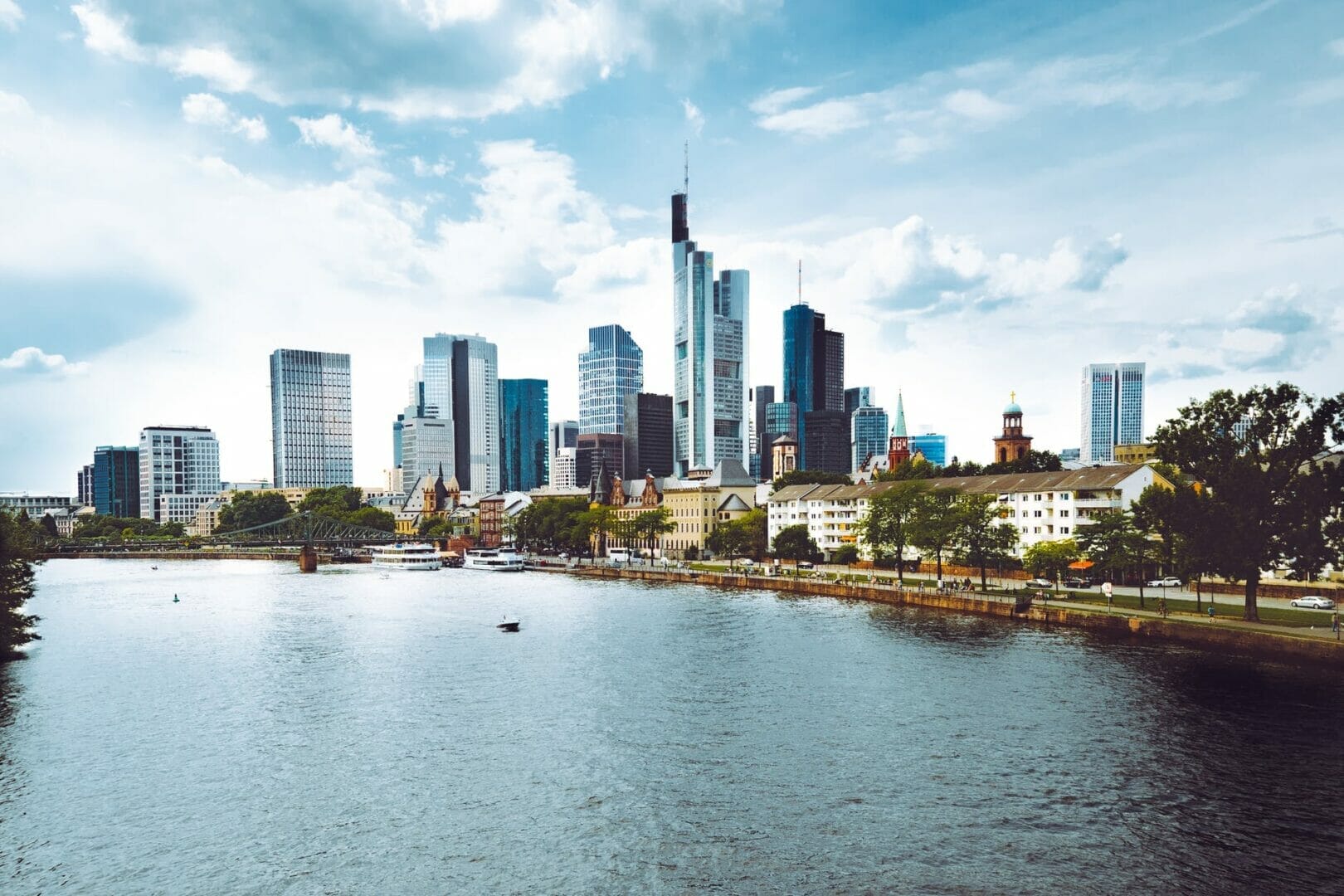 How to travel from Frankfurt Airport to City Center?
Taxi: 25 mins
TRAIN: 17 minutes
Now that you have decided to explore the city during your Frankfurt Layover, the first thing would be reaching to the city center of Frankfurt that would be Hauptwache.
Frankfurt Airport is approximately 12 kilometers (7.5 miles) southwest of Frankfurt. Taxis in the city center (ask to be charged for Hauptwache) cost between 25 and 30 euros and can be located at the counters outside Terminal 1's first floor. 1 as well as the ground floor at Terminal 2.
Taxis with large capacities for seven or more passengers are also readily available. Always inquire with the driver on whether they will accept credit cards. Uber is also accessible. Be prepared for a long journey during peak hours during commuter times, when traffic can be heavy.
Frankfurt Airport has two train stations one station is designed for long-distance travel, and one to accommodate regional trains. The regional station (Regionalbahnhof, Terminal 1, Area B Level 1 – 0) has regular connections with the Frankfurt Hauptwache metro station using the S8 and S9 commuter service (direction Offenbach or Hanau). Adult single fares cost EUR 5.20, and a child's fare is EUR 2,95.
However, If you are more than 2 person travelling from Airport to Frankfurt city center I would suggest you to buy day tickets that include group tickets for up to five passengers (EUR17,20) which is cheaper than compared to multiple single tickets. (purchase these tickets online)
You can purchase tickets at multilingual kiosks located at the regional train station concourse that accepts debit and cash. Trains operate approximately every 15 minutes, and the journey itself is 17 minutes.
If you are looking to know how to find which train goes where then you have to download the application RMV or check it here
---
Ads Starting
Post Continues
---
Things to do at Frankfurt Airport Layover
Enjoy your meal at one of the restaurants
There are plenty of options for drinks and food at both terminals, including fast-food restaurants to restaurants and bars; since Terminal 1 is bigger, Terminal 1 offers a more diverse selection. If you have fairly less time during your Frankfurt Layover then I would suggest to just enjoy your meal at the airport.
How about shopping in duty free
Frankfurt Airport is known as an area of high-end shopping. Visitors should head towards Terminal 1 for designer stores like Burberry, Loewe, Longchamp, and Hermes. If you want to be prepared and plan the Shopping then you can check the discount on duty free shop of Frankfurt.
Watch movie at Frankfurt Airport?
Terminal 1 also has an array of complimentary post-security facilities and activities you can do in the Frankfurt FRA airport, including three Movie Worlds offering family-friendly movies, documentaries, series, and documentaries, as well as two Gaming Worlds.
Looking for something peacefull then there is a quiet room.
If you're looking for a quieter time in the airport, there are soft areas, prayer rooms, and yoga rooms that are fully equipped and a range of lounges for airlines.
Travelers with children can utilize playgrounds and the rental of a stroller. There are shower facilities that are available for a fee. You can check more about them here
It is one of the most pleasing things to do during your Frankfurt Layover.
Checking out Flight Simulator
Travelling with Kids then this is one of the most unique things to do during your Frankfurt layover. You can experience the fasination of flying from Cockpit at the price of 79 EUR. You can check the details about the same here
If you're carrying luggage during your layover, trolleys are available at dispensers in both terminals for the EUR1 cost, which is payable with either a debit or credit card.
You can also temporarily store your luggage for an additional fee at the storage facilities in Terminal 1, between Concourses B and C level 2. (Departures) and Concourse B, Concourse B, Level 1 (Arrivals), and Terminal 2, Concourse D level 2 (Arrivals).
Top Things to do during Frankfurt Layover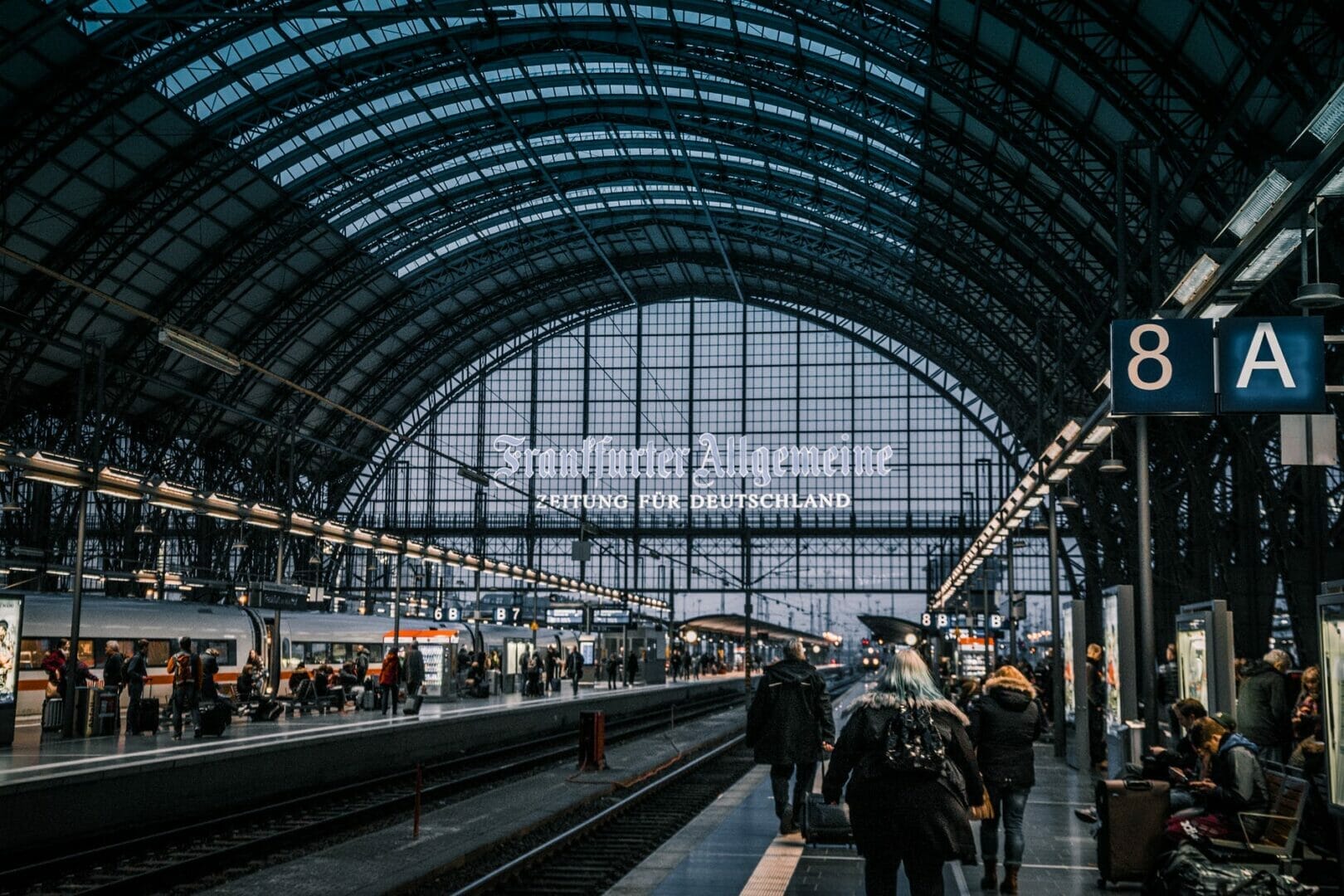 Reaching to Hauptwache – City Center of Frankfurt
A train ride or taxi to Hauptwache will get you right to the center of Frankfurt. A seven-minute walk from the Hauptwache Metro station lies Frankfurt's historic old town center and the Romerberg area, which is home to elaborate half-timbered buildings that have been reconstructed and restored, including those dating back to 700 years, the City Hall and the medieval Lutheran Old St Nicholas Church.
Checking out Frankfurt Cathedral
A cobbled lane on the north-facing portion of the Plaza takes you straight to the city's "New Old Town" which is a historic district constructed in 2019, which was restored to its original layout. Within a short walk from the Plaza, you can see the 14th-century Catholic Church of St. Leonard and Frankfurt Cathedral. As we approach Christmas, Romerberg and the surrounding squares and streets are the place to find Frankfurt's massive Christmas market.
Visiting the Romerberg Area
The Römerberg is the historical centre of Frankfurt. It is a UNESCO World Heritage site, and is a great place to walk around. The highlight of the Römerberg is the Frauenkirche or the Church of Our Lady, which was the first democratic parliament in Germany. The church, which was built between 1215 and 1257, is a masterpiece of German Gothic architecture.
Checking out some Museum
If you're keen to spend your time in museums, there are plenty of options since Frankfurt is the home of various outstanding museums, many of which are located centrally on either side of river Main. Take the bridge over the river, the lock-and-love Eiserner Steg bridge, and head to the world-class Staedel Museum, home to 700 years of artwork from through the Middle Ages to the present with paintings created by Picasso, Francis Bacon, and Gerhard Richter.
If you're traveling with children, then the Junges Museum back at the Romerberg is a beautiful alternative that is family-friendly.
Frankfurt is a city with plenty of beautiful green spaces. So if the weather is nice and you'd instead take a break and enjoy some sun and air purification, you can pick your coffee or a snack at the market every week near the Konstablerwache metro station and take a stroll around the Bethmannpark an oasis of peace that includes the Chinese Garden and a play area for children. In summer, the grassy areas on both sides of the Main River Main are great places for a stroll.
Recommendation – Where to buy Souvenir in Ljubljana Slovenia?
---
Ads Starting
Post Continues
---
How do you have a layover overnight in Frankfurt?
As the city is located close to an airport, It is possible to enjoy Frankfurt's evening entertainment by staying the night there if your layover permits. You can take a boat ride early in the evening along the River Main and enjoy impressive views of Frankfurt from the water while watching the sunset over the city's iconic skyline.
Music theatre lovers need to book tickets in advance and then visit the Alte Oper (Old Opera House) or the more contemporary Oper Frankfurt, one of the most prestigious opera houses in Europe, for a musical or concert recital.
From Indian curries to French-Japanese desserts and Michelin-starred vegan dishes, Frankfurt has no shortage of dining options. To taste the city's adored cider tradition, reserve reservations in Frankfurt's Apfelwein (cider) bars in the Riverside Sachsenhausen quarter, and sip an ice-cold glass of Frankfurt's best-loved apple drink with people who live there.
The bustling Bahnhofsviertel located near Hauptbahnhof is the place to discover Frankfurt's most trendy bars. It's also Frankfurt's red-light district, even though it's been increasingly gentrified over the past few years. However, it's advised to avoid the sloppiest parts of the community by sticking to the main streets of Munchener Strasse and Kaiserstrasse.
As a major city for trade fairs, Frankfurt is home to numerous hotels, most of which are situated near public transportation services. Conclusion: there are central luxury hotels and well-known chains near the Congress Center, some trendy hotels, and various affordable options near the central station.
The return journey to the airport could be quick and straightforward; however, if you take an early departure on a weekday, and commuter traffic could cause problems in terms of timings, it may be more beneficial to book rooms at hotels near airports instead.
Recommendation – Where to buy Souvenir in Ljubljana Slovenia?
Hotels Near Frankfurt Airport
Cheap Hotels
Medium Hotels
Luxury Hotels
If you are looking for Hostels in Frankfurt then Meininger Hotel is the nearest one available to Airport. Looking for more Hotels in Frankfurt then I would suggest you to check here
It is essential to know.
CURRENCY: Euro
LANGUAGE: German
Cost: $$ (out of $$$)
BEST TIME to go: May-October
Currency in Germany
The currency used in Germany is the Euro (EUR). The majority of bars, restaurants and shops accept credit and debit cards, but cash is the preferred payment method. Smaller or more traditional eateries and establishments and food stalls on markets may get cash. It's always a good idea to have a few dollars on hand in an emergency.

Note: Most of the small restaurants doesn't accept credit card and if you are carrying Amex/Diners Club, ask up infornt whether they accept or not.
Cost in Frankfurt
Frankfurt is the second-most expensive city, yet it's equally easy to enjoy your in the city on a tight budget as you can splash out and pamper yourself. The prices for meals in Frankfurt differ widely and, depending on the amount of food you choose to eat, the price for the mid-priced dinner can be as low as EUR20 for a person, not including drinks. A 0.3L of Apfelwein will cost approximately EUR 2,30.
If you feel like eating Pizza then it would cost you from 10 – 15 EUR.
Frankfurt is home to a full annual calendar of trade shows and festivals, which means that the city is well provided for accommodation; however, prices fluctuate frequently. A three-star hotel is about EUR 90 per night. However, it could go up dramatically, for instance, during the Frankfurt Book Fair in October.
Weather and Best Time to Visit Frankfurt
The seasons of spring and autumn are pleasant. The weather is mild in Frankfurt and Frankfurt's surroundings, with the average daily temperatures between 10 °C (50 F) – 15 °C (50 F). The first season is filled with beautiful blossoming flowers in the spring and beautiful trees, while the latter is stunning golden-orange color throughout the city, as the leaves of the plants begin to shift colors.
The summers in Frankfurt are usually hot and sunny, with temperatures that average between 24 °C (75.2 F) – 35 °C (95 F). In the summer, the city's inhabitants enjoy their outdoor lifestyle at the cafes, in the parks, along the shores of rivers, and at the many events, including food, drinks, and cultural events held. The city's central area can be packed with tourists, but those who prefer to stay cool should be aware that air conditioning is not standard in this area.
The winters in Frankfurt are cold and dry, with the freezing temperatures generally being around -1 C (30 F). This time of year is packed with tourists and locals celebrating the holidays at the Christmas market in Frankfurt, Germany.
Security in Frankfurt
Germany is ranked 16th on the 2021 Global Peace Index, and while Frankfurt is among the highest rates of crime across the nation but it's much safer than many of the other major cities across the globe. Violence is not common, and you'll feel secure here if you are a good citizen and be vigilant of pickpockets in crowded tourist areas or train platforms, especially in the evening.
Transport in Frankfurt
The well-organized public transport system of Frankfurt includes U-Bahn (underground) and S-Bahn (commuter trains) and trams and buses. Services are generally on time and efficient. They allow travelers to move swiftly and conveniently through the city. You can decide to choose the S-bahn and go to the city center during your Frankfurt Layover.
Train station entrances are easily accessible, and the majority, but not all stations, is equipped with elevators and escalators. Be aware that time-stamped tickets do not require validation before travel. However, plainclothes ticket control officers can check the access for validity. The fine is EUR 60 for those who travel without an (or using an incorrect) ticket.
With a vast network of bicycle lanes and numerous bike rental locations all over the city, bicycles are a great option to travel around and see more of the town, you can also take E-scooter if you want it is quiet affordable and a good option to explore the city.
Food & Drink in Frankfurt
Frankfurt's rich and traditional cuisine is evident in the lively and authentic Apfelwein (the local flat, sour-flavored cider) pubs. The portions of food tend to be significant for meat lovers.
Those hungry may prefer Frankfurter Rippchen (cured pork chops) served with Sauerkraut and Mashed potatoes or a couple of the city's famed Frankfurter Sausages, served with a Potato salad.
In the local language, Gruene Sosse or "Grie Soss" can be a more light vegetarian alternative and an herb-based sauce typically served with boiled Eggs and Potatoes.
If you're not expected to return from the airport quickly, drinking a glass of powerful Apfelwein is usually consumed along with the food. You can also enjoy it in an alcoholic or sweet drink accompanied by lemonade or soda water. Every town has its favorite Apfelwein pub for Frankfurt the best one is ATSCHEL Apfelweingaststätte.
However, Gemalten Haus and Daheim im Lorsbacher Thal are two of the more atmospheric options in centrally located locations that serve excellent food.
With over half of the population in Frankfurt being people from more than 180 nations, There's also a vast selection of international cuisines available to choose from. Restaurants and cafes in Frankfurt offer a wide range of food choices for all budgets and budgets, from street food to Michelin-starred dining.
If you are looking for Indian Food in Frankfurt then you can read our post.
Language
The language spoken in the city is German and is often expressed in the Frankfurt dialect. However, it's a highly international city, so you'll not struggle to get by in English.
It is not a mattern of concern during your Frankfurt Layover times but if you are exploring Germany and looking forward to embark on the jounrey of exploring fairytail villages of Germany then you might wanna learn few German sentences.
Don't miss
The famous indoor market of Frankfurt called the Kleinmarkthalle is a must for foodies. There's everything available from Frankfurt dishes like Fleischwurst, the regional sausage that is served with bread rolls and mustard, oysters, local sweets, and tapas.
Do not take your time.
Frankfurt is well-known for its shopping options, from the luxury boutiques and high-end brands on Goethestrasse to chain stores and department stores along its shopping avenue and the Zeil. On Sundays, however, stores are closed. So do not rush into the city in hopes of shopping until you're stuffed.
Is Frankfurt Airport easy to navigate

Frankfurt Airport (FRA) is one of the largest and busiest airports in Europe, but it is also relatively easy to navigate. The airport has two terminals, Terminal 1 and Terminal 2, which are connected by a Skytrain. Both terminals are well-marked, with clear signage in both German and English.
To help passengers find their way around, FRA also offers a number of other services, including:
Airport maps: Free airport maps are available at information desks and throughout the terminals.
Digital signage: Digital signage screens throughout the terminals provide information on flight arrivals and departures, as well as directions to various airport facilities.
Information desks: Information desks are located throughout the terminals, where staff can provide assistance with navigation, flight information, and other airport-related matters.
FRA SmartWay app: The FRA SmartWay app is a free app that provides passengers with real-time information on flight arrivals and departures, as well as directions to various airport facilities.
FAQ – Frankfurt Layover Guide
How long of a layover do I need in frankfurt?
It depends if you want to explore the city then I would say have some time with you around 8 hours or so which would be sufficient to quickly stroll the city center and come back to the Airport during your Frankfurt Layover.
Is 1 hour enough for connecting flights in frankfurt
It is enough if you don't have to take the luggage and then check-in again because since the Airport is big you should have time to do that.
Can I leave frankfurt airport during layover
Yes for sure you can, just get the security check-in done and you can leave the Airport, but it also depends if you need German Visa or not, if you don't have Schengen VISA then unfortunately you can not leave the airport. You can check if you need visa from iVISA
How long does it take to get through customs at frankfurt airport?
It usually takes about 30-50 minutes for the luggage to arrive (yes, they are slow in FRA). There are sometime checks at the Customs as well and the time could extend for around another 30 minutes if you are carrying things like Jewellery because then they do a detials can of your baggage.
That was all the information around Frankfurt Layover and what all things you need to know if you are going to be here in Frankfurt.
If you are looking exploring Frankfurt then you should check this section of the website.
Our recent post about Festivals in Frankfurt will help you plan to attend all the upcoming festivals in Frankfurt so you can check that out as well.
Get your Notion Travel Planner Template!
Embark on your next adventure with the Wanderlust Planner – Notion Travel Planner Template – Notion Travel Planner Template for 2023 (chasingwhereabouts.com), the ultimate Notion Travel Planner Template. Organize your wanderlust-fueled dreams and turn them into unforgettable journeys. Whether you're a seasoned globetrotter or a newbie explorer, this template has you covered.