Love Valencia? Want to visit it for cheap? This is the Valencia Pass Review you've been so eagerly waiting for and it's here, only on our blog. We do all the work so you don't have to. Are you ready to start planning your next trip to Spain? Then check out our ultimate guide on how to use the Valencia Pass — including how to get the most bang for your buck!
Recently I visited Valencia and that is when I came to know about Valencia Pass. In this post 'Valencia Pass Review' I will be sharing my honest view about the Valencia Pass and eventually we will decide whether it is worth to spend money or not.
Unlike the other places there are considerable amount of options for Rome since it is one of the most popular location to cover in Italy. So I will be breaking down this post and will talk about all the passes.
If you are still in the planning phase and you don't know what all things to cover in Rome then you can check out Top Things to do in Valencia
What is the Valencia Pass (ValenciaTourist Card)?

Let us start with the most favourite one from the lost Valencia Tourist Card and you'll get everything you need to explore Valencia's top highlights. You can even choose the order you see things in, making it perfect for planning your own custom adventure.
You will get free entry to 20 of Valencia's best attractions, including the Silk Exchange, Fallas Museum, and more. You can also use all public transport in zones A, B, C and D including routes to and from the airport (L3, L5)
I'd advise obtaining a card online in advance and picking it up at the airport if you're going to Valencia. To pick it up, all you need is your order number and email address.
Alternatively, you can have it sent to your hotel or pick it up from the tourist information desk inside City Hall. Children aged 6 to 12, those over 65, and students are eligible for a 15 percent discount, but you must visit the tourist office to purchase the card.
What all things are included in Valencia Pass?
Gain free entry to 20 of Valencia's best attractions, including the Silk Exchange, Fallas Museum, and more as mentioned below

Lonja de la Seda
Museo Fallero
Museo de Historia de Valencia
Torres de Serranos
Torres de Quart
Museo Arqueológico de la Almoina
Galería del Tossal
Reales Atarazanas
Casa Museo José Benlliure
Palacio de Cervelló
Cripta Arqueológica de la Cárcel de San Vicente Mártir
Museo del Arroz
Museo de la Ciudad (Palacio Marqués Ciudad de Campo)
Casa Museo Concha Piquer
Casa Museo Blasco Ibáñez
Museo Municipal de Ciencias Naturales
Museo Histórico Municipal
Almudín


Use all public transport in zones A, B, C and D including routes to and from the airport (L3, L5)

Get coupons to enjoy complimentary tapas and drinks with a choice of five different restaurants
What is the cost of Valencia Pass?
Let us just talk about the price of Valencia Pass it cost you around 15 Euro in the starting. But I will dig deeper and talk about whether the 15 Euro cost is worth your money or now.
Check the availibility of the Valencia Card below
There are cards for 24, 48 or 72 hours, as well as another for 7 days. The prices are as follows:
24-hour Valencia Tourist Card: 15 EUR
48-hour Valencia Tourist Card: 20 EUR
72-hour Valencia Tourist Card: 25 EUR
7 day Valencia Tourist Card (without transport): 12 EUR

I usually buy things like this using Get Your Guide or Tiqets – a tour booking website I've used lots on my travels, and wholeheartedly trust.
Is The Valencia Pass Worth It?
As I already told that the Valencia Pass cost you around 15 Euro for 24 hours. I am going to break down here about the attraction which is going to be covered.
If you take a look at the cost of Public Transport in Valencia or in the image mentioned below the image the 24 hours tickets or may 10 trips ticket is going to cost you minimum 8.50 and the best would be which covers A,B,C,D region around 15.50 EUR which is almost equivalent to the Valencia Tourist Card.
So if you are planning to explore everything around in the region of A,B,C,D of metro in one day then the best case scenario would be taking the Valencia Tourist Card.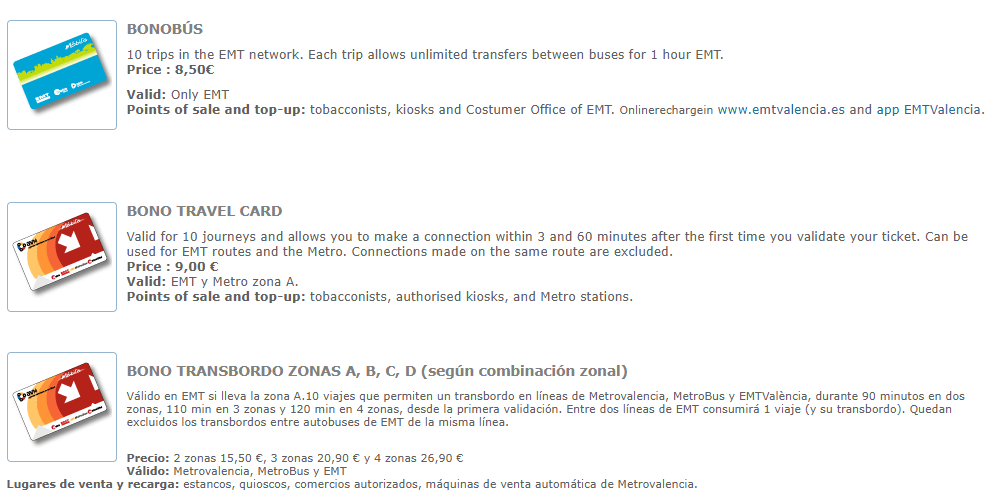 If you are looking for Pub Crawl then Valencia Tourist Card does not have specifically access for pubcrawls but it will of course let you get some discounts for nightlife in Valencia.
However you can also take the Pub Crawl with Free Shots tour which could be an ideal option for night dwellers in Spain.
10 Reason you should get Valencia Tourist Card
1. COUNTLESS JOURNEYS
Valencia Tourist Card allows you to get 60 buses, 9 metros and tram lines. So you can go wherever your heart desires upon your arrival! You can go straight to your hotel from the airport or even better – directly to the beach!
2. THE BEST VIEWS OF VALENCIA
Ascend to the two remaining gates of the old wall that encircled and guarded the city's historic center. Two of the best roofs to get a bird's eye perspective over Valencia's city center and Turia Garden are Serranos and Quart Towers.
3. ALL YEAR ROUND DISCOUNTS
What should I bring back as a keepsake is a constant dilemma for travelers. Authentic souvenirs that are unique to the place you are visiting are getting harder and harder to locate as the world becomes more and more globalized, but Valencia is an exception! You can save money on souvenirs when you use the Valencia Tourist Card! So why not purchase a hand-painted fan (did you know that Valencia is where most fans sold in Spain are made? ), famous porcelain figurines from the Valencian company Lladró, Valencia CF's official luggage, perhaps locally-made children's clothing from Miralindo, or one-of-a-kind jewelry from Vicente Gracia.
4. THE UNESCO WORLD HERITAGE TOUR INCLUDED
Enter the Lonja de la Seda, a masterpiece of European civil Gothic and a striking architectural representation of Valencia's silk industry's mercantile splendor. Take the audio tour and allow the main hall's majestic helicoidal columns, the orange grove courtyard, or the consulate of the sea hall's unexpected polychrome hardwood ceiling to enchant you.
Use this opportunity to visit the Fallas Museum and discover the history of our most significant worldwide celebration, the Fallas, which UNESCO designated as intangible cultural heritage in 2016. There are kept all the figures that have been absolved of fire since 1934.
5. SEE THE ONLY NATURAL PARK WHICH IS LOCATED SO CLOSE TO A CITY
The distance between Albufera Natural Park and Valencia's city center is only 10 kilometers! The best part is that you may use bus 25—included in the Valencia Tourist Card—or bus Turistic and receive a 2 € discount to get there. Of course, this is only possible if you're also interested in learning about the distinct ecosystem where paella originated, relaxing on beaches with dunes, taking a boat trip, or learning about the surprising biodiversity that coexists with traditional fishing, the growing of 16,000 hectares of rice, and 350 different bird species. What? Have we persuaded you yet?
6. 20 X 20
You may save 20% at 20 restaurants in the city with the Valencia Tourist Card! Here is a sample: With a focus on Blue Marina or Casa Isabel rice dishes, close to the beach; in the city center; or, for more upscale dining, Lienzo or Leixuri; or, if you're seeking for La Cigrona or Navellos tapas. But they are all present here.
7. DISCOUNTS FOR CHILDREN!
For you and your family, the Valencia Tourist Card has a lot to offer! Receive a 15% discount on admission to a variety of kid-friendly paradises, like the Oceanographic Museum, the largest aquarium in Europe, the Bioparc, which offers a true safari across Africa, and the Hemisphere, which features an IMAX theater and stunning 3D.
Additionally, you can save 10% on bike rentals, guided tours for families with kids, and tours of the Mestalla football stadium. Additionally, our badge entitles you to free admission to the museum housing the biggest collection of tiny solder toys.
8. TREAT YOURSELF TO TAPAS
Tapas and wine or beer are traditional pairings. Try both or one. eateries such as Navellos, La Cigrona, Mantequeras Vicente Ferrero, Origin, or Salazonarte, or restaurants of El Corte Inglés (Pintor Maella, 37, and Pintor Sorolla, 26). (Central Market). Find your voucher in the printed Valencia Tourist Card guide, then take advantage of it!
9. RELAX
You deserve a break if you went to every one of the destinations we suggested. Take advantage of the 15% off thermal circuit at the Olympia Hotel when you use your Valencia Tourist Card, as well as the discounted spa treatments at the La Alameda Spa and the spas at the Las Arenas, El Parado del Saler, and Primus hotels.
10. MORE FUN!
There is a lot! What do you think of visiting the L'Almoina underground museum, one of Europe's top museums of contemporary art, the Centre d'Artesania, where you can learn about and purchase locally manufactured crafts, and the Botanical Gardens, where you can witness 200-year-old crops? Get on the Wine Bus and spend the day among the vineyards of the Utiel-Requena Designation of Origin (with wineries that are extremely well positioned in the Pen Guide) and reserve your spot (for half the price!) on such interesting guided excursions as the Holy Grail or the Silk.
Does The Valencia Pass Save Time?
Short answer is yes but it going to same like booking the seperate tickets online before you actually step foot into Rome. I really am not fond of travelling in Europe and exploring places which I want to explore and standing in the queue for hours just to take the tickets and then again another hour in the queue to finally see the attraction.
In the Paris Pass Review I talked about the same thing because when I visited Eiffel Tower I was so happy that I booked the ticket online well before hand which saved me around 1.5 hours from the queue for just the tickets. In Venice City Pass Review – Is it worth it? I talked about similar thing as well and so in the Vienna Pass Review – Is it worth your money?
Tip! I tend to also book the skip the line ticket because it helps you to directly access the attraction without standing in the normal queue just for couple of bucks.
Since all the tickets which you get under the Rome Pass are the fast track or skip the line ticket then it will for sure help you to save the time.
Does The Valencia Tourist Card Save Money?
Now let us discuss about the actual saving happening with the Valencia Tourist Card and whether it saves money for you or not.
For this we need to check the section for the Valencia Tourist Card places which are free of cost and can be entered with the Valencia Tourist Card for free instead of paying the ticket.
Name
Price Adult
Price Child
With Valencia Tourist Card
Almudín
6 € with Municipal museum card with entry for all municipal museums, valid for one-day
2€
Free
Archaelogical Crypt of the Prison of San Vicente
6 € with Municipal museum card with entry for all municipal museums, valid for one-day
2€
Free
Cervello Palace (Home of Municipal Historical Archive)
6 € with Municipal museum card with entry for all municipal museums, valid for one-day
2€
Free
Cathedral, Miguelete and Holy Grail
€8 | 7.2€ with VTC (0.80 saving)
Free
City Hall
Free
Free
Free
La Lonja (The Silk Exchange) Unesco World Heritage
Free
Free
Free
Opera. Palau de les Arts Reina Sofía
25% discount on the guided tour with the Valencia Tourist Card
Quart Towers
FREE ENTRANCE. Provisionally, and while working on the implementation of payment through dataphones.
Admission: € 2 general entry; € 1 for groups, students, pensioners, large families, children from 7 years old. Free on Sundays and holidays.
Free
If you just add the cost of the Free Transport along with 6 EUR cost of the Museum pass you will reach the cost of the Valencia Tourist Card and anything which you are going to spend above that or book the tickets above that for Valencia attractions you are going to save minimum 10% and maximum 20 – 25% on the cost.
What we would suggest is go through the Valencia Website and prepare you itinerary about the things which you wish to cover in the city and based on that you can get the idea whether to buy or not.
Our recommendation is that it is going to save you money if you are planning to do lot of activities in Valencia Spain.
That was all about Valencia Pass Review and do let me know if you found this post helpful.
If you are on your trip to Italy then below are some of the post which you can check out
Get your Notion Travel Planner Template!
Embark on your next adventure with the Wanderlust Planner – Notion Travel Planner Template – Notion Travel Planner Template for 2023 (chasingwhereabouts.com), the ultimate Notion Travel Planner Template. Organize your wanderlust-fueled dreams and turn them into unforgettable journeys. Whether you're a seasoned globetrotter or a newbie explorer, this template has you covered.