As a travel bloggers, we are always fond of getting photos and looking for the best Photo Spots in Barcelona. In this guide, we will share the Barcelona Instagram Captions you can use to share your photos to your social media account.
Barcelona, a city of captivating architecture, vibrant culture, and endless charm, is a paradise for every traveller. If you're exploring this Spanish gem, don't miss out on the chance to elevate your Instagram game with these trendy captions.
This post will be subdivided into the Locations which you should and must visit in Barcelona during your trip which are the Best Photo Spots in Barcelona along with the Captions you can use to share these photos.
Captions for Sagrada Familia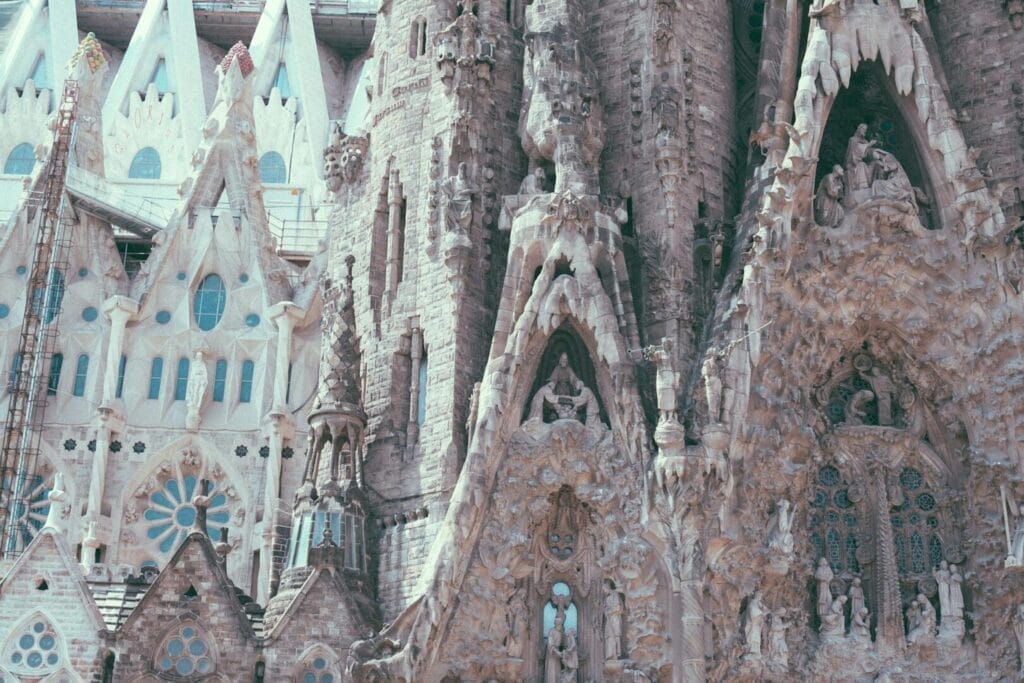 "Gaudí's Symphony in Stone: Sagrada Familia's Timeless Elegance."
"Architectural Poetry Unveiled: Exploring the Wonders of Sagrada Familia."
"Sagrada Splendor: A Masterpiece in Every Detail."
"Gothic Grandeur at its Finest: Sagrada Familia's Majestic Presence."
"Whispers of Faith in Stone: Capturing Sagrada Familia's Spiritual Aura."
"Gaudí's Legacy Illuminated: Sagrada Familia in the Golden Hour."
"Sculpted by Dreams: Sagrada Familia's Surreal Beauty Unveiled."
"In Awe of Gaudí's Vision: Sagrada Familia's Architectural Marvels."
"A Dance of Light and Stone: Sagrada Familia's Ever-Evolving Symphony."
"Journey into Barcelona's Soul: Sagrada Familia's Iconic Silhouette."
Quick Tip: Do you want professional Photographers to click your awesome photos at the attractions? Then you can check our partner Smiler which offers this service at a cheap cost.
Captions for Park Güell
Nature and Art Collide: Park Güell's Whimsical Playground.
"Gaudí's Canvas Unleashed: Artistry in Every Corner of Park Güell."
"Wonders of the Outdoors: Park Güell's Charm Under the Sun."
"Captivating Colors: Park Güell's Vibrant Palette Revealed."
"Serene Moments: Nature's Embrace at Park Güell."
Captions for La Rambla
"La Rambla's Heartbeat: Where Culture, Colors, and Charisma Collide."
"A Stroll Through Barcelona's Soul: Capturing La Rambla's Essence."
"Lively Pursuits: La Rambla's Energy in Every Step."
"Boulevard of Wonders: Discovering Treasures Along La Rambla."
"Cafés, Culture, and Catalonian Vibes: La Rambla Unveiled."
Captions for Barceloneta Beach
"Barceloneta's Golden Hour: Where Sunsets Kiss the Sea."
"Sun, Sand, and Seaside Bliss: Capturing Life at Barceloneta Beach."
"Ocean Breeze Moments: Barceloneta's Tranquility in the Day."
"Beachside Adventure: Sun-Kissed Memories at Barceloneta."
"Sunset Serenity: Barceloneta's Peaceful Shores."
Captions for Gothic Quarter
"Gothic Quarter's Secrets Revealed in Every Cobblestone."
"Time Travel in Barcelona: Exploring History in the Gothic Quarter."
"Old-World Charms: Gothic Quarter's Enchanting Alleys."
"Gothic Mysteries: Unveiling Hidden Gems in Every Corner."
"Stories in Stone: Gothic Quarter's Architectural Elegance."
Captions for Montjuïc
"On Top of the World at Montjuïc: Where Every View Is a Postcard."
"Montjuïc Magic: Capturing Barcelona's Panorama from Above."
"Hilltop Serenity: Sunset Bliss at Montjuïc's Peak."
"Fountains and Forts: Exploring Montjuïc's Historic Splendor."
"Aerial Views and Ancient Walls: Montjuïc's Photographic Treasures."
Captions for El Born
"Savoring Every Bite in the Heart of El Born: Tapas and Tales."
"El Born Evenings: Exploring the Culinary Delights of Barcelona."
"Hidden Gems and Historic Streets: El Born's Charms Revealed."
"Tapas Time: Culinary Adventures in El Born's Vibrant Atmosphere."
"Barcelona's Flavors Unleashed: A Gastronomic Journey in El Born."
Captions for Magic Fountain
"Mesmerized by the Dance of Lights at the Magic Fountain."
"Barcelona's Finale of Splendor: Magic Fountain Magic Unveiled."
"Nighttime Spectacle: The Enchanting Magic of Barcelona's Fountain."
"Dancing Colors and Water: A Symphony at the Magic Fountain."
"Lights, Water, Action: Capturing the Dynamic Magic Fountain Moments."
Barcelona's diverse landscapes and neighbourhoods offer any traveller or photographer a rich tapestry of experiences. From the heights of Montjuïc to the historic streets of El Born, each location presents a unique story waiting to be told through captivating captions and mesmerizing visuals. #BarcelonaAdventures #PhotographyJourney
Read More About Barcelona
Get your Notion Travel Planner Template!
Embark on your next adventure with the Wanderlust Planner – Notion Travel Planner Template – Notion Travel Planner Template for 2023 (chasingwhereabouts.com), the ultimate Notion Travel Planner Template. Organize your wanderlust-fueled dreams and turn them into unforgettable journeys. Whether you're a seasoned globetrotter or a newbie explorer, this template has you covered.