Are you planning a romantic getaway to Barcelona this winter and searching for the perfect hotel to make your stay unforgettable?
With its late-night culture, seductive culinary scene and breathtaking architecture, Barcelona is the ideal destination for a couples' escape.
Here's a guide to some of the most romantic places to stay in Barcelona, offering opulent suites, intimate dining, relaxing spas and cosy tapas bars to make your winter retreat nothing short of magical. 
The Mandarin Oriental is a luxury hotel located in the heart of Barcelona, within walking distance of the Gothic Quarter. This hotel boasts chic decor, exceptional dining and a relaxing spa.
The Mandarin Hotel features a rooftop terrace and pool with panoramic views of the city, as well as a restaurant managed by a renowned chef with seven Michelin stars. 
Many rooms and suites feature private balconies with views of iconic Barcelona landmarks, like Passeig de Gràcia. The hotel offers a peaceful retreat with a spa and is conveniently located near the city's main attractions. The dining options, including a two-Michelin-starred restaurant, Moments, cater to various tastes.
The spa offers a range of holistic treatments, an Oriental steam room and a 12-meter indoor pool. The hotel provides enticing packages for a romantic getaway, making it a perfect choice for a winter escape.
Sir Victor Hotel, formerly known as Omm and now part of the Sir Hotels brand, is a modern hotel situated near La Pedrera in Barcelona.
The hotel offers trendy and spacious rooms, Wi-Fi throughout and a renowned restaurant, MR PORTER. MR PORTER serves steak, seafood and vegetarian options, all paired with elegant cocktails. Barcelona is one of the best places in the world to enjoy tapas and Sir Victor is conveniently situated near several tapas bars. 
It features impeccable city views, a luxe spa and a rooftop pool, providing stunning views of Gaudi's architectural wonders. Sir Victor pays homage to esteemed 19th-century Catalan writer Victor Catala and includes a library dedicated to female authors.
The hotel's interior design incorporates a mix of playful and rich elements, drawing inspiration from Barcelona's vibrant street scene, the sea and the mountains.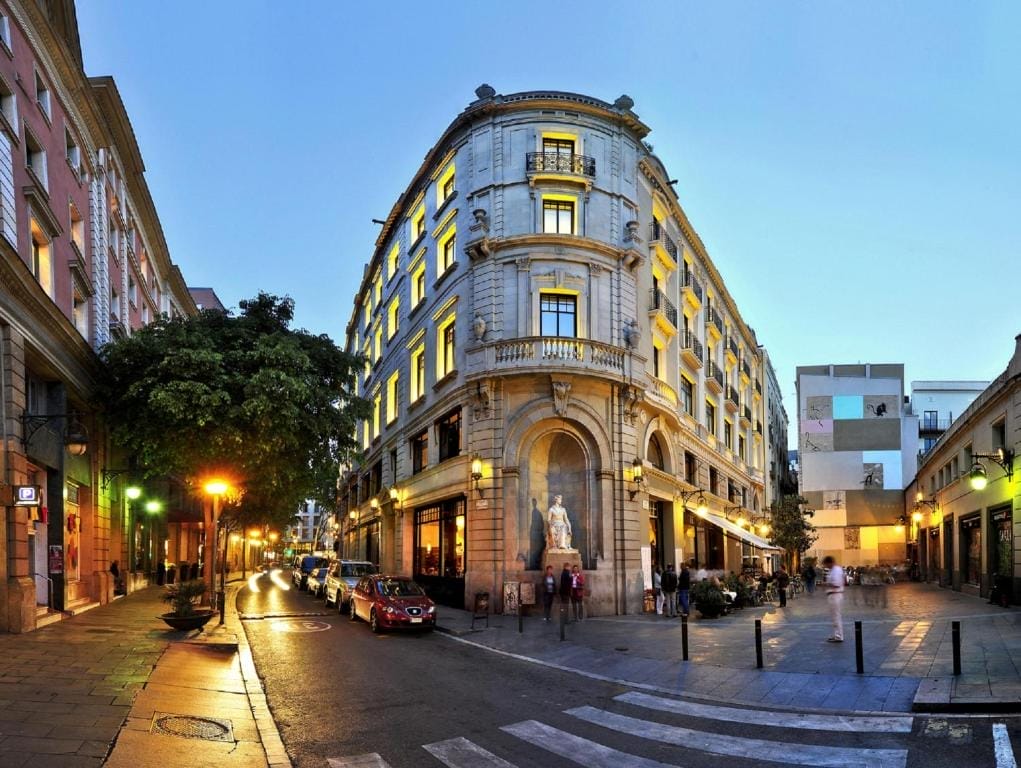 Hotel 1898 is a luxurious and historic hotel located on the famous La Rambla. This opulent hotel offers a romantic and intimate atmosphere, making it an excellent choice for a gateway with your loved one. The hotel's elegant and spacious rooms are tastefully decorated with a fusion of classic and contemporary styles, providing a cozy and comfortable retreat.
Guests can indulge in the hotel's spa and wellness center, which features a sauna, steam room, fitness center, pool and a selection of rejuvenating treatments. Treatments are all vegan and organic, ideal for those following a cruelty-free lifestyle.
The rooftop terrace with a pool and panoramic views of the city provides a perfect setting for romantic moments. Additionally, a breakfast buffet is on offer every morning and the hotel's restaurant serves a delectable Catalan cuisine, adding to the overall romantic experience.
El Palace is one of the most romantic places to stay in Barcelona. This iconic hotel, nestled in the heart of the city and in close proximity to the sea, offers a perfect blend of timeless elegance and modern luxury. The rooms and suites are beautifully appointed, exuding a romantic ambience with their classic decor and luxurious amenities. 
The hotel features a stunning rooftop pool and terrace, providing breathtaking views of the city, ideal for intimate moments. El Palace boasts a Michelin-starred restaurant, offering a culinary experience that's sure to delight your senses.
They serve delicious cocktails and are open for breakfast, lunch, dinner and cocktails – and you don't need to be a guest to enjoy them. In addition, you can enjoy afternoon tea, blues performances and art master classes. 
The Mayan luxury spa and wellness facilities further enhance the romantic atmosphere, providing relaxation and rejuvenation. Overall, El Palace Barcelona is a captivating destination for couples seeking a truly enchanting and romantic escape.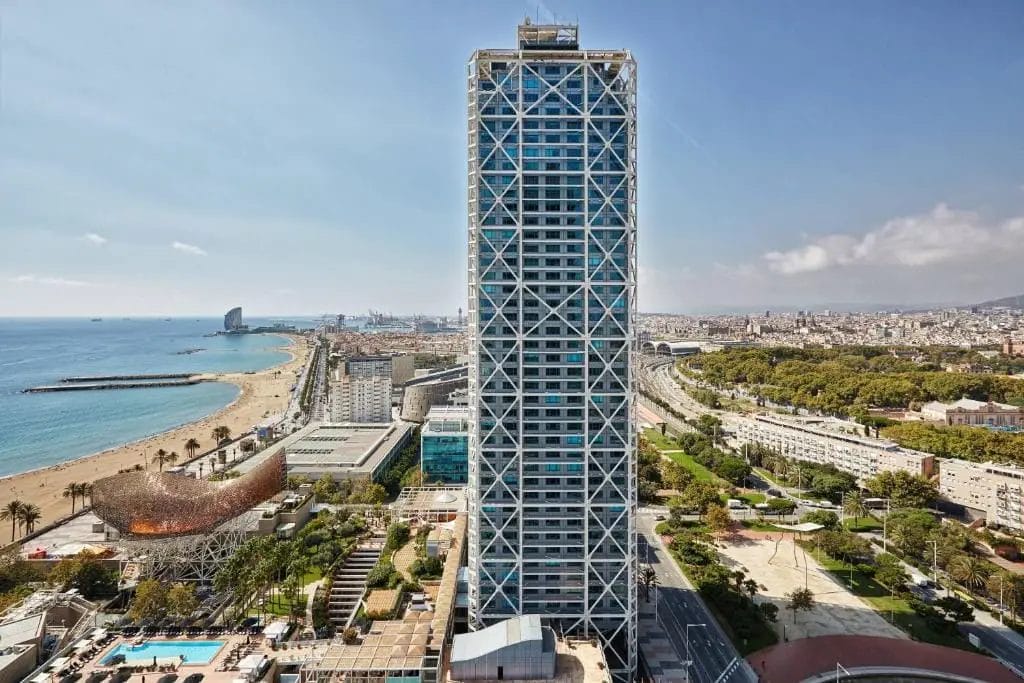 Hotel Arts is an exquisite choice for a romantic getaway. This hotel is a premier urban resort offering luxurious accommodations with panoramic city and beach views, designed as a striking tower of blue glass and steel towering 44 floors above the sea.
Fortunately, Barcelona doesn't get too cold in the winter, which means you can still enjoy the beautiful sea views and a relaxing stroll along the beach when the sun is shining. 
There are seven gastronomic restaurants, one of which is Michelin-starred. These eateries serve traditional Mediterranean cuisine, Japanese robatayaki, tapas and international meals – providing a variety of dishes to suit your taste buds.
Additionally, there's an infinity pool and a luxury spa with an ocean view. It's located right on the beach in an area with a casino and a variety of restaurants and nightclubs.
It's close to several hotpot restaurants, which can be an enjoyable and romantic activity for you and your partner. Learning to prepare and cook traditional Japanese nabe, similar to fondue in the U.S., can be a memorable learning experience as you broaden your culinary horizons and learn a new skill. 
The property is smoke-free, with no pets allowed and offers accessible rooms and common areas catering to guests with disabilities. It's also a great place to bring your kids to, as services include babysitting, kid-friendly amenities, children's menus and family-friendly excursions.
Cotton House, another luxurious five-star hotel in the centre of Barcelona, is easily accessible to major tourist sites and shopping malls. The hotel is housed in the former headquarters of the Association of Cotton House Manufacturers, hence the name, combining a touch of history with modern comforts. 
This Marriot hotel boasts opulent suites with four-poster beds and balconies, providing a lavish setting for your stay. The rooms feature a bright, all-white color scheme and come equipped with amenities such as a flat-screen TV, a sofa and complimentary tea and coffee. Guests can enjoy Catalan dishes at the hotel's restaurant, In Nature, made with high-quality Mediterranean ingredients.
Additionally, the hotel offers a pool, a massage room and a state-of-the-art fitness centre. It's conveniently located near the famous attraction, Sagrada Familia, as well as a zoo and an aquarium. 
Rekindle Your Love This Winter: Romantic Places to Stay in Barcelona
With these romantic places to stay in Barcelona, your winter retreat is sure to be an unforgettable and enchanting experience. Whether you're seeking luxury, charm or intimacy, the city has the perfect accommodation to suit your romantic desires.
So, if you're looking to rekindle the flames of romance this winter, Barcelona's idyllic hotels are ready to welcome you with open arms. 
Get your Notion Travel Planner Template!
Embark on your next adventure with the Wanderlust Planner – Notion Travel Planner Template – Notion Travel Planner Template for 2023 (chasingwhereabouts.com), the ultimate Notion Travel Planner Template. Organize your wanderlust-fueled dreams and turn them into unforgettable journeys. Whether you're a seasoned globetrotter or a newbie explorer, this template has you covered.