Barcelona, Spain, has plenty of unique things to do while you're in the country. When you finish
sightseeing, you might want to recharge with your friends or family at a local bar. Check out a
few of the best karaoke bars in Barcelona to have fun and relax at the end of an adventurous
day.
These places all offer something different and will make your visit to this lively city all the more
memorable. Get ready to sing up a storm and experience nightlife here to the fullest.
If you're planning on spending your summer in Spain and singing your heart out at a karaoke bar in Barcelona, it's important to prioritize your safety and well-being. Luckily, SafetyWing's Nomad Insurance is specifically designed for digital nomads, remote workers, and long-term travelers and can provide you with comprehensive coverage for a variety of potential issues, including medical expenses, travel delays, lost luggage, and more.
With Nomad Insurance, you can enjoy your summer in Spain with peace of mind, knowing that you're protected no matter where your travels take you, whether you're belting out your favorite tunes at one of Barcelona's top karaoke bars or exploring the city's other attractions. So why not add an extra layer of security to your travels and check out Nomad Insurance from SafetyWing before your next night of karaoke fun in the summer sun?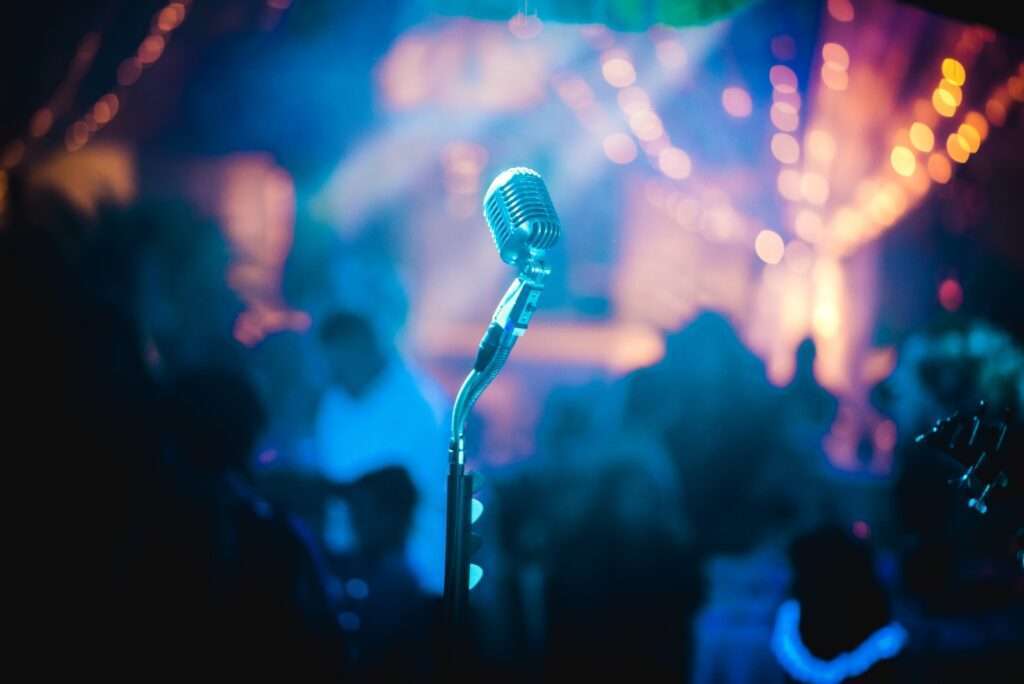 The George Payne
The owners of the George Payne bought an old adult film movie theater and transformed it into
an Irish getaway in Barcelona. You can visit the massive bar and join the karaoke crowds on
Thursday and Sunday nights. The many TVs around the bar will keep you updated on your
favorite sports teams while you sip on a cocktail or cold pint of beer.
It's the best spot to start your karaoke adventures, especially if you're missing home. It has the
well-known feel of a typical sports bar but features specialty cocktails you won't find anywhere
else. Order some comfort food before jumping onto the stage. You'll have a great time with your
friends or by yourself.
Address: Placa Urquinaona 5, Barcelona
The Sidecar Factory Club
The Sidecar Factory club might have more of your favorite songs than other karaoke bars if you
consider yourself an eclectic music fan. It's a small venue filled with shadowed corners and
neon strips of lights, but don't get fooled by pictures. Hundreds of people fit easily into the club
late at night. After midnight, everyone can request more modern, mainstream music for a
raucous good time.
A Viva Voz
People often miss the low-key entrance to Viva Voz, which hides the stellar bar away from
touristy crowds. It's one of the best karaoke bars in Barcelona for anyone who wants to feel like
a local. You can even rent a private room there if you're traveling with multiple friends and want
to sing in private.
Karaoke Contraste
The neon lights and vintage vibe will dazzle you when you enter Karaoke Contraste. The bar is
an intimate space, but the karaoke repertoire has thousands of songs in numerous languages.
The extensive selection makes this venue a great place to try karaoke for the first time. You
could experience the fun people have enjoyed since 1971 and make incredible memories with
your favorite people. All you need is a song worthy of a dance crowd to have a blast in
Barcelona.
Weekend Karaoke
Jump on stage at Weekend Karaoke and surround yourself with neon lights in a rainbow of
colors. The venue aims to create a laid-back atmosphere so no one feels anxious if they want to
sing. You may have to wait in line as people sign up for their favorite karaoke song. In the
meantime, try the restaurant's well-known appetizer menu as you listen to people picking from
over 50,000 songs available for karaoke dreamers.
You can check more here
Nick Discoteca
The owners of Nick Discoteca merged the fun vibes of a karaoke bar with the liveliness of a
nightclub. You'll have the best of both worlds when you enter the venue and might rush to
request your favorite song. After singing through the songs you love most, retreat to a separate
dining area where you can catch up with friends over late-night snacks. It's much easier to hear
each other and discuss your next vacation activities before returning for another round of
karaoke.
Trompo Chiste
Start your singing experience at the Trompo Chiste bar if you're a bit shy at the beginning of a
karaoke night. It's a tiny venue with small tables and a wide stage stretching nearly from wall to
wall. You'll feel like you're singing with your friends in a hometown pub in the relaxing
atmosphere and quaint decor. Just don't underestimate the bar – it has sparkling lights
showcasing a wide variety of liquor because the venue has some of the best mixologists in
town.
Touch Music
The venue and vibes at Touch Music karaoke bar are irresistible. Locals and tourists stop by to
hang out every night and experience the one-of-a-kind scene. After the sun sets, it quickly
becomes one of the liveliest places in Barcelona. You'll find the latest hits and vintage songs
available for anyone who wants to sing. Just ask the staff members to select your preferred
tunes to kick off a night of singing under portraits of the most famous musicians in the world.
Karaoke Queens
People often mention Karaoke Queens when they tell travelers about the most popular karaoke
bars in Barcelona. It can only fit a few hundred people, but the venue competes with some of
the biggest clubs in the city.
Settle into plush couches or velvet booths to relax while sipping a drink. Sign up to sing and
select your favorite tunes from the extensive list saved to the touch screens waiting for you on
stage. You might even find yourself in town while the venue hosts its recurring song contests.
See if you can win the prize with your most practiced karaoke songs.
Barroko's Club
Middle-aged travelers can gain exclusive access to Barroko's Club in downtown Barcelona. It's
a venue for older travelers and locals who want to jam out to tunes from decades past. Sing
karaoke until your voice gets scratchy, then jump onto the dance floor. Visitors keep the place
bouncing long into the night by filling the venue until it's standing room only. Bring your ID to the
door – they'll turn you away if you're younger than 45.
Explore karaoke bars in Barcelona
Consider spending time in some of the best karaoke bars in Barcelona during your next
international trip. You'll love how each venue sets itself apart from competitors to give visitors
unique experiences you can share with your loved ones back home. Whether you look forward
to singing songs from specific decades, eating bar food or sipping high-quality cocktails,
Barcelona's karaoke scene won't disappoint.
Get your Notion Travel Planner Template!
Embark on your next adventure with the Wanderlust Planner – Notion Travel Planner Template – Notion Travel Planner Template for 2023 (chasingwhereabouts.com), the ultimate Notion Travel Planner Template. Organize your wanderlust-fueled dreams and turn them into unforgettable journeys. Whether you're a seasoned globetrotter or a newbie explorer, this template has you covered.