Barcelona has long been celebrated as a vibrant and inclusive LGBTQ+ destination. The city's captivating blend of culture, history, and beachside beauty makes it a perfect getaway for LGBTQ+ travellers seeking sun, sand, and acceptance. Among the many attractions, Barcelona boasts several gay-friendly beaches where freedom, fun, and diversity thrive. In this article, we'll explore the best gay beaches in Barcelona, each offering a unique experience for LGBTQ+ visitors.
Best Gay Beaches in Barcelona
1. Barceloneta Beach: Where Fun Meets Freedom
Barceloneta Beach is a melting pot of beach culture and LGBTQ+ acceptance. Its lively atmosphere and array of water sports attract locals and tourists alike. LGBTQ+ travelers can bask in the sun without fear of judgment while savoring delicious beachfront cuisine. We'll also share tips for a memorable day at Barceloneta.
Barcelona's Gay Beaches | Image source: Unsplash
2. Bogatell Beach: A Tranquil LGBTQ+ Haven
For LGBTQ+ travelers seeking a more relaxed beach experience, Bogatell Beach is the perfect choice. Known for its tranquility and LGBTQ+ amenities, this beach offers a peaceful escape. We'll explore the beach's recreational options and recommend spots where LGBTQ+ visitors can feel comfortable and at home.
3. Mar Bella Beach: The Trendy Beach for LGBTQ+
Mar Bella Beach stands out as the trendy hotspot for Barcelona's LGBTQ+ community. From vibrant LGBTQ+ events to nudist-friendly areas, this beach caters to diverse tastes. We'll also delve into the beach's exciting nightlife scene and how visitors can embrace its lively spirit.
4. Nova Icaria Beach: Where Serenity Meets Socializing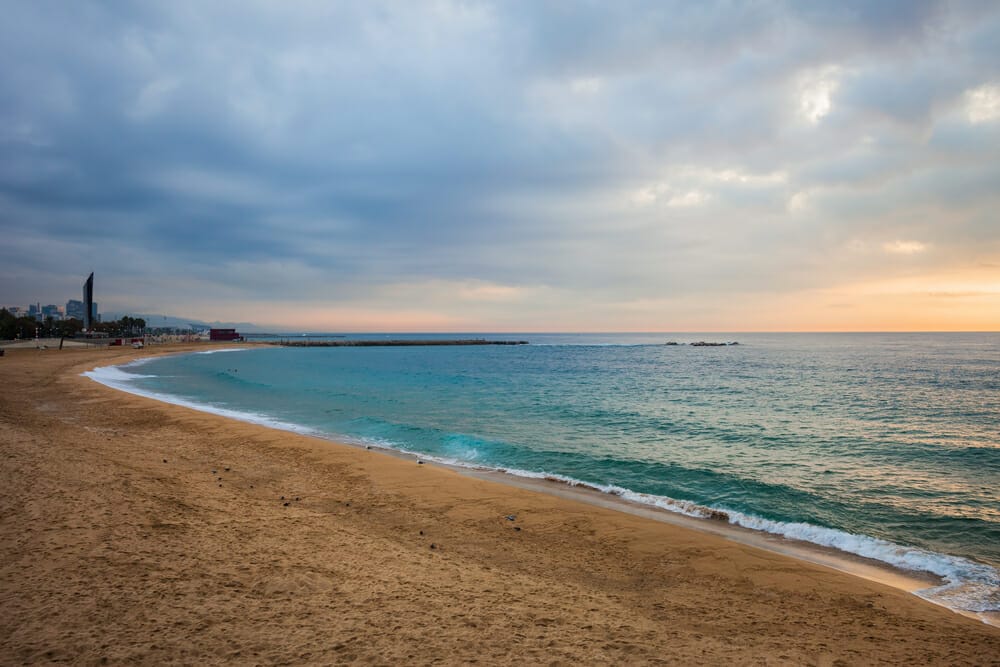 For LGBTQ+ travelers seeking a mix of serenity and socializing, Nova Icaria Beach offers the best of both worlds. We'll uncover LGBTQ+ meetups and support groups that welcome newcomers. Additionally, we'll highlight the beach's waterfront dining and opportunities to engage in beach sports.
5. Ocata Beach: A Scenic Escape for LGBTQ+ Travelers
Nestled in the charming town of Ocata, Ocata Beach offers LGBTQ+ visitors a scenic and picturesque escape. We'll explore the beach's natural beauty, nearby attractions, and water quality. Whether travelers seek relaxation or adventure, Ocata has something for everyone.
6. Castelldefels Beach: Where Diversity Shines
Diversity takes center stage at Castelldefels Beach, a welcoming and inclusive destination for LGBTQ+ travelers. This beach hosts various LGBTQ+ events and festivals, fostering a sense of unity. We'll also recommend beach sports and ideal sunset viewpoints.
7. Garraf Beach: A Hidden Gem for LGBTQ+ Travelers
Garraf Beach remains a hidden gem, known for its secluded and unspoiled charm. LGBTQ+ visitors can enjoy the peace and tranquility while indulging in nature trails and nearby attractions. We'll uncover the local LGBTQ+ scene and nightlife to make the most of a visit to Garraf.
8. Sitges Beach: The LGBTQ+ Paradise
Regarded as the epitome of LGBTQ+ acceptance, Sitges Beach is a paradise for LGBTQ+ travelers. We'll explore iconic landmarks, LGBTQ+ establishments, and vibrant Pride celebrations. Moreover, we'll touch upon the beachside art and cultural experiences that await visitors.
9. Cabrera de Mar Beach: A Secluded LGBTQ+ Getaway
For a more intimate LGBTQ+ experience, Cabrera de Mar Beach offers a secluded and tranquil getaway. We'll explore its accommodation options, embrace body positivity in nude bathing areas, and engage in water sports and leisure activities.
10. Caldes d'Estrac Beach: A Historic LGBTQ+ Destination
Caldes d'Estrac Beach holds historical significance for LGBTQ+ travelers, evident in its landmarks and attractions. This beach offers unique beachside relaxation and spa experiences. We'll immerse in the artistic and creative vibe that Caldes d'Estrac has to offer.
11. Calella Beach: Sun, Sand, and LGBTQ+ Hospitality
As the sun sets on Calella Beach, LGBTQ+ travelers can feel the warm embrace of the LGBTQ+ friendly atmosphere. The beach is renowned for its hospitality, ensuring all visitors feel welcome and accepted. We'll guide readers through accommodation options, nightlife hotspots, and beachfront shopping for the perfect souvenirs.
12. Somorrostro Beach: A Symbol of Progress
At Somorrostro Beach, the history of LGBTQ+ acceptance and progress comes to life. Commemorating LGBTQ+ achievements, this beach celebrates inclusivity and equality. Families, too, will find the beach accommodating and family-friendly. Volleyball and beach sports scenes add an active twist to the experience.
13. San Sebastià Beach: A Blend of Tradition and Openness
San Sebastià Beach exudes a unique blend of tradition and openness. LGBTQ+ art and cultural events thrive, contributing to the rich fabric of Barcelona's LGBTQ+ community. We'll also share swimming and sunbathing etiquette and explore the exciting world of surfing and water activities.
14. Levant Beach: A Thriving LGBTQ+ Community
Levant Beach is a lively hub of the LGBTQ+ community, buzzing with energy and diversity. Join LGBTQ+ sports and fitness groups for a fun and active beach experience. Discover beachfront restaurants offering delicious delicacies while witnessing breathtaking sunsets and evening entertainment.
15. El Prat Beach: A Natural Retreat for LGBTQ+ Travelers
Last but not least, El Prat Beach offers LGBTQ+ travelers a unique natural retreat. With its eco-friendly approach, this beach supports wildlife conservation, making it an ideal spot for birdwatching and embracing nature. We'll also explore water sports and eco-tours to connect with Barcelona's beautiful surroundings.
Conclusion
Barcelona's LGBTQ+ beaches form an inseparable part of the city's diverse and accepting culture. From the vibrant atmosphere of Barceloneta to the secluded charm of Garraf, each beach offers something special for LGBTQ+ travellers. Embracing diversity and acceptance, Barcelona stands as a shining example of LGBTQ+ friendliness in Europe. So, pack your sunscreen, swimwear, and an open heart as you set out to explore these fantastic gay beaches in Barcelona.
Read More: Barcelona Pass Review | Is it worth your money?
FAQ
Is Barcelona a gay-friendly destination?
Absolutely! Barcelona is known for its open and accepting attitude towards LGBTQ+ travelers. The city embraces diversity, and its gay-friendly beaches are a testament to its inclusivity.
Which beach is best for LGBTQ+ events and parties?
Mar Bella Beach is the go-to spot for LGBTQ+ events and parties. Its trendy ambiance and vibrant scene attract party-goers from all over.
Are there any LGBTQ+ exclusive accommodations near the beaches?
Yes, several LGBTQ+ exclusive accommodations are available near the beaches, providing safe and welcoming spaces for LGBTQ+ travelers.
Is nudity allowed on all the gay beaches?
While some beaches like Mar Bella and Cabrera de Mar have designated nudist-friendly areas, nudity is generally allowed in many Barcelona beaches, adding to the sense of freedom.
Are there any LGBTQ+ landmarks to visit in Barcelona?
Yes, Barcelona boasts various LGBTQ+ landmarks, including the LGBTQ+ Pride Parade route and the iconic Eixample neighbourhood, known for its LGBTQ+ establishments.