One of the most important elements to consider when traveling is packing efficiently. Travel small toiletries are a convenient way to maintain personal hygiene while on the go.
In this post, we will look at the benefits of travel size toiletries, must-pack goods, product selection advice, packing and organizing tactics, TSA rules, where to get these items, eco-friendly alternatives, and much more. So, let's take a look at the world of travel size toiletries and see how they might improve your vacation experience.
Benefits of Travel Size Toiletries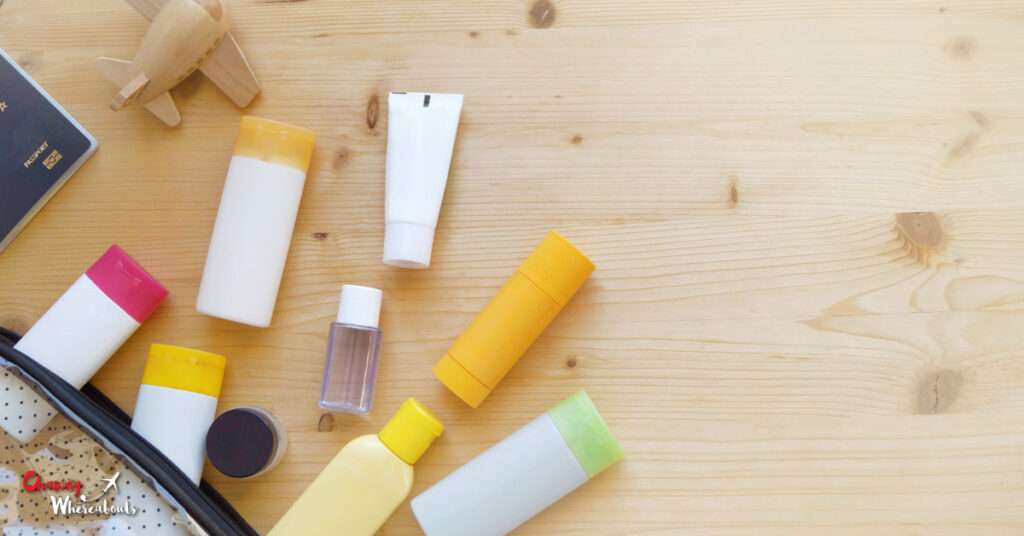 Travel essentials come in all shapes and sizes, but the compact nature of travel size toiletries makes them a favorite among frequent travelers. Here are some key benefits:
Convenient Packing: Travel size toiletries are specifically designed to occupy minimal space in your luggage, freeing up room for other essentials.
TSA Regulations: These toiletries comply with Transportation Security Administration (TSA) regulations, allowing you to breeze through airport security checks without any hassle.
Must-Have Travel Size Toiletries
When it comes to packing travel size toiletries, certain items are considered must-haves for a comfortable journey. Here are some essentials to consider:
Shampoo
Conditioner
Body wash
Toothpaste
Deodorant
Sunscreen
Moisturizer
These items will ensure that you maintain your hygiene routine even when you're away from home. Now let's explore some tips for choosing the right travel-size toiletries.
The Best Travel Size Toiletries
TSA Regulations and Travel Size Toiletries
Understanding TSA regulations is crucial when packing travel size toiletries. The following rules should be considered:
Liquid Restrictions: Liquids should be in containers of 3.4 ounces (100 milliliters) or less, and all containers must fit in a single quart-sized clear bag.
3-1-1 Rule: Each passenger is allowed one quart-sized bag containing 3.4 ounces (100 milliliters) or less of liquids, gels, creams, and pastes.
Where to Buy Travel Size Toiletries
Travel size toiletries can be purchased from various sources. Here are some options to consider:
Local Stores: Many supermarkets, pharmacies, and convenience stores offer a range of travel size toiletries to cater to your needs.
Online Retailers: E-commerce platforms provide a wide variety of travel size toiletries, allowing you to conveniently browse and order online.
Travel-Specific Stores: Stores located in airports or travel hubs often specialize in travel size toiletries, offering a comprehensive range of products.
Eco-Friendly Alternatives for Travel Size Toiletries
For those concerned about the environmental impact of single-use plastic, there are eco-friendly alternatives available. Consider the following options:
Solid Toiletries: Solid shampoo bars, conditioner bars, and soap bars eliminate the need for plastic packaging and are highly travel-friendly.
Refillable Containers: Opt for refillable travel size containers that can be filled with your favorite toiletries from larger bottles, reducing waste.
Tips for Maximizing the Use of Travel Size Toiletries
To make the most out of your travel size toiletries, follow these tips:
Packing Strategies: Plan your toiletry needs ahead of time and pack accordingly to ensure you have enough supplies for your trip.
Reusing Containers: After your trip, clean and refill the travel size containers for your future travels to avoid unnecessary expenditure.
Maintaining Hygiene with Travel Size Toiletries
Besides the standard toiletries, there are a few additional items that can help you maintain hygiene while traveling:
Hand Sanitizers: Carry a travel-size hand sanitizer to keep your hands clean when soap and water are not readily available.
Disinfecting Wipes: Wipe down surfaces such as tray tables, armrests, and doorknobs to reduce the risk of exposure to germs.
Overcoming Challenges with Travel Size Toiletries
While travel size toiletries offer convenience, there are a few challenges to be aware of:
Limited Options: Some specialty products or specific brands may not be available in travel size, requiring alternative solutions or decanting.
Allergies and Skin Sensitivity: Take note of any allergies or skin sensitivities and choose travel size toiletries that are suitable for your needs.
Personalizing Travel Size Toiletries
Customization can enhance your travel experience. Consider the following ways to personalize your travel size toiletries:
Customization Options: Some brands offer customization options, allowing you to choose scents, ingredients, or personalized packaging for your toiletries.
Fragrance Preferences: Select toiletries with scents that make you feel comfortable and refreshed during your journey.
Travel Size Toiletries for Specific Needs
Certain individuals have specific toiletry requirements. Here are some options for various needs:
Baby Care: Travel size toiletries designed for babies include gentle shampoos, baby lotions, and diaper creams.
Skincare: Look for travel size cleansers, toners, serums, and moisturizers suitable for your skin type to maintain your skincare routine while traveling.
Haircare: Travel size hair products such as dry shampoo, hair spray, and hair oils can help you maintain your desired hairstyle during your trip.
Travel Size Toiletries as Gifts or Souvenirs
Travel size toiletries can also serve as practical gifts or souvenirs. Consider the following advantages:
Practicality: Small-sized toiletries are useful gifts, especially for frequent travelers or those going on short trips.
Unique Options: Some travel size toiletries come in exclusive scents or limited editions, making them a memorable souvenir from your travels.
Conclusion
Travel size toiletries are a game-changer for travelers seeking convenience and efficiency in their personal hygiene routines. With the right selection and organization, these compact products allow you to maintain your cleanliness and comfort wherever your journey takes you. So, pack your travel toiletry bag wisely, follow the TSA regulations, and explore the wide array of travel size toiletries available to enhance your travel experience.
FAQs (Frequently Asked Questions)