When you imagine intimate vacations, what comes to mind? You likely think of starry nights in Paris, France, or a romantic weekend in Florence, Italy. Traveling to Florence is on many couples' bucket lists because there are endless opportunities for candlelit dinners and moonlit kisses. In this post we are going to cover best Romantic things to do in Florence Italy.
Florence is an ancient city with roots dating back to 59 B.C. The architecture contributes to the beautiful sights you'll see all over town. You'll have a vacation to remember with these eight best places to visit in Florence, Italy.
1. Ponte Vecchio
In the heart of Florence, you'll find Ponte Vecchio or the old bridge. How old is it? The Romans built the bridge over a thousand years ago, and it's withstood the test of time despite world wars and heavy flooding.
Nowadays, it's one of the most iconic landmarks in the city, providing stunning views of the Arno River at sunset. For a beautiful postcard-worthy photograph, take a picture on the bridge or with the landmark in the background.
After trekking the bridge, take advantage of the shops and restaurants in the area. For example, check out Il Borro Tuscan Bistro, just a short walk from Ponte Vecchio. The restaurant features delightful pasta, tasty wine and delectable desserts. Where else should you try Tiramisu besides Italy? This coffee-infused cake has long been an aphrodisiac and is a perfect way to cap off dinner at Ponte Vecchio.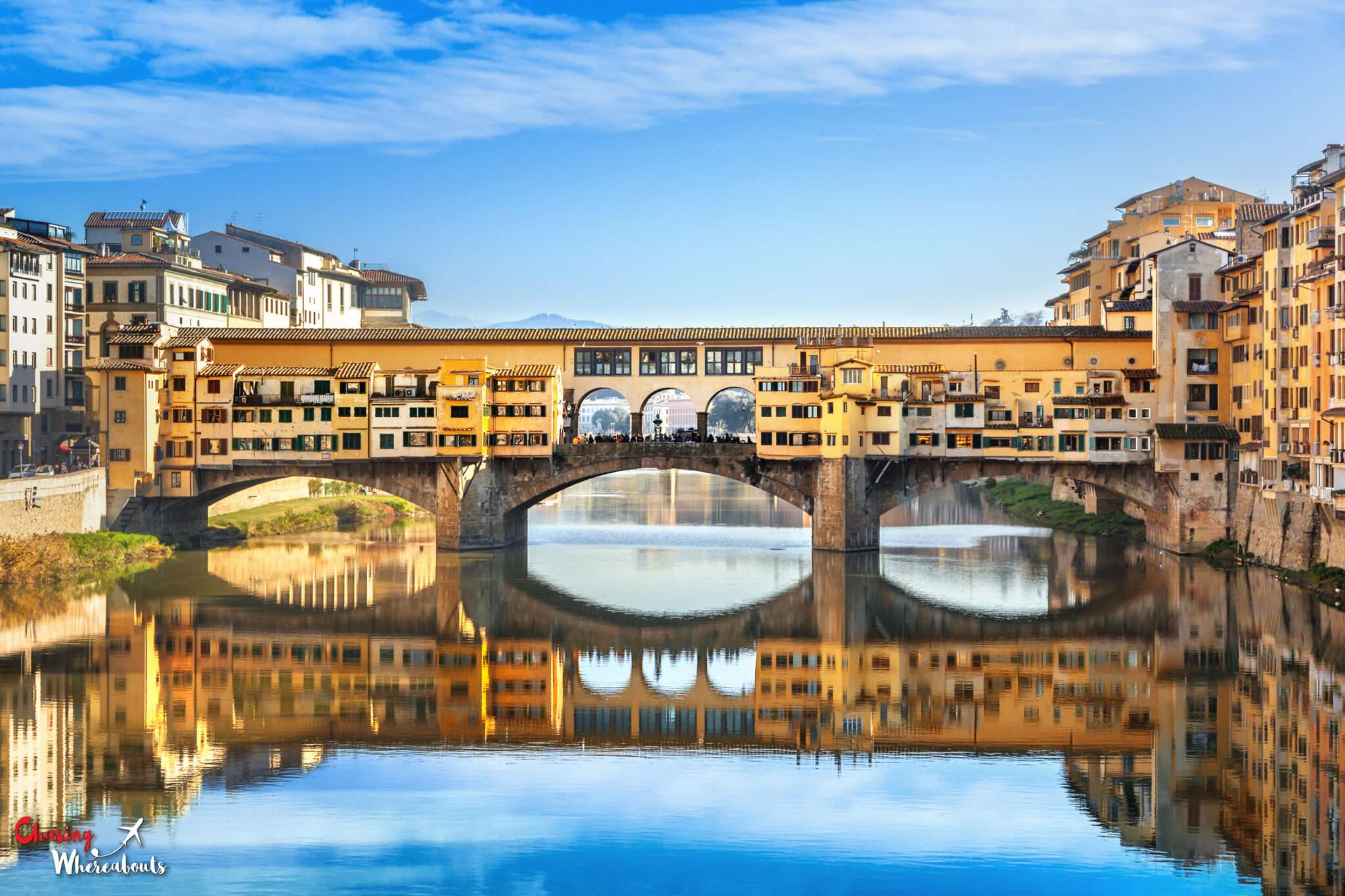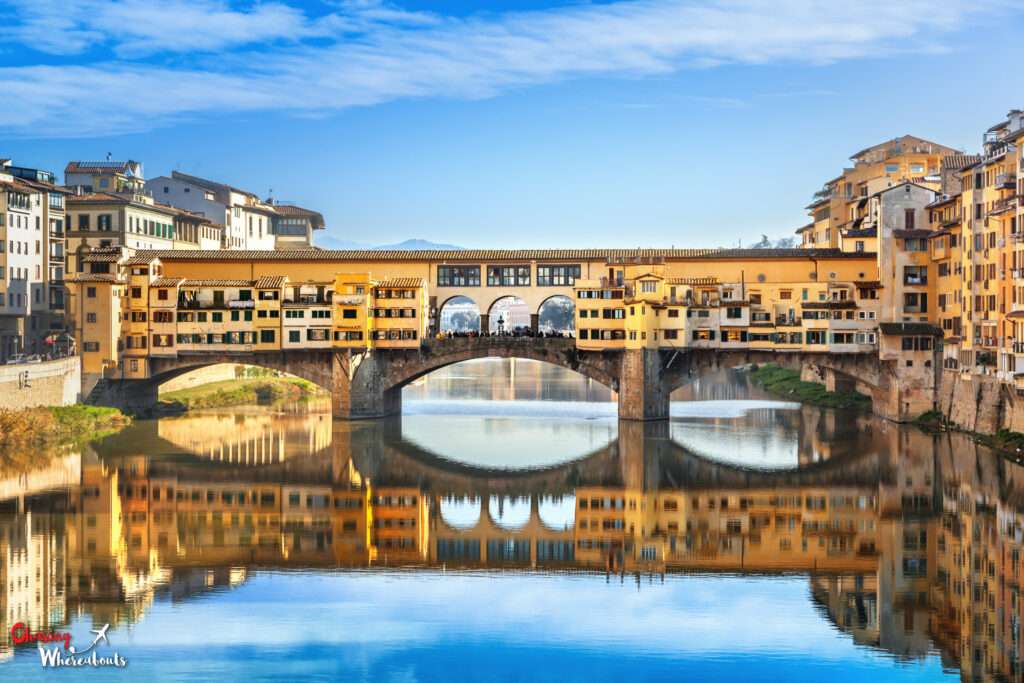 2. Wine tasting
Wine has been a mainstay for thousands of years in Italy. The warm southern European climate provides optimal conditions for preparation. In fact, the Italians lead the world in wine production with 44.5 million hectoliters in 2021. Do you want a sip of some of the finest wines in the world? Visit a wine tasting in Florence to get an authentic taste of Tuscany.
If you're near Ponte Vecchio, take short walk northeast to Gustavino. The restaurant has pizza, authentic Tuscan cuisine and hundreds of wines waiting for you to try. Gustavino has Merlot, Pinot Noir and house wines. It also features Belle Epoque Rosé, one of the best bottles of champagne you'll find worldwide.
3. River cruise
Much of Florence center around the Arno River. This body of water runs through the heart of the city and has much historical significance. Early Florentines used the river for trade during the Middle Ages. They built historical sites on it – such as Ponte Vecchio. Today, the Arno River beams with culture, and you can explore it with a cruise.
Aim for a river cruise at sunset or night to see incredible views of Florence. You'll ride along in a barchetto as you soak in the beautiful architecture of the bridges, buildings and shops you pass by. It's best to visit Florence in the mid-to-late spring when the temperatures suit outdoor activities. Close your eyes and imagine kissing under the stars while relaxing on the Arno River.
4. Massage
When traveling to Europe, you should expect plenty of walking. Pack a pair of walking shoes and high heels because there will be plenty of foot travel. After a long, fun day in Florence, you may feel aches in your feet and back. How can you relax?
Book a couples massage to relax the pain. Deep tissue massages also reduce stress and anxiety and help you sleep better. The vacation days are long, so it helps to have a whole night of rest behind you. You'll also build your endurance to continue walk-intensive tours.
One place you can get a massage in Florence is White Iris Beauty. This spa is only a few blocks from Ponte Vecchio and features an intimate, relaxing atmosphere. Professional therapists will massage you and your partner in candlelit rooms with ambient music. Getting a couples massage makes a romantic weekend in Florence.
5. Piazzale Michelangelo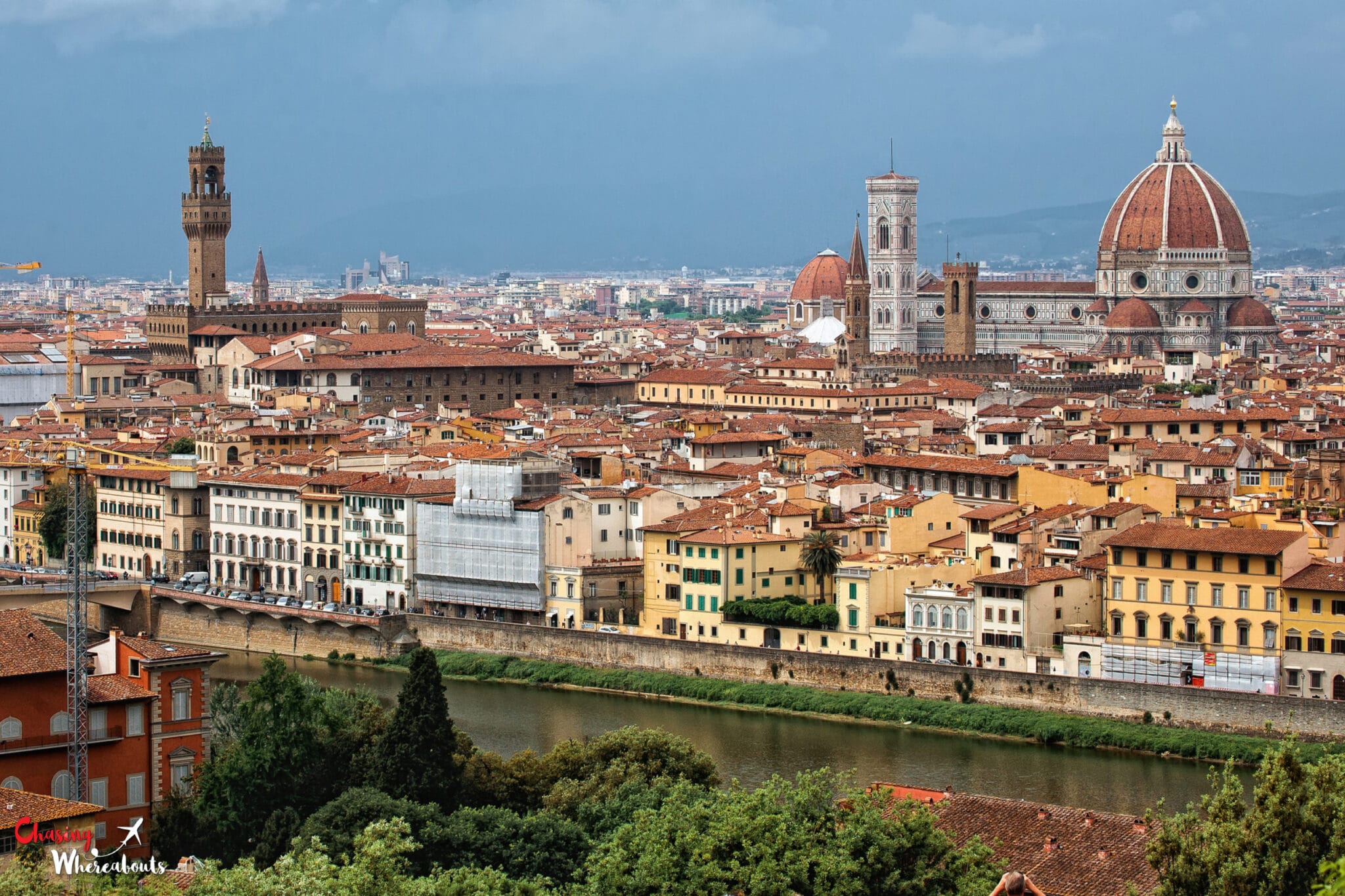 If you and your partner like views, it's hard to beat the sights from Piazzale Michelangelo. This square gives you an expansive view and is one of the best places to visit in Florence, Italy. After all, Giuseppe Poggi dedicated the location to Michelangelo – one of the world's most famous artists. The area features bronze replicas of Michelangelo's iconic works, such as the David and the Medici Chapels.
At Piazzale Michelangelo, you can visit various shops and restaurants and relax. Stop by Terrazze Michelangelo for wood-fired pizza and delicious steak. Are you looking for a destination wedding? Terrazze Michelangelo provides a romantic weekend in Florence by hosting your wedding. Imagine saying your vows while overlooking the beautiful city.
If you are in need of a pertfect picture at Piazzale Michelangelo then I would recomment you to get this Private Photoshoot activity to have the memorable couple moment in Florence.
6. Museo dell'Opera del Duomo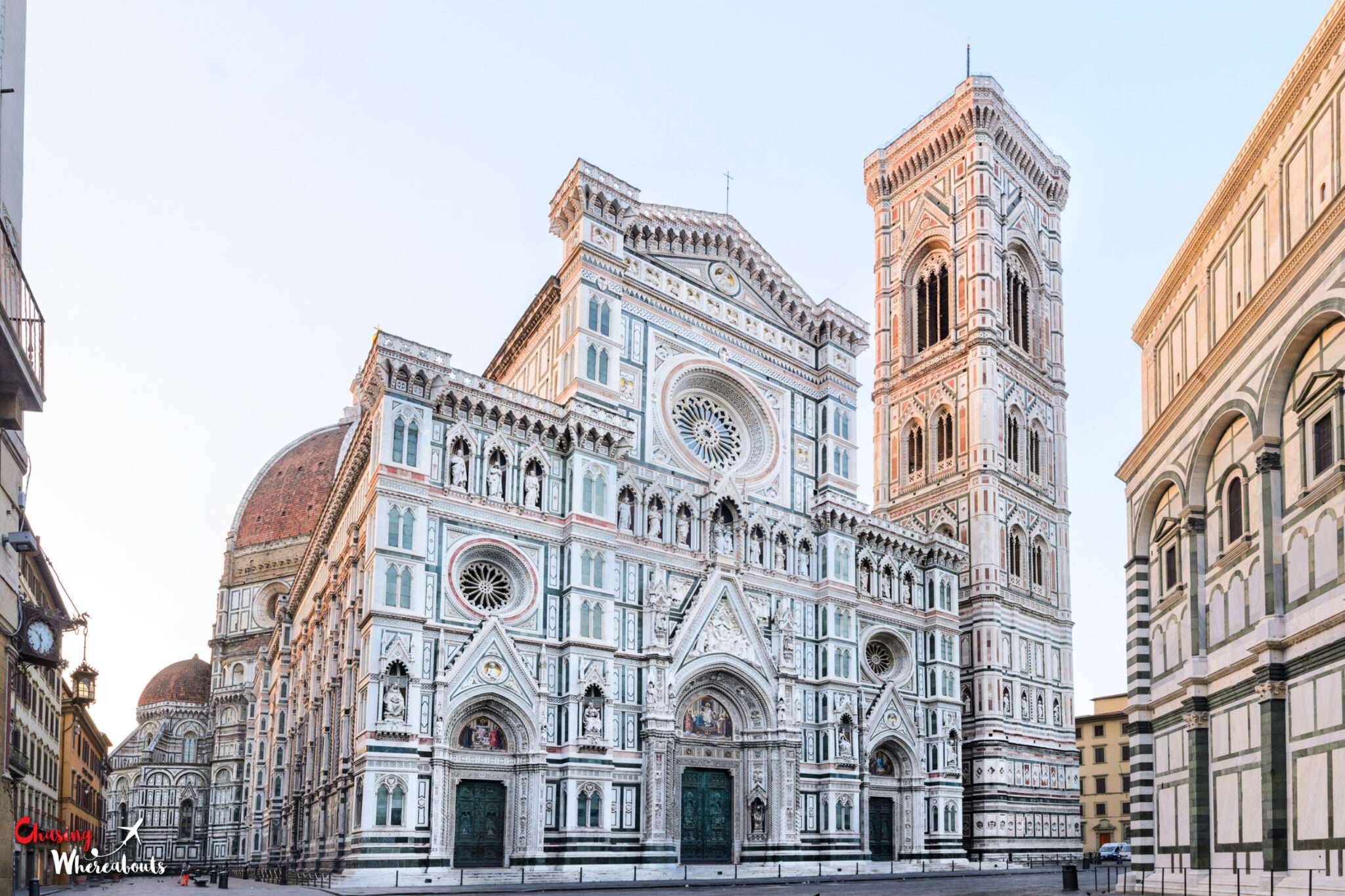 The Florence Cathedral is one of the world's most famous historic locations. In fact, UNESCO lists the Florence Cathedral as a world heritage site. The Florentines completed its construction in 1436, and the cathedral has been a staple for history lovers and romantics. Though, you won't find much of the original artwork here. You'll see them at the Museo dell'Opera del Duomo or the Museum of the Works of the Cathedral.
The museum is next to the Cathedral of Saint Mary of the Flower and holds some of the most awe-inspiring artwork you'll ever see. Here, you'll see Michelangelo's The Deposition and David. The museum also displays Donatello's Zuccone and the Young Prophet. The museum is one of the best places to visit in Florence, Italy, if you want education and bonding time.
7. Teatro Goldoni
If you enjoy the arts, Florence is the city for you. It was one of the most influential city-states during the Renaissance, which you can still enjoy today in museums across the city. Opera lovers will enjoy Teatro Goldoni, located south of the Arno River near Giardino Corsi.
Here, you'll enjoy fantastic opera and watch beautiful ballet performances. Teatro Goldoni has an incredible atmosphere with its exquisite chandeliers and balcony seating. There's hardly a better place to appreciate Italian culture and the arts than Teatro Goldoni. The theater opened in 1817, paying homage to Carlo Goldoni of Venice. Now, it's a wonderful way to spend a romantic weekend in Florence.
8. Forte Di Belvedre
During the Renaissance, the Medici family built Forte Di Belvedre between 1590 and 1595 just south of Ponte alle Grazie. The beautiful fortress protected the family and is now one of the best places to visit in Florence, Italy if you enjoy art and architecture.
You can walk the grounds like the Medici family did in the 16th century and enjoy art exhibitions and terrific city views. You can even get married in this incredible landmark. In 2014, Kim Kardashian and Kanye West spent $400,000 for a wedding at Forte Di Belvedre.
Celebrating a Romantic Weekend in Florence
The world is full of romantic cities on every continent. Kyoto, Casablanca and New York are only a few examples. Italy has numerous intimate cities perfect for couples – one of the best being Florence.
The City of Lilies is famous for its role in the Renaissance. Today, you can see the movement's influence in the arts, architecture, cuisine and more. If you're looking for a romantic European vacation, use this list of the best places to visit in Florence, Italy.
Some other things which you can try is
Get your Notion Travel Planner Template!
Embark on your next adventure with the Wanderlust Planner – Notion Travel Planner Template – Notion Travel Planner Template for 2023 (chasingwhereabouts.com), the ultimate Notion Travel Planner Template. Organize your wanderlust-fueled dreams and turn them into unforgettable journeys. Whether you're a seasoned globetrotter or a newbie explorer, this template has you covered.