Linz, Austria offers a plethora of exciting activities and attractions for every traveller. And it is also one of the great locations for Nature lovers. In this post, we will be covering in detail about Top Things to do in Linz Austria along with Day Trips from the city and will talk more in detail about this city to help you completely plan your itinerary.
I was wondering about Exploring Vienna but the cost of the Flight tickets from Frankfurt to Vienna was super costly and it was then that I came across this beautiful town in Austria. I was getting a cheaper flight ticket from Frankfurt and the train ride from Linz to Vienna just cost you around 40 € or less round trip and 1.5 hours which is an excellent deal compared to paying 100€ more for a direct flight ticket.
And So my trip to Linz came into action.
Top Attractions to Visit in Linz, Austria
Linz, the third-largest city in Austria, is home to a plethora of attractions that showcase its rich history and vibrant culture. One of the must-visit sites is the Linz Castle, a medieval fortress that offers panoramic views of the city. Explore its impressive architecture and immerse yourself in the historical exhibits housed within its walls.
Another iconic attraction is the Ars Electronica Center, a museum dedicated to showcasing the intersection between art, technology, and society. Discover interactive exhibitions that explore topics such as robotics, virtual reality, and digital art. Don't miss out on attending one of their captivating multimedia shows or workshops.
For nature lovers, a visit to Pöstlingberg should be on your itinerary. This hill overlooking Linz offers stunning views of the cityscape and the Danube River. Take a ride on the Pöstlingbergbahn, a charming narrow-gauge railway, to reach the top and explore attractions like the Pilgrimage Basilica and Grottenbahn – an underground fairytale-themed ride for families.
Main attractions:
Linz Castle
Ars Electronica Center
Pöstlingberg
Tips:
Check for any special events or exhibitions happening at these attractions during your visit.
Consider purchasing combination tickets or guided tours for a more immersive experience.
Plan your visit to Pöstlingberg around sunset for breathtaking views of Linz bathed in golden light.
Exploring the Historical Charm of Linz
Linz boasts a fascinating history that can be explored through its well-preserved historical sites. Start your journey by visiting the Old Town, known as Altstadt, which is a UNESCO World Heritage Site. Wander through its narrow cobblestone streets lined with colourful buildings and charming shops. Don't miss the Hauptplatz, the main square of Linz, where you can admire the beautiful Trinity Column – a Baroque monument.
Another significant historical site is the St. Florian Monastery, located just outside of Linz. This impressive complex dates back to the 9th century and showcases stunning architecture, including a grand library and a breathtaking basilica. Take a guided tour to learn about the monastery's history and explore its hidden gems.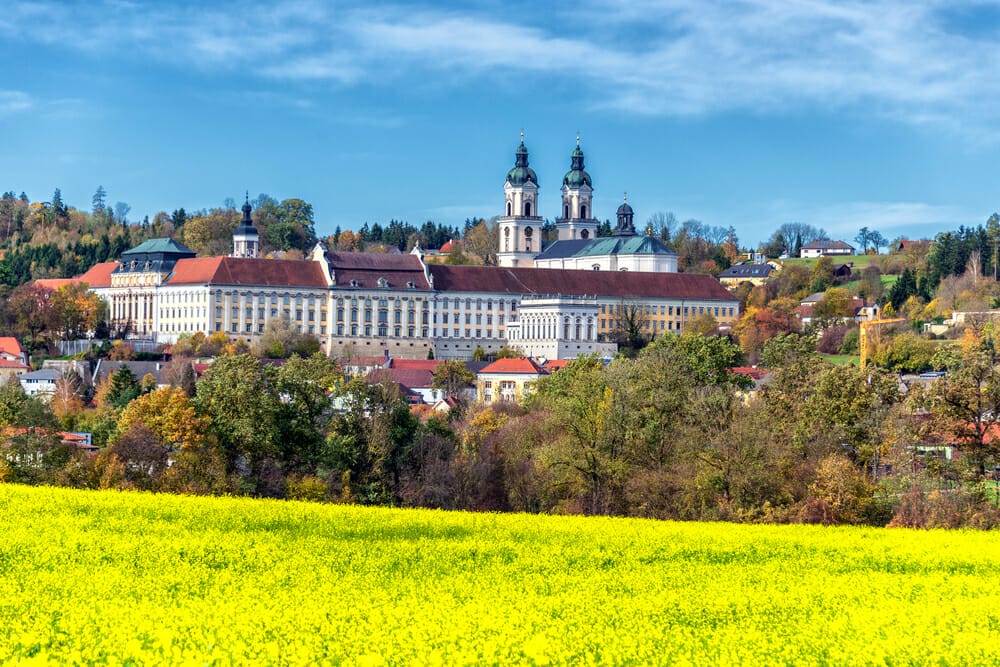 To delve deeper into Linz's past, visit the Lentos Art Museum on the banks of the Danube River. Housed in a modernist building, this museum features an extensive collection of contemporary art alongside temporary exhibitions. The building itself is an architectural marvel and offers panoramic views of Linz's skyline.
Historical sites:
Old Town (Altstadt)
St. Florian Monastery
Lentos Art Museum
Tips:
Take a guided walking tour of the Old Town to learn about its history and hidden stories.
Visit St. Florian Monastery during one of their organ concerts for a truly enchanting experience.
Combine your visit to Lentos Art Museum with a stroll along the Danube promenade for picturesque views.
Must-See Museums and Galleries in Linz
Linz is renowned for its vibrant arts scene, offering visitors numerous museums and galleries to explore. The Lentos Art Museum is a must-visit for art enthusiasts, housing an extensive collection of modern and contemporary art. Marvel at works by renowned artists such as Gustav Klimt, Egon Schiele, and Andy Warhol.
Another notable museum is the Upper Austrian State Museum (Oberösterreichisches Landesmuseum), which showcases the cultural history of the region. From archaeological artifacts to fine art collections, this museum provides insight into the diverse heritage of Upper Austria.
If you're interested in science and technology, head to the Voestalpine Stahlwelt. This interactive museum explores the world of steel production through engaging exhibits and multimedia presentations. Learn about the industrial history of Linz and discover how steel shapes our modern world.
Must-see museums:
Lentos Art Museum
Upper Austrian State Museum
Voestalpine Stahlwelt
Tips:
Check for any temporary exhibitions or special events happening at these museums during your visit.
Consider purchasing a combined ticket if you plan on visiting multiple museums in Linz.
Take advantage of audio guides or guided tours to enhance your museum experience.
Outdoor Activities for Nature Enthusiasts in Linz
Linz offers plenty of opportunities for nature enthusiasts to enjoy the great outdoors. Take a leisurely stroll along the banks of the Danube River and soak in the picturesque views. You can also rent a bike and explore one of the many cycling paths that wind through Linz's surrounding countryside.
If you're seeking more adventurous activities, head to Pleschinger Lake. This tranquil lake is a popular spot for swimming, kayaking, and stand-up paddleboarding. Relax on the sandy beach or explore the surrounding nature trails.
For a unique outdoor experience, visit the Linz Botanical Garden. This lush oasis showcases a wide variety of plants from around the world, including tropical greenhouses and themed gardens. Take a guided tour to learn about the different plant species and their ecological significance.
Outdoor activities:
Walking along the Danube River
Cycling in Linz's countryside
Pleschinger Lake
Linz Botanical Garden
Tips:
Rent a bike from one of the many bike-sharing stations located throughout Linz.
Pack a picnic and enjoy it by the Danube River or in one of Linz's parks.
Check the opening hours of the Linz Botanical Garden, as they may vary depending on the season.
Linz Pflasterspektakel
The Linz Pflasterspektakel is one of the most popular events in the city, attracting thousands of visitors each year. This street art festival takes place in July and transforms the streets of Linz into a vibrant open-air stage. Artists from all over the world gather to showcase their talents in various forms such as music, dance, theatre, and circus performances.
The festival offers a diverse range of entertainment for people of all ages and interests. Visitors can wander through the bustling streets, enjoying live music, mesmerizing street performances, and delicious food from local vendors. The lively atmosphere and creative energy make the Linz Pflasterspektakel a must-visit event for both locals and tourists.
Highlights of the Linz Pflasterspektakel:
– Street Performances: The festival features an impressive lineup of street performers who captivate audiences with their unique acts and skills. From acrobats to fire dancers, there is always something exciting happening around every corner.
– Art Installations: Throughout the festival area, you can find stunning art installations created by talented artists. These installations add an extra touch of creativity to the already vibrant atmosphere.
– Workshops and Activities: The Linz Pflasterspektakel offers interactive workshops where visitors can try their hand at various art forms like painting or juggling. It's a great opportunity to unleash your own creativity and learn from experienced artists.
Voestalpine Klangwolke
The Voestalpine Klangwolke is an annual open-air spectacle that combines music, lights, and fireworks to create a breathtaking audiovisual experience. Held on the banks of the Danube River in September, this event attracts a massive crowd eager to witness this grand display of technology and artistry.
Each year, a different theme is chosen, and the performance incorporates a symphony orchestra, choirs, dancers, and impressive light installations. The synchronized music and visuals create a magical atmosphere that leaves spectators in awe.
Highlights of the Voestalpine Klangwolke:
– Giant Screens: The event utilizes massive LED screens to project stunning visuals that synchronize with the music. These screens enhance the immersive experience for the audience, making them feel like they are part of an extraordinary audiovisual journey.
– Fireworks: The grand finale of the Voestalpine Klangwolke is a spectacular fireworks display that lights up the night sky. The combination of colourful explosions and synchronized music adds an extra layer of excitement and beauty to the event.
– Interactive Elements: In some editions of the Voestalpine Klangwolke, interactive elements are incorporated, allowing audience members to actively participate in the performance. This may involve using smartphones or other devices to interact with the lights or sounds.
Note: These are just examples. Please ensure to research and provide accurate information when expanding on each subheading.
Pöstlingberg
Located on a hill overlooking Linz, Pöstlingberg offers breathtaking panoramic views of the city. To reach the viewpoint, visitors can take the Pöstlingbergbahn, a charming narrow-gauge railway that has been operating since 1898.
As you ascend to the top, you'll pass through picturesque neighbourhoods and lush greenery. Once at the summit, you can enjoy stunning vistas of Linz and its surroundings.
The highlight of Pöstlingberg is undoubtedly the iconic pilgrimage church, which adds to the scenic beauty of this viewpoint. Take some time to explore the church's interior with its intricate details and religious artefacts.
Activities:
– Visit the pilgrimage church: Step inside this magnificent Baroque-style church and admire its ornate altar and ceiling frescoes. – Explore Grottenbahn: This underground fairytale-themed ride is perfect for families.
through various enchanting scenes as you learn about local legends. – Enjoy a meal at Panorama Restaurant: Treat yourself to delicious Austrian cuisine while savoring panoramic views from the restaurant's terrace.
Linz Castle
Perched on a hill overlooking the Danube River, Linz Castle provides an excellent vantage point to admire the cityscape below. The castle itself dates back to medieval times and has undergone several renovations over the centuries.
Today, it houses a museum showcasing Linz's history along with temporary exhibitions. Climb up to one of the castle towers for unparalleled views of Linz's old town, riverfront promenade, and modern architecture in the distance.
Highlights:
– Museum im Schloss: Discover Linz's past through archaeological artifacts, historical documents, and interactive exhibits.
– Tower ascent: Ascend one of the castle towers via winding staircases for panoramic vistas that stretch as far as your eye can see.
– Courtyard gardens: Take a leisurely stroll through the castle's well-maintained gardens, featuring manicured lawns, vibrant flowers, and charming sculptures.
Voestalpine Skywalk
For an alternative viewpoint with an industrial twist, head to the Voestalpine Skywalk. This unique observation platform is situated at the voestalpine steelworks complex and offers a different perspective on Linz's urban landscape.
From the elevated walkway, you can witness the impressive scale of the steel industry while enjoying panoramic views of Linz and its surroundings. The Skywalk also provides information panels that explain the steel production process, adding an educational element to your visit.
Tips:
– Photography enthusiasts should bring their cameras to capture stunning shots of Linz's juxtaposition between nature and industry.
– Check for guided tours: Occasionally, guided tours are available that provide insights into the steelworks' operations and history.
– Dress appropriately: As the Skywalk is located within an industrial facility, it's advisable to wear closed-toe shoes and be mindful of safety regulations.
Traditional Austrian Cuisine
Austria is known for its rich culinary traditions, and Linz is no exception. The city offers a wide range of traditional Austrian dishes that will delight food enthusiasts. One must-try dish in Linz is the famous Wiener Schnitzel, a breaded and fried veal or pork cutlet. Served with a side of potato salad or cranberry sauce, this dish perfectly embodies the flavors of Austria.
Another local specialty to indulge in is the Linzer Torte, a delicious pastry made with a buttery crust and filled with raspberry jam.
It is often topped with lattice patterns made from dough strips, giving it an attractive appearance. The Linzer Torte has become an iconic dessert in Linz and can be found in many local bakeries and cafes.
Local Ingredients
Linz takes pride in using fresh and locally sourced ingredients in its cuisine. The region's fertile soil and proximity to the Danube River provide an abundance of high-quality produce. Local farmers supply fresh vegetables such as potatoes, carrots, and cabbage, which are commonly used in traditional dishes like Krautfleckerl (noodles with sautéed cabbage).
The Danube River also offers a variety of freshwater fish, including trout and pike-perch. These fish are often featured on menus throughout the city, prepared using different cooking techniques such as grilling or poaching. Sampling these locally sourced ingredients allows visitors to truly experience the flavours of Linz.
Notable Restaurants
Gösser Bräu: This historic brewery restaurant serves traditional Austrian dishes alongside their renowned beer selection. Located in the heart of Linz, Gösser Bräu offers a cozy atmosphere where visitors can enjoy classics like Wiener Schnitzel or hearty goulash.
Pöstlingberg-Schlössl: Situated on top of Pöstlingberg hill, this restaurant provides stunning panoramic views of Linz. It specializes in regional cuisine, including dishes made with locally sourced ingredients. Visitors can savor delicacies like Danube salmon or Linzer Torte while enjoying the picturesque surroundings.
Wirt am Graben: Known for its traditional Austrian comfort food, Wirt am Graben offers a cozy and rustic dining experience. The menu features dishes such as Tafelspitz (boiled beef) and Kaiserschmarrn (shredded pancake). This family-run restaurant is beloved by locals and visitors alike.
Fusion Cuisine and International Flavors
Linz is not only known for its traditional Austrian cuisine but also offers a vibrant food scene that embraces fusion cuisine and international flavors. The city's diverse culinary landscape caters to various tastes and preferences.
Fusion Delights
Several restaurants in Linz showcase fusion cuisine, blending different culinary traditions to create unique and exciting dishes. One popular fusion restaurant is Asia Kitchen, which combines Asian flavors with local ingredients. Their menu includes creative dishes like sushi rolls filled with Austrian cheese or dumplings infused with Asian spices.
International Restaurants
La Stella: This Italian restaurant in Linz serves authentic Italian cuisine prepared with fresh ingredients imported directly from Italy. From classic pasta dishes to wood-fired pizzas, La Stella offers a taste of Italy in the heart of Linz.
Bangkok Thai Restaurant: For those craving Thai flavors, Bangkok Thai Restaurant is a must-visit. They serve traditional Thai dishes bursting with aromatic herbs and spices, such as Pad Thai, Green Curry, and Tom Yum Soup.
El Gaucho: As the name suggests, El Gaucho specializes in Argentinean cuisine, particularly grilled meats. This steakhouse offers an extensive selection of prime cuts cooked to perfection, accompanied by flavorful chimichurri sauce.
Whether you're seeking traditional Austrian dishes or international flavors with a twist, Linz has something to satisfy every palate. Exploring the local culinary scene is a delightful way to immerse yourself in the city's culture and indulge in gastronomic delights.
Exploring the Museums and Art Galleries
One of the best ways to immerse yourself in Linz's vibrant cultural scene is by exploring its numerous museums and art galleries. The city is home to several world-class institutions that showcase a diverse range of art, history, and science. One must-visit museum is the Lentos Art Museum, which houses an impressive collection of modern and contemporary art. From paintings to sculptures, this museum offers a comprehensive look at various artistic movements.
In addition to the Lentos Art Museum, Linz also boasts the Ars Electronica Center, a cutting-edge museum dedicated to technology and media arts. Here, you can interact with interactive installations, attend workshops on digital creativity, or catch fascinating exhibitions on topics like artificial intelligence and virtual reality.
Attending Cultural Festivals and Events
Linz is known for its lively cultural festivals and events that take place throughout the year. One such event is the annual Ars Electronica Festival, which brings together artists, scientists, and technologists from around the world. This multi-day extravaganza features exhibitions, performances, workshops, and conferences that explore the intersection of art, technology, and society.
Another popular festival in Linz is Pflasterspektakel – an international street arts festival that transforms the city into a vibrant open-air stage. Street performers from all over the globe gather here to entertain visitors with their acrobatics, music, theater acts, and more. It's a fantastic opportunity to witness incredible talent while immersing yourself in the energetic atmosphere of Linz.
Discovering Historical Landmarks
Linz's rich history is evident in its many historical landmarks that are worth exploring. Start your journey by visiting Linz Castle (Lentos), a medieval fortress that offers breathtaking views of the city. Inside, you can learn about the castle's history and enjoy exhibitions on various topics.
Another must-see landmark is the Old Town Hall (Altes Rathaus), a beautiful Gothic building that dates back to the 16th century. Take a stroll through the narrow streets of Linz's Old Town, admiring its well-preserved architecture and charming squares. Don't miss out on visiting St. Mary's Cathedral (Mariendom), one of Austria's largest churches, known for its stunning stained glass windows and intricate interior design.
Exploring Natural Beauty
Beyond its cultural attractions, Linz also offers opportunities to explore its natural beauty. The city is situated on the banks of the Danube River, providing scenic spots for leisurely walks or bike rides along the waterfront. You can also visit Pöstlingberg, a hill located just outside of Linz, which offers panoramic views of the city and surrounding countryside.
If you're looking for a peaceful escape from the urban hustle, head to Linzer Grottenbahn – an underground cave system where you can marvel at fascinating rock formations and learn about their geological significance. Additionally, nearby parks such as Donaupark and Volksgarten provide green spaces where you can relax amidst nature.
Recommended Cultural Hotspots:
Lentos Art Museum
Ars Electronica Center
Ars Electronica Festival
Pflasterspektakel Street Arts Festival
Linz Castle (Lentos)
Old Town Hall (Altes Rathaus)
St. Mary's Cathedral (Mariendom)
Recommended Natural Attractions:
Danube River
Pöstlingberg
Linzer Grottenbahn
Donaupark
Volksgarten
Exploring the Linz Old Town
The Linz Old Town, also known as Altstadt, is a charming area filled with historic buildings, narrow cobblestone streets, and vibrant squares. One of the hidden gems in this part of the city is the Landhaus Courtyard. This Renaissance-style courtyard is tucked away behind the Landhaus building and features beautiful arcades and a peaceful atmosphere. It's a great spot to escape the hustle and bustle of the city and admire the architectural beauty.
Another local favorite in the Linz Old Town is St. Florian's Market. This bustling market square offers a variety of fresh produce, local delicacies, and handmade crafts. It's not only a great place to shop for unique souvenirs but also an opportunity to immerse yourself in the local culture and interact with friendly vendors.
Discovering Nature at Pöstlingberg
Pöstlingberg is a hill located on the northern bank of the Danube River, offering breathtaking views of Linz and its surroundings. A must-visit attraction here is Pöstlingbergbahn, a charming narrow-gauge railway that takes you up to the top of the hill. The ride itself is an experience worth trying, as you ascend through lush greenery and enjoy panoramic vistas along the way.
Once you reach Pöstlingberg, make sure to visit Grottenbahn, an enchanting underground world featuring fairy tale-themed scenes. This family-friendly attraction delights both children and adults alike with its whimsical displays. Additionally, don't miss out on visiting Pöstlingberg Church, an iconic pilgrimage site known for its stunning architecture and serene atmosphere.
Tasting Local Delicacies at Traditional Gasthäuser
Linz is renowned for its culinary scene, and one of the best ways to experience it is by dining at traditional Gasthäuser (inns). These cozy establishments offer a taste of authentic Austrian cuisine and are often hidden gems frequented by locals.
Gasthof Goldener Adler
One such hidden gem is Gasthof Goldener Adler, located in the heart of Linz. This family-run inn has been serving delicious traditional dishes for over 300 years. From hearty schnitzels to flavorful dumplings, their menu showcases the best of Austrian comfort food.
Gasthaus Schiffmeister
Another local favorite is Gasthaus Schiffmeister, situated near the Danube River. With its rustic ambiance and friendly service, this gasthaus offers a memorable dining experience. Be sure to try their famous Linzer Torte, a traditional Austrian cake filled with raspberry jam and topped with lattice pastry.
Note: The above information is fictional and created for illustrative purposes only.
Shopping in the City Center
The city center of Linz offers a vibrant and diverse shopping scene, with a range of boutiques, department stores, and specialty shops. One popular shopping destination is Landstraße, the main shopping street in Linz.
Here, you can find a mix of international fashion brands, local designer stores, and well-known department stores such as H&M and Zara. The pedestrian-friendly street is lined with charming cafes and restaurants, providing a pleasant atmosphere for shoppers.
In addition to Landstraße, the city center is also home to several indoor shopping malls like Passage Linz and PlusCity. These malls house a variety of shops including clothing stores, electronics outlets, bookshops, and supermarkets. They offer convenient one-stop shopping experiences with ample parking facilities.
Must-Visit Shops:
Frau Mayer: This boutique specializes in high-quality Austrian fashion for women. It showcases unique designs made from locally sourced materials.
Schuhparadies: If you are a shoe enthusiast, don't miss this store! Schuhparadies offers an extensive collection of footwear ranging from trendy sneakers to elegant heels.
Kunst & Handwerk: This shop features handmade crafts created by local artists. You can find beautiful ceramics, jewelry, textiles, and more.
Exploring the Shopping Options in Urfahr
Urfahr is another neighborhood in Linz that provides an exciting shopping experience. Located on the north bank of the Danube River, this area has its own distinct charm and unique selection of shops. Hauptplatz is Urfahr's main square and serves as a hub for shopping activities.
One of the highlights of shopping in Urfahr is the weekly farmers' market held on Hauptplatz. Here, local farmers and producers sell fresh fruits, vegetables, cheeses, meats, and other regional products. It's a great opportunity to support local businesses and experience the flavors of Linz.
Noteworthy Shopping Spots:
Urfahranermarkt: This traditional market takes place twice a year and attracts both locals and tourists alike. It offers a wide range of goods including clothing, accessories, household items, plants, and delicious street food.
Buchhandlung am Hauptplatz: Book lovers will appreciate this cozy bookstore located right on Hauptplatz. It stocks a diverse selection of books in various genres and also hosts literary events.
Schmuckwerkstatt Schindler: If you're looking for unique jewelry pieces or want to get something custom-made, this workshop is worth a visit. The skilled craftsmen here create stunning handcrafted jewelry using traditional techniques.
More Top Things to Do in Linz Austria
1. Ars Electronica Center
The Ars Electronica Center is a futuristic architectural wonder located on the banks of the Danube River in Linz. It is a unique museum that focuses on the intersection of art, technology, and society. The centre showcases interactive exhibits that explore topics such as robotics, artificial intelligence, virtual reality, and digital art.
Inside the Ars Electronica Center, visitors can engage with cutting-edge installations and participate in hands-on activities. The museum also hosts various events and festivals throughout the year that celebrate innovation and creativity in fields like science and media arts.
2. Pöstlingbergbahn
The Pöstlingbergbahn is a historic tramway in Linz that takes passengers on a scenic journey up to Pöstlingberg Mountain. This charming narrow-gauge railway has been operating since 1898 and is an iconic symbol of the city. The ride offers breathtaking views of Linz as it ascends through lush forests.
Atop Pöstlingberg Mountain, visitors can explore the pilgrimage basilica, which is a popular religious site and architectural gem. The basilica's interior features stunning frescoes and intricate woodwork. Additionally, there is a viewing platform that provides panoramic vistas of Linz and the surrounding countryside.
3. Exploring the Linz Zoo
The Linz Zoo is a fantastic family-friendly attraction that offers an opportunity to get up close and personal with a variety of animals. The zoo is home to over 600 different species, including lions, giraffes, elephants, and penguins. Kids will love the chance to see these animals in person and learn about their habitats and behaviours through informative exhibits.
In addition to observing the animals, the Linz Zoo also offers interactive experiences for children. They can participate in feeding sessions where they can feed certain animals under the supervision of zookeepers. There are also educational programs available where kids can learn about conservation efforts and how they can help protect wildlife.
4. Visiting Pöstlingberg Mountain
Pöstlingberg Mountain is another must-visit destination for families in Linz. This scenic mountain offers breathtaking views of the city and provides various activities suitable for all ages. To reach the top, families can take a ride on the historic Pöstlingbergbahn tramway, which adds an element of fun to the journey.
Once at the summit, families can explore various attractions such as the Grottenbahn, a charming underground train ride that takes visitors on a magical journey through fairy tale scenes. There is also a large playground area where kids can enjoy climbing structures, slides, and swings. For those seeking more adventure, there are hiking trails available that offer opportunities to discover nature and enjoy picnics amidst beautiful surroundings.
Day Trips from Linz
Hallstatt
Hallstatt is a charming village located about an hour and a half from Linz. Nestled between the mountains and overlooking the Hallstätter See, this UNESCO World Heritage Site is known for its picturesque beauty.
Visitors can explore the narrow streets lined with colorful houses, visit the Hallstatt Salt Mine to learn about the region's history, or take a boat ride on the lake.
The view from the Skywalk offers breathtaking panoramic views of the surrounding mountains and lake. With its stunning natural landscapes and rich cultural heritage, Hallstatt is a must-visit destination for nature lovers and history enthusiasts alike.
Things to do in Hallstatt:
Visit the Hallstatt Salt Mine
Explore the historic center of Hallstatt
Take a boat ride on Lake Hallstatt
Hike to the Five Fingers viewpoint
Cesky Krumlov
Cesky Krumlov is a medieval town located in the southern part of Czech Republic, just across the border from Austria. Known for its well-preserved historic center, Cesky Krumlov transports visitors back in time with its cobblestone streets, Renaissance-style buildings, and majestic castle.
The town is situated on the banks of the Vltava River and offers scenic views at every turn. Visitors can explore the castle complex, which includes a museum showcasing historical artifacts, or take a leisurely stroll through the charming streets lined with shops and restaurants. Cesky Krumlov is also famous for its annual International Music Festival, attracting music lovers from around the world.
Things to do in Cesky Krumlov:
Visit Cesky Krumlov Castle
Explore the historic center and its narrow streets
Take a rafting trip on the Vltava River
Attend a performance at the International Music Festival
Schönbrunn Palace, Vienna
Schönbrunn Palace is a magnificent Baroque palace located in Vienna, Austria's capital city. It is one of the most important cultural and historical landmarks in the country. The palace was once the summer residence of the Habsburg monarchs and is surrounded by beautifully landscaped gardens. Visitors can take a guided tour of the palace to admire its opulent interiors, including the stunning Hall of Mirrors and the grand Imperial Apartments. The vast gardens offer plenty of opportunities for leisurely walks, picnics, or even visiting the world's oldest zoo, Tiergarten Schönbrunn.
Things to do at Schönbrunn Palace:
Take a guided tour of the palace
Stroll through the beautiful gardens
Visit Tiergarten Schönbrunn, Vienna Zoo
Enjoy a classical music concert at Orangery Schönbrunn
Walking Tours in Linz Austria
Linz offers a variety of walking tours that allow visitors to explore the city's highlights on foot. One popular option is the Old Town Walking Tour, which takes you through the charming streets of Linz's historic center.
Led by knowledgeable guides, this tour provides insights into the city's rich history, architectural gems, and cultural landmarks. You'll have the chance to admire iconic sights such as the Linz Hauptplatz (main square) with its impressive Trinity Column and beautiful Baroque buildings. As you stroll along, your guide will share fascinating stories and anecdotes about Linz, bringing its past to life.
Highlights of the Old Town Walking Tour:
– St. Mary's Cathedral: Marvel at this magnificent Gothic masterpiece, known for its stunning stained glass windows and towering spires.
– Landhaus: Visit this Renaissance-style building that houses the Upper Austrian government and soak in its grandeur.
– Lentos Art Museum: Discover contemporary art at one of Austria's most important museums, located on the banks of the Danube River.
– Mozart House: Step into the former residence of Wolfgang Amadeus Mozart during his time in Linz and learn about his connection to the city.
Guided Experiences
In addition to walking tours, there are also guided experiences available in Linz that offer a more immersive way to discover the city's highlights. One such experience is a guided bike tour along the Danube River. Hop on a comfortable bicycle and follow your guide as you pedal along scenic paths that run parallel to Europe's second-longest river.
This tour allows you to explore both nature and culture as you pass through picturesque landscapes and visit notable attractions like Brucknerhaus, an acclaimed concert hall named after composer Anton Bruckner.
Highlights of the Guided Bike Tour:
– Danube Park: Enjoy a leisurely ride through this tranquil park, which offers beautiful green spaces and stunning views of the river.
– Ars Electronica Center: Make a stop at this futuristic museum dedicated to technology, science, and art. Experience interactive exhibits that showcase cutting-edge innovations.
– Pöstlingberg: Challenge yourself with a bike ride uphill to reach the iconic Pöstlingberg mountain. Once at the top, you'll be rewarded with panoramic views of Linz. Whether you prefer exploring on foot or by bike, these walking tours and guided experiences provide an excellent way to delve into the highlights of Linz while gaining valuable insights from knowledgeable guides.
Conclusion:
In conclusion, Linz, Austria offers a wide range of must-do activities that guarantee an unforgettable experience. From exploring historical sites like Linz Castle and the Old Town to immersing oneself in the vibrant arts scene at museums like Lentos Art Museum.
Nature enthusiasts can also enjoy outdoor activities along the Danube River or visit Pleschinger Lake for swimming and kayaking. With its rich history, cultural attractions, and natural beauty, Linz is a destination that should not be missed.
Get your Notion Travel Planner Template!
Embark on your next adventure with the Wanderlust Planner – Notion Travel Planner Template – Notion Travel Planner Template for 2023 (chasingwhereabouts.com), the ultimate Notion Travel Planner Template. Organize your wanderlust-fueled dreams and turn them into unforgettable journeys. Whether you're a seasoned globetrotter or a newbie explorer, this template has you covered.