If you are planning your Easter in Vienna then in this post will help you decide what all amazing things you can expect out of your Easter trip in Vienna.
This is my second post and I have the complete compilation of places which you can visit in Europe During Easter so you can check that post if you are planning your Easter Holidays in Europe and don't know where you want to go for the holidays.
The vacation season is well and truly upon us. Whether you're planning a quiet getaway or an action-packed adventure, the springtime weather is the perfect excuse to get away from it all. For those who can't quite manage a long vacation, a weekend in Vienna is the next best thing.
The Austrian capital offers a wealth of attractions, from museums and galleries to the world-famous opera and concert halls and trust me you will really enjoy your Easter in Vienna if you are travelling here.
Easter in Vienna | 10 Amazin things to do
Easter is one of my favorite holidays. It's a time to celebrate spring and the coming of new life. But Easter also has a special place in history: it was the turning point in the war for Europe. On Easter Sunday, April 4, 1945, the final Allied forces crossed the Rhine and entered Germany.
But let us not talk about that, here is the first thing to do in Easter in Vienna Austria
1. Easter Markets in Vienna
Easter Markets can be seen all throughout Vienna in the 14-18 days leading up to Easter Monday. These Ostermarkts, which are similar to the city's Christmas Markets but with a springtime twist, are part of a 350-year-old history.
Egg painting, exquisite homemade goods, and traditional meals may all be found at Ostermarkts.
There are many different Ostermarkts to visit, and I've chosen five that I think you'll appreciate. I'll break them down for you, including when and where they'll be, as well as recommendations for which ones to visit based on the type of experience you're looking for!
I would recommend getting the Vienna City Card if you're planning on travelling to the various Ostermarkt locations. You'll get unlimited use of the city's metro, tram and bus lines; perfect if you're going to be exploring different parts of the city!
If you are wondering whether you should buy the Vienna City Card or not you can check my detail review in this post Vienna Pass Review – Is it worth your money?
Ostermarkt Schloss Schönbrunn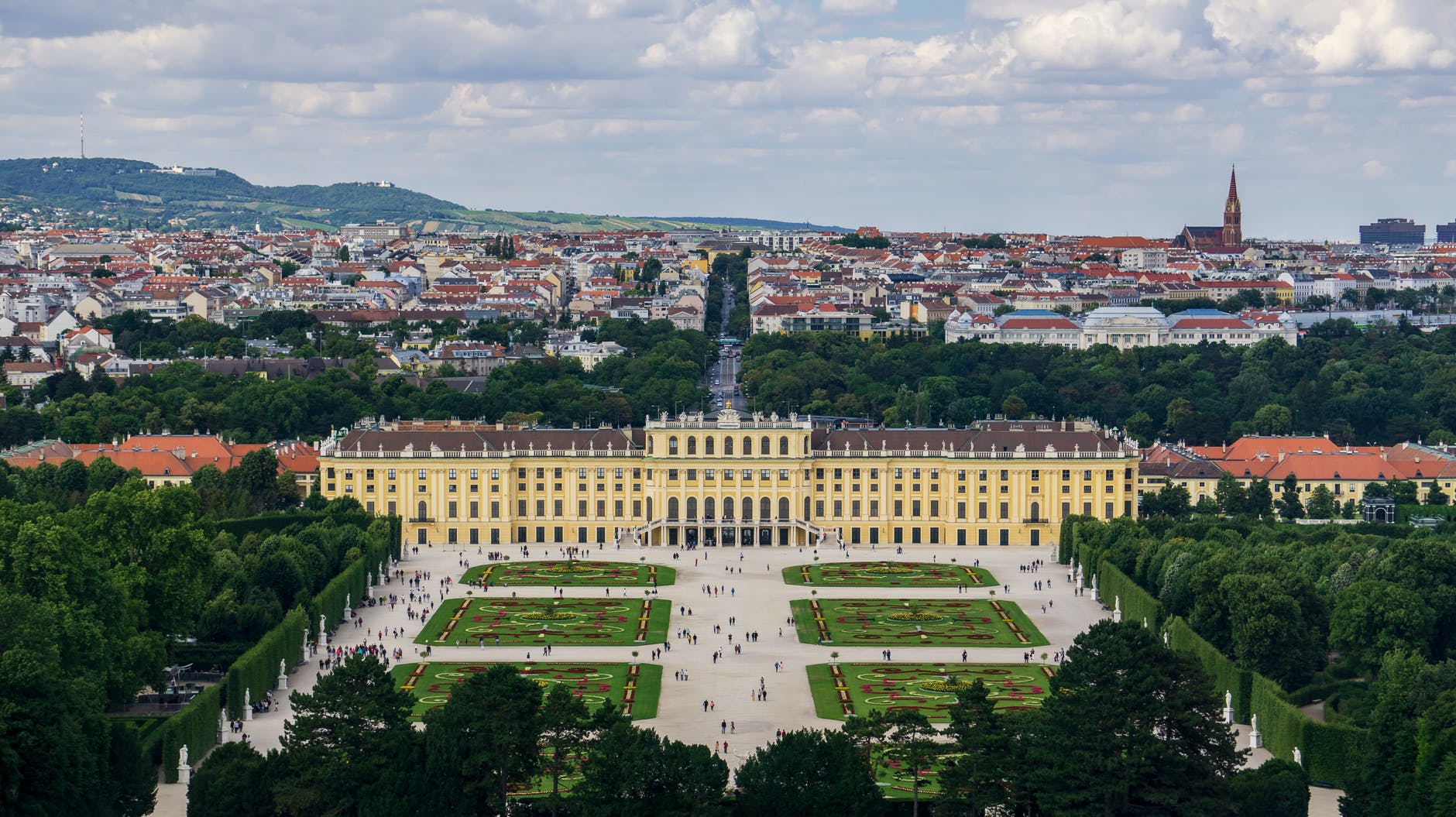 The Ostermarkt Schloss Schönbrunn is located in the beautiful Schönbrunn Palace courtyard.
This is probably the most famous Ostermarkt; it's a colorful, joyous celebration of all things Easter and spring!
A children's program and live music are available, as well as food and handcrafted items such as jewelry, soaps, and toys. You can try your hand at flower arrangement and making marzipan models, all while watching an imperial castle in the background! which makes it an ideal spot for Easter in Vienna
Location: Schloss Schönbrunn, 1130 Vienna. The closest U-Bahn station is Schönbrunn on the U4 line. You can get the tram to Schloss Schönbrunn on lines 10, 49, 52, and 60.
When: Usually two weeks before Easter Monday, the Ostermarkt begins.
If you're looking for family-friendly activities, this is the place to go. If you want to also go inside the castle then I would recommend you to pre-book the Skip the Line Ticket to Schönbrunn to save you time and effort.
Altwiener Ostermarkt
If you're seeking for decorated eggs, the Altwiener Ostermarkt is the place to go, since it boasts Europe's largest egg tower, with 40,000 painted eggs!
There's a workshop where kids can paint their own eggs, and this Ostermarkt is the place to go if you're looking for egg-painting ideas!
There are also a variety of non-Easter market stalls, as well as great traditional meals. This Ostermarkt is full of old-fashioned nostalgia, complete with a puppet theater.
Location: Freyung, 1010 Wien. The closest U-Bahn station is Schottentor on the U2. You can also take the tram to Stadiongasse/Parlament on lines 1, 71, and D.
When: This Ostermarkt usually begins two weeks before Easter Monday. You can check more details on the Official Website
Great If: You want to see a traditional Easter market full of beautiful colours and painted eggs!
Ostermarkt am Hof – Easter in Vienna
This Ostermarkt is more low-key than others, albeit offering some Easter-related activities.
The Ostermarkt am Hof is recognized for its artists and craftspeople, who provide high-quality goods to see and purchase. Food stalls and stands offering exquisite art-related goods are available.
This is a terrific opportunity to discover a quieter side of Vienna's Easter celebrations, as it is close to the Altwiener Ostermarkt.
Location: Am Hof, 1010 Wien. The closest U-Bahn station is Schottentor on the U2. You can take the tram to Stadiongasse/Parlament on lines 1, 71, and D.
When: This Ostermarkt usually begins two weeks before Easter Monday. You can check more details on Official Website
Great If: You want to find some high-quality gifts to remind you of your Easter in Vienna.
Oster-Erlebnismarkt
The Oster-Erlebnismarkt differs from the others in that it is held within the Palais Niederösterreich, a 16th-century palace that is rarely available to the public.
Around 60 sellers represent Lower Austria at the event. It's a fantastic opportunity to learn more about Austrian culture and traditions, as well as to sample some of their cuisine.
The handmade products on offer are of great quality, and there is live music in the center courtyard.
Location: Palais Niederösterreich, Herrengasse 13, 1010. Wien. The closest U-Bahn is Herrengasse on the U3 line.
When: Unlike other Ostermarkts, the Oster-Erlebnismarkt is only open for two days, a couple of weeks before Easter Sunday.
Great If: You want to see more Austrian culture, plus get a rare glimpse at the Palais Niederösterreich.
Kalvarienbergfest
This Ostermarkt is significantly more local than the others, located distant from Vienna's main tourist attractions.
Expect a more subdued market with flower displays and tiny arts and crafts stalls if you visit Kalvarienbergfest.
Although it is smaller, it will allow you to witness a more real aspect of Vienna's Easter traditions.
Location: Kalvarienberggasse, 1170 Vienna. The nearest tram stop is Elterleinplatz on line 43. The closest U-Bahn is a short walk away at Alser Straße, on the U6 line.
When: This Ostermarkt usually begins two weeks before Easter Monday.
Great If: You're looking for a less touristy experience, and want to see some of the 'real' Vienna.
---
Ads Starting
Post Continues
---
Styrian Village – Easter in Vienna
Look no further than the Styrian Village for a truly authentic Austrian experience!
Styria is a state in Austria's southeast. The square in front of Vienna's city hall is converted into a miniature Styria once a year around Easter!
Traditional cuisine, handcrafted items from the area, and Schuhplattler folk dancing are all on the menu. Obstacle races and music presentations are among the many activities available for children.
In previous years, unusual events such as the 2013 'throw your apples in the air' record attempt, in which people tossed 10,000 apples into the air at once, have taken place.
Location: Rathausplatz, 1010 Wien. The closest U-Bahn is Rathaus on the U2 line.
When: This event is usually held over four days during Easter. Check local sites for more details.
Great If: You're looking to see real Austrian culture for a fun afternoon with the family. 
Easter At The Prater
A journey to Vienna would not be complete without a visit to the Prater, a city-centered amusement park.
The site has previously hosted a 'Easter carnival in the Prater' event, complete with egg hunts and Easter bunnies. I'm sure this will be a fantastic Easter day out for the whole family. Apollo 12, the Alt Wiener Ghost Train, and, of course, the huge Ferris Wheel are among my favorite rides there!
You should also pay a visit to the Prater's Ostermarkt while you're there!
The Prater is free to enter, however each ride requires a cost of roughly €5.
Location: Riesenradplatz, 1020 Vienna. The closest U-Bahn station is Messe – Prater, on the U2 line, or Wien Praterstern on the U1 and U2 lines.
When: You can access the Prater 24/7, though the rides will usually close between 6pm-10pm. The Easter events in the Prater are typically in the week leading up to Easter Sunday.
Visit If: You're looking for a fun family day out with children!
Springtime In Vienna Concert 
The 'Springtime in Vienna' Easter concert is a long-standing Viennese tradition that I think you'll like. The Vienna Symphony Orchestra performs it every year, usually at the Musikverein concert venue, and it is one of the season's highlights.
This concert's diverse repertoire ensures that everyone, whether novice to classical music or an expert on all things Beethoven, will be enthralled by the experience. The Vienna Symphony Orchestra is one of the most renowned in the world, and I'm confident you'll enjoy this performance.
Location: Musikvereinsplatz 1, 1010 Wien. The closest U-Bahn station is Karlsplatz on the U1, U2, or U4 lines. By tram, head to Schwarzenbergplatz on line 71.
When: The concert is performed every year on Easter Saturday and Sunday. For more information, check with the Musikverein's programme.
Great If: You're looking for that classic Viennese experience. It would be a crime to visit Vienna and not attend a concert or the opera, so 'Springtime in Vienna' lets you do just that at a special Easter performance. 
Food in Vienna
Vienna has a fantastic culinary legacy, and if you're in town for Easter, you won't have to travel far to sample some delectable and distinctive delicacies!
If you want to start with something savory, Leberkäse is a good choice. The term literally translates to "liver cheese," which doesn't seem too appetizing, but trust me when I say it's delicious. The only item that comes close is meatloaf, and I assure you won't find any liver or cheese in one of these (unless you order a Käseleberkäse, which includes melted cheese).
The savory cuisine is excellent, but Vienna's desserts are truly outstanding. During your trip in Vienna, I highly recommend having Kaiserschmarren, which are shredded pancakes with plum or berry jam. Emperor's pancakes is the moniker, which refers to Emperor Franz Joseph's fondness for the dish.
You could also try some Reindling, a classic Easter cake from Austria. Sweet bread with raisins, cinnamon, and rum blended and stacked. It has a caramelized exterior but isn't as sweet as regular cake, so it's frequently served with savory dishes like eggs and ham. Every Austrian family and bakery, it seems, has their own special recipe, so each time you eat it will be a different experience!
I have also shared one complete guide about Food to try in Vienna so you can check that out 15 Traditional Austrian Food that you will love in Vienna and if you are looking to try some Indian Food in Vienna then you can check my post 10 Best Vegetarian Indian Restaurants in Vienna.
Vienna Blues Spring Music Festival
The Vienna Blues Spring music event features daily blues and jazz concerts throughout the city, with the majority of them taking place at the Der Reigen.
Special performances are held at the Mozarthaus, providing an excellent opportunity to hear blues music performed in the place where Mozart once resided.
Der Reigen, the primary venue, is a prominent venue for blues, jazz, and world music, and has a long tradition of supporting these artists. It's also a bar and restaurant, so you can make an evening out of listening to some fantastic bands!
Location: Der Reigen, Hadikgasse 62, 1140 Vienna.
When: Check the official website for the dates and times of performances.
Kunsthistorisches Museum
You've struck gold if you're in Vienna for the Easter celebrations and want to see some museums.
Some of Vienna's finest attractions, such as the Kunsthistorisches Museum, are open on Easter Monday, when they are ordinarily closed on Mondays, during the holiday.
This means you'll have an extra day to plan a trip to Vienna's most famous museum!
Vienna's Kunsthistorisches Museum is a symbol of the city. It's the country's largest art museum, featuring an extraordinary collection of historical treasures and works of art.
You may admire treasures by artists such as Rembrandt, Raphael, Rubens, and Titan, as well as the Kunsthistorisches Museum's exquisite architecture and interiors.
---
Ads Starting
Post Continues
---
Spring Hikes around Vienna

With highs of 17° and bright, sunny days, the weather in Vienna around Easter is normally fairly nice. Knowing this, going on a spring trek is one of the nicest things you can do during your Easter visit to Vienna!
While most visitors stick to the city center, Vienna boasts miles of lush countryside inside its borders. There are a number of walks you may go on to take advantage of the nice weather and spring scenery, from mountain views to vineyards.
And, Vienna offers a Hiking Pass, which gives you a reward pin when you collect stamps during each hike!
The first hike I'd recommend is in the Prater, which is pretty close to the city center. This location is more than just an amusement park; it also includes 1500 acres of green parks and woodlands. This route takes you from the Praterstern Station to the Praterstern Station, covering 13 kilometers in three to four hours. This trek is great for families because it may easily be shortened for a more leisurely stroll.
I'd also recommend hiking the 12.5-kilometer Zugberg-Maurer Wald hike, which takes around four hours to complete. This hike begins and ends at the Rodaun tram stop on line 60, and it takes you through wooded regions and open fields. You'll also pass by the Freiluftplanetarium Sterngarten Georgenberg, an open-air planetarium that I think is well worth a visit!
Finally, if you're looking for a slightly more challenging walk, I'd say to try the Kahlenberg hiking route. It's an uphill hike through woodland and vineyards but at the top, you'll be rewarded with spectacular views over Vienna and the Danube. This one is 11 kilometres long and is expected to take between three to four hours, beginning and ending at Nußdorf on tram line D.
Location: These hikes can be found all throughout Vienna, with more listed here.
When: I'd suggest the best time to go on one of these hikes is in the morning, allowing time for lunch to make sure you're back before it starts getting dark.
Great If: You're looking for a more unique, less touristy experience of Vienna. Great for couples or friends on an active holiday!
Eggs Eggs Eggs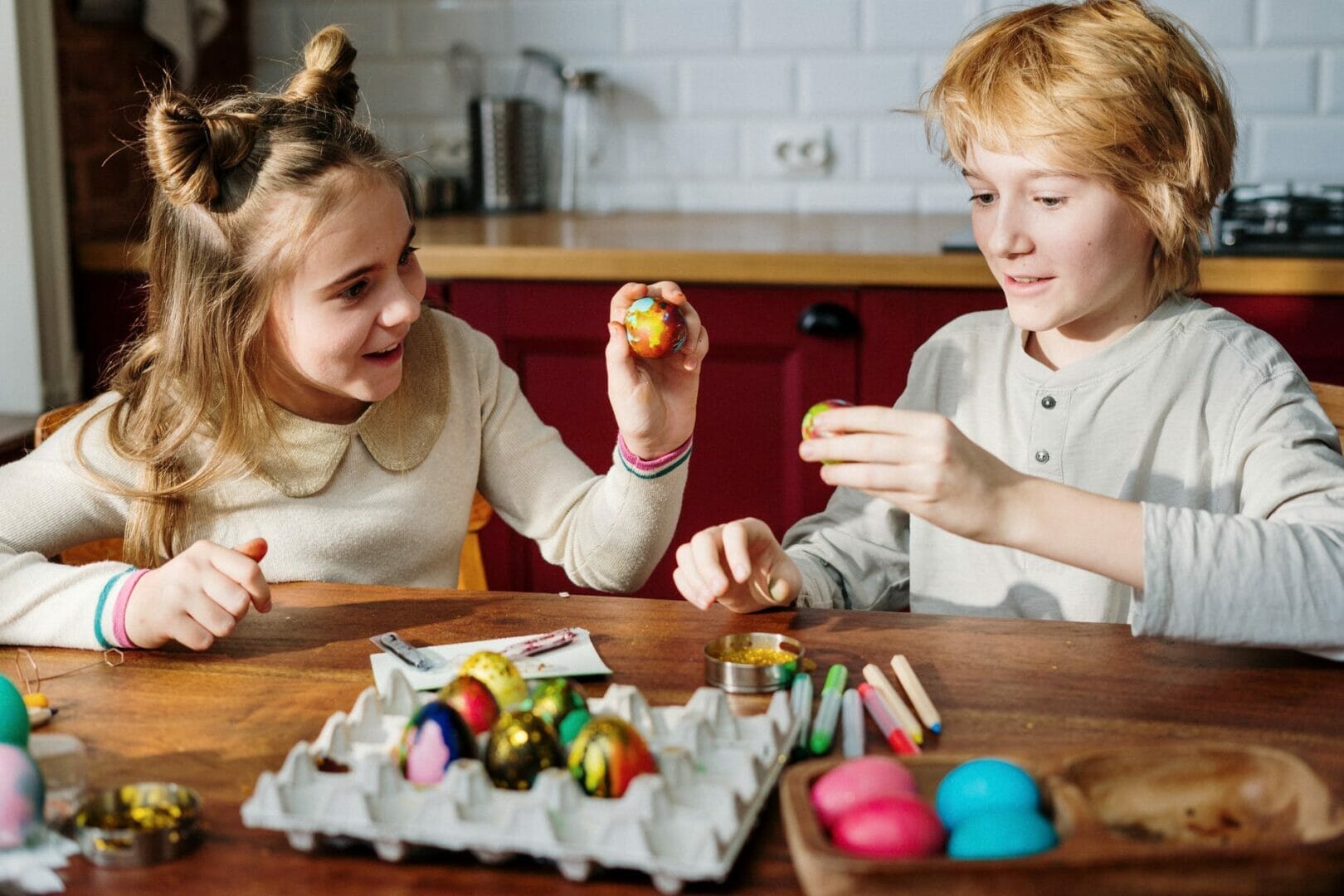 When you arrive in Vienna during Easter, you'll discover that eggs play a significant role in the city's celebrations.
Eggs are decorated as decorations and put on an Osterbaum according to Viennese Easter traditions (an Easter Tree).
Children will enjoy Eiersuchen (egg hunting), but adults will delight in spotting all of the magnificent, brightly colored eggs that adorn Vienna around Easter.
You may even try to find a game of Eierpecken to play! This is an egg cracking competition. The individual who cracks their opponent's hard-boiled egg first is the winner. You won't get a trophy, but you will have bragging rights. If you want to know more about this then you can read it here
Where to stay During Easter in Vienna?
Below are some of hotels where you can say during Easter in Vienna, These are close to the city center as well so you don't have to worry much.
Top 5 Hotels for Easter in Vienna
Want to find more Hotels in Vienna then you can check the below tool
Top 5 Hostels for Easter in Vienna
You can also use below tool to find the hostels in Vienna
We hope you found our guide to Easter in Vienna useful. If you have not checked that already then check the remaining places for Easter in Europe.
If you're looking for more travel inspiration, subscribe to our newsletter or simply keep scrolling!
Want to know what all things you can do in Vienna then check our Partner Getyourguide.
Get your Notion Travel Planner Template!
Embark on your next adventure with the Wanderlust Planner – Notion Travel Planner Template – Notion Travel Planner Template for 2023 (chasingwhereabouts.com), the ultimate Notion Travel Planner Template. Organize your wanderlust-fueled dreams and turn them into unforgettable journeys. Whether you're a seasoned globetrotter or a newbie explorer, this template has you covered.