This first time I was in Munich, I was only going to spend One Day in Munich which is often the case when you are going through a packed itinerary for exploring Germany. In this post, I will try to include everything you need for the One Day in Munich Itinerary. So stay tuned.
Bavaria's capital, Munich, is a vibrant city that seamlessly blends rich history and modernity. With its stunning architecture, delightful cultural sights, and cozy beer gardens, one day in Munich promises an unforgettable experience. To help you make the most of your limited time, follow our optimized itinerary that highlights the must-visit attractions and activities.
1 Day Itinerary for Munich
Morning: Embrace History and Culture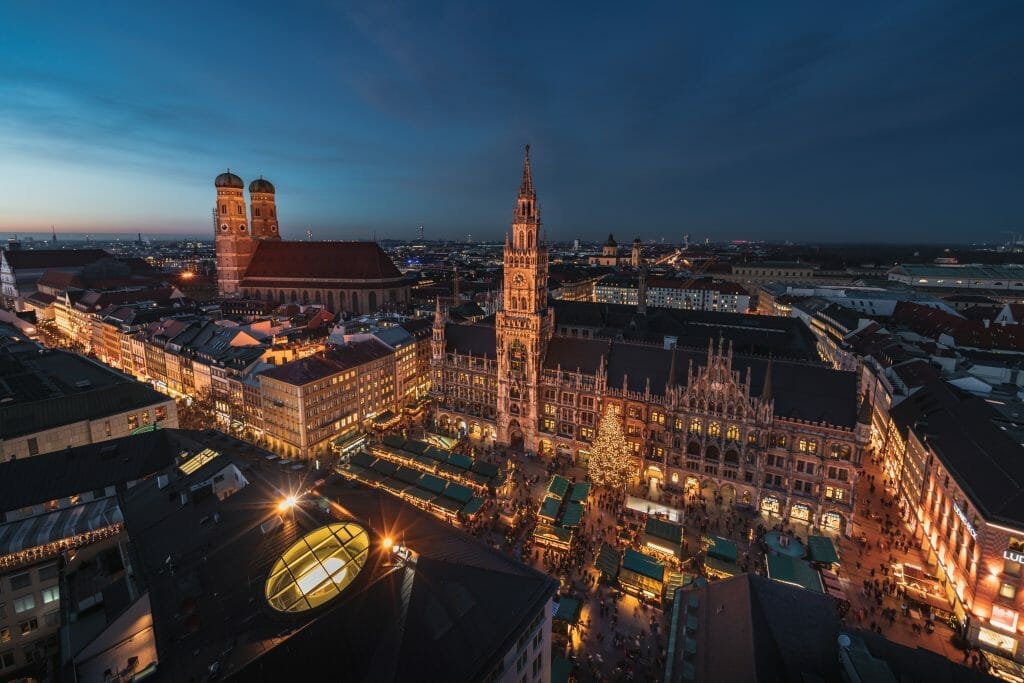 Begin your day by immersing yourself in Munich's historical charm. Start with a visit to the iconic Marienplatz, the city's main square. Admire the stunning New Town Hall (Neues Rathaus) with its famous Glockenspiel performance. As the clock chimes, watch the intricate figurines reenact historical Bavarian events.
Just a short stroll away lies the heavenly Church of Our Lady (Frauenkirche). Marvel at the Gothic architecture and, if you're feeling adventurous, climb the church tower for panoramic city views. Remember to catch your breath at the elegant Asamkirche, a hidden gem featuring exquisite Baroque interiors.
Odeonsplatz, a few minutes' walk from the Church of Our Lady, serves as a gateway to Munich's royal past. Visit the Theatiner Church and Residence Palace to witness the grandeur of the Bavarian monarchy.
Afternoon: Art, Culture, and Culinary Delights
In the afternoon, immerse yourself in Munich's vibrant cultural scene. Start at the world-renowned museum complex, The Pinakotheken. Explore the Alte Pinakothek to admire remarkable works by masters like Rembrandt and Dürer. Move on to the Neue Pinakothek to appreciate Impressionist and European art.
Continue your artistic journey by visiting the Lenbachhaus, known for its vast collection of modern art. Marvel at the world's most extensive collection of works by the Blue Rider artists, including masterpieces by Kandinsky and Münter.
As your stomach begins to rumble, take a break and indulge in a traditional Bavarian feast. Head to Viktualienmarkt, a bustling market overflowing with local delights. Treat yourself to some mouthwatering sausages, pretzels, and refreshing beer.
Evening: Beer Gardens and Bavarian Magic
No visit to Munich is complete without experiencing its legendary beer gardens. Stroll through the serene English Garden, one of the world's largest urban parks, and discover the famous Chinesischer Turm beer garden. Grab a stein of beer and soak in the lively atmosphere while relishing traditional Bavarian music.
Conclude your day by exploring Munich's enchanting nightlife. Head to the vibrant Schwabing district, known for its lively bars and trendy clubs. Unwind with a cocktail at one of the many chic establishments or dance the night away with friends.
Tips for Your Day in Munich:
1. Wear comfortable shoes as Munich is best explored on foot.
2. Consider purchasing a Munich City Card for free public transportation and discounted museum admissions.
3. Respect local customs and traditions, particularly in religious sites like churches.
4. Try traditional Bavarian cuisine like Weisswurst (sausages) and Leberkäse (meatloaf) at local eateries.
5. Check the opening hours of attractions in advance, as some may have limited accessibility on certain days.
By following this optimized 1 Day Itinerary for Munich , you can savor the essence of this remarkable city. Embrace the captivating history, delve into the thriving cultural scene, and raise a glass in Munich's iconic beer gardens. One day may not be enough, but it will leave you longing to return and explore more of Bavaria's captivating capital.
You can check all the Tours and attraction tickets in Munich
FAQ – One Day in Munich Itinerary
What are the must-visit attractions in Munich for a one-day trip?
Munich offers a wealth of attractions, but for a one-day visit, prioritize Marienplatz, Nymphenburg Palace, the BMW Museum, and a stroll in the English Garden. These landmarks offer a taste of the city's history, culture, and natural beauty.
Is it possible to see the iconic Neuschwanstein Castle on a one-day trip from Munich?
While Neuschwanstein Castle is a popular destination, it's not feasible for a one-day trip from Munich due to its distance (about 2.5 hours one way). Focus on exploring Munich itself, or plan a separate day trip to Neuschwanstein Castle if time allows.
What's the best way to get around Munich in one day?
Munich has an efficient public transportation system, including trams, buses, and the U-Bahn (subway). A one-day public transportation pass is a convenient and cost-effective way to navigate the city. Alternatively, you can explore the city center on foot as many attractions are within walking distance of each other.
Are there any recommended restaurants or food markets to try Bavarian cuisine in Munich?
Absolutely! For authentic Bavarian cuisine, consider dining at the Viktualienmarkt, where you can find a variety of food stalls and traditional Bavarian dishes. If you're looking for a sit-down experience, Hofbräuhaus and Weisses Bräuhaus are iconic beer halls offering classic Bavarian fare.
Is it possible to visit Dachau Concentration Camp Memorial on a one-day trip to Munich?
Visiting Dachau Concentration Camp Memorial is possible from Munich, but it's a solemn and emotionally taxing experience that may require several hours. If you're interested, allocate a separate half-day for this visit, as it's about a 30-minute train ride from Munich's city center. Ensure you have enough time to fully absorb the history and pay your respects.
Get your Notion Travel Planner Template!
Embark on your next adventure with the Wanderlust Planner – Notion Travel Planner Template – Notion Travel Planner Template for 2023 (chasingwhereabouts.com), the ultimate Notion Travel Planner Template. Organize your wanderlust-fueled dreams and turn them into unforgettable journeys. Whether you're a seasoned globetrotter or a newbie explorer, this template has you covered.