Oktoberfest, the world's largest beer festival, is a vibrant celebration of Bavarian culture held annually in Munich, Germany. With its roots dating back to 1810, this iconic event brings together millions of visitors from around the globe to indulge in traditional German food, music, and of course, beer. Get ready to raise your stein and join in the excitement at Oktoberfest!
In this Oktoberfest Travel Guide, I will share in detail everything you need to know before planning your adventure in Munich.
What is Oktoberfest meaning? When did it all start?
The first Oktoberfest was held in Munich, Germany in 1810 to celebrate the marriage of Crown Prince Ludwig (later King Ludwig I) and Princess Therese of Saxe-Hildburghausen. The festivities took place on October 12th and lasted for five days, concluding with a horse race. The event was such a success that it was decided to repeat it annually, giving birth to the tradition of Oktoberfest.
The original Oktoberfest featured beer stands, food vendors, and various forms of entertainment including music, dancing, and games. It attracted both locals and visitors from neighbouring towns and villages. Over the years, the festival grew in size and popularity, becoming an integral part of Bavarian culture.
Oktoberfest: A Cultural Icon in German Society
Oktoberfest has become deeply ingrained in German society and is considered one of its most significant cultural events. It showcases Bavarian traditions such as folk music, traditional costumes (dirndls for women and lederhosen for men), and regional cuisine.
For many Germans, Oktoberfest is a time to celebrate their heritage and connect with their roots. It brings people from all walks of life together, fostering a sense of community and shared identity. The festival also serves as a platform for promoting Bavarian businesses, crafts, and local products.
Where Oktoberfest is held?
Oktoberfest is primarily held in Munich, Germany. It takes place in the Theresienwiese, a large open field located in the heart of Munich. This iconic festival grounds in Munich has been the traditional location for Oktoberfest since its inception in 1810.
While the Munich Oktoberfest is the most famous and largest Oktoberfest celebration in the world, there are also many smaller Oktoberfest events and celebrations held in various cities and regions around the globe, especially in areas with significant German communities. These local Oktoberfest celebrations aim to replicate the Bavarian traditions and festivities of the original Munich event.
When is Oktoberfest in Germany in 2023?
The Oktoberfest starts on 16th September and will end on 3rd October 2023 in Munich, Germany this year.
Where to Stay During Oktoberfest in Munich?
1. Luxury Hotel:
Hotel Bayerischer Hof: Located in the heart of Munich, this iconic 5-star hotel offers opulent rooms, excellent dining options, and a rooftop bar with panoramic city views. It's a short walk to the Theresienwiese, making it an ideal choice for Oktoberfest attendees seeking luxury and proximity.
2. Mid-Range Hotel:
NH München Deutscher Kaiser: Situated just a stone's throw away from the Munich Central Train Station (Hauptbahnhof), this 4-star hotel is a convenient choice for Oktoberfest visitors. It offers comfortable rooms and easy access to public transportation to the festival grounds and other attractions.
3. Hostel Option:
Wombats City Hostel: For budget-conscious travellers, Wombats City Hostel offers a clean and vibrant atmosphere with dormitory-style and private rooms. It's close to the Hauptbahnhof and within walking distance of Oktoberfest, making it an affordable and social option.
Best Regions to Stay During Oktoberfest:
Ludwigsvorstadt-Isarvorstadt: This neighbourhood is the closest to the Theresienwiese, where Oktoberfest takes place. Staying here ensures you're within walking distance of the festival grounds. It's also well-connected by public transport, making it easy to explore the rest of Munich.
Munich Central Train Station (Hauptbahnhof): The Hauptbahnhof area is an excellent choice for its proximity to both Oktoberfest and public transportation. It's a bustling hub with various accommodation options and plenty of restaurants and shops.
Maxvorstadt: If you prefer a quieter atmosphere but still want easy access to Oktoberfest, consider Maxvorstadt. It's home to cultural attractions like museums and galleries and offers a more relaxed setting for your stay.
Evolution of Oktoberfest: From Humble Beginnings to Global Phenomenon
Since its inception in 1810, Oktoberfest has undergone significant changes and evolved into a global phenomenon. What started as a small celebration has grown into the world's largest beer festival, attracting millions of visitors each year.
In the early years, the festival primarily consisted of horse races and agricultural displays. However, as the event gained popularity, more attractions were added to cater to the diverse interests of attendees. Today, Oktoberfest features amusement rides, live music performances, parades, traditional dances, and a wide variety of food options.
Traditional Music and Dancing
Oktoberfest is also known for its lively music and dancing. Traditional German bands perform lively tunes on stages throughout the festival grounds, creating an energetic atmosphere.
The most famous type of music played during Oktoberfest is polka music, characterized by its fast tempo and lively accordion melodies. Visitors can join in the fun by participating in traditional Bavarian dances such as the Schuhplattler or the Fliegerlied dance.
Popular Traditional Songs
– "Ein Prosit": A well-known Oktoberfest drinking song that encourages everyone to raise their glasses and toast to good times.
– "Zicke Zacke, Zicke Zacke, Hoi Hoi Hoi!": A chant-like song that is often sung while clinking beer mugs together.
– "Schneewalzer": A famous waltz that is commonly played during Oktoberfest, encouraging couples to take to the dance floor.
Traditional Bavarian Clothing – Oktoberfest What to Wear?
During Oktoberfest, it is common to see both locals and visitors dressed in traditional Bavarian clothing. Men often wear lederhosen, which are short leather pants with suspenders, paired with a checked shirt and knee-high socks.
Women typically don dirndls, which consist of a bodice, blouse, full skirt, and an apron tied around the waist. These outfits not only add to the festive atmosphere but also reflect the rich cultural heritage of Bavaria.
Checkout Oktoberfest Dirndls on Amazon
Elements of Traditional Bavarian Clothing
– Lederhosen: Traditional leather pants made from deer or goat hide.
– Dirndl: A dress consisting of a fitted bodice, full skirt, blouse, and apron.
– Trachten Hat: A felt hat adorned with feathers or decorative pins worn by men.
– Alpine Hat: A traditional hat made from felt or wool with a brim and feather decoration worn by women.
Tips for Choosing Traditional Clothing
Ensure that your Lederhosen or Dirndl fits properly by trying them on before purchasing.
Consider opting for authentic materials such as genuine leather or high-quality fabrics for a more authentic look.
Choose colours that complement your skin tone and personal style while still adhering to traditional patterns.
Add accessories like hats, feathered pins, or traditional shoes called Haferlschuh to complete your outfit.
How Long Does the Festivity Last? Exploring the Duration of Oktoberfest
The Traditional Length: 16 Days of Celebration
The duration of Oktoberfest is a significant aspect of this world-famous festival. Traditionally, Oktoberfest lasts for a period of 16 days, starting in late September and continuing until the first Sunday in October. This timeframe allows locals and visitors alike to fully immerse themselves in the festivities, experience the various attractions, and indulge in the rich Bavarian culture.
The Historical Origins
The origins of this 16-day celebration can be traced back to October 12th, 1810 when Bavaria's Crown Prince Ludwig married Princess Therese von Sachsen-Hildburghausen. To commemorate their royal wedding, citizens were invited to partake in horse races held on the fields outside Munich's city gates. These horse races eventually evolved into what we now know as Oktoberfest.
Weekends vs. Weekdays
Different days of the week offer distinct experiences during Oktoberfest due to varying levels of crowd sizes and atmospheres. Weekdays are generally less crowded than weekends, making it easier to find seating in beer tents and enjoy a more relaxed ambiance while savoring traditional Bavarian cuisine and beverages.
On the other hand, weekends are typically more lively and bustling with larger crowds as both locals and tourists flock to Munich for weekend getaways or day trips specifically to attend Oktoberfest. The energy during weekends is infectious, with live music performances amplifying the festive spirit.
Extended Celebrations: Pre-Oktoberfest Events
In recent years, an extension of celebrations leading up to the official start of Oktoberfest has become increasingly popular. These pre-Oktoberfest events offer visitors even more opportunities to revel in Bavarian culture and enjoy the festivities.
The Opening Ceremony
The opening ceremony marks the official beginning of Oktoberfest and is held on the first Saturday after September 15th at noon. This grand event takes place in the Schottenhamel tent, one of the largest beer tents at the festival. The mayor of Munich taps the first keg of Oktoberfest beer, exclaiming "O'zapft is!" (which translates to "It's tapped!"). This momentous occasion signals the start of two weeks filled with merriment.
Costume and Riflemen's Parade
The Costume and Riflemen's Parade, also known as Trachten- und Schützenzug, is a captivating procession that occurs on the first Sunday of Oktoberfest. Over 9,000 participants dressed in traditional costumes representing various regions of Bavaria march through Munich's streets, showcasing their vibrant attire and cultural heritage. Spectators line the parade route to witness this colorful spectacle.
Highlights of Munich's Oktoberfest
Bavarian Beer: One cannot talk about Oktoberfest without mentioning the vast variety of beers available. Breweries from Munich and other parts of Bavaria showcase their finest brews at specially constructed beer tents within the festival grounds.
Gigantic Fairground: In addition to beer tents, there is a massive fairground with thrilling rides and attractions for people of all ages. From roller coasters to Ferris wheels and haunted houses, there is no shortage of entertainment options.
Traditional Clothing: Many visitors embrace the tradition by donning traditional Bavarian clothing known as "Tracht." Men wear lederhosen (leather pants) while women opt for dirndls (a dress with an apron). This adds to the festive atmosphere and creates a sense of unity among participants.
Global Attendance: Munich's Oktoberfest attracts millions of visitors from all around the world. People travel far and wide to experience the unique atmosphere, authentic Bavarian culture, and the camaraderie that comes with celebrating together.
The Birth of Beer Tents
Initially, beer was served in small wooden stalls at Oktoberfest. However, as the festival grew in popularity, these stalls could no longer accommodate the increasing number of visitors. This led to the birth of beer tents – large temporary structures where breweries could serve their beer to festival-goers. These beer tents became a focal point of Oktoberfest and have since become synonymous with the event.
The Reinheitsgebot: Purity Law for Beer
One significant aspect that highlights the importance of beer in Oktoberfest is Germany's Reinheitsgebot or Beer Purity Law. Established in 1516, this law states that beer can only be brewed using four ingredients: water, malted barley, hops, and yeast. This strict regulation ensures the quality and purity of German beers served during Oktoberfest. It is a testament to how deeply ingrained beer is in German culture and its central role in festivals like Oktoberfest.
Beer has been an inseparable part of Oktoberfest since its inception in 1810.
The festival started as a celebration of a royal wedding but evolved into an annual event attracting millions of visitors.
Beer tents replaced small stalls as demand increased over time.
The Reinheitsgebot ensures the high quality and purity of German beers served at Oktoberfest.
Magnitude of Attendance: How Many People Flock to Oktoberfest Each Year?
Record-Breaking Figures
The magnitude of attendance at Oktoberfest is truly staggering. In recent years, the festival has consistently attracted over six million visitors annually. To give you an idea of its scale, imagine a city temporarily springing up within Munich for two weeks every year. The vast Theresienwiese fairground transforms into a bustling hub filled with beer tents, amusement rides, food stalls, and entertainment stages to accommodate this enormous influx of people.
The 2019 edition alone saw an astonishing 6.3 million visitors.
In 2018, approximately 6.2 million guests descended on Munich for the festivities.
The record-breaking year remains 1985 when an astounding 7.1 million people attended Oktoberfest.
These numbers highlight the enduring appeal and global reputation of Oktoberfest as one of the largest public festivals in the world.
Traditional German Beer – Oktoberfest Beers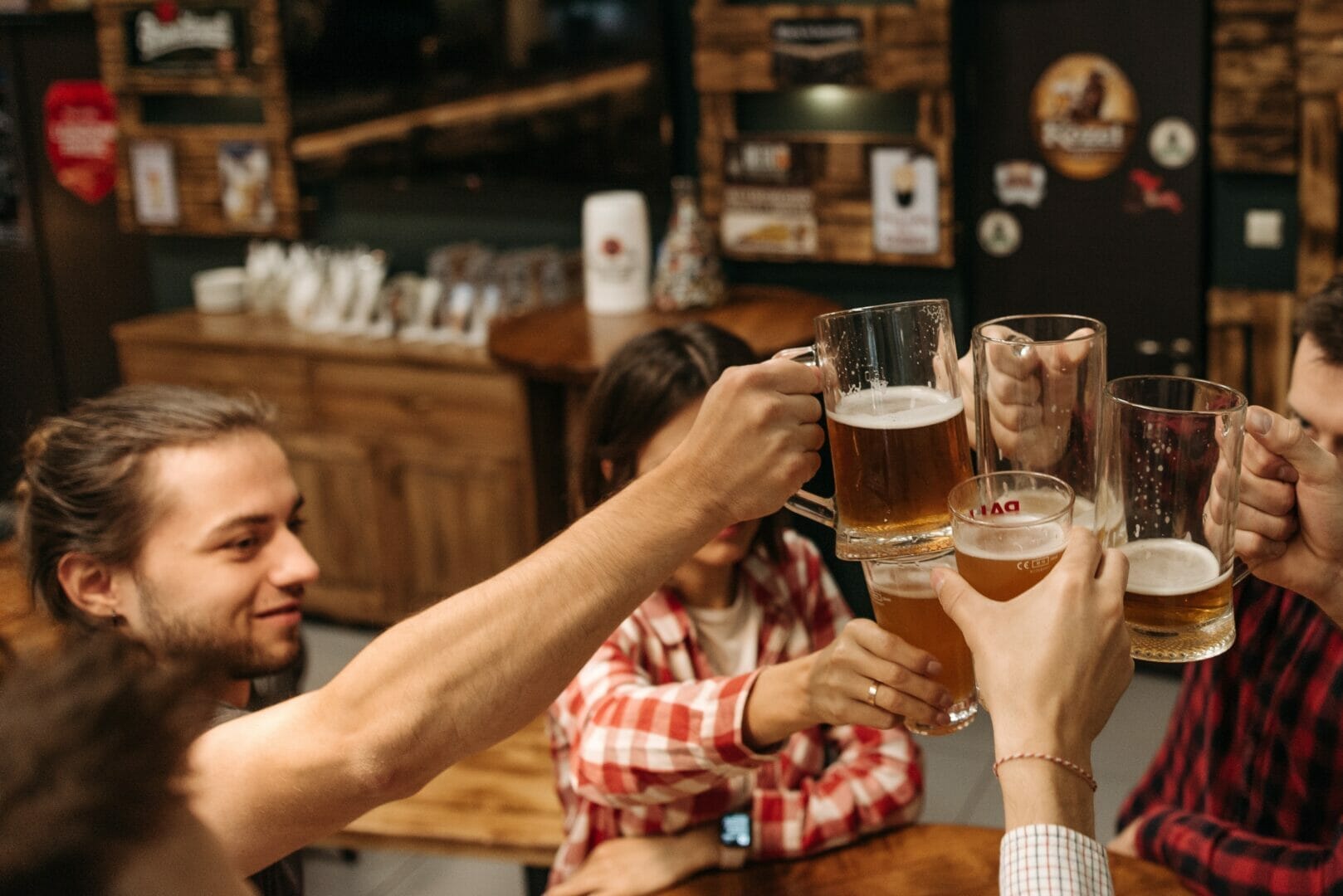 No Oktoberfest experience would be complete without indulging in the world-renowned German beer. Brewed according to strict purity laws, German beer is known for its exceptional quality and taste.
During Oktoberfest, you can find a wide variety of beers from different breweries across Germany. From light lagers to dark bocks, there is something to satisfy every beer lover's palate. Don't miss the opportunity to raise your stein and join in the traditional "Prost" (cheers) with fellow festival-goers.
Famous Beer Tents
Hofbräu Festzelt: One of the most popular beer tents offering a lively atmosphere and their signature Hofbräu beer.
Augustiner Festhalle: Known for its cozy Bavarian charm and the famous Augustiner beer, this tent is a favorite among locals.
Paulaner Festzelt: Experience the authentic Paulaner beer along with live music and a vibrant crowd in this tent.
German Oktoberfest Food
One of the main highlights of Oktoberfest is the wide array of traditional Bavarian food and drink that is available. Visitors can indulge in delicious sausages such as bratwurst and weisswurst, along with pretzels, sauerkraut, and potato dumplings.
These hearty dishes are often accompanied by a variety of German beers, including popular choices like pilsner and wheat beer. It is common to see people enjoying their meals while seated at long communal tables, fostering a sense of camaraderie among attendees.
Must-Try Dishes during Oktoberfest
– Bratwurst: A type of German sausage made from pork or beef, often flavored with spices like nutmeg and ginger. – Pretzels: Soft baked bread twisted into a knot shape, sprinkled with coarse salt.
– Weisswurst: A traditional Bavarian sausage made from minced veal and pork back bacon seasoned with parsley, mace, onions, lemon zest, and cardamom.
– Sauerkraut: Fermented cabbage that adds a tangy flavor to dishes. – Potato Dumplings: Boiled dumplings made from grated potatoes mixed with flour or semolina.
Delicious Desserts
Indulge your sweet tooth at Oktoberfest with an array of delectable desserts that will satisfy any sugar craving. From traditional German pastries to decadent cakes, there is something for everyone. Treat yourself to classics like apple strudel, Black Forest cake, or creamy Bavarian cream. These desserts are often enjoyed alongside a cup of coffee or paired with a sweet dessert wine for a truly delightful experience.
Must-Try Desserts
Schwarzwälder Kirschtorte (Black Forest Cake): Layers of chocolate sponge cake filled with cherries and whipped cream, topped with chocolate shavings.
Apfelstrudel (Apple Strudel): Thin layers of flaky pastry filled with spiced apples, raisins, and nuts, served warm with vanilla sauce.
Bayerische Creme (Bavarian Cream): A smooth and creamy dessert made with vanilla custard and gelatin, often garnished with fresh berries or caramel sauce.
What else you can enjoy during Oktoberfest
Roller Coasters and Rides
Thrills and excitement await visitors at the Oktoberfest grounds with a wide array of roller coasters and rides. From classic wooden roller coasters to state-of-the-art steel ones, there is something for everyone seeking an adrenaline rush.
Take a spin on the iconic Ferris wheel, offering breathtaking views of the festival grounds and the city skyline. Other popular attractions include spinning teacups, bumper cars, and high-speed water slides. Whether you're a daredevil or prefer milder thrills, these rides provide endless entertainment for all ages.
List of Thrilling Rides:
Wild Mouse Roller Coaster
Giant Drop Tower
Pirate Ship Swing Ride
Spinning Teacups
Bumper Cars
Water Slides
Haunted Houses and Horror Mazes
If you're a fan of spooky experiences, be sure to check out the haunted houses and horror mazes at Oktoberfest. These attractions offer a thrilling mix of suspense, scares, and surprises that will leave you on the edge of your seat. Venture into dark corridors filled with eerie sounds and unexpected encounters as you navigate through terrifying scenes designed to give you goosebumps. With intricate set designs, professional actors, and special effects, these haunted houses provide an unforgettable experience for horror enthusiasts.
List of Haunted Attractions:
The Haunted Manor: A chilling journey through a haunted mansion filled with ghostly apparitions.
The Zombie Apocalypse: Survive a post-apocalyptic world infested with zombies in this interactive maze.
Clown Carnival: Enter a twisted circus where creepy clowns roam and nightmares come to life.
The Asylum: Explore the abandoned asylum, home to deranged patients and dark secrets.
Extreme Sports and Stunts
For those seeking an extra dose of excitement, Oktoberfest offers a range of extreme sports and thrilling stunts. Watch professional skateboarders and BMX riders perform jaw-dropping tricks in specially designed skate parks. Marvel at the skill and precision of acrobats as they showcase their talents through high-flying aerial performances. Admire daredevil motorcyclists defy gravity with death-defying jumps and flips. Whether you're participating or spectating, these extreme sports and stunts provide an adrenaline-pumping experience that will leave you breathless.
List of Extreme Sports and Stunts:
Skateboarding Tricks Showcase
BMX Freestyle Exhibition
Aerial Acrobatics Show
Motorcycle Stunt Spectacular
Skydiving Demonstration
Bungee Jumping Experience
Safety Concerns and Accidents
Despite the best efforts to maintain a safe environment, Oktoberfest has experienced accidents and safety concerns over the years. The consumption of alcohol, combined with the size of the event, can lead to accidents such as falls or alcohol poisoning.
Additionally, due to the large crowds, there have been instances of stampedes and overcrowding that pose risks to attendees. Authorities continuously work on improving safety measures, including increasing medical staff and implementing crowd control strategies.
Example:
Accidents like falls and alcohol-related incidents have occurred at Oktoberfest due to excessive drinking.
Crowd-related issues such as stampedes and overcrowding have also raised concerns about attendee safety.
To address these issues, organizers have increased medical personnel presence and implemented crowd control measures.
Conclusion: Oktoberfest Travel Guide
Oktoberfest is not just a beer festival, but a celebration of Bavarian culture and traditions. Originating from a royal wedding in 1810, it has become an iconic event deeply ingrained in German society. From its humble beginnings, Oktoberfest has evolved into a global phenomenon, attracting millions of visitors each year.
With its folk music, traditional costumes, and regional cuisine, the festival showcases the best of Bavaria and brings people together to celebrate their heritage. Experience the vibrant atmosphere and immerse yourself in the rich history of Oktoberfest for an unforgettable cultural experience.