In today's globalized world, language barriers can often hinder effective communication between individuals from different linguistic backgrounds. Whether it's during travel, business meetings, or language learning, the ability to understand and be understood is crucial.
This is where translation devices come in handy. One such device is the Timekettle Fluentalk T1 Handheld Translator, an interesting tool designed to overcome the language barrier.

The Timekettle Fluentalk T1 Mobile Translator is a compact and portable device that allows users to translate conversations in real time. It supports 40 languages and can translate both spoken and written text. With its advanced technology and user-friendly interface, the Fluentalk T1 is designed to make communication easier and more efficient.
Tip: If you are buying for the first time from Timekettle then there are multiple coupons on their website that you can use.
Features and Specifications of Timekettle Fluentalk T1 Translator
Before we talk any further let us try to understand the feature of Fluentalk T1. It boasts a high-quality microphone and speaker, ensuring clear and accurate voice recognition and translation. The device also has a built-in camera that can be used for scanning and translating written text.

In terms of specifications, the Fluentalk T1 is powered by a quad-core processor and runs on the Android operating system. It has a 5-inch touchscreen display, making it easy to navigate and use. The device also supports Wi-Fi and Bluetooth connectivity, allowing users to connect to the internet and other devices for seamless translation.

When compared to other translation devices in the market, the Timekettle Fluentalk T1 stands out for its versatility and ease of use. It supports a wide range of languages, making it suitable for users from different linguistic backgrounds. Additionally, its compact size and lightweight design make it convenient to carry around, making it an ideal travel companion.
Getting Started with Fluentlak T1
When I received the device it was pretty easy with the setup, the device was already charged and we you switch that it will ask you to choose the language and then to Wi-Fi.
Keep the device open for the next 2 minutes and then the data plan of 2 years starts and e-Sim gets activated.
You can not halt the data plan start and keep on using with Wi-Fi network if you are wondering.
The rest of the content in the box was just a SIM ejector tool and the charging cable along with the thread.
Fluentalk by Timekettle,T1 Language Translator with 4" HD Screen,Support 40 Languages and Photo Translation,Instant Translator Device No WiFi Needed,Built in 2-Year Global Mobile Data for Travelling
as of 27 November 2023 7:39 AM
How Timekettle T1 Handheld Translator Works
The Timekettle Fluentalk T1 Offline Translator utilizes advanced artificial intelligence and machine learning algorithms to provide accurate and real-time translations. The device uses a combination of speech recognition, natural language processing, and machine translation to convert spoken words into the desired language.

The one thing which you are going to use the most is the One Click Translation Option present on it and it is the most general one which I used during my time of using and testing this device.
Fluentalk T1 Translation Modes
The T1 presents a selection of translation modes for your convenience, including the default One-Click Translation mode, Chat mode for conversations, Custom mode to personalize translations, Spectator mode for passive translation viewing, and Photo translation mode. Additionally, it boasts a speech transcriber that accurately transcribes voice memos.
Quick Offline Translation Option
This feature is quick and handy when you have an announcement going on in a different language to the place you are travelling to.
Like when you are on your trip to Germany and visiting some of the villages in Germany the train cancellations and all sorts of announcements in these places only happen in German and not in English.
So for people who don't know German this would be a problem.
With the Fluentalk you can just press the Blue Button and the device starts listening to the language once you are done you just release the button and it will translate it for you and announce it as well.
Photo Translation Option
The Photo Translation option is similar to the Google Translate or Apple Translate option and it takes around 5 seconds to load the translated record.
One interesting thing which you can do on this device is that you can save this translation data on the device itself.
How to access the saved Photo Translation Option
Click on the Photo Translation
On the Bottom Left Corner just like any phone gallery, you will find the Photo Gallery here.
Select your image.
Click on the Translate Option on the Bottom Right Corner.
You can see the translated data.
This can certainly come in handy when you are travelling somewhere and you take a photo of the information flier with the translation device and you can easily access this anytime when you need it.
You don't have to translate that again.
Chat Translation Option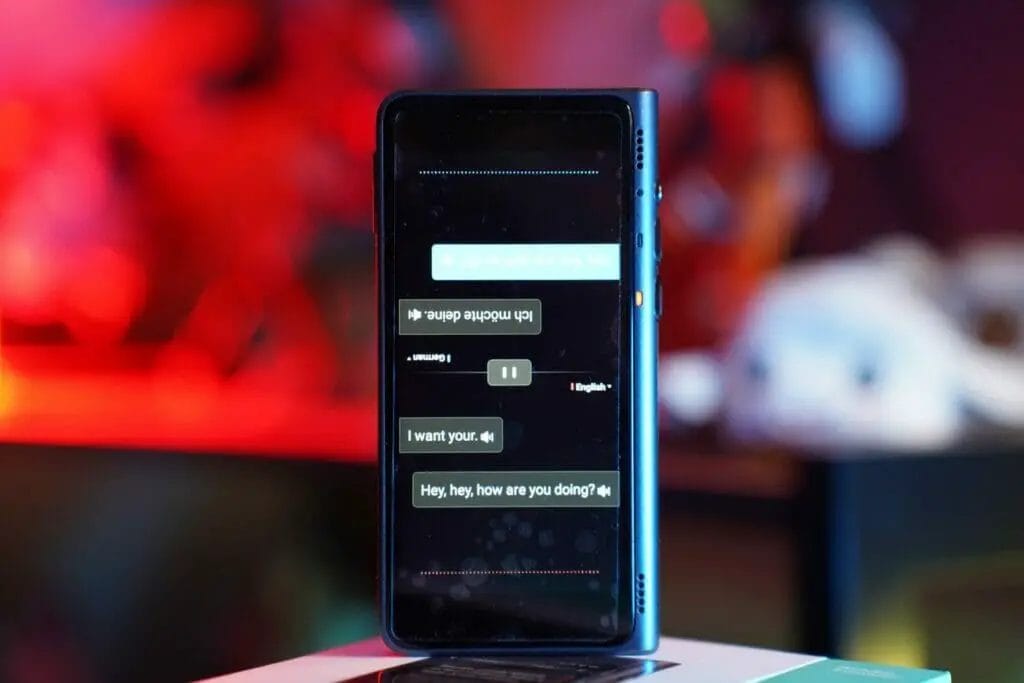 The chat translation feature is incredibly useful when you find yourself in a situation where the other person doesn't speak English or any language you know, yet you still need to communicate. It's a fantastic tool to have at your disposal.
This feature is relatively new and is also being incorporated into all translation applications for phones. However, Fluentalk stands out as it performs exceptionally well in this aspect, making it a tool that I will definitely be using frequently."
How does the Chat Mode Works?
One Side is English.
The other side is German (in my case)
You have to speak from the English side and it will translate and announce the German translation.
The German one should speak from the German side of the mic and the translator would translate that in English and announce that.
It's so convenient to give it a try while traveling.
Best of all it works with the offline mode as well so you don't have to worry at all.
Advantages of Using Timekettle Fluentalk T1 Handheld Translator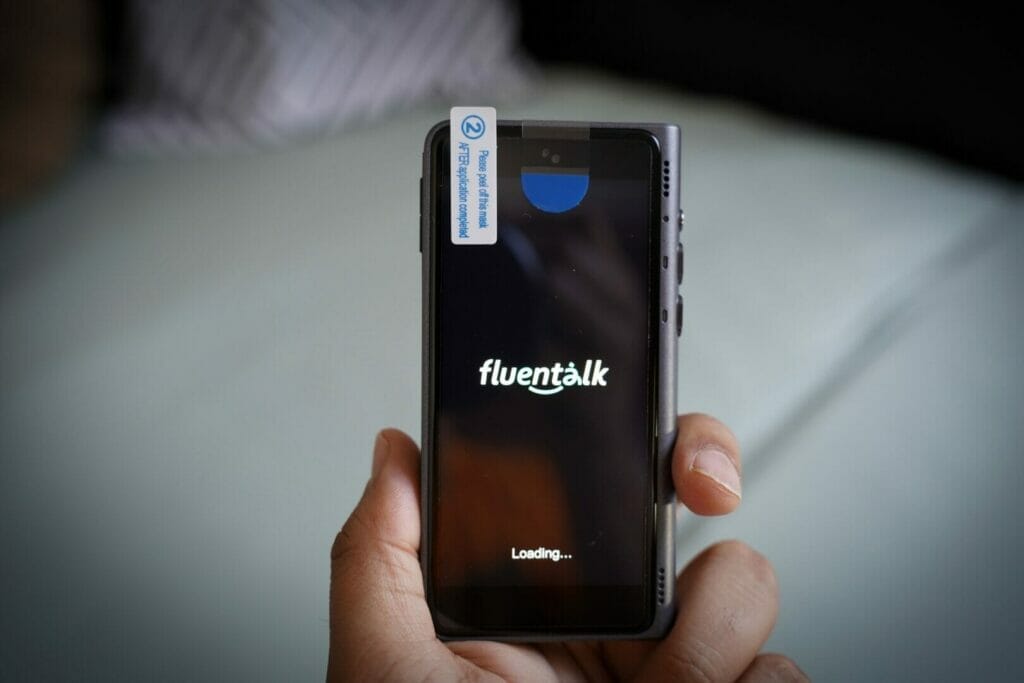 Offline Review of the Translator
I tried to test the offline mode of this translator in German to English and English to German by using it One Click Translation mode and it was working Flawlessly.
Since I really am not good with German a lot I was mostly doing later the English to German translation and checking it with one of my friend who was really great with German and he found everything to be spot on.
What Does The Fluentalk T1 Cost? Is it worth the price?
The T1 cost you around 280-290$ based on the current running discount in the market.
The Fluentalk T1 is on the pricier side compared to other personal translators. However, during my tests, it outperformed in terms of both speed and accuracy, as well as the range of languages it supports.
Unlike some cheaper options that rely on a smartphone's data or Wi-Fi connection, the T1 has its own built-in data connection and comes with a two-year plan, allowing for translations without needing another device or Wi-Fi.
Additionally, it offers a reliable offline mode, which is essential for many travelers.
Interested in checking it out? Take a look at the Fluentalk T1 on Amazon.
Why Do I need it? I have my Phone
To be honest, I had some doubts about getting a handheld translation device since I already had a couple of translation apps on my phone that usually work pretty well. However, these apps sometimes have glitches. For instance, if you are fluent in multiple languages, you'll know that apps like Google Translate often make strange errors, especially when it comes to slang, accents, or profanity. Additionally, their performance noticeably declines without a WiFi or data connection.
While translation apps are widely available, having a dedicated device eliminates the need to navigate through different apps to get an immediate translation. Moreover, the inclusion of two dedicated language buttons on the device makes it easier for both you and the person you're communicating with. The accuracy and speed of the device are also exceptional.
I also appreciate the fact that I don't have to hand over my phone to strangers when using the translation device. Having a stand-alone device makes me feel more secure in terms of protecting my personal information and data.
One area where the T1 surpasses most smartphone apps is its ability to differentiate between different accents within a language. For example, the Fluentalk translator allows you to translate Spanish with specific accents from various countries such as Spain, the USA, Mexico, Honduras, Nicaragua, and more.
Timekettle Fluentalk T1 Handheld Translator: A Game-Changer for Travelers
For travelers, the Timekettle Fluentalk T1 Handheld Translator can be a game-changer. It eliminates the need to rely on phrasebooks or language apps, allowing for more spontaneous and authentic interactions with locals. The device can be used to ask for directions, order food, book accommodations, and engage in conversations with people from different cultures.
And the battery life is good enough, I have been using it for 2 days straight without any issues and it was working fine.
Can I use Global Data to Create a Mobile Hotspot when Travelling?
The device is capable of creating the hotspot but you can not do that with the e-Sim and 2 years free data coverage. To use this feature you will have to install your own sim and then you can use this feature.
Will it Translate Slang and swear words?
The answer is yes, at least when I tried in offline mode from English to German it was doing it without any issue. I leave the rest for you to explore during your trial.

Timekettle Fluentalk T1 Handheld Translator: A Reliable Tool for Language Learners
Language learners can also find the Timekettle Fluentalk T1 Handheld Translator to be a valuable tool in their studies. The device can aid in practicing pronunciation, expanding vocabulary, and improving overall language skills. It provides instant feedback and corrections, allowing learners to refine their language abilities.


Timekettle Fluentalk T1 Handheld Translator: A User-Friendly Device for Everyone
One of the key advantages of the Timekettle Fluentalk T1 Handheld Translator is its user-friendly interface. The device is designed to be intuitive and easy to use, making it accessible to people of all ages and backgrounds. The touch screen display and simple navigation ensure that users can quickly and effortlessly access the translation features.

Testimonials from users who have found the Fluentalk T1 to be user-friendly highlight its simplicity and convenience. They have reported that the device requires minimal setup and can be used right out of the box. The touch screen display and clear instructions make it easy to navigate and understand, even for those who are not tech-savvy.

Timekettle Fluentalk T1 Handheld Translator: A Cost-Effective Solution for Language Barriers
In addition to its numerous features and user-friendly interface, the Timekettle Fluentalk T1 Handheld Translator offers a cost-effective solution for overcoming language barriers. Hiring a professional translator or attending language classes can be expensive, especially for individuals or small businesses. The Fluentalk T1 provides a more affordable alternative, allowing users to communicate effectively without breaking the bank.

When compared to other translation solutions in the market, such as smartphone apps or online translation services, the Fluentalk T1 offers a more comprehensive and reliable option. While some apps may offer free translations, they often lack accuracy and may require an internet connection. The Fluentalk T1, on the other hand, provides accurate translations offline, making it a reliable tool in any situation.

Conclusion: Breaking Language Barriers with Timekettle Fluentalk T1 Handheld Translator
In conclusion, the Timekettle Fluentalk T1 Handheld Translator is a revolutionary device that aims to break down language barriers and facilitate seamless communication. With its advanced technology, user-friendly interface, and versatile features, the Fluentalk T1 is a valuable tool for travelers, business professionals, and language learners alike.

By providing real-time and accurate translations, the device enables effective communication in various settings. It has helped individuals overcome language barriers, connect with people from different cultures, and navigate unfamiliar environments. Moreover, the Fluentalk T1 offers a cost-effective solution for language barriers, making it accessible to a wide range of users.

In today's globalized world, the ability to communicate across languages is crucial. The Timekettle Fluentalk T1 Handheld Translator is a powerful tool that empowers individuals to break down language barriers and foster better understanding. With its innovative features and reliable performance, the Fluentalk T1 is set to revolutionize the way we communicate in a multilingual world.