Have you ever dreamt of exploring a destination that effortlessly combines stunning natural landscapes with rich history and culture? Look no further than Austria, a country that promises to leave you enchanted at every turn.
Nestled in the heart of Europe, Austria boasts an array of captivating attractions, from majestic alpine peaks to magnificent palaces and a vibrant cultural scene. Let's dive into the world of this charming country and discover why Austria deserves a spot on your travel bucket list.
We will try to answer your question Is Austria Worth Visiting and how you can combine it with other places in Europe? During your trip.
Historical and Cultural Treasures
When it comes to historical and cultural wonders, Austria is second to none. Stroll through the streets of Vienna, the country's capital, and immerse yourself in its grandeur and elegance.
Start your journey by visiting the mesmerizing Schönbrunn Palace, an architectural masterpiece that was once the summer residence of the Habsburg monarchs. As you wander through its opulent rooms and beautifully manicured gardens, you'll be transported back in time to the regal splendour of the Austrian Empire.
No trip to Austria is complete without exploring the iconic Hohensalzburg Fortress in Salzburg. Perched high above the city, this medieval fortress offers breathtaking panoramic views of the surrounding Alps. Discover the secrets of its ancient walls as you walk through its courtyards and visit the fascinating museums within.
For a taste of the past, venture into the heart of Vienna and explore the grandeur of the Hofburg Palace. This imperial palace once served as the winter residence of the Habsburg Dynasty and is now home to several museums, including the impressive Sisi Museum, which showcases the life of Empress Elisabeth.
Outside of the cities, Austria is dotted with picturesque villages boasting narrow streets adorned with baroque architecture. Lose yourself in the enchanting beauty of towns like Hallstatt and Melk, where time seems to stand still and every corner invites you to discover its charm.
Alpine Landscapes and Outdoor Adventures
If you're a nature enthusiast, Austria will steal your heart with its awe-inspiring alpine landscapes. The country is blessed with majestic mountain ranges and breathtaking vistas that will leave you speechless.
Lace up your hiking boots and explore the abundance of trails that wind their way through the Austrian Alps. Whether you're an experienced mountaineer or prefer leisurely walks, there's a route to suit every level of hiker.
During the wintertime, Austria transforms into a winter wonderland. Ski enthusiasts from around the world flock to its renowned resorts, such as St. Anton, Kitzbühel, and Ischgl, to experience world-class slopes and unforgettable après-ski scenes.
The "The Ski Austria Weekender" trip starts from and ends in Hopfgarten. It is a skiing and snowboarding tour that takes 3 days taking you through Hopfgarten in Austria.
Even if you haven't mastered the sport, you can still enjoy the snow-covered landscapes by sledging, snowshoeing, or simply cosying up in a mountain chalet and savouring a warm cup of Glühwein.
Austria is also home to several picturesque lakes and nature reserves. Plan a visit to Lake Wolfgang, where you can partake in various water activities or relax on its tranquil shores while absorbing the breathtaking surroundings.
For those seeking serenity, head to the Hohe Tauern National Park, Austria's largest national park, where you can immerse yourself in untouched wilderness and spot rare wildlife.
Viennese Delights and Sophisticated Culinary Experiences
Prepare your taste buds for an exquisite journey as you dive into Austria's culinary wonders. Vienna, in particular, offers a tantalizing smorgasbord of gastronomic delights. Start your day in one of the city's traditional coffee houses, sipping on a rich, aromatic Viennese coffee while indulging in a slice of Apfelstrudel or a warm buttery croissant.
When it comes to traditional Austrian cuisine, make sure to try the world-famous Wiener Schnitzel – a breaded and pan-fried veal cutlet that is tender and packed with flavor. Another iconic dish is the hearty Tafelspitz, a boiled beef dish served with horseradish and apple-horseradish sauce. To satisfy your sweet tooth, don't miss out on the delectable Sachertorte, a rich chocolate cake filled with apricot jam.
Throughout the year, Austria hosts a variety of culinary festivals and markets where locals and travellers come together to celebrate the country's vibrant food scene. Explore the Naschmarkt in Vienna, one of Europe's largest outdoor markets, and embark on a culinary adventure as you sample delicacies from around the world.
Musical Heritage and Festivals
Austria's musical heritage is legendary. It is the birthplace of some of the world's greatest composers, including Mozart and Strauss. Classical music enthusiasts will find themselves in paradise while exploring Austria's rich cultural offerings.
Vienna, often referred to as the "City of Music," is home to several opera houses and concert halls where you can revel in soul-stirring performances. Catch a live opera at the Vienna State Opera or soak up the melodies of a classical symphony at the historic Musikverein.
Throughout the year, the city comes alive with cultural events and festivals, including the famous Vienna Philharmonic New Year's Concert and the Viennese Ball Season, where you can don your finest attire and waltz the night away.
If you happen to be in Austria during the summer, don't miss the legendary Salzburg Festival. This world-renowned celebration of music and theatre brings together the finest artists from around the globe in the birthplace of Wolfgang Amadeus Mozart. Immerse yourself in the captivating performances that take place in stunning venues, including the iconic Salzburg Cathedral and the Mozarteum.
Embracing Tradition: Festivals and Folklore
Austria's traditions and folklore are deeply rooted in its history and provide a fascinating glimpse into the country's cultural fabric. Experience the magic of Austrian traditions by attending one of the many vibrant festivals that take place throughout the year.
During Krampusnacht in December, witness the curious spectacle of Krampuses – hairy, horned creatures – parading the streets, contrasting with the festive Christmas spirit. To truly immerse yourself in Austrian folklore, plan your visit during Easter. Watch as the streets come alive with colourful processions, symbolizing the resurrection of Christ.
Another highlight of Austrian tradition is the captivating folk music, costumes, and dances. Be enchanted by the joyful sounds of the accordion, violin, and zither as locals perform traditional tunes at village festivals or lively Heurige (wine taverns).
The Sound of Music and the Magic of Film Locations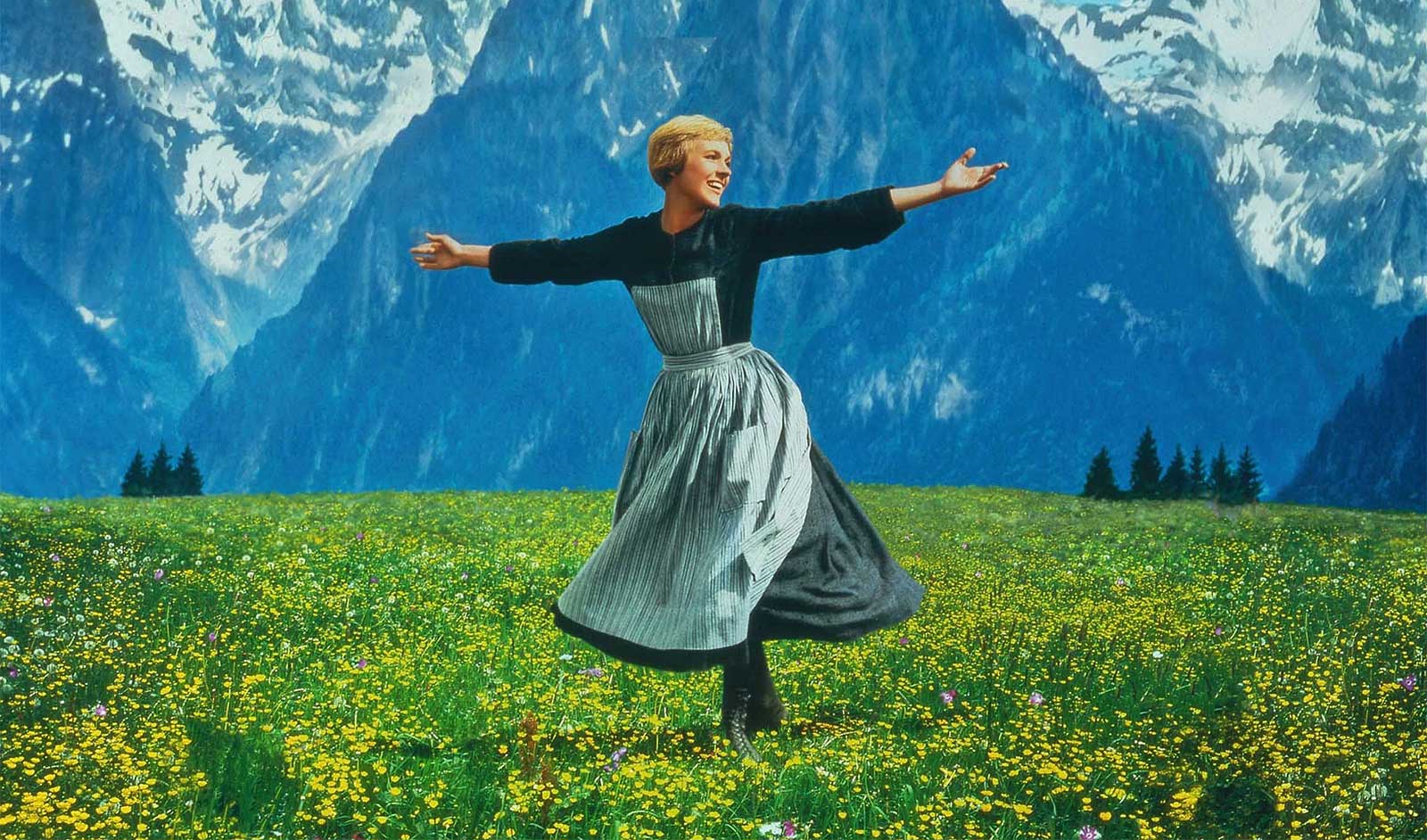 Austria's association with the beloved movie "The Sound of Music" has made it an iconic film destination for fans around the world. Embark on a journey into the world of Maria and the von Trapp family as you explore the enchanting locations where the movie was filmed.
Visit Salzburg, the birthplace of Mozart and the setting for many scenes in the film. Follow in the footsteps of Maria and the von Trapp children as you meander through the Mirabell Gardens, singing along to catchy tunes, or take a stroll through the charming streets of the Old Town, where you'll find the iconic yellow house used as the von Trapp family home.
Enthusiastic fans can also join organized tours that take you to the breathtaking landscapes of the Lake District, where you can relive iconic scenes from "The Sound of Music" while surrounded by the majestic beauty of the Austrian Alps.
Modern Austria: Urban Vibes and Contemporary Arts
Austria may be known for its rich history and traditions, but it also embraces modernity and innovation. The country's cities, such as Vienna, Graz, and Innsbruck, offer a vibrant juxtaposition of old and new.
Vienna, in particular, showcases stunning contemporary architecture alongside centuries-old landmarks. From the iconic Hundertwasserhaus to the sleek MuseumsQuartier, modern design enthusiasts will find plenty to marvel at. Explore the vibrant street art scene as you wander through Vienna's hip neighbourhoods, or lose yourself in contemporary art collections at the Museum of Modern Art or the Albertina.
Austria is also a pioneer in sustainable initiatives and green living. Feel inspired by the country's commitment to eco-friendly practices while savouring organic cuisine at farm-to-table restaurants or staying at eco-conscious accommodations that emphasize sustainability.
Conclusion: Is Austria Worth Visiting for a Vacation in Europe?
Embarking on a journey to Austria promises an adventure filled with beauty, history, and enchantment. Whether you find yourself exploring the imperial palaces of Vienna, being awestruck by the Alpine landscapes, or immersing yourself in the country's rich cultural traditions, Austria will leave an indelible mark on your heart.
So pack your bags, grab your camera, and get ready to delve into the enchantment of Austria – a land where timeless beauty and modern wonders intertwine to create an unforgettable experience. Auf Wiedersehen!