If you are looking for a list of Indian Restaurants in Frankfurt Germany which you can visit then in this post we will be talking about them.
Frankfurt Germany is the financial center of Europe. It's home to the European Central Bank, the Bundesbank — Germany's national bank — and hundreds of other financial institutions. Frankfurt is a hub for the continent's economy, and its deep harbor channel, the Main, is an artery of commerce and transportation. The city is also known for its rich culture, with world-class museums and galleries and a vibrant night life.
I moved to Frankfurt Germany from India in 2019 so I had ample amount of time to explore the city of Frankfurt and visit the Indian Restaurants in Frankfurt and prepare this list for you.
So let us get started
If you have recently moved to Germany and you are wondering about ordering food delivery then these are couple of application which you can refer to Lieferando, Hunger.de which I use mostly to order food delivery.
Wanna check how Franfurt feels like, then here is a small compilation for you –
Indian Restaurants in Frankfurt Germany
Eatdoori
Situated close to the central station or main station of Frankfurt which is Hauptbahnhof this would be an easy to reach Indian Restaurant in Frakfurt from Hauptbahnhof.
It is just 350m away from the Hauptbahnhof restaurant.
This restaurant is more like chain restaurant and the branch is there in Frankfurt Central Station, Frankfurt Nord, Cologne, Mainzold, Dusseldorf.
Planning to visit the restaurant then why not Reserve your table at Eatdoori.
Address – Kaiserstr. 55, 60329 Frankfurt am Main, Germany
Nearest Metro Station – Frankfurt Hauptbahnhof
Ruchi Restaurant
Another Indian Restaurant in Frankfurt Germany close to the Frankfurt Hauptbahnhof station and easily accessible on foot.
Ruchi-Indian restaurant is a well-known Indian restaurant that offers aromatic Indian dishes in stylish decor. They promise you to provide delicious Indian food at reasonable prices.
All their dishes are prepared with traditional Indian Spices. Ruchi is a perfect place where you can get authentic South and North Indian Food. It is an ideal place for small parties, get-togethers & special evenings. Goa Fish Curry is made up of pangasius fish fillet with special sauce and coconut milk.
Savour their Prawns Fried Rice which comprises fried rice with shrimp, vegetables, spices and chilli sauce. You can finish your feast with their Rasam, which is a traditional South Indian spiced soup.
This restaurant is just 400m from the Central Station of Frankfurt.
Address – Ludwigstraße 12, 60327 Frankfurt am Main
Nearest Metro Station – Frankfurt Hauptbahnhof
Indian Curry House
Indian Curry House is the place where you can get the best and variety of authentic Indian cuisine. If you think Indian food is too spicy, well misunderstand. A real Indian meal is not spicy, but rich in flavor and aroma, nutritious and yummy.
Address- Goldsteinstraße 215
Closest Metro Station – Frankfurt Niederrad
Chennai Curry House
Just few meter walk from Frankfurt Galluswarte S-Bahn station you will reach to Chennai Curry House , Indian Restaurants in Frankfurt.
It is a good option for you if you are wondering to try some South Indian dishes in Frankfurt and you are craving for that.
Address – Mainzer Landstraße 168, 60327 Frankfurt am Main
Closest Metro Station – Frankfurt Galluswarte
Mera Masala
If you are on a day excursion around the Frankfurt Zoo region and you feel like eating Indian Food there then Mera Masala is an good option for you because it is just reachable on foot by there.
Address – Sandweg 56, 60316 Frankfurt am Main
Closest Metro Station – Merianplatz U Bahn Station
Swaad Restaurant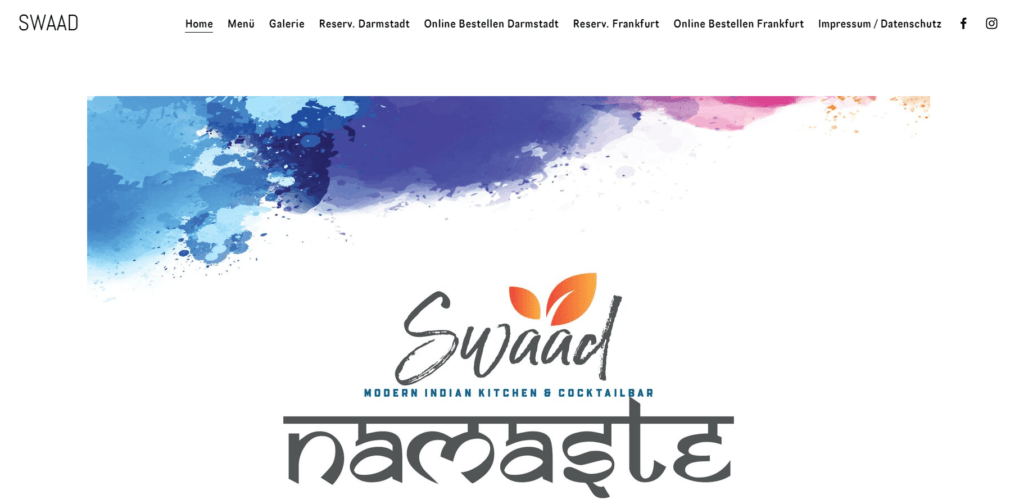 If you are planning to visit this restaurant you do an online reservation here wondering about what you can eat here then you can check the menu
Address – Kantstraße 25, 60316 Frankfurt am Main
Closest Metro Station – Merianplatz U-Bahn Station
---
Ads Starting
Post Continues
---
That was our list of Indian Restaurants in Frankfurt Germany which you can visit when you are exploring the Frankfurt City.
Need Help with Booking –
Taking Insurance for your trip is of the utmost importance, I usually get my Insurance from Safety Wings or Heymondo you might wanna check them for your future trips.
If you are travelling and you don't know what to pack then our Packing List would come out in handy for you, Last Minute Packing is especially for the last minute occasions but there are some detailed packing lists as well like The Ultimate Packing Lists one post, especially for Europe Europe Packing List
Wondering whether you need a Visa for your travel then check here if you need visa for Europe or check out the new rule for Travel To Europe
Enjoyed it? How about sharing it with your friends on social media? Just click one of the buttons on this site to share this piece of content.
Pinning an image is a great method for sharing this article on social media. This article will become saved to the Pinterest board, making it easily accessible in the future.
Hey! Thanks for reading this! Look how gorgeous you are.