If you are planning for Buying Bike in Germany then this post will help you out with all the research I did when I was buying a bike in Germany.
Now that you have finally settled in Germany after Moving to Germany and you feel like for a normal commute you should get a new bike or maybe a used bike in Germany for the normal commute.
This post is going to solve these problems for you:
Where to buy a Bike in Germany?
Which is the best and cheapest bike in Germany?
What are my reviews about the new Bike which I bought?
If you are looking for a women's bike then you check out this one as well.
So without further adieu let us start.
Do you really need a bike in Germany?

Let us talk with examples now, I came to Germany in 2019 and I use to stay in a small town near Frankfurt, Bad Homburg and my office was around 2 km away from my home.
The one time bus cost was 2.19 Euro, So if I calculate daily cost then it is like 4.38 Euro which is kind of bizarre which multiplied by average days to go to office i.e. 21 days would be around 91.98 Euro.
Well no that is not the option which you would take
Let us try again
The average cost for the monthly pass for Bad Homburg for a month was 40 Euro which is way less than 91.98 Euro so you end up buying the monthly pass of 40 Euro.
So just the cost of 40 Euro for 6 months would fetch you your own new bike, neverthless the cost for 12 months would be around 480 Euro. But I just don't want to include 6 months time of winters for you to bicycle around in Germany.
So the calculation is with you for an example so it is upon you to decide!
Here are couple of benefits of owning a bike in Germany
You will have ease in commuting and will save expenses for transport.
You are going to enjoy the scenic beauty of Germany by planning the cycling tour around Germany. Like I have been using applications like Komoot to find the nearest cycling routes.
The best of all is that you can carry your bike to different cities in Germany via Metros and Trains. This is something which I really want to try in my next visit to Berlin.
What to know before buying Bike in Germany
Buying a suitable bike for you is another thing for which you need research. Firstly you to look out for the Tire Size and Frame Size of the Bike. Normally anything around 26 – 27.5 inches of tire would suit people of Height 175 cm – 186 Cm. This particular example is for me personally.
2nd thing is that you have to make sure that you are choosing the right frame size of your bike, I am currently using the Large Size of Decathlon Rockrider ST-100.
P.S. – If you are in Germany and you plan to just travel in city you can choose city bike, but if you are planning to go on trip and cover some off-city route then you have to take the gear bikes, at least 7 gear should be enough for small excursions over the weekends.
How to Calculate which Frame Size is for you?
The best thing for this would be heading out to the Decathlon website and then head over to any bike selection there and look for the below option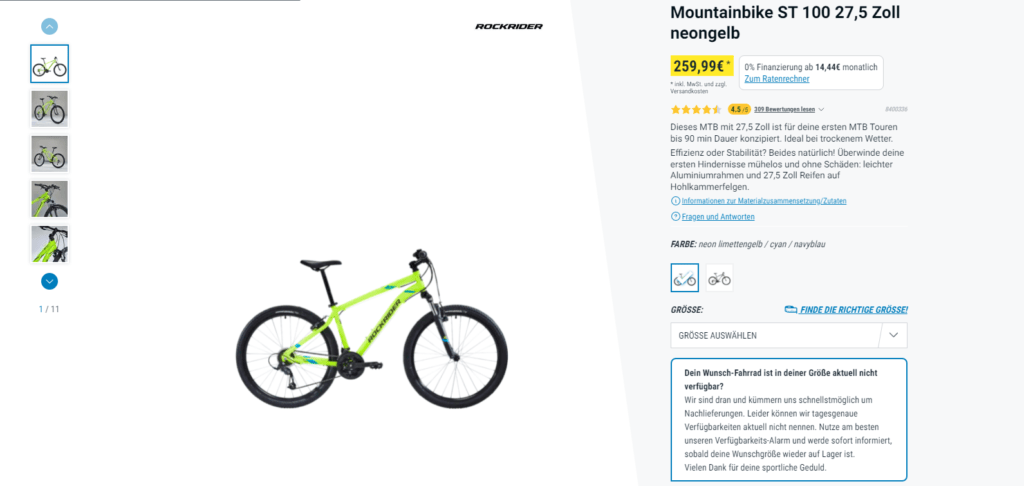 Post that it ask for your height in cm or inch
Once you put the height it will tell you the size of bike you should buy in Germany
Websites for buying bike in Germany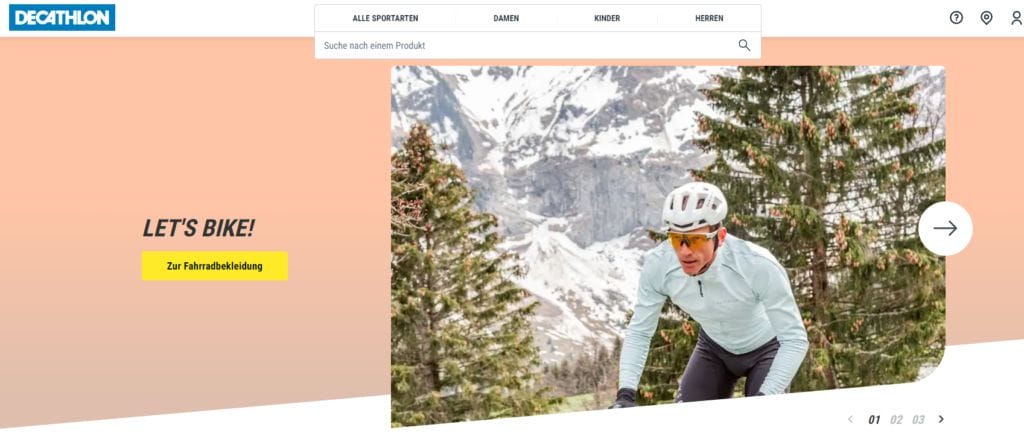 Okay I am not biased actually but the reason this is here is because I bought my bike from here and it is actually one of the best option to pick.
Few Budget options which you can choose from here are –
Why I decided to buy Bike from Decathlon.de

Since you are in Germany and Not in India all the maintenance of the bike needs to be taken care by you. And yes there is not going to be a cheap cost for repair or so.

Hence, I really likes the idea that Decathlon provide life time warranty to frame and handle bars and 2 years warranty to rest of the parts. So eventually even after all the heavy research I ended up buying from the same website from where I started looking for bikes.
Note: If you are buying from the online portal then you will have to pay the Shipping Cost of 15 Euro here, so in that case read along and buy rest of the extra things which you have to buy from Decathlon only because they are really of good quality and you will save the cost of shipping.
I personally bought all the other accessories from Amazon.
Details of the rest of things which you need is going to be mentioned further down below.

You will end up finding some decent options of Amazon if you are looking for bicycles in Germany. Licorne is one of the Bike which I found a lot on amazon with multiple variants of it.
The average price range of the bikes were from 180 Euro to 250 Euro and yes I am talking about the budget segment only.
The current best seller bike in Germany on Amazon is also a good option which you can check.
There are time when you get some nice offers on Poco as well, When I was looking for buying Bike in Germany I found fully equipped bike for a price of 230 Euro only which was really a good deal however the reason I skipped was because I didn't liked the colour of that.
There are currently some good options available here
Lidl
One another website which you need to be on look out for because you get a very nice deals on it from time to time if you are looking for your next cycle in Germany.
Now I was not lucky to find some cheap deals on Otto while looking for buying the Bike in Germany but they have some nice collection of Bicycles. Also their E-Bike collection is also good so you might wanna take a look at that.
Kaufland
Kaufland is another website which offers delivery if you are looking to buy bike in Germany. The normal price range for the bikes are from 200 Euro and above.
Where to buy second hand Bike in Germany?
If you are looking for buying second hand bikes in Germany then you should be on a lookout on Facebook Marketplace and Ebay Kleinanzeigen because I was able to find the most deals on these two websites only.
One important thing to note about Ebay is that most of the bikes which come on second hand are on Bid basis and once you have won the bid then you will have to buy the bike unless you are able to cancel the proposal by talking with the seller.
What all things which you need on your Bike?
This is one important thing to cover. Once you have finalized the bike and if you are bike doesn't have lights, stand, seat cover, helmet and all then you will have to buy that separately which will be an extra cost on your bike.
And yes one important thing is buying a very good quality lock not the cheap one. Because even in Germany bike theft is very common. Also if you are planning to buy liability insurance with theft protection for your bike then one thing worth noting is that simple Woolworth/Aldi locks are not valid for them and you have to buy something from the list of locks approved by the insurance company, mostly the companies of lock which are famous in Germany is Abus.
At time the cost of the lock would be more like, 20% of your actual bike cost.
So either you can order everything in one go from the same website from where you are buying your bike and if not then you can use Amazon.de to buy that like I did.
Below are the couple of things which I bought as an accessories for my Bike and Some which will be helpful for you:
You can research by checking the products on the link mentioned above, Couple of things which you kind find in your nearby Woolworth store or Aldi store as well like, Bike Lock (Fahrradschloss) & Bike Seat Cover on a cheap rate there.
What are the Cycling Rules in Germany?
German Bicycle Requirements
There are certain items that you are legally required to have on your bike for your bicycle to be considered roadworthy for cycling in Germany.
These are:
A white (or pale yellow) front light that is non-blinking;
A red brake light at the rear of the bike that stays lit when you're stationary;
At least 2 yellow reflectors on each wheel or alternatively, the tires or spokes need to be reflective;
A loud sounding bell;
Two independently acting braking devices.
All these items need to be in good working condition for you to cycle safely (and legally) in Germany without risking a traffic fine.
Traffic Fines for not meeting the German bicycle requirements:
Brakes or bell not present or not working: €15
Missing or broken bike light: €20
Not switching on your lights when it's dark, during poor visibility or the light is covered or too dirty: €20
This was all the information about buying bike in Germany and my personal experience and analysis which I did before buying the bike and also the things which I bought after buying the bike.
Feel free to ask me questions if you have any and I will be more than happy to answer the same.
Couple of post for you to read –
12 Reasons Why Moving to Germany From India Might Not Be For You
Moving to Germany From India | Things you should know
The Complete Guide to Europe Car Rentals and How to Find the Best Deal