One of my favourite things to do when investigating a new city is to check out the local coffee shops. If you're a caffeine lover like me, finding the best cups is an essential part of accomplishing all I want in a new city. They are also my favourite places to take a breather during a busy day. Here are the 7 best coffee shops in Prague that you should know before planning your trip to Prague.
Prague is a city with a rich history. As the capital and largest city in the Czech Republic, Prague has a lot to offer. There is something for everyone, from historical tours to national parks to plenty of entertainment. You could spend a day just looking at the gorgeous architecture and landscape.
To fuel my adventures, I set out to find the top coffee shops in the city. Here's my list of the seven best coffee shops in Prague. Take this with you when you visit the city to find your favourite place.
Best Coffee Shops in Prague Czech Republic
1. La Bohème Café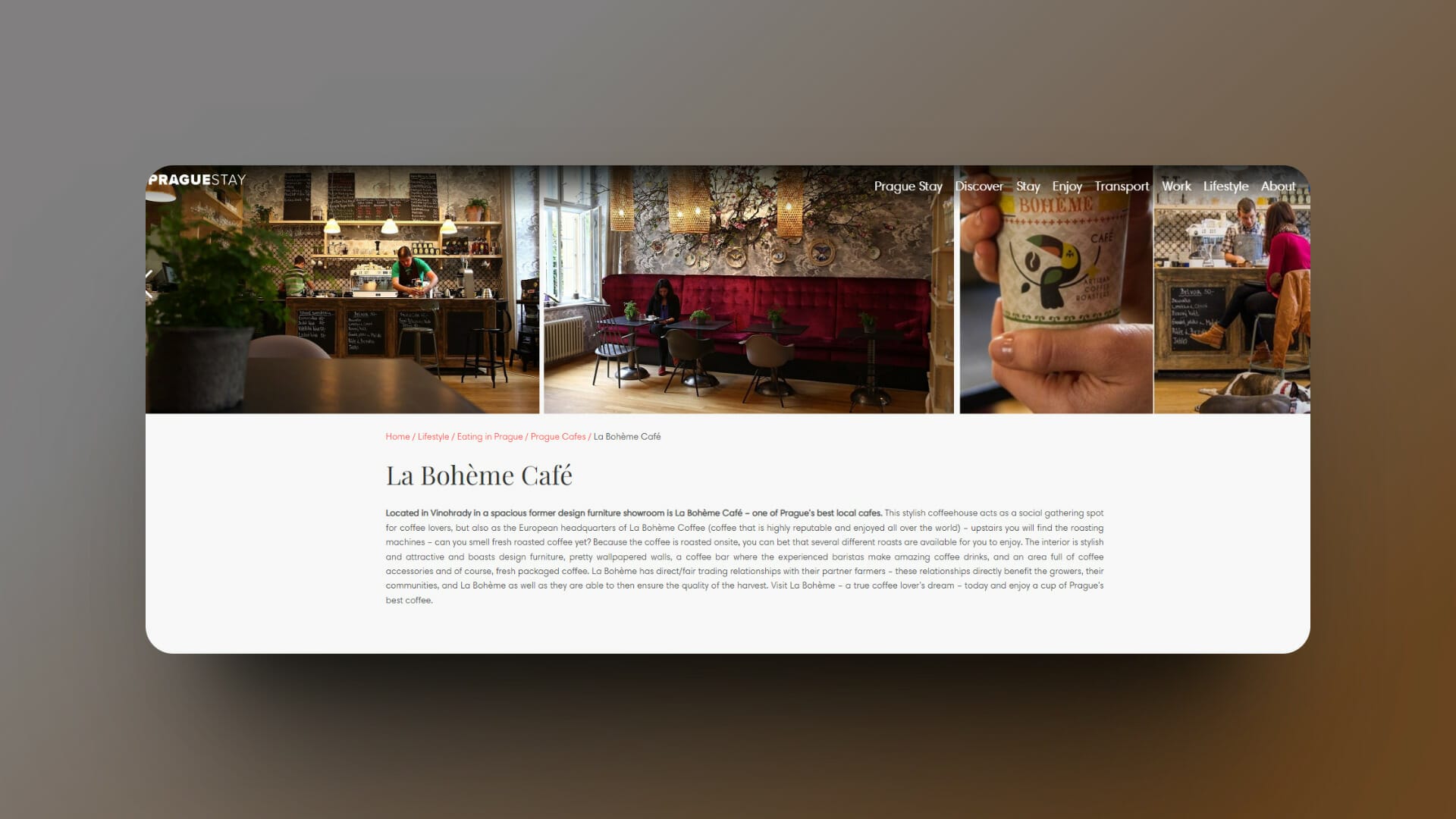 You can taste the freshness at La Bohème Café, which roasts its beans on-site. The cafe is a former furniture showroom that boasts various designs, creating a unique aesthetic. There's always something new to look at.
The business is a social gathering place for locals and tourists and offers a varied menu with speciality drinks. After enjoying your cup, you can browse some of the many coffee accessories and freshly-bagged beans to keep enjoying the taste for months after your visit.
The shop offers in-cafe and curbside order pickups and also sells various sweet and savoury dishes perfect for breakfast, lunch, snacks and even light suppers.
2. Coffee and Riot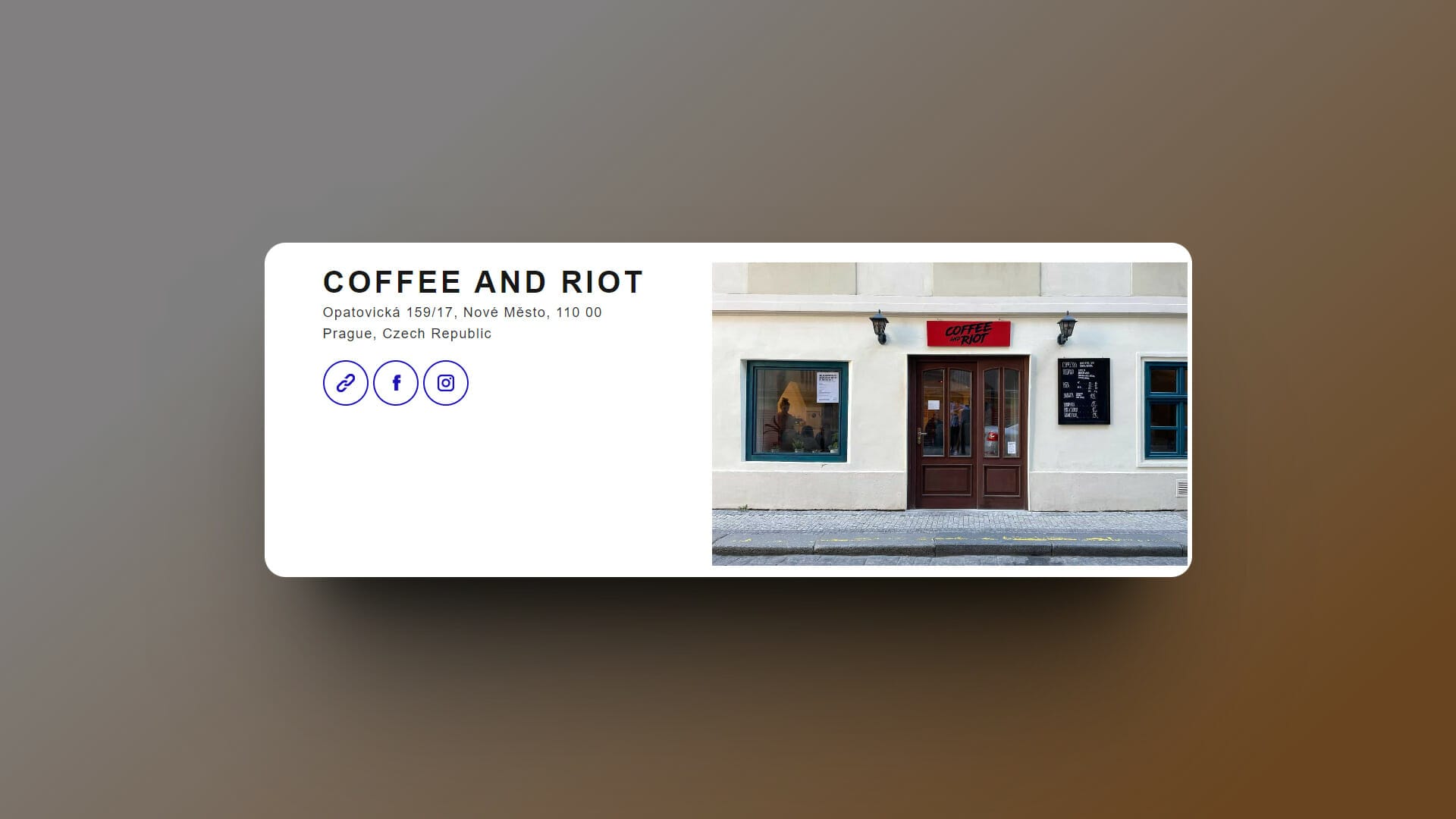 Coffee and Riot offers free wireless internet and kid-friendly options, making it the perfect place to take a breather on a busy sightseeing tour. With its beloved house brand brews, signature espressos and house-made pastries, there is much to love about the location.
The cafe is known for its highly-rated vegan pastries and offers breakfast and lunch options that accommodate different tastes and dietary needs. It allows your dog to relax with you on the patio. The cafe also offers curbside pickup.
3. Dos Mundos Coffee Roastery
Dos Mundos offers premium blends made solely from arabica beans, which are sourced worldwide and roasted in-house, providing global tastes in fresh brews. Human rights in the coffee industry is a large concern for the roastery, and representatives fly around the world to ensure they source from farms with fair living standards.
The cafe offers classes for coffee lovers to learn and enjoy, including latte art, cupping and coffee preparation. Whether you're a local or are visiting, the courses allow you to take your home coffee skills to the next level. The cafe offers a relaxed atmosphere with takeout options available.
4. Oliver's Coffee Cup
There is much to love about Oliver's, a cosy cafe known for its select coffees and sweet treats. It's located at Wenceslas Square's House of Fashion, and its aesthetic blends nicely in while still feeling like its own thing.
The cafe is known for its espresso and lattes but also offers drip coffee and specialty drinks, including delicious cocktails. Oliver's has another location in Karlin, but the original is so popular it's recommended you get a reservation.
Oliver's Coffee Cup also hosts celebrations and company events, which is perfect for anyone planning a birthday or business trip to the city. You get private banquet tables, canapés, a cheese platter, sweets bar, specialized tastings and alcoholic beverages.
5. Cukrárna Alchymista
Anyone who knows me knows I am a sucker for sweets. It would feel wrong to make this list without mentioning a coffee house also known for its fantastic desserts.
Pastries are common in cafes, but the ones in Cukrárna Alchymista almost outshine their coffee. It's famous for its cakes, with some calling them the best in Prague. That's a high compliment for a shop primarily for coffee and tea, but it is well-deserved.
As far as coffee goes, the family-owned shop offers delicious house drinks. It's so popular that a reservation is a must for in-person seating. The food and beverages are memorable, and so is the atmosphere. The cafe has a gorgeous outdoor garden where you can relax and capture a family portrait.
There are takeout options if you can't hang around. If you stay, check out the coffee museum next door exploring Prague's history with the drink.
6. Super Tramp Coffee
Super Tramp Coffee is a hidden gem near the city centre with delectable cups and tasty baked goods. The hole-in-the-wall cafe is practically hidden in a courtyard and has a retro feel with vinyl records and a gorgeous outdoor seating area.
The cafe features roasts from across Europe and bakes its bread and pastries in-house. All are well-received by locals and tourists alike, and there's something for everyone. Even if you don't desire one of the cafe's beloved espressos, the atmosphere alone makes visiting worthwhile.
Super Tramp offers curbside pickup for anyone who wants to check it out but is busy exploring the surrounding courtyards.
7. Můj šálek kávy
Můj šálek kávy is a fair trade coffee house known for its espresso and filter coffees–featuring blends from Burundi, Brazil and Costa Rica. The cafe also offers a tasting flight so you don't have to choose just one roast.
The cafe has various signature drinks, including speciality coffees and cocktails. If you're looking for great coffee and a meal, Můj šálek kávy might be the best place to stop. There are delicious breakfast options, including a full English breakfast and a vegan bowl. It offers many speciality items for lunch and dinner, including sandwiches, coconut curry, caramelized pork belly and risotto.
The shop offers reservations and takeout options. The inside is modern but relaxing and is a pleasant place to unwind on a hot or busy day.
Enjoying the best coffee shops in Prague
Prague has many things to enjoy, and it's also an excellent place for coffee lovers. There are so many options and aesthetics to choose from, so everyone can enjoy their favourite brews at the local shop that most appeal to them.
Read More:
Get your Notion Travel Planner Template!
Embark on your next adventure with the Wanderlust Planner – Notion Travel Planner Template – Notion Travel Planner Template for 2023 (chasingwhereabouts.com), the ultimate Notion Travel Planner Template. Organize your wanderlust-fueled dreams and turn them into unforgettable journeys. Whether you're a seasoned globetrotter or a newbie explorer, this template has you covered.