Are you planning a trip to Prague and looking for something new and exciting to try? Here are the Top 10 Foods to try in Prague during your trip. From traditional local dishes to modern cuisine, the city has something for everyone's taste buds.
Prague is rich in culture, history, and mouth-watering food. Explorers from all around the world are drawn to this capital city of Czech Republic seeking true flavors with an unmistakable flair. Often referred to as The City of Thousand Spires, it gives you a unique opportunity to wander around its cobblestone streets lined with magnificent architecture while enjoying delicious street food served at every corner café.
Savoring traditional Prague dishes can add a special touch of authenticity to your visit. So if you are ready to feed your hungry stomach while exploring the wonders of this city, here is a comprehensive list of must-try foods that will tantalize your taste buds!
Traveling around the world only gets better when you try new foods in different cultures. Explore Prague's best culinary creations while you're there by adding these dishes to your itinerary. You'll eat the best food in Prague and potentially discover your next favorite meals.
1. Trdelník
Pastry lovers should grab some trdelník as soon as their plane lands. It's some of the best street food in Prague because the experts dip the rolled pastry in melted butter and dust it with cinnamon sugar.
You'll find it at most street carts and in many bakeries, so keep an eye out for it. It's fun to compare how each vendor makes their trdelník and find the recipes you love most. You can always recreate the recipes at home if you discover one you love.
2. Sausages
You can also find sausage carts throughout Prague, so they're the perfect to-go meal between your vacation activities. Look for klobásy signs to find the best sausage on rye bread or buns with toppings like ketchup, mustard and hot sauce. Locals carry them around like hot dogs or dine on them while lounging on public benches. The extra protein will give you renewed energy to explore the next bucket-list places in Prague remaining for your trip.
3. Carp
Seafood is popular in Prague because it's one of the country's main exports, totaling $204 million in 2021 seafood sales. While you're in town, make sure you order carp. It's a favorite in the Czech Republic because there are so many ways to make it and numerous health benefits.
While you eat fried carp with potato salad or enjoy a bowl of fish soup, the omega-3 fatty acids reduce your cholesterol levels and protect your heart against disease. Carp dishes are some of the best food in Prague, so don't forget to add a few to your culinary adventure list.
4. Pork knuckle
Koleno is the local term for pork knuckles. They bake for several hours at low heat, resulting in meat you can watch falling off the bone when you're ready for dinner. Pair your traditionally oversized koleno servings with dark beer and pickled vegetables to get the full tasty experience before heading home. You can always buy pork knuckles at a butcher's shop and recreate the dish when returning to your daily routine after your latest getaway.
5. Halušky
Anyone hoping to try the best street food in Prague should also look for halušky. The warm dumpling dish will warm your bones on cold days. You'll also enjoy the bacon, butter and other ingredients often served with the potato-flour dumplings or noodles. Customize your order to suit your taste and enjoy one of the most popular foods in the city.
6. Potatoes on a stick
Imagine a spiraled potato deep-fried on a skewer. Now imagine snacking on it while walking across the Charles Bridge to Old Town and all the historic buildings nestled along its streets.
Potatoes on a stick are popular in the city because they're light, airy and deliciously fried. After eating this tasty snack, you'll still feel energetic and ready to explore. It's just enough of a treat to dazzle your tastebuds without causing an energy crash like potato chips back home.
7. Knedliky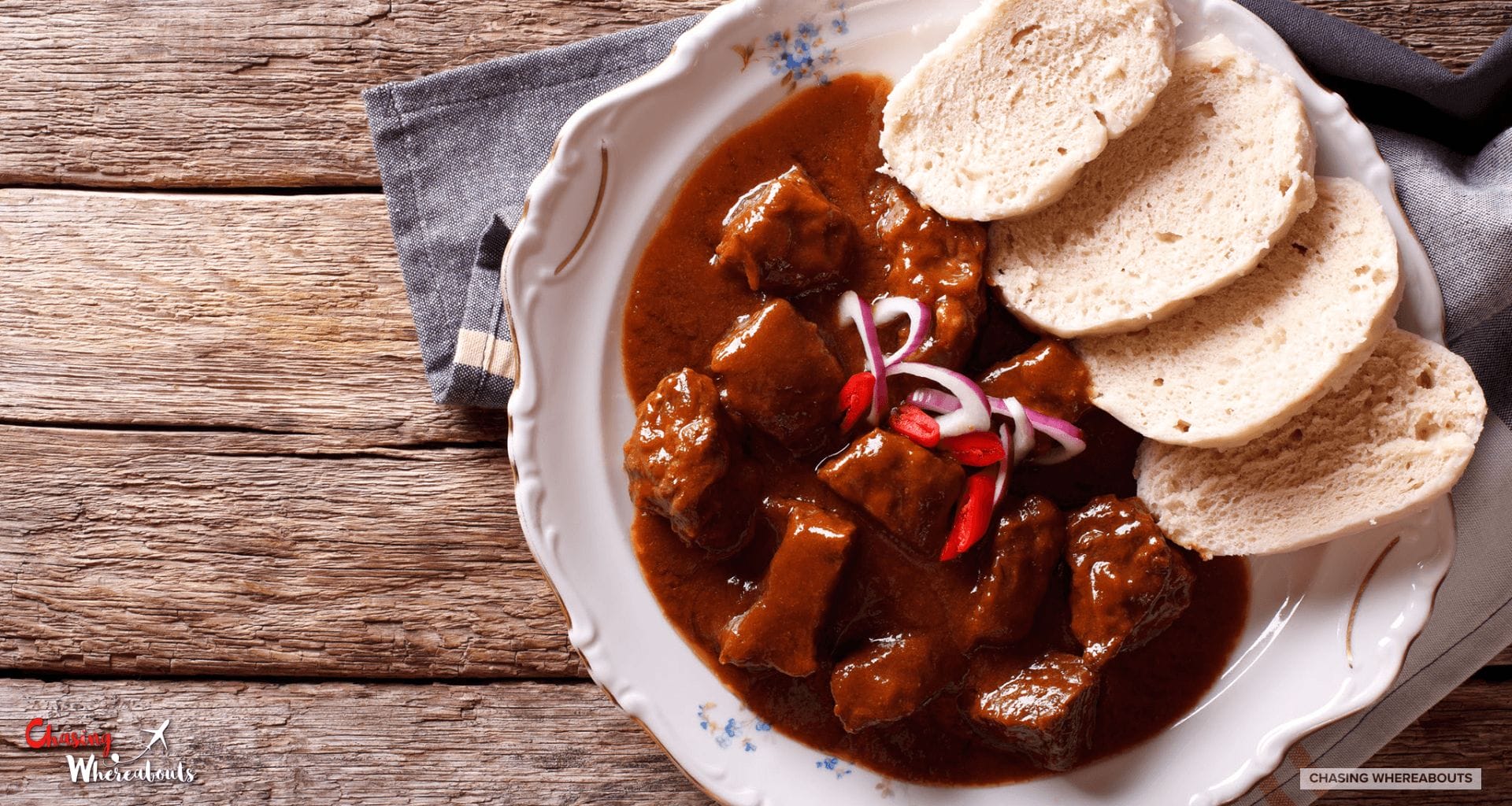 Bread dumplings are another staple food in Prague. Also known as knedliky, people eat them alongside duck or another meat-based entree. The flavor is similar to gnocchi, which is why it's a popular menu item alongside different flavors and meats. Look for it on menus at each restaurant you visit to find out how the venue owners serve it in different ways.
8. Smazeny syr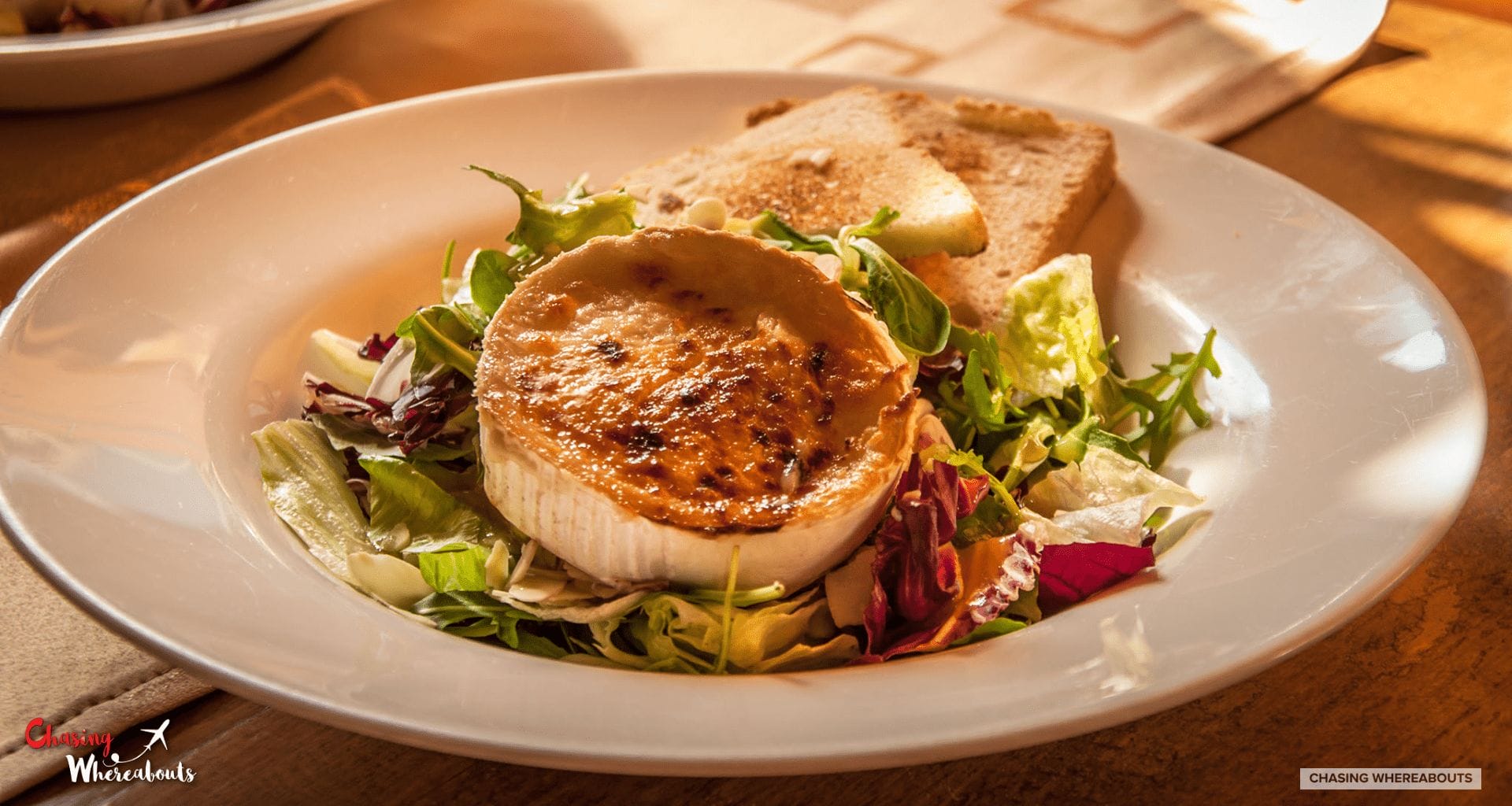 If you spot a golden brown food nearly identical to a fried fish patty, it's likely smazeny syr. Locals deep fry cheese patties until they're a heavenly golden-brown shade. Place an order and you'll get to try the best street food in Prague alongside other foods like potatoes, cabbage and tartare sauce.
9. Roast duck
Roasted duck is a traditional Czech meal. Families slow roast duck and use every slice of meat to feed their loved ones for days. Order a leg alongside potato dumplings or cabbage soup to pair the fatty meat and sauce with foods you can't get at home.
10. Svickova na smetane
There's nothing better than finishing a long day of adventuring with a big plate of sliced beef and creamy sauce. The roasted tenderloin pairs perfectly with mashed potatoes and steamed veggies, which also taste incredible with the same sauce drizzled over the top.
Try the best foods in Prague
Consider trying some of the best food in Prague by using this guide while you're there. You won't miss a single culinary adventure before going home. It may change how you make meals after your vacation and teach you a thing or two about Czech cuisine.
Get your Notion Travel Planner Template!
Embark on your next adventure with the Wanderlust Planner – Notion Travel Planner Template – Notion Travel Planner Template for 2023 (chasingwhereabouts.com), the ultimate Notion Travel Planner Template. Organize your wanderlust-fueled dreams and turn them into unforgettable journeys. Whether you're a seasoned globetrotter or a newbie explorer, this template has you covered.