Paris is a city that is known for its beauty and charm, and during the Christmas season, it becomes even more magical.
The city comes alive with festive markets, ice skating rinks, Christmas lights, shows, dinners, carolling, masses, museums, and New Year's Eve celebrations.
In this curated guide, we will help you unwrap the best of Paris For Christmas during the holiday season, ensuring a truly memorable Christmas experience.
Preparing for the Trip
Planning ahead is essential when visiting Paris during Christmas. Start by researching the unique traditions and festivities that take place in the city.
This will give you an insight into the local culture and allow you to participate in the celebrations fully. It's also important to book your accommodation strategically, choosing a location close to the main attractions and Christmas markets.
Be sure to pack appropriate winter clothing to stay warm during your trip. Since it is one of the widely visited places during New Year and Christmas you have to book everything in advance to avoid high travel costs.
Not to mention 2023 has been really tricky in Europe because the prices of Hotels and travelling skyrocketed this year post covid.
Join our Newsletter for a Festive Journey Through Paris this Christmas!
Discover the Enchanting Attractions, Events, and Traditions for a Joyous Holiday in Paris!
Festive Decorations and Illuminations
Paris is known for its stunning Christmas decorations and illuminations that adorn the city streets. To experience the best of these festive displays, head to iconic spots like the Champs-Élysées and Galeries Lafayette.
Marvel at the mesmerizing lights and immerse yourself in the holiday spirit. In addition, take the time to explore the numerous Christmas markets that pop up around the city, offering unique gifts and local crafts.
Festive Markets: A Shopper's Paradise
One of the highlights of Christmas in Paris is the abundance of festive markets that pop up throughout the city. These markets offer a wide variety of unique gifts, decorations, and food that are perfect for holiday shopping. From handmade crafts to delicious treats, there is something for everyone on your list.
Some of the most popular Christmas markets in Paris include the Champs-Elysées market, which stretches for over a mile and offers a wide variety of goods. The Montmartre market is located in the charming neighbourhood of Montmartre and offers a more traditional and intimate shopping experience. And for those looking for a more modern market, La Défense offers a contemporary twist on the traditional Christmas market.
While shopping at these markets, visitors can also enjoy hot wine, roasted chestnuts, and other festive treats. The atmosphere is lively and filled with holiday cheer, making it a truly magical experience.
Ice Skating: Glide Across the City's Iconic Landmarks
Another popular activity during the Christmas season in Paris is ice skating. The city boasts several ice skating rinks that are open to the public during this time of year. What better way to take in the beauty of Paris than by gliding across the ice while surrounded by iconic landmarks?
One of the most famous ice skating rinks in Paris is located at the Eiffel Tower. This rink offers stunning views of the city and is a favourite among locals and tourists alike. The Hotel de Ville also transforms into a winter wonderland during the Christmas season, complete with an ice skating rink. For those looking for a more unique experience, the Grand Palais offers a temporary ice skating rink that is set up inside the historic building.
Whether you are a seasoned skater or a beginner, ice skating in Paris is a must-do activity during the Christmas season. It is a fun and festive way to enjoy the city and create lasting memories.
Exploring Disneyland Paris during Christmas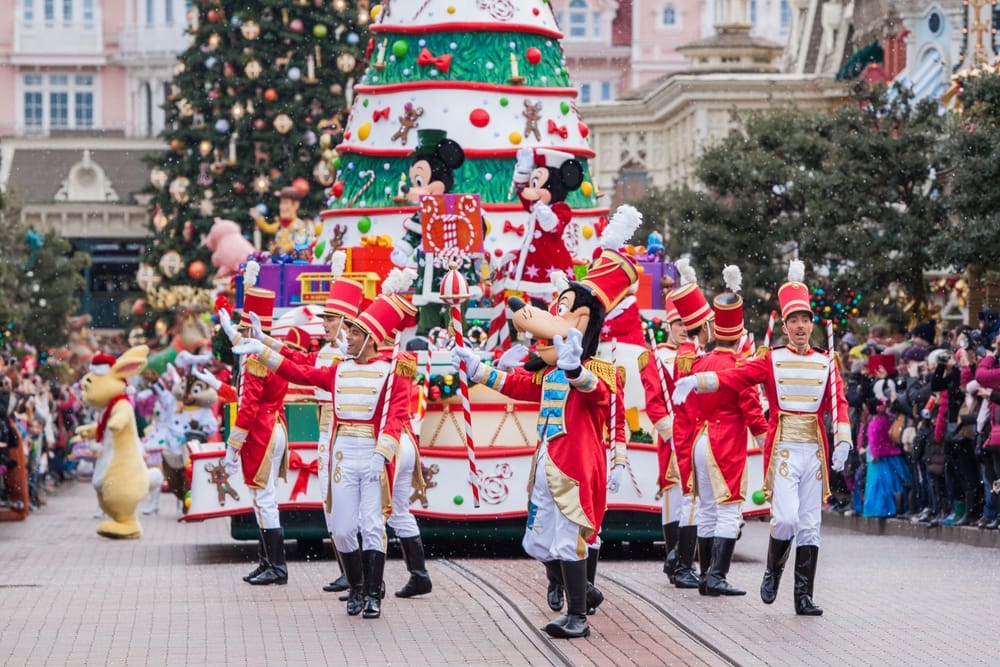 If you're travelling with family, a visit to Disneyland Paris is a must. The park is transformed into a winter wonderland, offering festive parades, shows, and thrilling rides. And don't forget to explore the unique shopping experiences to find the perfect gifts for your loved ones.
There are some special parades which happen just during the time of Christmas and you can enjoy that if you are planning to visit during this time.
Christmas Lights: Admire the City's Dazzling Decorations
Paris is known for its beautiful Christmas lights, and during the holiday season, the city truly comes alive with dazzling decorations. The main streets, monuments, and buildings are adorned with colourful lights and festive displays that create a magical atmosphere.
One of the most iconic displays in Paris is the Champs-Elysées Christmas lights. The avenue is lined with thousands of lights that twinkle and sparkle, creating a breathtaking sight. The Eiffel Tower also gets in on the festive spirit, with its own light show that illuminates the night sky.
Taking a stroll through the city to admire the Christmas lights is a popular activity among locals and tourists alike. It is a great way to get into the holiday spirit and capture some stunning photos of the city.
Christmas Shows: Enjoy the Best of Parisian Entertainment
Paris is known for its world-class entertainment, and during the Christmas season, there are plenty of shows to enjoy. From ballets to operas, concerts to theatre performances, there is something for everyone's taste.
The Opéra Garnier and Opéra Bastille both offer special Christmas performances that are not to be missed. These shows feature talented dancers, singers, and musicians who put on spectacular performances that will leave you in awe. The Théâtre des Champs-Elysées also offers a variety of shows during the holiday season, including classical music concerts and theatre productions.
Attending a Christmas show in Paris is a great way to experience the city's cultural offerings and enjoy some world-class entertainment. It is a memorable experience that will leave you with a greater appreciation for the arts.
Cherishing Christmas Traditions
Christmas in Paris is not complete without embracing the rich traditions that define the season. A visit to the magnificent Notre Dame Cathedral is a must.
Attend midnight Mass and be enchanted by the angelic choral performances that fill the air with melodic harmony. Additionally, immerse yourself in the charm of French Christmas markets and indulge in the taste of traditional Yule Log and other festive treats.
For a truly magical experience, attend a classical Christmas concert and let the music transport you to a world of enchantment.
Magical Moments and Events
Paris offers a myriad of magical moments and events during the Christmas season. Lace up your ice skates and glide beneath the iconic Eiffel Tower on the seasonal ice rink.
The sparkling lights and breathtaking backdrop will make this an unforgettable experience. For a different perspective, embark on a festive Seine River cruise and marvel at the city's lights reflecting on the water.
Christmas Dinners: Savor the City's Delicious Festive Cuisine
Paris is known for its delicious cuisine, and Christmas dinners are no exception. Many restaurants throughout the city offer special Christmas menus that feature traditional French dishes with a festive twist. From roasted meats to decadent desserts, there is no shortage of mouthwatering options to choose from.
One of the most popular dishes during the Christmas season in Paris is foie gras. This rich and creamy delicacy is often served as an appetizer and is a staple of French holiday cuisine. Other traditional dishes include roasted turkey or goose, chestnut stuffing, and bûche de Noël, a festive Yule log-shaped cake.
Whether you choose to dine at a Michelin-starred restaurant or a cozy bistro, you are sure to have a memorable dining experience in Paris during the Christmas season. The city's culinary offerings are second to none, and Christmas dinners are the perfect opportunity to savor the flavors of France.
Trying Christmas special food in Paris
A visit to Paris during Christmas is incomplete without savoring the city's delectable Christmas cuisine. Dine at cozy, traditional French restaurants that embrace the holiday spirit.
Indulge in festive culinary delights, such as Foie Gras, oysters, and seafood, which are popular during this time of year. And make sure to try the iconic French Galette des Rois, a flaky and buttery puff pastry filled with almond cream, traditionally enjoyed on Epiphany.
Christmas Caroling: Join in the Joyful Singing
Christmas caroling is a beloved tradition in many countries, and Paris is no exception. The city offers many opportunities for visitors to join in the singing and experience the joy of the holiday season.
Throughout the Christmas season, caroling events are held in churches, public squares, and other locations throughout the city. These events are open to the public and provide a festive atmosphere where people can come together to sing traditional Christmas carols.
Joining in a caroling event in Paris is a great way to immerse yourself in the local culture and spread some holiday cheer. It is an experience that will leave you feeling uplifted and filled with the spirit of Christmas.
Christmas Masses: Attend the City's Beautiful Religious Services
Paris is home to many beautiful churches that offer Christmas masses. Attending a mass is a great way to experience the city's religious traditions and take part in a meaningful and spiritual event.
Some of the most famous churches in Paris, such as Notre-Dame and Saint-Sulpice, offer Christmas masses that are open to the public. These services are often accompanied by beautiful music and provide a serene and peaceful atmosphere.
Attending a Christmas mass in Paris is a unique and special experience. It allows visitors to connect with the city's rich history and take part in a centuries-old tradition.
Christmas Museums: Explore the City's Cultural Offerings
Paris is known for its world-class museums, and during the Christmas season, many of these museums offer special exhibits and events. Museums such as the Louvre and Musée d'Orsay feature Christmas-themed art and artifacts that provide a unique perspective on the holiday season.
The Louvre, for example, often showcases nativity scenes from different cultures and time periods. These exhibits offer a fascinating look at how Christmas has been celebrated throughout history. The Musée d'Orsay also offers special exhibitions that explore the role of art in Christmas traditions.
Exploring these museums during the Christmas season is a great way to learn more about the city's cultural offerings and gain a deeper understanding of the holiday season.
New Year's Eve: Celebrate the Arrival of the New Year in Style
Paris is known for its extravagant New Year's Eve celebrations, and there is no shortage of events to choose from. The city offers fireworks displays, parties, concerts, and more to ring in the new year in style.
One of the most popular events in Paris on New Year's Eve is the fireworks display at the Eiffel Tower. Thousands of people gather at the Champ de Mars to watch as the sky lights up with a spectacular show. There are also many parties and concerts held throughout the city, where visitors can dance the night away and celebrate with locals and tourists alike.
Celebrating New Year's Eve in Paris is a once-in-a-lifetime experience. The city comes alive with energy and excitement, and there is no better place to welcome the new year.
Christmas Weekend Getaways
If you have extra time, consider exploring the beautiful surroundings of Paris during the Christmas season.
Take a day trip to Château de Versailles and marvel at the opulent decorations that adorn the grand palace. Alternatively, venture to the picturesque town of Colmar, known as the "Little Venice" of France, with its medieval charm and quaint Christmas markets.
Nature enthusiasts can escape to the nearby Fontainebleau Forest and reconnect with nature during long winter walks.
Safety and Practical Tips
While enjoying the holiday season in Paris, it's important to prioritize safety and be aware of practical tips. The weather can be chilly, so dress warmly with layers to stay comfortable during your explorations.
Familiarize yourself with the public transportation system and plan your routes in advance, as some services may have modified schedules during the holidays. Additionally, stay vigilant and exercise caution to avoid falling prey to potential tourist scams.
Travel Insurance
Don't forget travel insurance for your Europe trip! Heymondo covers medical emergencies, theft, delay, cancellation, lost luggage and more with 24/7 worldwide assistance and medical chat. As a Chasing Whereabouts reader, we've got you 5% off! Check Heymondo Here
Summing it up for your trip to Paris for Christmas
Paris truly comes alive during Christmas, offering a magical experience that will forever hold a place in your heart. From the dazzling decorations and illuminations to the rich traditions and unique events, there is something for everyone to enjoy. So, unwrap the magic of Paris this holiday season and create lifelong memories in the City of Lights!
Get your Notion Travel Planner Template!
Embark on your next adventure with the Wanderlust Planner – Notion Travel Planner Template – Notion Travel Planner Template for 2023 (chasingwhereabouts.com), the ultimate Notion Travel Planner Template. Organize your wanderlust-fueled dreams and turn them into unforgettable journeys. Whether you're a seasoned globetrotter or a newbie explorer, this template has you covered.