Winter in Valencia, Spain: a hidden gem awaiting your exploration. 🌟 Valencia, a vibrant city, dons a new, enchanting persona during the winter months. 🌨️
Start your journey by delving into the heart of the city. 🏰 Wander through the captivating streets of Barrio del Carmen, where hidden treasures await around every corner.
Indulge in the quaint charm of this district, where you'll stumble upon charming cafés and boutique shops. 🛍️ Explore the rich history of the Valencia Cathedral and the Silk Exchange.
Taste the essence of Valencia's winter with hearty paella and mouthwatering buñuelos. 🍲 Your taste buds will thank you.
Seek an adrenaline rush? 🏂 Don't forget to check out the city's seasonal ice rinks for some icy fun.
🔥 Ready for more? Whether you're a history buff, a food lover, or an adventure seeker, Valencia's winter has it all. Stay tuned for more thrilling experiences!
Where is Valencia?
Valencia, a vibrant city on Spain's eastern coast, offers a delightful mix of old and new. This is one of the largest cities in Spain and well connected to Barcelona, Malaga.
It is easy to go from Valencia to Ibiza, Palma de Mallorca and Menorca is case you want to take a ferry ride.
Modern architecture and stunning beaches
Valencia is home to some of the most iconic examples of modern architecture in the world, including the City of Arts and Sciences, a complex of museums and cultural venues designed by Santiago Calatrava. The city's beaches are also world-renowned, with their golden sand and crystal-clear waters.
Vibrant cultural scene and historic Old Town
Valencia is known for its vibrant cultural scene, with a year-round calendar of festivals and events. The city's Old Town is a charming maze of narrow streets, lined with shops, restaurants, and cafes. Visitors can also explore the Valencia Cathedral, a UNESCO World Heritage Site, and the Silk Exchange, a former trading centre that is now a museum.
Mysteries and legends
Valencia is a city steeped in history, and there are many mysteries and legends that have been passed down through generations. From tales of ghosts haunting the ancient Silk Exchange to legends of hidden tunnels beneath the streets, Valencia is a city ripe with intrigue.
What is the most intriguing mystery or legend of Valencia?
Winter Temperatures in Valencia ( Weather in Valencia)
Valencia experiences mild winters compared to the rest of Spain.
Valencia in December
In December in Valencia, the average high temperature hovers around 16 degrees Celsius, while the low temperature can drop to around 7 degrees Celsius.
Valencia in January
January in Valencia is typically the coldest month in Valencia, with average temperatures ranging from 12 to 6 degrees Celsius.
Valencia in February
February sees a slight increase in temperature, with highs reaching around 16 degrees Celsius and lows dropping to 7 degrees Celsius.
Valencia in March
As spring approaches, March brings milder temperatures to Valencia. The average high temperature in March can reach up to 18 degrees Celsius, with lows around 9 degrees Celsius.
Despite being the winter months, Valencia still enjoys relatively pleasant and moderate weather, making it an attractive destination for those seeking a break from the harsher winter climates experienced in other parts of Europe.
Winter in Valencia Quick Facts
Valencia's winters are relatively mild compared to other parts of Europe, with average temperatures ranging from 10 to 17 degrees Celsius.
While January is typically the coldest month, with temperatures sometimes dropping to single digits at night, Valencia still receives an average of six hours of sunshine per day during the winter. Rainfall is also relatively low, with an average of 24 rainy days spread across the season.
You may be wondering What are some of the best things to do in Valencia during the winter? So I am going to cover this in detail in this post.
Valencia Winter Temperatures
Valencia, Spain has mild winters, but it's still a good idea to bring a coat and some warm clothes. The average temperature in December, January, and February is between 8 and 16 degrees Celsius (46 and 61 degrees Fahrenheit). It rarely snows in Valencia, but there can be occasional rainfall.
So, what are you waiting for? Pack your bags and start planning your winter trip to Valencia!
Does it Snow in Valencia?
Valencia, Spain has mild winters and hot summers, thanks to its Mediterranean climate. Snowfall is rare, but it can happen. When it does, it's usually just a light dusting that melts quickly. The nearby mountains get more snow, making them popular for winter sports.
Why visit Valencia in winter
Visiting Valencia in winter is like finding a hidden gem. It's not the typical sunny beach destination, but that's what makes it special. With fewer crowds, you can enjoy the city at your own pace. And the mild winter temperatures won't freeze your toes off.
One of the best things about Valencia in winter is Christmas. The city comes alive with lights and decorations. You can wander through the Christmas markets, sipping on hot chocolate or mulled wine. And of course, no trip to Valencia is complete without trying the delicious food. In winter, you can indulge in traditional dishes like paella and churros con chocolate without long queues or full restaurants.
So pack your bags and head to Valencia this winter for a unique and delightful experience!
How to go from Valencia airport to the city centre
Just landed at Valencia airport and wondering how to get to the city centre without spending a fortune. I've got you covered!
The cheapest option is the metro. Line 3 takes you directly to the city centre in about 20 minutes for a fraction of the price of a taxi.
If you're looking for convenience, taxis are readily available outside the airport. Just make sure the driver turns on the meter.
Either way, getting to the city centre from Valencia airport is a breeze!
Taxi
It takes just around 20 minutes and roughly around 25 € if you are taking a taxi. You do get a taxi outside the Airport but just to have peace of mind we would recommend you book the airport transfer.
Metro
As mentioned before the Metro is one of the cheapest ways to reach the city center. An underground train ride will take you around 25 minutes and it runs every 20 minutes for Valencia City Center. The cost of a single ticket is 3.90€ and the tickets can be bought at the train station entrance.
For free transport, you can also consider taking the Valencia City card for 24/48/72 hours.
Bus
The third option available to you is to hop on the regular bus, which is not only friendly on your wallet but also an easy means of reaching the heart of Valencia from the airport. Conveniently located just outside the arrival terminal, the bus stop awaits your arrival. For a mere 1,50€, you can secure a ticket for the approximately 30-minute journey. Remember to bring cash, as card payments are not accepted onboard.
Best Things to do in Valencia in Winter
Uncover the secrets of the Old Town on a guided tour
Imagine walking cobblestone streets, surrounded by ancient buildings, hearing fascinating stories. Tour guides are walking history books, spilling juicy details about famous landmarks, like spooky haunted houses and enchanting churches.
You'll see the town from a new perspective, venturing off the beaten path to discover hidden gems. Some tours even include stops at local eateries where you can sample authentic flavours.
Grab your camera and immerse yourself in the captivating history and culture of this charming place. It's time to unravel those secrets!
Spend Christmas in Valencia
If you're looking for a unique place to spend Christmas, Valencia is where it's at! This vibrant city in Spain has so much to offer during the holiday season. The streets are beautifully decorated with dazzling lights, and the atmosphere is simply magical. You can stroll through the Christmas markets and indulge in tasty Spanish treats like churros and hot chocolate. One of the highlights is the Nativity scene contest, where you can find amazing displays throughout the city. And let's not forget about the fireworks! Valencia is famous for its extravagant New Year's Eve fireworks show.
So, if you want to escape the typical Christmas routine and experience something truly special, make sure to spend Christmas in Valencia! It will be an unforgettable holiday season.
Enjoy the Christmas Fair and Markets
Christmas fairs and markets are magical winter wonderlands! Twinkling lights, festive decorations, and the delicious smell of mulled wine and roasted chestnuts fill the air. Visitors can browse stalls selling homemade crafts, gifts, food, and drinks.
It's the perfect place to find unique presents for loved ones and support local businesses. And there's always live music, carol singers, and amusement rides to enjoy. So bundle up and immerse yourself in the joy and enchantment of a Christmas fair or market!
Follow the tradition by spending New Year's Eve in Valencia
Valencia has its own special tradition called Las Campanadas. At midnight, the main square, Plaça de l'Ajuntament, comes alive with locals and visitors.
The highlight is the chiming of the city's famous bells. As the bells ring, the crowd eats twelve grapes, one for each stroke of the bell. This is believed to bring good luck for the year ahead.
After the grapes, the party continues with fireworks, music, and dancing. Valencia's mild climate makes it perfect for celebrating outdoors.
Follow the tradition and head to Valencia for a vibrant New Year's Eve celebration!
The silk exchange or the Merchant's Exchange
Valencia's Silk Exchange is a Gothic masterpiece built in the late 15th and early 16th centuries. It was constructed during a time when Valencia was a major player in the silk trade, and it is considered one of the most important mercantile buildings in Europe.
The Silk Exchange has three main areas: the Tower, the Hall of Columns, and the Consulado del Mar (Maritime Consulate).
The Tower is a symbol of Valencia's economic power and influence. It stands at 58 meters tall and offers stunning views of the city.
The Hall of Columns is the main interior space of the Silk Exchange. It is an impressive open hall with twisted columns supporting the vaulted ceiling. The columns are decorated with carvings of mythical creatures, fruit, and other decorative elements.
The Consulado del Mar was the meeting place for merchants and traders. It served as a court where maritime disputes were resolved and commercial contracts were enforced.
Today, the Silk Exchange is a UNESCO World Heritage Site and is open to the public. Visitors can explore the impressive architecture, admire the intricate details, and learn about Valencia's significant role in the silk trade.
Enjoy the festive celebrations
Valencia, Spain, knows how to celebrate, and its festive season is no exception. The city comes alive with vibrant colours, joyful music, and an infectious energy that fills the streets during this time of year.
One of the most anticipated events is the Las Fallas festival, which takes place in March. During this week-long celebration, the streets are filled with enormous papier-mâché sculptures called fallas. The fallas are often satirical and depict current events, politicians, and celebrities. At the end of the festival, the fallas are burnt in spectacular displays of fireworks.
The Las Fallas festival is a UNESCO World Heritage Site and is one of the most popular tourist attractions in Valencia. Visitors can watch the fallas being built, participate in the parades and street parties, and enjoy the traditional music performances.
In addition to Las Fallas, Valencia also hosts other events during the festive season, such as the Christmas markets and the New Year's Eve celebration at Plaza Ayuntamiento.
The Christmas markets are held in various locations throughout the city and offer a wide variety of gifts, food, and drinks. Visitors can browse the stalls for unique souvenirs, sample traditional Spanish Christmas treats, and enjoy the festive atmosphere.
The New Year's Eve celebration at Plaza Ayuntamiento is a lively and unforgettable event. Thousands of people gather in the square to watch the fireworks display and ring in the new year. The celebration also includes live music, dancing, and a festive atmosphere.
Ice Skating in Valencia
Ready for some icy adventures in Valencia? Check out these hot spots for ice skating:
1. Palacio de Hielo (Ice Palace): Located in the heart of Valencia, this vast ice skating rink is where national and international competitions unfold. Join in for public skating, figure skating classes, or ice hockey fun.
2. Nuevo Centro Ice Rink:: Nestled in the Nuevo Centro mall, this rink promises a lively ice skating atmosphere. Join regular public sessions and discover ice skating lessons tailored for beginners.
3. IceSkating Valencia:: Escape to Alboraya suburb and experience a unique twist with a synthetic ice rink. Glide just like on real ice, even in warm weather. A truly exceptional experience.
4. Patinódromo Municipal Valencia:: This outdoor ice rink in Ayora Park shines during the winter months. Enjoy public skating, ice hockey games, and skating lessons amidst the outdoor charm.
Walking tour of the World Heritage Sites in Valencia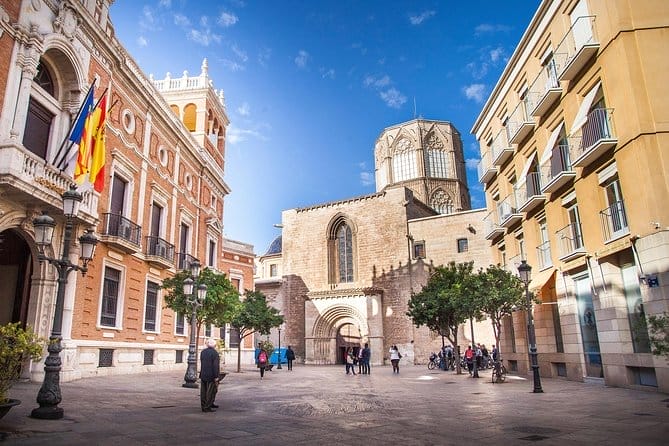 Valencia, a city filled with history on Spain's east coast, welcomes you to explore captivating World Heritage Sites. 🌆
1. The Silk Exchange: A Gothic marvel, the Silk Exchange, was once the epicenter of silk trade, showcasing exquisite carvings and stunning frescoes. A historical gem in every sense. 🏛️
2. Old Town Wonders: Meander through charming old town streets, taking in the local charm, and proceed to the bustling Central Market, a sensory delight of fresh produce and local treats. 🍅🥖
3. Valencia Cathedral: The awe-inspiring Valencia Cathedral is a blend of architectural styles, from Romanesque to Baroque. For a grand view, climb the Miguelete Tower. 🏰
4. City of Arts and Sciences: Your tour isn't complete without delving into the future at the City of Arts and Sciences. Witness modern architecture with its opera house, planetarium, and interactive wonders. 🏗️
🚶‍♀️ A walking tour through these World Heritage Sites promises an enthralling journey through time and space. Don't miss out on this fascinating adventure! 🗺️
Go on a bike tour in Valencia
Valencia, a city where history meets modernity, invites you on a thrilling biking adventure.
1. Gear Up for the Ride: Start by grabbing the perfect bike from various rental shops across the city, tailored to your style and skill. Whether it's a mountain bike or an electric one, you're all set to roll!
2. Turia Gardens: Nature's Embrace: Dive into your journey amidst the lush Turia Gardens, a 9-kilometer haven along the Turia Riverbed. Scenic bike paths lead you through greenery, fountains, and lively sports fields, setting the stage for a joyful ride. 🌿
3. City of Arts and Sciences: A Glimpse into the Future: Venture further to the iconic Ciudad de las Artes y las Ciencias. This futuristic marvel showcases the Hemisfèric, Príncipe Felipe Science Museum, and Europe's largest aquarium, Oceanografic. It's a peek into Valencia's modern soul. 🏗️
4. Historic Center Exploration:: Pedal to the heart of the city with narrow streets, historic facades, and vibrant squares. Park your trusty bike and delve into the central market, a tantalizing world of fresh local produce, seafood, and delicious treats. 🏰
5. Valencia Cathedral Marvel:: Make your way to the awe-inspiring Valencia Cathedral, a 13th-century gem. Witness its architectural splendor and climb the Miguelete Tower for breathtaking panoramic city views.
6. Historical Gems:: Continue your city center exploration, uncovering treasures like Plaza de la Virgen, Plaza de la Reina, and the Silk Exchange, a UNESCO World Heritage site. Each spot holds a piece of the city's history. 🌍
7. Beachside Bliss at "Malvarrosa": Conclude your adventure by heading to the "Malvarrosa" beach area. Enjoy a leisurely ride along the promenade, soak up the Mediterranean sun, and refresh with a dip in the azure waters. It's the perfect end to an action-packed day.
Stay Safe and Savvy: Don't forget to stay hydrated, slather on sunscreen, and follow traffic rules as you pedal through Valencia. With this itinerary, you're all set for a thrilling bike tour to uncover the city's captivating blend of history and modernity. So, get ready to explore Valencia in all its glory! 🌞🚴‍♀️
Pamper yourself with a spa treatment
Valencia, Spain, beckons you to unwind and pamper yourself with a wide range of spa treatments. Whether you're seeking a massage, facial, or body therapy, Valencia has a wealth of options to choose from.
1. Hot Stone Massage:: Sink into deep relaxation as heated volcanic stones work their magic, melting away tension and enhancing blood circulation. Feel the warmth usher in tranquility, leaving you rejuvenated.
2. Aromatherapy Massage:: Surrender to the soothing scents of essential oils as they blend seamlessly with massage techniques, offering a therapeutic escape. Relaxation and an enhanced sense of well-being await.
3. Balinese Massage:: Embark on a journey with this traditional Balinese massage, featuring rhythmic strokes and deep pressure to dissolve muscle tension. Let the flow of the massage leave you feeling refreshed and renewed.
4. Chocolate Body Wrap:: Treat yourself to a decadent chocolate body wrap, a true delight for your skin. The antioxidants in chocolate infuse your skin with rejuvenation, leaving it silky and supple.
5. Hydrating Facial:: Your skin deserves a refreshing boost with a hydrating facial. Experience the complete package, including cleansing, exfoliation, and a hydrating mask, resulting in a rejuvenated and radiant complexion.
6. Thermal Circuit:: Dive into Valencia's world of thermal baths, where you can soak in the relaxation and healing powers of thermal waters. Spend hours indulging in various pools, saunas, and steam rooms for the ultimate spa experience.
🌊 Valencia's luxurious spa treatments are your gateway to relaxation and rejuvenation. So, when it's time for some self-care, these options promise to leave you feeling pampered and revitalized. 🌞🌺
Take a dip in a hot spring
When in Valencia, there's one activity you absolutely can't miss – taking a dip in a natural hot spring. Valencia boasts several of these gems, renowned for their therapeutic benefits and stunning surroundings.
The Montanejos Oasis: Make your way to the charming town of Montanejos, just an hour's drive from Valencia city, to discover a beloved hot spring. Immerse yourself in the warm, mineral-rich waters while soaking in breathtaking views of mountains and lush greenery.
A Tranquil Haven: This hot spring is tucked away in a picturesque canyon, creating a serene oasis ideal for relaxation. The water's temperature remains constant year-round, making it the perfect spot for a visit at any time.
Watch a flamenco show in Valencia
In Valencia, experiencing a flamenco show is like entering a captivating realm of passion and rhythm. It's a window to the heart of traditional Spanish dance, and this city hosts some of the nation's most exceptional flamenco artists.
1. Intimate Encounters:: These mesmerizing performances unfold in small, intimate venues where you're practically within arm's reach of the dancers, musicians, and singers. The intensity and energy become palpable, immersing you in the artistry.
2. Grace and Precision:: Witness dancers who, with their precise footwork, graceful arm movements, and captivating expressions, transport you to a different era. The power of their performance holds you in a spell throughout. 🕺
3. Enchanting Melodies:: The live music, brimming with haunting melodies and heart-pounding rhythms, adds depth to the overall atmosphere. It's an unforgettable experience that leaves an indelible mark on your memory.
4. For All Audiences:: Whether you're already a fan of flamenco or new to this mesmerizing art form, watching a flamenco show in Valencia is your chance to marvel at the beauty and talent behind this passionate dance style.
5. A Window to Tradition:: It's not just a show; it's an opportunity to appreciate the cultural richness and emotional depth that flamenco brings to life. 🎶
Marvel at the frescoes inside the San Nicolás Church
Valencia, Spain, unveils a masterpiece of art and history within the walls of the 14th-century San Nicolás Church that will leave visitors utterly mesmerized.
1. Awe-Inspiring Artistry:: As you step inside, your eyes will be instantly captured by the intricate details and vibrant colors that adorn the walls and ceilings. It's a sensory feast for the eyes.
2. Vivid Storytelling:: The frescoes within this sanctuary tell stories, from religious scenes to biblical tales and depictions of saints, revealing the exceptional talent of the artists behind them. Each brushstroke seems to come to life, preserving these narratives for centuries.
3. Timeless Beauty:: What's truly remarkable is the preservation of these frescoes, despite the relentless passage of time and various restoration efforts. Witness the enduring testament of skilful craftsmanship and artistic splendour.
4. A Journey Through Time:: Regardless of whether you're an art aficionado or simply intrigued by history, these frescoes possess the power to captivate your senses and transport you to another era.
5. Indelible Impressions:: Marvel at the splendor of the frescoes inside the San Nicolás Church and let their beauty leave an indelible mark on your soul. It's a step into history that promises to linger in your memory long after you've left. 🏰🖼️
Take a paella cooking class
For all the food enthusiasts out there, if you're yearning to capture the authentic flavours of Spain, a paella cooking class is an absolute must. Paella, a time-honoured Spanish delicacy, is a saffron-infused rice dish, mingling an array of ingredients from chicken and rabbit to seafood and veggies.
1. Master the Art of Paella:: In this immersive class, led by a seasoned chef, you'll uncover the techniques and secrets behind crafting the perfect paella.
2. A Market Adventure:: Your culinary journey commences with a visit to the local market. Here, you'll handpick the freshest and finest ingredients, ensuring the essence of authenticity in your dish.
3. The Kitchen Stage:: Once you've gathered your treasures, you'll convene in a well-equipped kitchen, ready to embark on the culinary odyssey. Your chef will be your guiding star, leading you through each step of the process, from crafting the sofrito to cooking the rice and orchestrating the ingredient symphony with precision. 🍴
4. Unveil Paella Varieties:: Delve into the world of paella varieties, from Valencian to seafood and mixed. Learn the nuances that distinguish each, and unravel the secrets to capturing their distinct tastes and textures.
5. A Culinary Fiesta:: After the class, bask in the satisfaction of your culinary creation and savor it alongside a glass of Spanish wine. It's a celebration of flavors and culture that leaves you with both a satisfied palate and newfound knowledge.
6. Culinary Culture Immersion:: Taking a paella cooking class is not merely a cooking lesson; it's a delightful and educational exploration of Spanish cuisine and culture. An experience that brings you closer to the heart of Spain's culinary heritage.
Explore the San José Caves
Hidden beneath the earth's surface in the Dominican Republic lies a world waiting to be uncovered – the San José Caves. These captivating caves are renowned for their breathtaking rock formations and crystal-clear underground rivers.
1. Guided Journey:: Visitors have the opportunity to explore this subterranean wonderland through guided tours. As you navigate the labyrinth of tunnels, you'll be spellbound by the intricate stalactites and stalagmites, sculpted by nature over millennia.
2. Ecosystem Richness:: Beyond the stunning geology, these caves are home to a diverse ecosystem. Bats and unique fish species thrive in the subterranean rivers. Witnessing this underground life is a surreal experience, as if you've stepped into another world.
3. Nature and Adventure Unite:: For both nature enthusiasts and adventure seekers, the San José Caves offer the perfect blend of both. It's an opportunity to appreciate the marvels of Mother Nature and embark on an unforgettable journey into the depths of the Earth.
El Tribunale de las Aguas
n the heart of Valencia, Spain, lies a centuries-old institution known as El Tribunal de las Aguas, or the Water Court. This unique establishment holds the crucial responsibility of settling disputes among farmers in the region, specifically those related to irrigation and water distribution.
A Rich Legacy: The roots of this institution can be traced back to the Islamic era, but it gained official recognition from King James I in 1238.
Judgment by the "Jurats": The court is comprised of eight judges, affectionately referred to as "jurats," who are elected by the farmers themselves. Every Thursday at noon, these jurats convene in front of the Valencia Cathedral to hear and resolve cases.
A Linguistic Tradition: The proceedings are carried out exclusively in the regional Valencian language, adhering to strict rules and enduring traditions.
Oral Tradition: What sets the Water Court apart is its reliance on oral tradition, eschewing written records. This distinctive approach has stood the test of time, ensuring fair and efficient resolutions to water-related conflicts.
A Symbol of Heritage: Beyond its functional role, the Water Court serves as a symbol of historical heritage, reflecting the enduring customs and practices of a bygone era.
Guardians of Harmony: This institution plays a vital role in maintaining peace and justice within the agricultural community of Valencia, reminding us of the enduring significance of tradition in the modern world. 🇪🇸🌾
Las Fallas
Valencia, Spain, comes alive every year from March 15th to 19th with a traditional festival like no other – Las Fallas. This vibrant event is renowned for its magnificent displays of papier-mâché sculptures, known as "fallas," which culminate in a fiery spectacle on the festival's final night.
Origins in Woodcraft: Initially born in the 18th century as a means for carpenters to dispose of excess wood, Las Fallas has since transformed into a grand celebration that draws in thousands of visitors from around the globe.
A Multifaceted Celebration: Throughout the festival, the streets of Valencia pulsate with vibrant processions, music, fireworks, and the donning of traditional costumes. The city becomes a riot of colors and sounds.
Competition and Tradition: The festivities include various competitions, such as the dazzling parade of the fallas and the heartwarming offering of flowers to the Virgin Mary, reflecting the rich tapestry of Valencian traditions.
Experience the beauty of Albufera
Just a short journey south of Valencia, Spain, awaits the breathtaking beauty of Albufera, a natural park that captivates the hearts of all who visit.
An Ecological Gem: This expansive wetland area is celebrated for its diverse flora and fauna, making it a haven for nature enthusiasts and avid birdwatchers.
Nature's Bounty: Roam through serene rice fields and tranquil lagoons, where a vibrant tapestry of bird species, from flamingos and herons to ducks, graces the landscape with their presence.
A Scenic Boat Journey: Take to the water on a boat ride along the meandering canals. As you glide through the calm waters, you'll uncover the enchanting, untouched beauty of Albufera.
Spectacular Sunsets: The sunsets over Albufera are nothing short of breathtaking, painting the sky with hues of orange and pink. It's a picture-perfect scene that's sure to leave you in awe.
Taste of Tradition: Make sure not to miss the chance to savor the region's pride and joy – paella. This traditional dish, crafted with locally sourced ingredients, including the revered Albufera rice, originates from this very land.
A Perfect Escape: Whether you long to immerse yourself in the embrace of nature, indulge in delectable cuisine, or simply unwind in a stunning setting, Albufera extends a warm invitation to everyone. 🌾🦢🚣‍♂️
Free Walking tour of Modernist Valencia
In Valencia, Spain, an enthralling world of modernist architecture beckons, and you can explore it through a captivating free walking tour.
Start at the Heart: Your journey begins at Estacion del Norte, an architectural masterpiece that embodies the essence of modernist design. Gaze in awe at the intricate ornamentation, vibrant colors, and exquisite details that define this unique style.
Central Market Wonders: Next, you'll find yourself at the Central Market, a bustling epicenter of activity housed within a stunning modernist building. Here, the impressive iron structure and colorful ceramic tiles adorning the façade are sure to leave you marveling.
Guided Insights: As you wander through the city's streets, your knowledgeable guide will regale you with the history and significance of each landmark. From the stately City Hall to the exquisite Mercado de Colon, you'll unearth the rich heritage and artistic influences that have shaped Valencia's modernist architectural treasures.
A Journey into Art and History: This tour isn't just about buildings; it's a journey through time and artistic inspiration. It's an opportunity to delve into the world of modernism and truly appreciate the architectural gems that grace Valencia. 🏰🏢🚶‍♂️
A Walking Appreciation: By the end of this tour, you'll have not only discovered the city's architectural wonders but also developed a profound appreciation for the intricate beauty of modernism. Don't miss the chance to be part of this enlightening experience.
Explore the Fine Arts Museum of Valencia
Nestled in the heart of the city, the Fine Arts Museum of Valencia is a true trove of artistic wonders, boasting an impressive collection of over 2,000 exquisite works of art.
As you step into this cultural haven, you'll be greeted by masterpieces from legendary artists like El Greco, Goya, and Velázquez. Their creations adorn the museum, setting the stage for an artistic journey like no other.
The museum offers a diverse range of artistic styles, spanning paintings, sculptures, and ceramics. It's a comprehensive immersion into the world of creativity and expression.
Medieval Marvels: Among the gems, the collection of medieval artworks shines brightly, offering a window into Valencia's rich cultural heritage and the artistic legacy of centuries gone by.
An Ever-Changing Canvas: The museum regularly hosts temporary exhibitions, providing visitors with a chance to explore new and contemporary art forms, ensuring there's always something new to discover.
Wild night in Valencia
My night in Valencia was a whirlwind of sensations unlike anything I'd ever experienced before. The city surged with a pulsating energy and palpable excitement that set the stage for a truly unforgettable adventure.
The streets came alive with neon lights, casting an enchanting glow upon the revelers who spilled out of the bars and clubs. The warm Mediterranean air was filled with laughter, dancing, and pure elation.
he night was in tune with the rhythm of music that reverberated through the vibrant atmosphere, turning the city into a living, breathing celebration.
Wandering through narrow streets, I stumbled upon a lively plaza, where a spontaneous street party had erupted. People from all walks of life converged to revel in the joy of the night, creating an atmosphere of unity and liberation.
Explore the city of arts and sciences
In Valencia, Spain, a remarkable treasure awaits: the City of Arts and Sciences. This unique complex is a fusion of art, technology, and science, captivating visitors of all ages with its modern architecture and innovative spirit.
A Feast for the Senses: The complex is a visual symphony, featuring eye-catching buildings and futuristic design. It encompasses the Oceanografic aquarium, the Hemisferic planetarium, the Principe Felipe Science Museum, and the Agora, a versatile space for concerts and events.
Underwater Odyssey: Dive into the depths of the Oceanografic, where you can explore the wonders of the underwater world and get up close with a diverse array of marine species. It's a journey beneath the waves that you won't soon forget.
Get a Bite at Mercado Central (Central Market)
Nestled in the heart of Valencia, the Mercado Central (Central Market) beckons food enthusiasts with open arms. This historic market, one of the oldest in Europe, is a haven for those eager to savor the lively culinary culture of Valencia.
Timeless Treasures: Step inside, and you'll find yourself immersed in a world of gastronomic wonders. The market is a bustling hub, with stalls that boast an impressive array of local treasures, from fresh seafood to succulent meats, aromatic cheeses, and delectable baked goods.
A Symphony of Scents: As you navigate the market's winding alleys, your senses will be captivated by the aromas of freshly baked bread, fragrant herbs, and exotic spices that waft through the air, luring you deeper into this culinary wonderland.
For Every Palate: Whether you're on the hunt for traditional Valencian ingredients or eager to sample local delicacies, Mercado Central has it all. From the famed paella rice to the tantalizing horchata, there's a treat for every taste bud.
Cafés and Tapas Oasis: After exploring the market's treasures, you can take a well-deserved break at one of the cozy cafes or tapas bars. Here, you can savor the market's offerings while basking in the vibrant and convivial atmosphere.
Enjoy the Turia Gardens
In the heart of Valencia, Spain, lies a picturesque sanctuary known as Turia Gardens or Jardines del Turia. This enchanting park is a magnet for locals and tourists alike, offering a diverse range of activities and attractions.
A River's Legacy: Turia Gardens has a fascinating history. It was once the riverbed of the Turia River, but in 1957, a devastating flood changed the course of the river. To prevent future disasters, the river was diverted, and this tranquil green haven emerged, stretching nine kilometers across the city.
Nature's Embrace: As you step into the park, you're greeted by a symphony of scents from diverse flora, including palm and orange trees, painting the pathways with vibrant colors. Shady trees, ornate fountains, and meticulously landscaped gardens create a serene atmosphere for visitors to lose themselves in.
Step into San Nicholas Church
When in Valencia, Spain, during the idyllic month of March, you must venture into the heart of the city and discover the remarkable San Nicholas Church. This architectural gem is a must-visit, offering a serene and awe-inspiring experience, perfect in the mild spring weather.
Gothic Grandeur: Step through the church's doors and instantly find yourself immersed in the world of stunning Gothic architecture. Every corner is adorned with intricate details, and the play of soft sunlight through the stained glass windows creates a tranquil ambience that soothes the soul.
Artistic Treasures: The church is a treasure trove of religious artworks and artefacts. Marvel at the exquisite Renaissance paintings and sculptures that grace its hallowed halls. Each piece tells a story, offering a glimpse into the rich spiritual and artistic heritage of Valencia.
Discover Mysteries and Legends of Valencia
Valencia, the vibrant jewel on Spain's southeastern coast, is renowned for its captivating architecture, delectable cuisine, and lively fiestas. Yet, beneath its lively façade, a world of intriguing mysteries and legends awaits those who venture into its historic streets and squares.
El Miguelete's Whispering Bells 🛎️🌩️: In the heart of the city stands the Valencia Cathedral's imposing bell tower, known as El Miguelete. It is not just a symbol of faith but also a harbinger of superstition. Legend has it that on stormy nights, those brave enough to climb the tower and ring its bell may unwittingly summon the devil himself, inviting the wrath of otherworldly forces. A chilling dare that continues to fuel local tales.
Albufera's Haunting Whispers 🌅👻: A short distance from Valencia lies the Albufera Natural Park, a serene wetland area. Yet, it harbors more than natural beauty; it holds a ghostly secret. The legend speaks of a Moorish princess, her heartbroken demise, and her eternal quest for lost love. Locals claim to have glimpsed her ghostly apparition, wandering through the marshes under the moonlight, a haunting reminder of a tragic love story.
Unveiling Hidden Valencia 🗺️: These are just glimpses into the enigmatic tales that lie beneath the surface of Valencia. The city's historic streets whisper stories of the unknown, encouraging the curious to delve deeper into its hidden side, where mysteries and legends continue to cast their spell. Dare to explore, and Valencia will reveal its secrets. 💫🌙🌆
Go on a FREE street art tour in Valencia
Valencia's streets are a vibrant canvas, a playground for artists who breathe life into their surroundings with stunning murals and graffiti. To delve into this dynamic street art scene and unveil the mysteries and legends behind the paint, a free street art tour is the key.
We would recommend you book your spot on Free Street Art Tour in Valencia
Art and Anecdotes: The Secrets on the Walls 🧐🖼️: As you meander through Valencia's alleys, the street art tour becomes a journey of discovery. Each artwork conceals stories and histories that have fueled the artist's creativity. Unravel hidden messages, tap into ancient folklore, and decode the symbols beneath the vibrant layers. Every mural and graffiti unveils a piece of Valencia's soul.
Guides: The Storytellers of the Streets 🗺️🔍: Your guides are local aficionados, deeply passionate about the city's urban art. They bring to life the narratives that interlace with each brushstroke. Your journey leads you to iconic pieces and concealed gems in the city's labyrinthine streets.
Climb to the top of Torres De Serranos
Valencia's iconic Torres De Serranos stands tall, a gate to the city's past. With roots tracing back to the 14th century, this monumental structure is a portal to Valencia's rich history.
Climb to the Sky: A Panoramic Perspective 🏞️🌆: Embark on an adventure that takes you to the pinnacle of Torres De Serranos. As you ascend the winding staircase, a magnificent reward awaits: panoramic views that capture the essence of Valencia. The sprawling cityscape unfolds before you, offering a unique perspective that transcends time.
Unveiling the Enigma: Legends and Mysteries 🗝️👻: While scaling this ancient gate, the stories and legends that enshroud Torres De Serranos come to life. Hear whispers of hidden passages and encounter the eerie tales of ghostly apparitions. Valencia's history is interwoven with intrigue, waiting for you to unravel its secrets.
A Must-Visit Gem: For History Enthusiasts and Explorers 🌟📜: Whether you're a history buff or an adventurer in search of new horizons, Torres De Serranos beckons. Here, you can savor the architectural beauty and immerse yourself in the tales of a bygone era.
Climbing to the tower's summit is an experience that connects you with Valencia's rich past and leaves an indelible mark on your heart.
What to eat in Valencia in winter
Roasted Chestnuts and Corn on the Cob
In Valencia during winter, you can enjoy roasted chestnuts, which are warm and nutty, and corn on the cob, a delicious and crispy snack.
Chocolate and Churros
A special winter treat in Valencia is hot chocolate and churros. Churros are like long, crispy dough sticks that you dip in thick, tasty chocolate.
Local Wines
Valencia makes its own yummy wines. You can try red or white wines to go with your winter meals or to have as a drink on their own.
Sweet Spanish Treats
For the holiday season, you can enjoy sweet Spanish treats like turrónes (like nougat), mantecados (crumbly cookies), and marzipans, which are made with almonds and sugar.
Candied Almonds and Nuts
Candied almonds and nuts are sweet and crunchy snacks that are perfect for munching on during the winter season.
Oranges and Orange Juice
Valencia is known for its juicy oranges. In winter, you can have freshly squeezed orange juice or try dishes and desserts made with these delicious fruits.
Hearty "Arroz al Horno"
Try "Arroz al Horno," a traditional Valencian dish. It's a baked rice dish with pork, sausage, chickpeas, and spices, all cooked slowly in a clay pot, perfect for warming up on a chilly day.
What to pack when visiting Valencia in winter
Clothing:
Warm Layers: Pack sweaters, long-sleeve shirts, and thermal undergarments to stay warm.
Coat or Jacket: Bring a waterproof and insulated coat to protect against the occasional rain and cold winds.
Scarves, Gloves, and Hat: These accessories will keep you cozy during chilly days and nights.
Comfortable Walking Shoes: Valencia is a walkable city, so bring comfortable shoes suitable for exploring.
Umbrella: Be prepared for the possibility of rain by packing a compact, travel-sized umbrella.
Travel Essentials: 6. Travel Adapters: If your electronics have different plug types, bring suitable adapters.
Portable Charger: Keep your devices powered while on the go.
Travel Documents: Ensure you have your passport, ID, travel insurance, and any required visas.
Wallet and Currency: Carry local currency and credit/debit cards for transactions.
Maps or Navigation App: Download maps or have a navigation app on your smartphone to help you get around.
Toiletries: 11. Toiletries Kit: Pack your toothbrush, toothpaste, shampoo, conditioner, and any personal care items you prefer.
Medications: Bring any prescription medications and basic first-aid supplies.
Hand Sanitizer: Keep this handy for cleanliness while traveling.
Miscellaneous: 14. Backpack or Daypack: A small bag to carry essentials while exploring the city.
Reusable Water Bottle: Stay hydrated and reduce plastic waste by refilling your bottle.
Camera or Smartphone: Capture memories of your trip and the beautiful winter scenes.
Travel Guidebook: Consider a guidebook to help plan your itinerary.
Entertainment: Books, magazines, or other entertainment for downtime.
Spanish Phrases: 19. Spanish Phrasebook: While many people in Valencia speak English, having basic Spanish phrases can be helpful and appreciated.
Where to stay in Valencia in winter
When choosing where to stay in Valencia during the winter, it's essential to consider factors like the weather, your interests, and your budget. Here are some popular areas and types of accommodations to help you decide:
City Center (Ciutat Vella): The heart of Valencia offers historic charm and easy access to many attractions like the Central Market, the Valencia Cathedral, and the Lonja de la Seda. You can find a range of hotels, hostels, and vacation rentals here.

Eixample: This area is known for its more modern feel and wide streets. It's a great choice for those who prefer a quieter neighborhood but still want to be within walking distance of the city center.

Malvarrosa Beach: If you love the sea, consider staying near the Malvarrosa Beach. While it might be too chilly for swimming in the winter, the beach area is peaceful, and you can enjoy seaside walks and beautiful views.

Ruzafa: This trendy neighborhood is famous for its art scene, bars, and restaurants. It's a fantastic choice if you want to experience Valencia's local culture and cuisine.

El Carmen: El Carmen is a historic and artistic neighborhood with narrow streets and colorful buildings. It's known for its vibrant nightlife and is an excellent choice for those looking to explore Valencia's bohemian side.

Budget Hostels and Guesthouses: If you're traveling on a budget, Valencia has a variety of budget-friendly hostels and guesthouses. You can find affordable options in different neighborhoods.

Luxury Hotels: For a more upscale experience, consider staying at one of Valencia's luxury hotels, especially in the City Center or along the waterfront.

Vacation Rentals: If you prefer the convenience of a home-away-from-home, consider renting an apartment or holiday home. This can be a great option for families or those planning an extended stay.

Boutique Hotels: Valencia has several boutique hotels that offer a unique and personalized experience, often in charming historic buildings.
Travel Insurance for Valencia
When travelling to Valencia, it's a wise decision to invest in travel insurance to protect yourself and your trip. A reputable option is Heymondo, a travel insurance provider that offers comprehensive coverage for various travel needs. Heymondo offers a range of policies to suit your specific requirements, whether you're travelling for leisure, business, or any other purpose.
For readers of Chasing Whereabouts, there's a special discount available. By using the code or link provided on Chasing Whereabouts, you can enjoy a 5% discount on your Heymondo travel insurance policy. This discount is an excellent way to save on your travel insurance while ensuring you have peace of mind during your visit to Valencia and any other destinations you might explore.
Before your trip, it's essential to research and choose the travel insurance plan that best fits your needs, and considering Heymondo's special offer for Chasing Whereabouts readers is a great way to secure quality coverage at a reduced cost. Travel insurance can provide coverage for unexpected events such as trip cancellations, medical emergencies, lost luggage, and more, ensuring that you have a worry-free and enjoyable journey in Valencia.
Conclusion
In conclusion, visiting Valencia in winter can be a unique and rewarding experience. From exploring the City of Arts and Sciences to indulging in delicious local cuisine, there are plenty of things to see and do.
FAQ
Q: What can I do in Valencia during the winter?
A: Valencia is a great city to visit in the winter. You can sightsee, visit the Christmas markets, explore the old town, and take a tour of the city.
Q: What is the weather like in Valencia during the winter?
A: The temperatures in Valencia in winter are mild, ranging from about 8 to 16 degrees Celsius. It's winter, but it's not too cold.
Q: Can I go to the beach in Valencia during the winter?
A: While it may not be warm enough for swimming, you can still enjoy the views of the beach and take a walk along the shore.
Q: Is the Central Market of Valencia worth visiting in winter?
A: Yes, the Central Market of Valencia is a must-visit all year round. It is a lively and vibrant place to explore, with a wide variety of fresh food and local products.
Q: What are some other markets in Valencia?
A: Aside from the Central Market, there are many other markets worth visiting in Valencia, such as the Mercado de Colón and the Mercado de Ruzafa.
Q: When is the best time to visit Valencia in winter?
A: December and January are great months to visit Valencia in winter. The city is decorated for the holidays and there are many festive events happening.
Q: Where is the best place to stay in Valencia during the winter?
A: The old town of Valencia is a popular place to stay, as it is central and close to many attractions. There are also plenty of hotels and apartments available in other parts of the city.
Q: What can I expect from a winter trip to Valencia?
A: A winter trip to Valencia offers a unique experience. You can enjoy the city without the crowds, experience the local culture, and partake in seasonal activities like ice skating and visiting Christmas markets.
Q: Is there a guide to Valencia that can help with planning a trip?
A: Yes, there are many travel guides available that provide detailed information about Valencia, including recommendations on what to see, where to eat, and how to make the most of your trip.
Q: What are some typical winter activities to do in Valencia?
A: In addition to visiting Christmas markets, you can enjoy warm drinks in cozy cafes, explore the city's museums and galleries, and take a leisurely stroll through the beautiful parks and gardens.