When it comes to winter wonderlands, Slovenia might not be the first destination that comes to mind, but this charming European country has a lot to offer during the colder months. From snow-covered landscapes to cosy alpine villages, Slovenia is a hidden gem for winter enthusiasts. In this article, we'll take you on a journey through the top places to visit in Slovenia in winter season.
Embracing Winter in Ljubljana
Embark on a magical experience in the heart of Slovenia's capital city, Ljubljana. As winter descends upon this charming town, the streets come alive with twinkling lights, festive decorations, and a joyous atmosphere. Stroll along the banks of the Ljubljanica River and lose yourself in the enchanting ambiance of the Old Town. Admire the elegant architecture, sip a warm cup of mulled wine, and immerse yourself in the city's rich history.
No visit to Ljubljana is complete without a trip to the majestic Ljubljana Castle. Make your way up to the castle perched atop a hill, where panoramic views of the snowy cityscape await you. Explore the castle's fascinating exhibitions, art installations, and admire the medieval architecture that has stood the test of time. As night falls, witness the city's illuminated charm from this elevated vantage point.
Triglav National Park – A Winter Paradise
For those seeking a thrilling winter adventure amid Slovenia's pristine nature, Triglav National Park is a must-visit destination. The park's snow-covered alpine landscapes provide the perfect backdrop for exhilarating activities. Strap on a pair of snowshoes and embark on a snow-covered trail, immersing yourself in the park's serene and untouched beauty. Cross-country skiing enthusiasts will find a true haven here, with countless trails weaving through picturesque valleys and forests.
If you're looking for an adrenaline rush, why not try your hand at ice climbing? The frozen waterfalls of Triglav National Park offer a unique opportunity to challenge yourself while enjoying awe-inspiring views. Alternatively, angling enthusiasts can engage in ice fishing in one of the park's tranquil mountain lakes, surrounded by snow-clad peaks.
After a day of adventure, seek solace in one of the park's cozy mountain huts. Warm up by a crackling fire, sipping on traditional Slovenian tea and indulging in local delicacies. The hospitality and warmth of the locals will leave a lasting impression, making your winter experience in Triglav National Park truly unforgettable.
Bled – A Frozen Fairytale
Prepare to be spellbound by the mesmerizing beauty of Lake Bled as winter casts its spell upon this iconic destination. Surrounded by snow-capped mountains, the crystal-clear lake glistens in the winter sun, creating a scene straight out of a fairytale. Take a leisurely walk around the lake, as the fresh winter air invigorates your senses and admire the picture-perfect island church nestled amidst the serene waters.
Embrace the tranquility of the winter season by engaging in a variety of activities. Lace up your ice skates and glide gracefully across the frozen lake, feeling the indescribable joy that only comes with this winter tradition. Alternatively, hop on a horse-drawn carriage and allow yourself to be transported back in time as you explore the snow-covered surroundings. For a truly magical experience, consider taking a ride on a traditional Pletna boat to the island and take in the breathtaking winter scenery.
When it's time to warm up and treat your taste buds, be sure to sample the delightful flavors of traditional Slovenian cuisine. From comforting stews and hearty soups to delectable pastries, Bled offers a culinary journey that will satisfy even the most discerning foodie.
Go for a ski tour in Julian Alps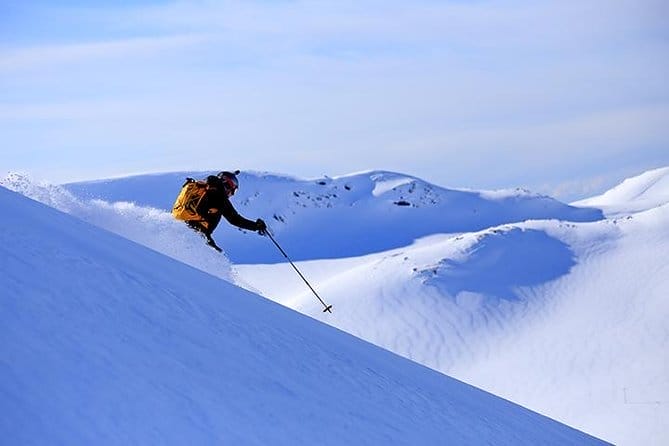 Experience the winter wonderland amidst the pristine snowy peaks of the Julian Alps or the Karawanks with the Kofler Sport agency. "Ski touring" encompasses a range of routes that are primarily traversed on skis. These tours offer diverse options: you can ascend to the mountaintop and ski down, traverse a mountain area with repeated ascents and descents, or even enjoy the serene beauty of walking on skis in the tranquil snowy landscape.
Kranjska Gora – A Skiing Haven
Nestled amidst stunning alpine landscapes, the town of Kranjska Gora is a true delight for winter enthusiasts. Home to exceptional ski slopes and snowboarding facilities, this charming town caters to both beginners and advanced snow sports enthusiasts. Whether you're a seasoned skier or a novice, the slopes of Kranjska Gora offer thrilling descents and breathtaking views in equal measure.
For those less inclined to hit the slopes, Kranjska Gora also offers captivating winter hikes that allow you to immerse yourself in the beauty of the Julian Alps. Explore the snow-covered forests, breathe in the fresh mountain air, and revel in the serenity of nature. Along the way, you may encounter local wildlife and witness the wonders of the winter season firsthand.
A visit to Kranjska Gora would not be complete without a stop at the Planica Nordic Centre. As the birthplace of ski jumping, this internationally renowned center is a hub of excitement and adrenaline. Watch as athletes soar through the air, defying gravity and leaving spectators in awe of their skill and bravery.
Maribor – Winter Wine Delights
Escape the crowds and head to Maribor, Slovenia's second-largest city, for a winter experience unlike any other. Known as the wine capital of the country, Maribor offers a serene and off-season atmosphere that is perfect for relaxation and exploration.
While in Maribor, be sure to visit the world's oldest vine, a testament to the city's rich winemaking heritage. Savor the exceptional wines produced in the Maribor Wine Region and let your taste buds dance with joy. The winter season provides a unique opportunity to enjoy the fine wines this region is famous for, as you indulge in the cozy ambiance of wine cellars and tasting rooms.
For outdoor enthusiasts, a visit to the nearby Pohorje Mountains is a must. This winter paradise offers ample opportunities for skiing, snowboarding, and rejuvenating winter hikes. Escape the hustle and bustle of daily life as you immerse yourself in the tranquility of the snowy slopes and lush forests.
The Enchanting Škocjan Caves
Winter can be a great time to explore caves, and the Škocjan Caves won't disappoint. These UNESCO World Heritage-listed caves are a wonder to behold. The underground chambers and dramatic rock formations take on an otherworldly beauty in the winter season.
Bovec – Adrenaline-Fueled Winter Fun
For those seeking an adrenaline rush, Bovec in the Soča Valley offers a range of winter activities. From ice climbing to snowshoeing and winter rafting, this region is an adventure lover's paradise.
Summary : Places to visit in Slovenia in Winter
As winter paints Slovenia in a glistening white hue, the country transforms into a fairytale-like destination that should not be overlooked. From the magical streets of Ljubljana to the serene beauty of Lake Bled, the adventurous landscapes of Triglav National Park to the snowy alpine town of Kranjska Gora, and the wine-soaked charm of Maribor, Slovenia offers an array of captivating winter destinations.
Embrace the cold, embrace the magic, and create memories that will warm your heart for a lifetime. Slovenia in winter is a true wonderland waiting to be explored, where nature and culture come together to create an unforgettable experience.
FAQs (Frequently Asked Questions)
Is Slovenia safe to visit in winter? Slovenia is generally safe to visit in winter, but it's essential to be prepared for cold weather and potential snowy road conditions. Make sure to check weather forecasts and road conditions before travelling.
What is the best time to visit Slovenia in winter? The best time to visit Slovenia in winter is from December to February when you can experience the full charm of snowy landscapes and winter activities.
Are there Christmas markets in Slovenia? Yes, many Slovenian towns, including Ljubljana and Maribor, host charming Christmas markets during the holiday season, offering unique gifts and delicious seasonal treats.
Do I need a visa to visit Slovenia in winter? Visa requirements depend on your nationality. Check with the Slovenian embassy or consulate in your country for the most up-to-date visa information.
Can I go skiing in Slovenia if I'm a beginner? Absolutely! Slovenia has ski resorts suitable for all skill levels, including beginners. Ski instructors are available at most resorts to help you get started.